*Updated July 5, 2020
Educational Gift Ideas for a 2 Year Old Boy
My first son is turning 2 in September! It feels like it was only yesterday that I was in the hospital getting induced! But here we are, and I've been spending a lot of time looking for the perfect gifts for him. We're somewhat minimalist, we're both teachers, and we're very active. We want to make sure that we get things that fit our lifestyle and parenting priorities.
So if you're looking for some educational and active gift ideas for a 2 year old boy, follow this guide to be the best gift giver ever!
Be the best gift givers… to the parents!
When looking for gifts for small children, start by asking their parents a few questions. It's super respectful, even if you want the gift to be a surprise, you can still ask these questions to help you.
Sometimes, there is a lack of space or parents don't want to deal with toys that are messy. Believe me, I've cleaned up plenty of Play-Doh from the carpet in the last few months! I really don't need to do that any more… for my sanity!
What is his favorite toy right now?
By asking this, it will give you some guidelines as to things to cross off your list. My oldest son WILL NOT play with stuffed animals. He barely even likes to touch them… I think it's a texture thing. But he LOVES anything with wheels! His favorite toy right now is a monster truck bus!
What is his favorite book?
With his love of cars and animal sounds, it makes total sense that his favorite book is "Little Blue Truck." And that book has companion books that we haven't purchased yet!
Does he need any clothes?
This one isn't for the boy, but for his parents. Since I have two boys, the youngest is dressing in hand-me-downs. But I have to buy clothes for my oldest. I LOVE getting an item of clothing with one other small gift that M will like.
Overall, you can't go wrong asking the parents for some guidance. I'm positive they will appreciate it!
Consider Wooden Toys that Can Enhance Your Toddler's Imagination and Skills
One of the unfortunate things about modern toys is that they do EVERYTHING! They light up, talk, and have extremely specific uses, which often takes away the imagination that is required for playing with simpler toys.
(Don't get me started on video games! I love them, but they're SO bad for imaginative play!)
Now, not all of the gifts on this list are wooden, but in our modern world, we consume SO much plastic. It is more than worthwhile to consider wood as an alternative material to plastic toys.
So if you are looking for simpler toys with a wide range of uses to inspire the imaginations of your little ones, here is a long list of wooden toddler toys for imaginative play and development of skills!
Most of these toys follow Montessori or Waldorf guidelines.
What is Montessori? What is Waldorf?
Montessori, from Dictionary.com, is:
a system for teaching young children, in which the fundamental aim is self-motivated education by the children themselves, as they are encouraged to move freely through individualized instruction and physical exercises, accompanied by special emphasis on the training of the senses and the early development of reading and writing skills.
You can see some keywords here are "self-motivated", "move freely", "training of the senses."
Montessori toys are designed to leave something to the imagination and help activate a child's senses! If you're looking for educational and active gifts for toddlers, Montessori and Waldorf toys are a great way to go.
Waldorf is very similar in the toys they encourage. They should be natural, beautiful, and should also inspire the senses! Waldorf and Montessori toys are incredibly healthy for a child's development and helps provide balance in an otherwise hectic and shallow world.
These natural, non-toxic toys are a great way for your toddlers to play and use their imaginations!
Save some money
Being a parent is tough… having friends with kids is tough too, especially if you have a LOT of friends with kids and are buying a lot of gifts!
If you want any easy way to save money shopping online at all kinds of marketplaces online like Amazon, Home Depot, etc, consider signing up for Honey. It's an extension that automatically find codes to apply to your order to save you money. Saving money is awesome!
Just sharing a little guidance, from one parent to another!
My 10 Top Educational and Active Gift Ideas for a 2 year old Boy
Here are the 10 gifts for 2-3 year olds.
I actually remember having something very similar when I went to preschool in 1989. We had a blast. It's great for vestibular stimulation and balance, which are necessary for children's growth and development, AND it's perfect for all kinds of creative stories that children like to make!
Rather have one that's not as expensive?
A swing is fantastic for the vestibular motions needs of children. Basically, vestibular input is all about sensory processing and is super important for children's brain development. Vestibular sensing happens in the inner ear and assists with balance and movement. Kids who seem to bounce around ALL THE TIME usually need more vestibular input, and a swing is a great way to get it!
The swing above is the one that we have picked out, but there are less expensive options, and of course, there are full swing sets too.
We bought this for my niece when she turned 1, and she was still a little too small for it. But now, at two, it's great! A xylophone can be for a boy or a girl.
And while it might sound cool to just get them something musical that plays songs and does all the work for you, THIS instrument allows for children to learn some percussion instrument technique (even if they don't know it!) and to learn about highs and lows. Musical exploration is natural and healthy for children of all ages!
The simplicity of wooden bowls, colorful eggs, and scoops is perfect for the sandbox, some rice (as pictured in the second example), or just without anything lends itself perfectly to imaginative play!
Besides, what toddler doesn't like scooping stuff? M loves feeding the dogs every day, because he loves to scoop out their food.
These are for the boy that loves anything with wheels! These toys encourage pretend play. They purposefully don't come with all the bells and whistles so that the child can create his or her own play!
We don't actually have this exact set, but M has a set like this and he loves them! This set is from Melissa and Doug.
A friend got us this book, and it is one of M's favorite! For the boy who loves wheels and animal noises, this book will surely be a favorite of his too! Through rhythmic verse, it teaches the power of being kind, friendly, and lending a helping hand.
It comes with SO many companion books! We have Little Blue Truck Christmas and Little Blue Truck Springtime. I can't wait to buy the others as each season approaches! Even better, our second son is only 4 months now, so he will also be able to get plenty of use out of these books! (It's even available in Spanish for those bilingual households, or for those parents who want to teach their children a second language!)
Of course, it doesn't have to be Little Blue Truck… any children's books are going to be educational. But these are quality, and the 2 year old boy in your life will love them!
Art Supplies
I know, I know… I was harping on Play-doh earlier, and now I'm suggesting that you buy art supplies! As much as I hate cleaning up after M, expressing creativity is important to me, and so I want M to have the opportunity to do it… even if it does make a mess!
For some less messy options than paint or Play-doh, choose washable crayons and a roll of paper (yep, we have both and it works really well!) or even do something like a water paintbrush and book! (They're great for the car!)
I prefer to tap into a child's intrinsic motivation for learning, but let's be honest… sometimes children don't do the things we want them to. Okay, maybe more than sometimes! And potty training will be coming up soon, and I'm thinking of all the incentive charts that I'm going to be making in the future!
I used to use the smiley face stickers for my elementary music class… now I'll use them at home! And the Cars stickers?! M's favorite movie is Cars 3!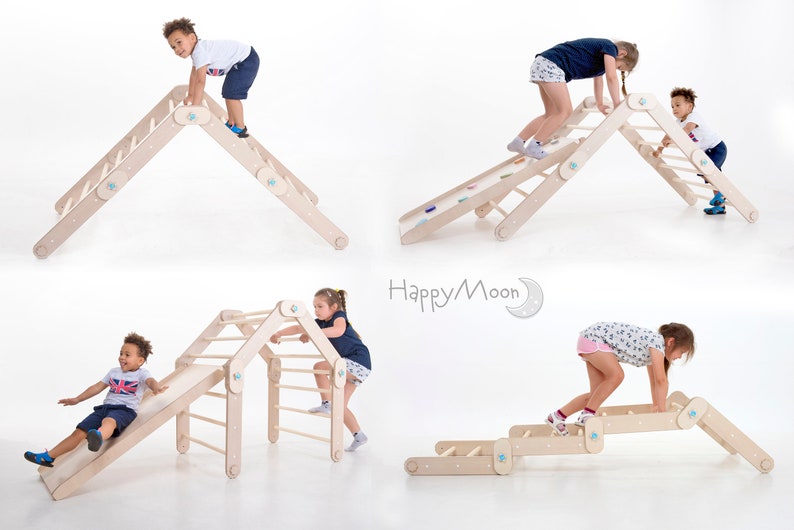 We're aiming to get this for M soon! He can use it to build forts, climb on, slide down, make hideouts, and build how he wants! I would have loved something like this when I was a toddler too!
The cool thing about this one is that it can form different configurations for different tasks and creations!
Sure, it's a much larger and expensive gift, but if this is for grandkids or your own kids, spending a little extra isn't a big deal!
The other big item that we decided to get M is a tricycle so that he can get great exercise and prep for riding a bike! We went with this one in the hopes that it will last a long time. I also think the high back chair will be helpful since this will be his first trike. It has excellent reviews and is designed for children between 2 and 4 years old. Obviously, M hasn't ridden it yet, but I hope that he will love it! Don't forget the helmet!
Gifts for Mom?
22 Affordable Luxury Gifts for Her
Conclusion
Hopefully these items have given you some great ideas for educational and active gift ideas for a 2 year old boy! Let them learn, express themselves, and be the active, healthy children they are!
What other gifts did you get for your 2 year old boy? Comment below! I'm always looking for new ideas to keep M's brain turning!
Best Gift Ideas for a 2 Year Old Boy – Educational Toys and Books