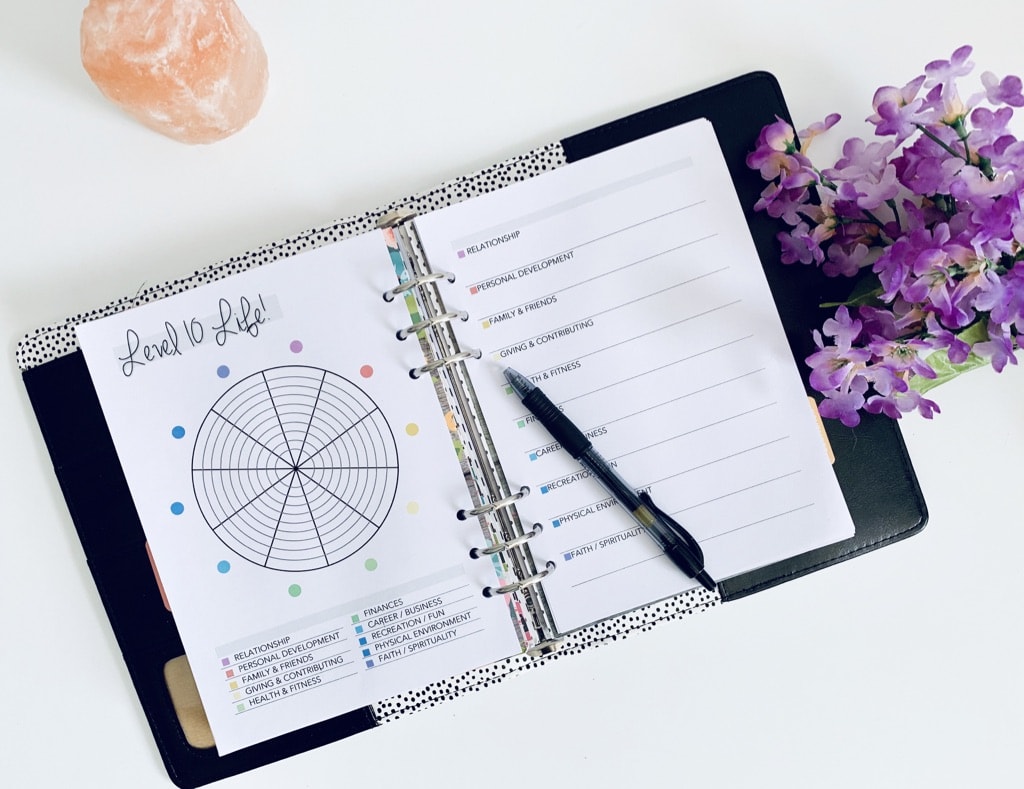 Planner System from Simple Joy Printables!
Earlier this year, I decided to create my own planner. I was keeping three separate journals, one for goals and notes, one for my to-do list, and one for my affirmations. It got pretty messy! I needed something that would allow me to have all my planner systems in one and would keep me organized!
It wasn't an easy task!
But when I put my mind to something, nothing can stop me.
A few months later, this was my final result! After using it for a little while, I loved it so much that I wanted to share it with the world!
Hello World! Simple Joy Printables is born!
Visit my shop and get 15% off any item with the code WILD15!
Last Thursday, I just launched my shop, Simple Joy Printables! Of course, this planner is the first item in my shop!
This planner keeps everything all together. It will allow you to design to-do lists centered around your goals, reassess your progress quarterly, and build a positive mindset to empower and instill balance in your life.
Anyone can use it, but it will be particularly worthwhile if you are an entrepreneur or business owner who relies entirely on self-motivation to bring them success.
It will also be particularly great for New Year's Resolutions, especially if you plan on using affirmations to knock it out of the park!
Goal Planner with Affirmations for Mindset Development
Different needs = different pages. There are 9 different planner pages depending on my needs.
1. Daily Planner
This is essentially my to-do list for the day. As some who is a work at home mom, a daily to do list suits my general needs much more than a schedule.
I can write my daily goal, the most important thing I want to accomplish! From there, I divide my to do list into categories and go!
There is a water tracker, a place for a few events, and notes at the bottom.
2. Daily Schedule
For the days I have more going on, I need to write down my schedule. If you're a working mom, college student, or business woman, this page may be a better staple in your planner.
It runs from 8 am to 8 pm and features a place for to do items, water tracker, goal, and notes!
When I print my pages, I put either 1 or 2 next to my third page, Mindset & Goals:
3. Mindset & Goals
What are Affirmations and How Do You Use Them?
Since reading "Girl, Wash Your Face", I have been adamantly writing my BIG life goals down every day. I had already been writing down affirmations since about this time last year.
This page you will find:
Word of the day
Affirmations
Top 10 Goals you would like to achieve. (If you'd like to do it Rachel Hollis style, write them down in past tense like it already happened!)
Things I am grateful for
I believe that mindset is 80% of our life, maybe more. Our mindset influences how we approach challenges, how we celebrate success, and how we deal with failure.
Related: Dr. Joe Dispenza Quotes to Build Your New Mindset
Check out the Top 120 Most Empowering Words in the English Language.
Affirmations, BIG goals, and gratitude can all help you shape a positive and determined mindset.
4 & 5. Weekly or Monthly notes
I use these pages for notes and braindumps.
6 & 7. Quarterly Goals & Yearly Goals
Check in on how you are progressing toward your BIG life goals every 3 months. Little steps can add up to a lot after a year or two!
You'll notice that, again, there are separate categories. You can use the categories assigned in #9 below, or you can create your own. I like to create my own to reflect on my goals for teaching, writing, home life, and other aspects of my daily life.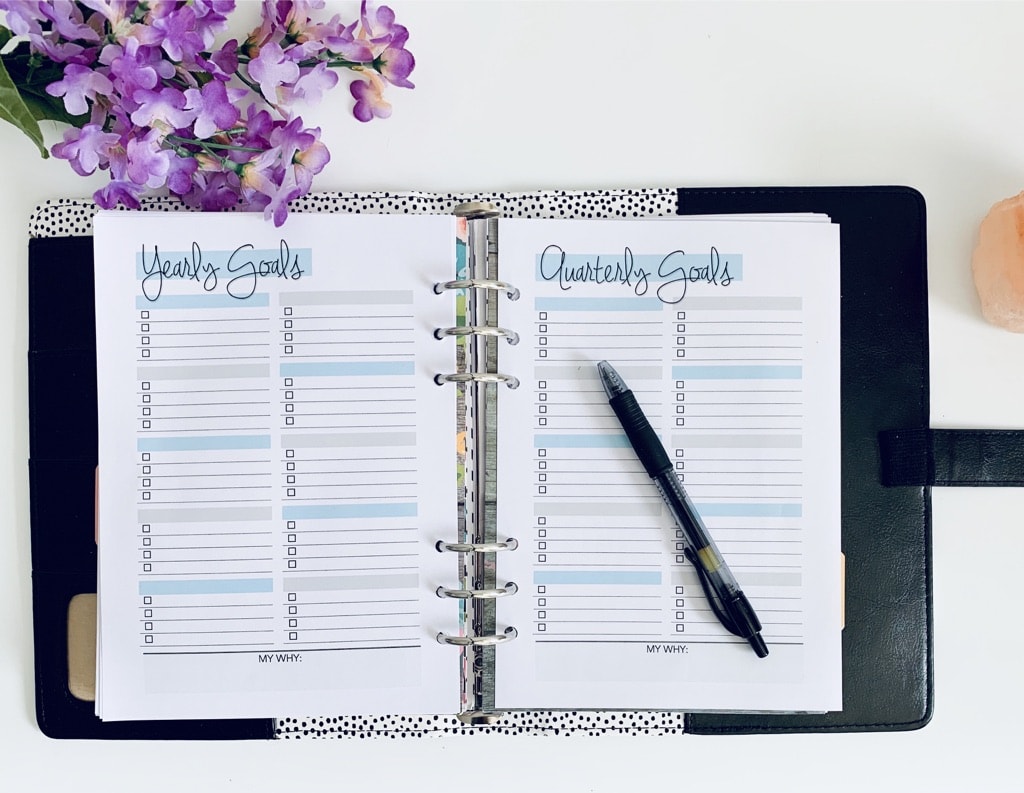 8. Life Goals
These pages will help you brainstorm your ultimate life, and will serve as the 10 goals you write down daily.
9. Level 10 Life Assessment
Level 10 Life Assessments are one of the best things I have ever done for my goal planning and life desires. You can see exactly how far you are to reaching the ultimate place you want your life to be.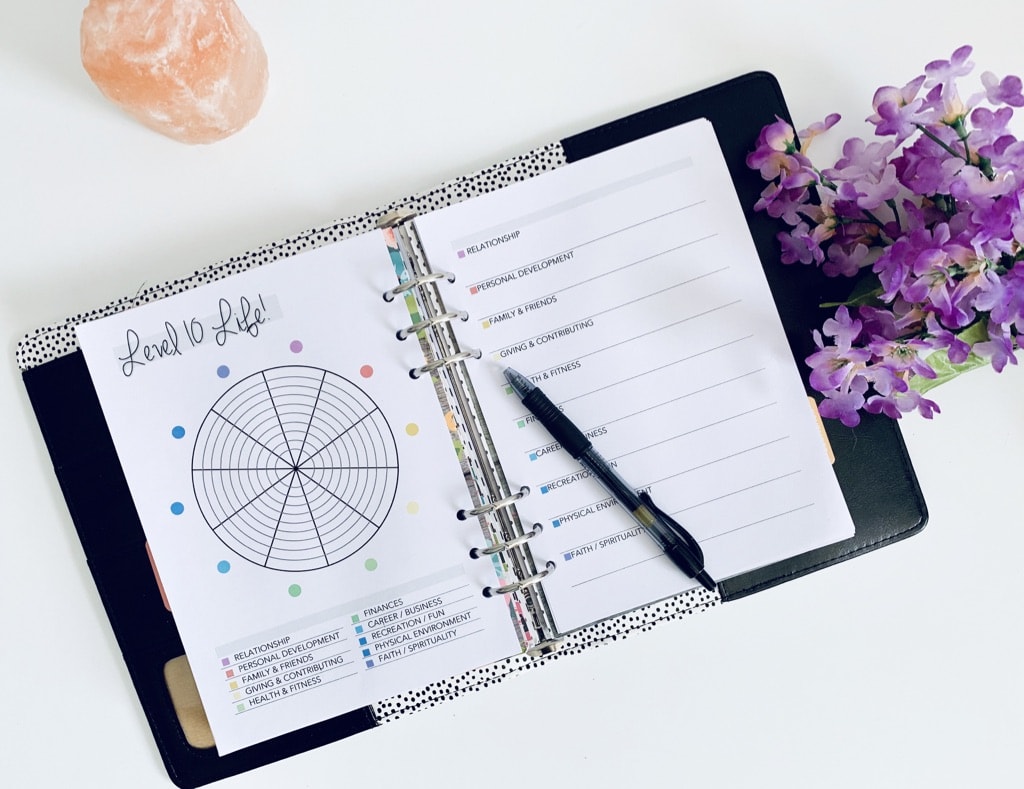 Putting your planner together
This planner is for A5 sized paper, so make sure that when you purchase your binder that you get that particular size!
What I used:
A5 6-ring binder
I bought mine from Hobby Lobby, but these binders off of Amazon are great for this purpose and fit the A5 sized paper.
A5 pre-punched paper
This paper was a lifesaver! It isn't too expensive, it's high quality, and you don't have to hole-punch it yourself! Win-win!
(Also, while you're browsing Amazon for some A5 paper, make sure that you look for paper that is blank… a lot of paper is specifically formatted for bullet journals and already has lines or dots!)
Tabs
I wanted a monthly calendar at a glance, so these were the monthly tabs that I purchased:
Here are some more to help:
Don't forget to get yourself some stickers!
(If it's your thing!)
Print Out Your Planner!
First, only print what you need for three months at a time. A year, or even six months, won't fit in a standard sized a5 binder.
Print once a year:
1 Life Goals page
1 Yearly Goals page
Print every 3 months:
1 Quarterly Goals page
1 Level 10 Life Assessment page
Print 2-10 for every month as needed:
Monthly Notes (print double-sided)
(…if you prefer, you can do Weekly Notes instead of Monthly Notes.)
Print one for every day:
Daily Schedule OR Daily Planner
Mindset & Goals
Visit my shop and get 15% off any item with the code WILD15!
I am working on putting together a video that will help you print your binder. If you're here looking for directions, I'd be happy to send them to you over email or video chat with you sometime. Shoot me an email at dawn@wildsimplejoy.com.
Sign me up! Where can I get it?!
It is very reasonably priced and it comes in 6 spiffy colors!
But BECAUSE it's the holiday season, I'm running a sale on it for 40% off from tomorrow, Tuesday, November 26 through December 1st!
Do you think you'd like to use this goal planner with affirmations? Drop me a line!
Be sure to read:
Using Affirmations to Crush Your 2020 New Year's Resolution
and
Execute Your New Year's Resolution Plan Like the Boss Lady You Are!