Printable Affirmation Cards for Joy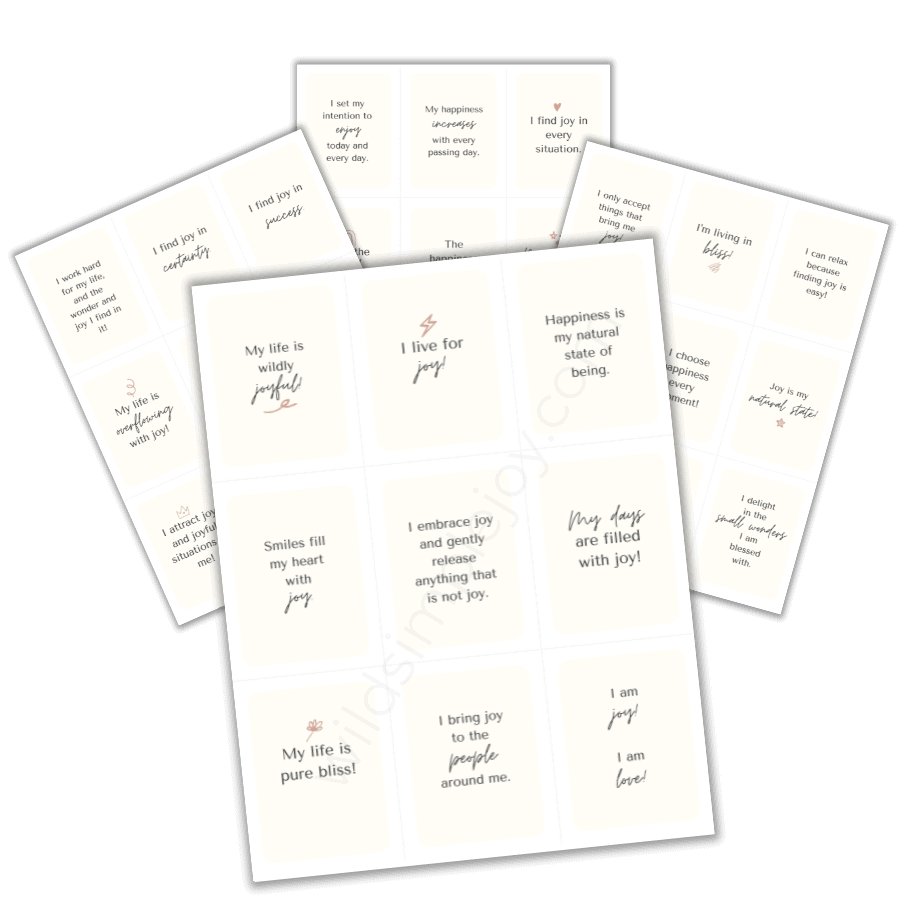 These printable affirmation cards are based on the 35 affirmations for joy you can find on this post here.
They are designed for convenience so you can take the joy affirmations wherever you go and you don't need to return to the website again and again!
Includes 35 affirmations and 1 blank card for you to write your own!
Only $4
Printable Affirmation Cards
These affirmation cards are designed to by used with most printers and are on standard sized paper.
✅ simple and easy to read
✅ 8.5″ x 11″ size
✅ 9 cards per page
✅ total 4 pages
✅ PDF & JPEG formats
✅ light dotted lines make them easy to cut
❌ don't spend a lot of money!
Joy Affirmations you can find on these cards
I only accept things that bring me joy!
I'm living in bliss!
I can relax because finding joy is easy!
When I embrace joy, everything else in my life falls in place!
I choose happiness every moment!
Joy is my natural state!
My life is blessed with joy!
I enjoy every moment of my life.
I delight in the small wonders I am blessed with.
I live for joy!
My life is wildly joyful!
Happiness is my natural state of being!
Smiles fill my heart with joy.
I embrace joy and gently release anything that is not joy!
My days are filled with joy!
My life is pure bliss!
I bring joy to the people around me.
I am joy! I am love!
I set my intention to enjoy today and every day.
My happiness increases with every passing day.
I find joy in every situation.
I see the good in others.
The happiness in others uplifts me.
My presence is uplifting and joyful to others.
The sense of community I feel is warming and uplifting.
I prioritize and seek out joy every day!
I feel gratitude for the wonderful things in my life.
I work hard for my life, and the wonder and joy I find in it!
I find joy in certainty.
I find joy in the simple pleasures.
I find joy in success.
I find joy in my time with others.
My life is overflowing with joy!
I attract joy and joyful situations to me!
I deserve to enjoy myself!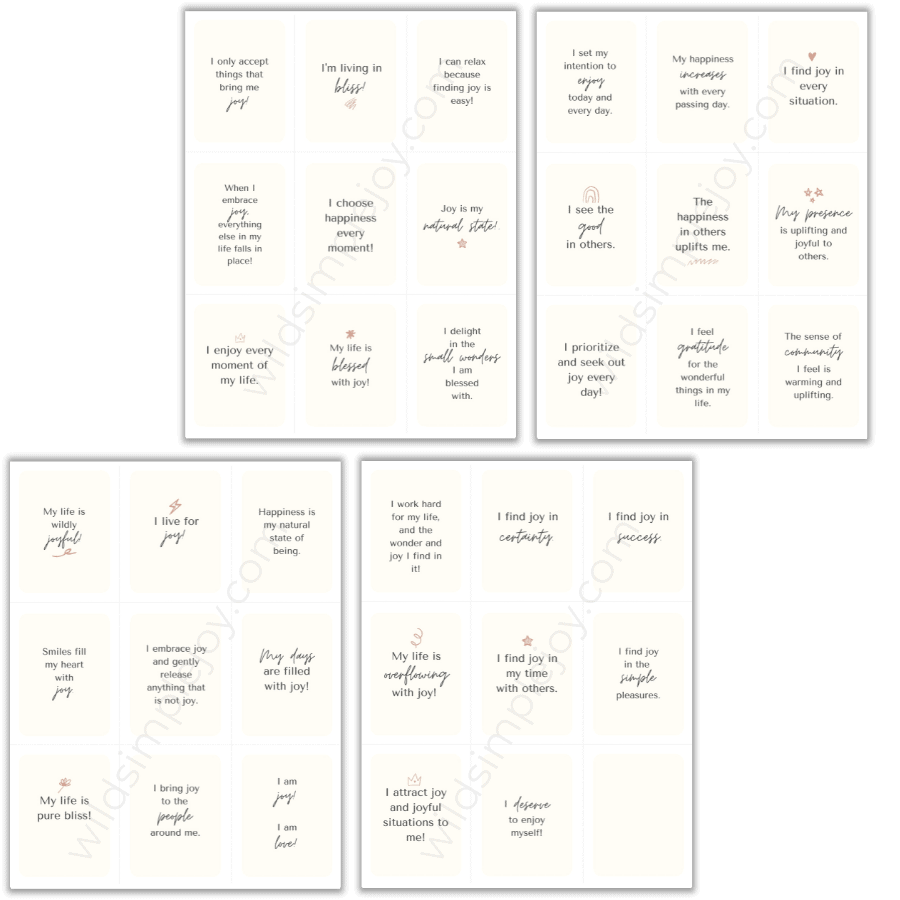 ​
Printable Affirmation Cards for Joy $4​