Printable Affirmation Cards for Letting Go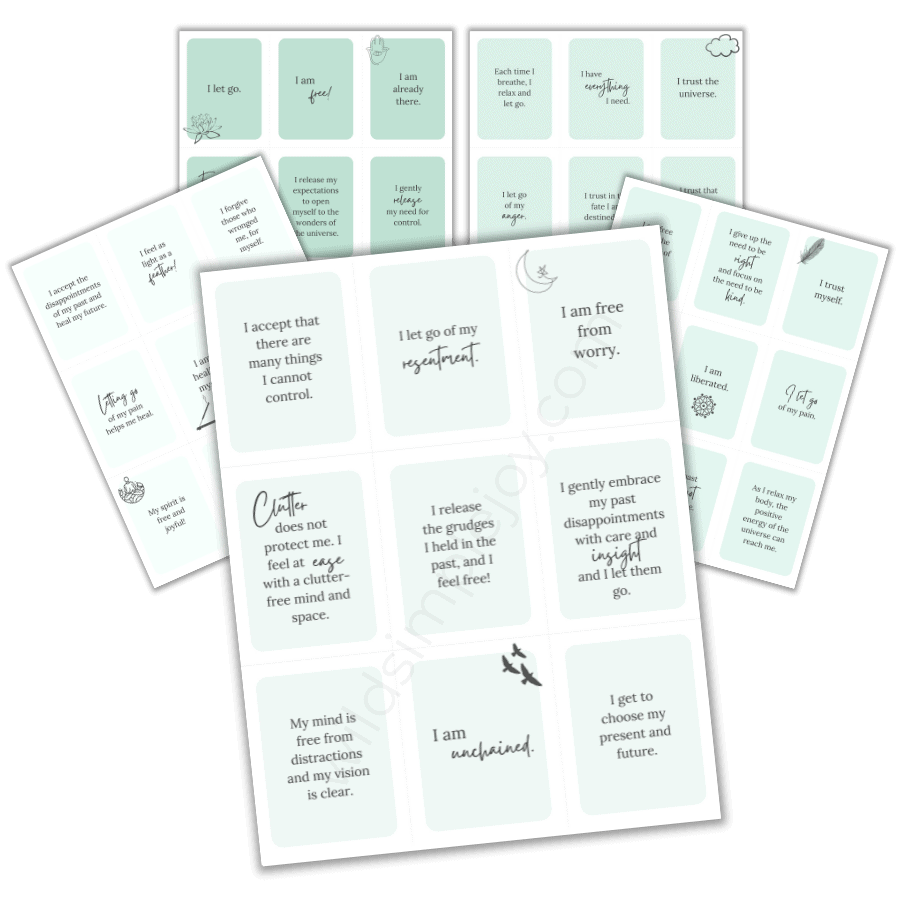 These printable affirmation cards are based on the 44 affirmations for letting go you can find on this post here.
They are designed for convenience so you can take the letting go affirmations wherever you go and you don't need to return to the website again and again!
Includes 44 affirmations and 1 blank card for you to write your own!
Only $4
Printable Affirmation Cards
These affirmation cards are designed to by used with most printers, both laser and inkjet, and are on standard sized paper.
✅ simple and easy to read
✅ 8.5″ x 11″ size
✅ 9 cards per page
✅ total 5 pages
✅ PDF & JPEG formats
✅ light dotted lines make them easy to cut
❌ don't spend a lot of money!
Letting Go Affirmations you can find on these cards
I let go!
I am free!
I am already there.
Everything I need in my life already exists within me.
I release my expectations to open myself to the wonders of the universe.
I gently release my need for control.
I give easily.
I accept that others may not share my path or desires.
I am thrilled with everything exactly as it is now.
Each time I breathe, I relax and let go.
I have everything I need.
I trust the universe.
I let go of my anger.
I trust in the fate I am destined for.
I trust that all of my dreams are coming true.
I let go of my fear.
I honor others' truths and paths.
I trust that my dedication and hard work are paying off.
I am free from the burdens of my past.
I give up the need to be right and focus on the need to be kind.
I trust myself.
I let go of my pain.
I embrace my natural power. I feel no need to force anything.
I am liberated.
I trust my intuition.
My past does not define me.
As I relax my body, the positive energy of the universe can reach me.
I accept that there are many things I cannot control.
I let go of my resentment.
I am free from worry.
Clutter does not protect me. I feel at ease with a clutter-free mind and clutter free space.
I release the grudges I held in the past, and I feel free!
I gently embrace my past disappointments with care and insight, and I let them go.
My mind is free from distractions and my vision is clear.
I get to choose my present and future.
I am unchained.
I accept the disappointments of my past and heal my future.
I feel as light as a feather!
I forgive those who wronged me, for myself.
Letting go of my pain helps me heal.
I am healing myself.
I release control and trust my instincts.
My spirit is free and joyful!
I feel empowered in my choice to let go!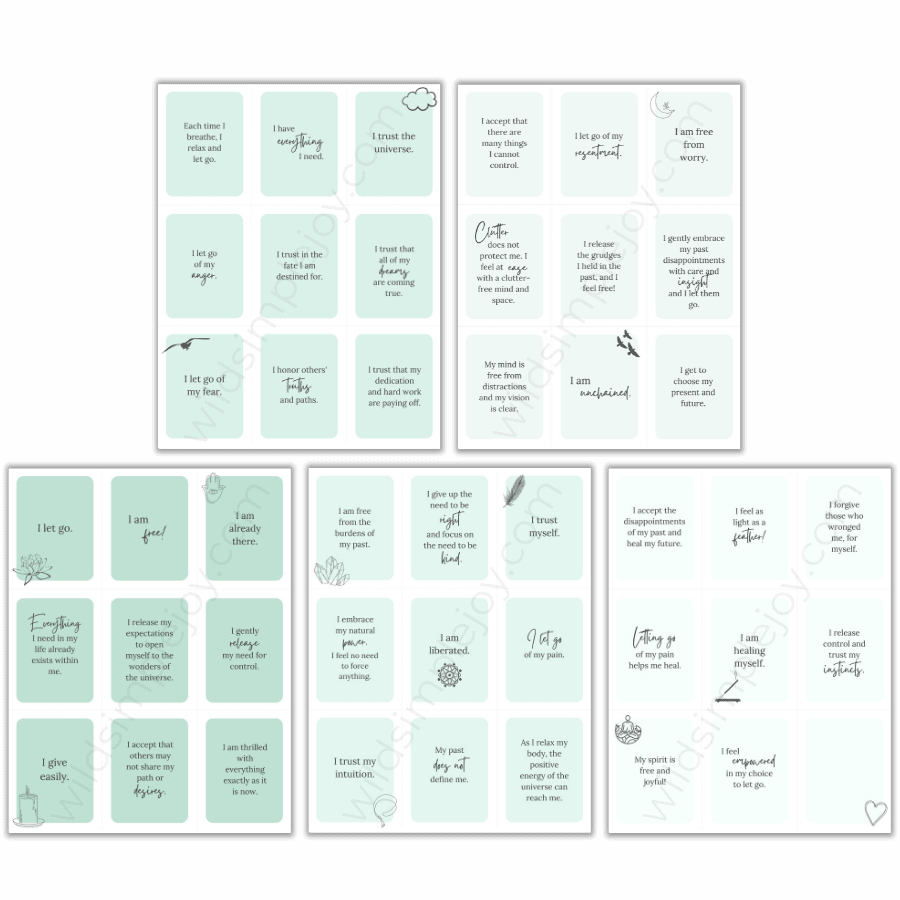 ​
Printable Affirmation Cards for Letting Go $4