Shout out to all you working moms! You just had a baby not too long ago and you're jumping into the working world again, unafraid! (Well, maybe a little afraid.)
There's all kinds of statistics about how working moms have not only the stress of being a mom, but also the stress of your career. A breast pump work bag shouldn't be one of the things causing you stress!
This bag hit all the right spots—it was professional, functional, easy to use, and had all the right accessories. So read on to check out how to put together the best breast pump bag for working moms, and check out the breast pump bag checklist below!
The Best Breast Pump Work Bag
Sarah Wells: Best Breast Pump Bag for Working Moms
After scouring the internet, I found it! The perfect bag! This bag has it all! It's sleek and professional, and there are dedicated pockets for the pump and for a small cooler! This is the exact bag I have with black straps instead of brown:
Sarah Wells Claire Breast Pump Bag (Black)
I thought I had snapped pictures of it when I first got it, but alas, I was unable to find them. (I've since donated the bag to a thrift store for mother and baby items, since I'm no longer breastfeeding and not having any more kids.)
So here's a picture of my adorable first kiddo when he was around 16 months old, wearing my husband's shoes, standing next to the bag in our living room!
(If the bag looks a little droopy, it's because it's had 16 months of sustained use and me tossing it around.)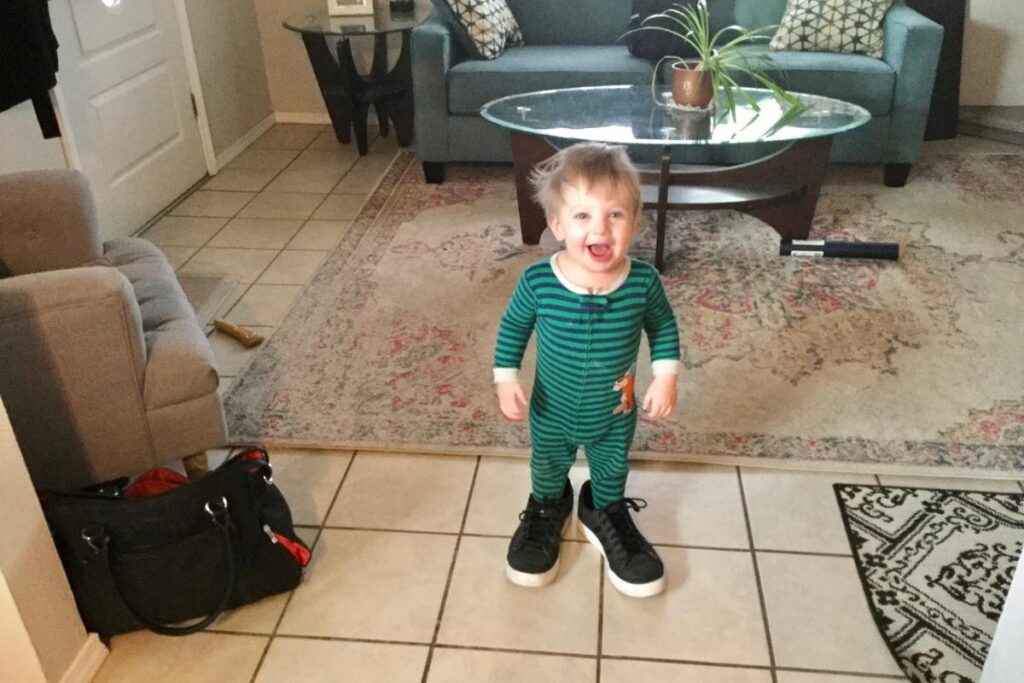 The design that I got is very simple. But in case you wanted a different design, there are many styles.
Oh, did I mention it was designed by a working mom just like you?! Sarah Wells created these bags after the birth of her first child, and she wasn't finding anything that met her needs. Let's all support other mothers!
Features of Sarah Wells Breast Pump Bag
1) It's heavy-duty and super strong
Before donating the bag, I had it for three years, and it's held up under heavy use. It can get really heavy once you add all the milk, computer, and other things you need for the day, but the strap is double fortified, and I didn't have even a single thread that came loose.
I continued to use it even when I wasn't pumping anymore because it's just that awesome!
2) It's easy to clean
You can see in the picture above that the inside had bright pink fabric. It was super easy to wipe down if you spill the breast milk (I did… more than once.)
3) It's super spacious
In addition to a breast milk cooler with 4 bottles and an ice pack, it held my laptop, two planners, and snacks. (Because let's be honest: when you're breastfeeding, you're hungry ALL the time.)
It's huge, mamas.
Additional Ways to Make Your Breast Pump Bag Work for You
Get a cooler and ice packs
This combo allows you to pack 4 medela bottles with form fitting ice packs inside a compact cooler.
The bottles and ice packs fit conveniently inside the cooler, and then the cooler slips into the side pocket of the bag. A perfect fit!
You'll be saving space, saving sanity, and making sure none of that precious liquid gold goes sour before you get home from work!
I was constantly leaving extra bottles places, like in the diaper bag, or at work. So having an extra set of bottles was super helpful (even for this minimalist!)
Reading material
Pack your kindle for reading material during your pump breaks! Seriously, you deserve a break from work, so load it up with light-hearted fiction.
Snacks
Let's face it, lactating is a huge drain on calories! Pack some good quality snacks that you can munch while you're pumping so you can stay happy and healthy!
Grab a water bottle and head out the door. Keep that milk flowing!
RELATED POST:
Tips for Overwhelmed Moms to Claim Their Calm
Mom-Shaming Needs to End
Don't forget the pump!
I got a Medela InStyle Advanced from my insurance. But if your insurance doesn't cover a breast pump, I would recommend it as a basic, no frills kind of piece of equipment. It held up under regular use, was easy to clean, and is a reasonable price as far as breast pumps go.
This goes with all the accessories above.
Or…
If you've got extra spare change and less time to dedicate to pumping, I've heard great things about the Willow.
I would have loved to try it, but alas, it wasn't in the budget at the time.
***Don't forget that if you miss just one of the accessories like breast shields, valves, or the electrical plug, you might not be able to pump. Unfortunately, I've forgotten my breast shields MANY times. It's super important to remember ALL the accessories!
***
Breast Pump Bag Checklist
Here is a breast pump checklist of everything you will need for your bag:
Pump
Electrical cord
Tubes (2)
Valves (2)
Breast shields (2)
Bra
Breast Pads
Bottles (4)
Lids (4)
Cooler
Ice pack
Snacks
Water bottle
Reading material
Wet wipes
Nipple cream
Want a free checklist? It looks like this!:
Just subscribe here and it's yours for free!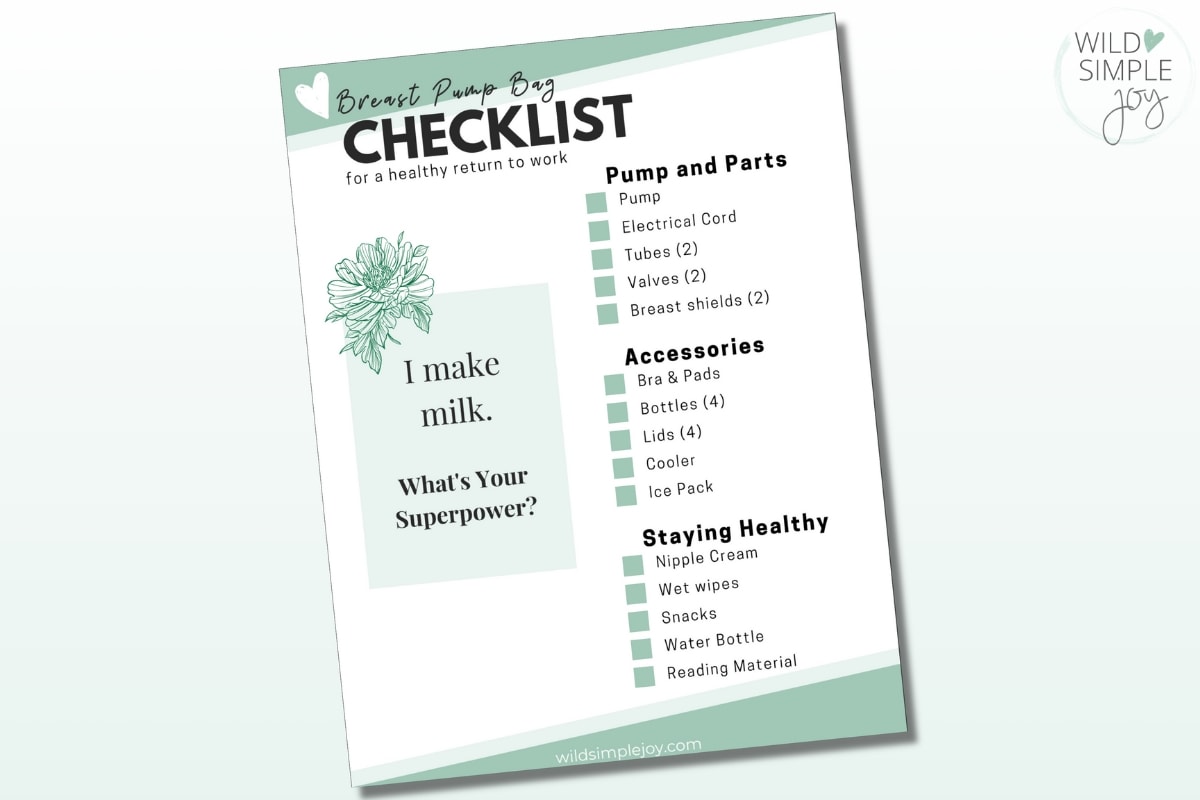 This breast pump bag and checklist saved me many times during my exclusive pumping journey with my first son. It's a great way to stay healthy and balanced as you return to work. Being a working mom is tough, but you can make it easier on yourself if you're feeling a little nervous about going back to work!
Congratulations on the little one, and good luck as you go back to work!
RELATED:
The Best Gifts for Hippie Babies (And Their Parents)
The Best Bohemian Baby Clothes for Girls and Boys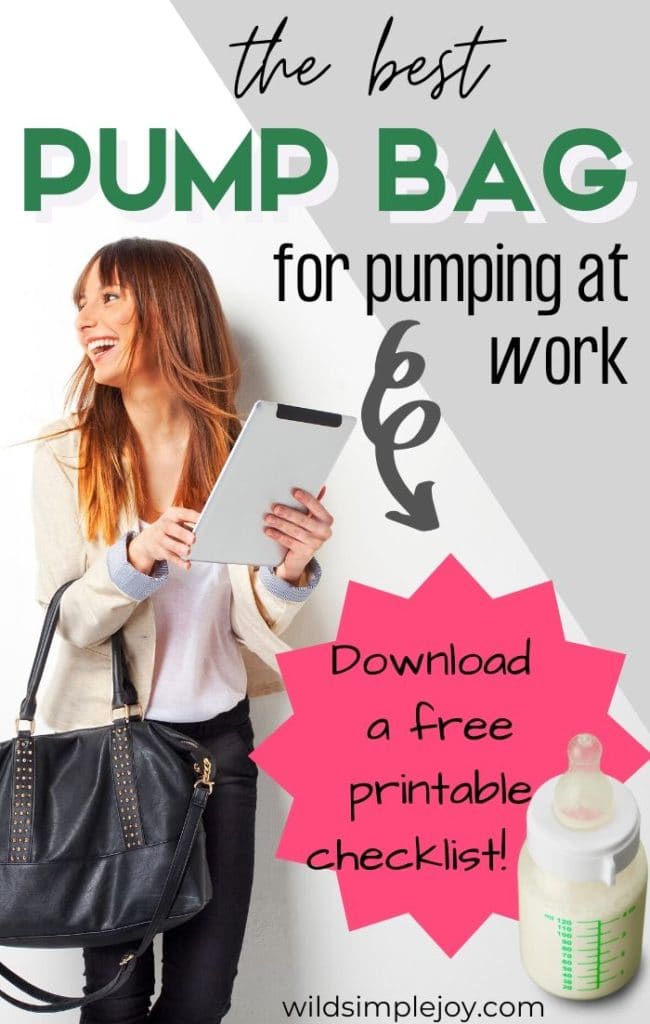 The Best Breast Pump Work Bag for Working Moms (and Checklist!)