Teachers, we need you. We need your passion, dedication, and commitment to our children. You are shaping the future, and you are worth your weight in gold. But it's easy to forget that when we're constantly dealing with standardized tests, budget cuts, and fear of school shootings. It's easy to feel overwhelmed and down in the profession, but that's why I'm writing this blog post today. To remind you of how valuable you are. How worthy you are.
These 60 affirmations for teachers are for anyone who feels lost or beaten down in their career as a teacher. Read them daily, say them out loud, and let them fill your heart with light and hope. Read them when you need a pick-me-up, or use them as daily affirmations to keep your head high. You are valuable. You are worthy.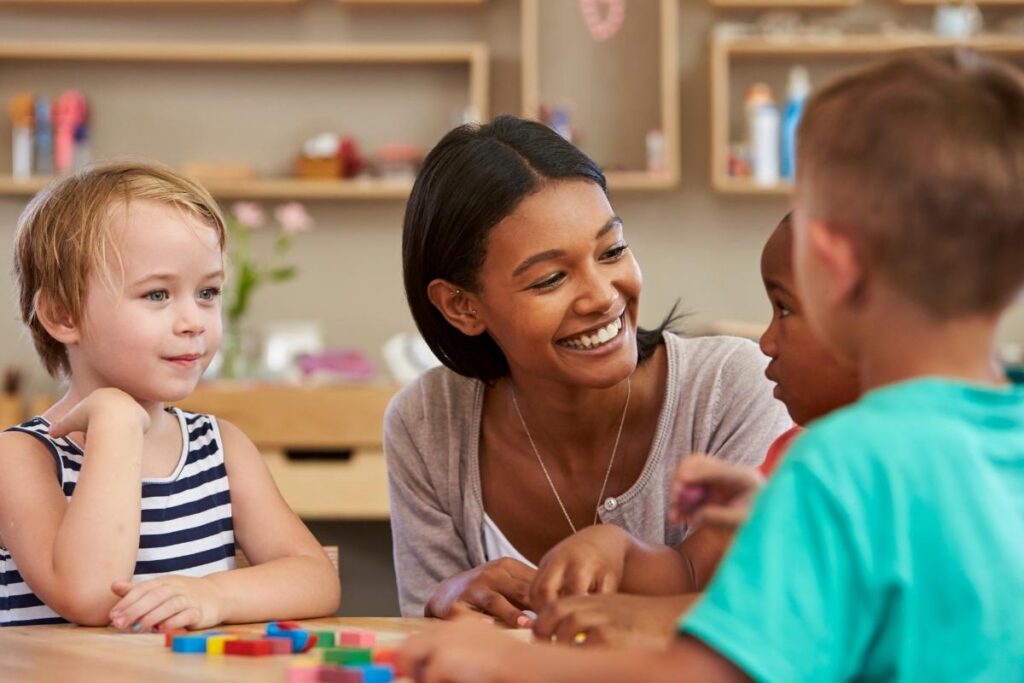 The State of Education in the US
Teacher morale is at an all-time low in the US. According to a recent study, almost 44% of teachers feel burnt out. Honestly, I'm surprised it's not much higher! This is due, in part, to the increased pressure of standardized tests, budget cuts, high student-to-teacher ratios, pressures left by the pandemic, low support in the classroom, and disrespectful students and parents, not to mention the fear of mass shooters and lax gun laws.
It's no wonder that teachers are struggling to keep their heads above water. I left teaching a few years ago when my children were babies, and my husband is also ready to leave the teaching profession.
Speak Up: Advocate Loudly
But it's important to remember that, despite all of these challenges, teachers are still making a difference in the lives of their students. Every day, you are changing the future. You are shaping young minds and teaching them how to be kind, compassionate human beings. So, even on the days when it feels like you can't make it through another minute in the classroom, know that you are making a difference.
Keep advocating for yourself and speaking up. When we all raise our voices together, the powers that be cannot ignore all of us. Stay strong.
Practice Self-Care
Self-care is a radical practice. It helps us stay resilient despite all the myriad adversities we face. Aside from practicing teacher affirmations, here are a few self-care ideas you can try:
1. Low-level exercise frequently
You're releasing stress when you move your body, but you have to do it regularly. It can help you sleep, help relieve pain, and is good for long-term stress.
2. Avoid alcohol and recreational drugs
While it's considered normal for teachers to drink heavily after the school day, this is detrimental and can actually add more stress to your week.
Having a partner or friends who listen to you vent with judgment can be a huge stress reliever. Of course, you need to be there for them when they need it too, but that's what makes it beautiful.
RELATED AFFIRMATIONS:
60 Affirmations for Manifestation
44 Affirmations for Focus and Concentration
45 Affirmations for Confidence and Charisma
43 Affirmations for Positive Relationships
60 Affirmations for Teachers
These affirmations for teachers are designed to help you stay positive and grounded in the face of everything you face.
The world is listening.
My voice matters.
I practice deep, unconditional self-care.
I am deeply grateful for the positive things in my life.
I see beauty in the world everywhere.
I am loved.
I am doing my best.
I am valuable.
I am worthy.
My students are lucky to have me as their teacher.
Every day, I make a positive difference in the world.
I radiate love and compassion.
My work is important.
What I do matters.
I am making a difference.
I am appreciated.
I am respected.
My students learn and grow because of me.
I have a positive impact on those around me.
I make learning fun and enjoyable for my students.
My students are engaged in their learning because of me.
I take care of my body and mind daily.
I am strong.
I am resilient.
I am capable.
I can handle anything that comes my way.
I speak objectively and honestly, with candor.
I remain calm in difficult situations.
I have inherent worth.
I share my love for learning with those around me.
I believe in the power of education.
I am a powerful role model for my students.
I inspire those around me.
I am making the world a better place.
One person can make a difference. I am that one person.
My work is never done.
There is always more to learn and do.
I am a lifelong learner.
I am open to new possibilities and opportunities.
I embrace change.
I take risks.
I am not afraid to fail.
Failure is an opportunity for growth.
My students are always learning, and so am I.
I radically accept everything about myself.
I love who I am.
My needs are important.
I take care of myself so that I can take care of others.
I am worthy of love and respect.
I give and receive love and respect freely.
My students feel safe with me.
They know that I will never give up on them.
I create a classroom environment where everyone feels accepted and respected.
I affirm the dignity of every person.
I make a noticeable difference in my students' lives.
My students know that I care about them.
My students feel valued and appreciated by me.
I build positive relationships with my students.
I help my students to see the best in themselves.
I encourage them to be their best selves.
60 Affirmations for Teachers Who Are Feeling Burnt Out