If you're suffering from anxiety like almost 20% of the US population likely does, it can be stifling to try and find relief, but simultaneously, it's stifling to hold on to all that stress and anxiety. The use of mala beads in meditation are something that can help increase mindfulness, aid quality of sleep, and relieve anxiety. These stones below have properties that make them a great choice for relieving anxiety.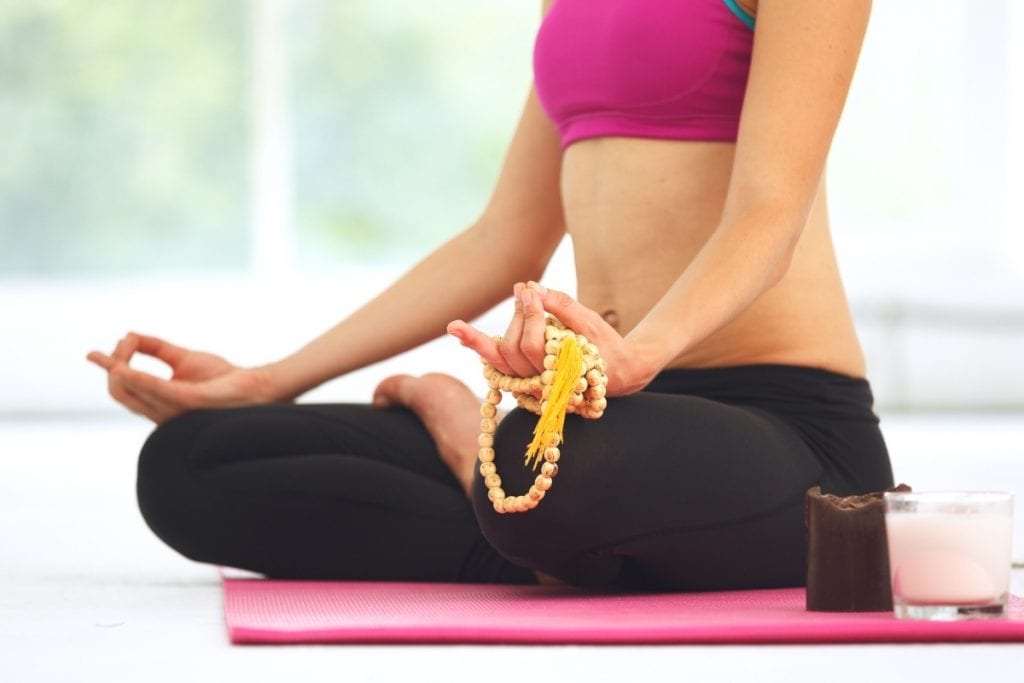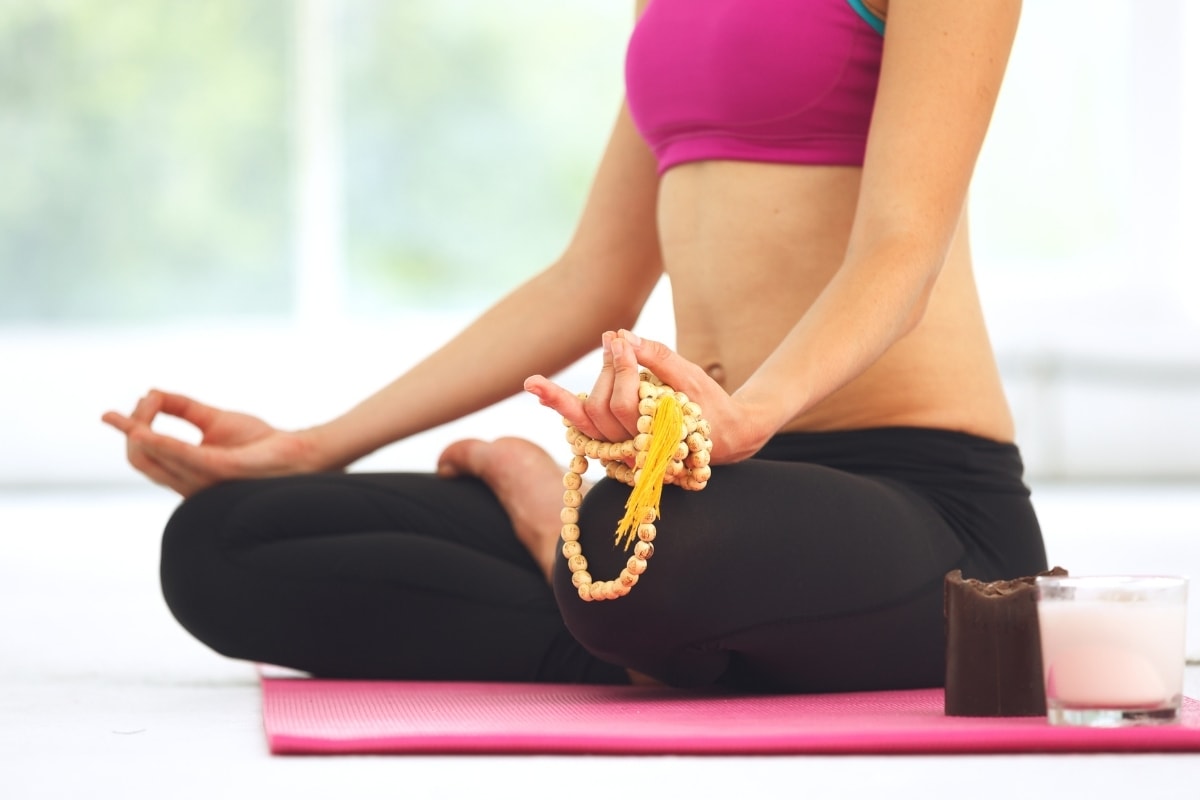 The Best Mala Beads for Anxiety on Amazon and Etsy
For those in a hurry, here are the best beads for certain needs:
Scroll to the bottom to see pictures and descriptions of these 4 TOP RATED mala beads
Stones and Gemstones for Anxiety Relief
If you're hoping to relieve stress and get rid of anxiety, some gemstones are better than others. Here's a list of stones and what they can help with.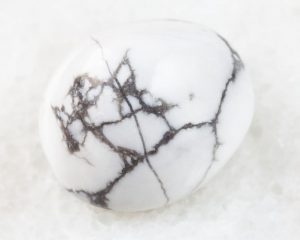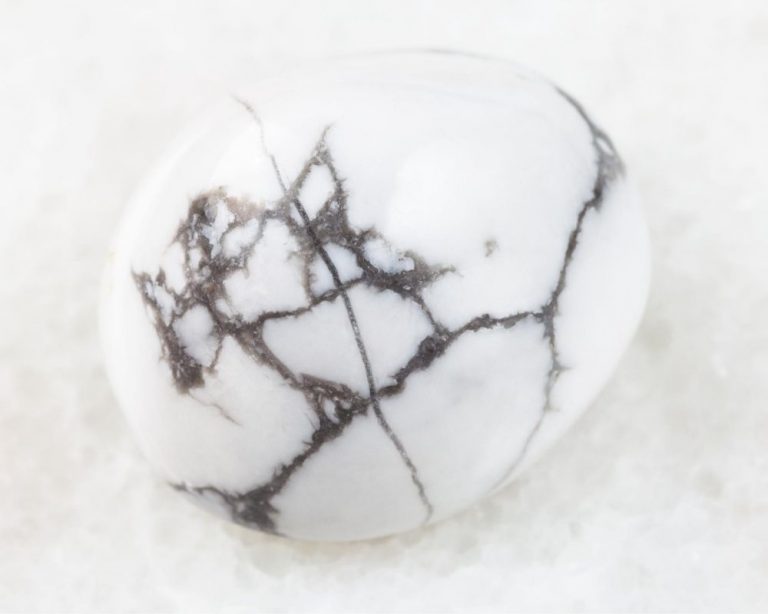 Howlite
Howlite is an excellent stone to let go of anger, toxic behaviors, and other thoughts that may be detrimental to your mental health. Meditating with howlite can help you find calm and ease.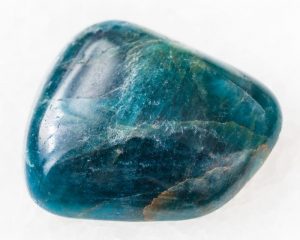 Blue Apatite (and Other Blue Stones)
Stones like Blue Apatite, Sodalite, and Amazonite can help you open your awareness, accept the truth, and find peace. Connected with the 5th and 6th chakras (throat and third eye), they can help with open communication and intuition.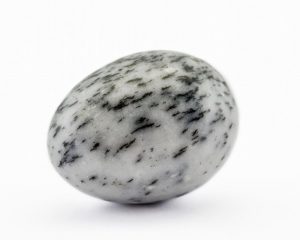 Zebra Jasper (and Other Types of Jasper)
Jasper is great at pulling scattered energies into focus and grounding you through the root chakra. It helps to bring understanding and compassion, as well as calm into your life.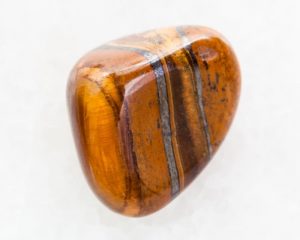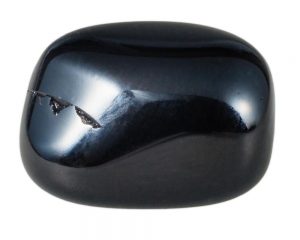 Onyx
Onyx is is superb choice for blocking out negativity in your life. If your stress is caused by negative situations or people, or intrusive, toxic thoughts, onyx might be best for you to release your stress and anxiety.
Make sure you read:
How to Choose the Best Mala Beads for You
Choosing Your Mala Beads for Anxiety
Because many of these Mala beads are from Etsy, they may be one of a kind. I will try to update this list as often as possible to be sure that all of these Anxiety Relieving Mala Beads are available. (If you find one that you like and it's not listed anymore, check the shop to see if they have something similar.)
Here at Wild Simple Joy, we believe in mindfulness, self-reflection, offsetting carbon footprints, and supporting small businesses. We are hippies, after all. Etsy is an online storefront that allows small businesses and shops to keep most of their earnings. They offset the environmental harm of shipping.
But because Amazon is used more frequently by many people, I want to give you options. Use the platform you feel most comfortable with, of course, but I do encourage you to use Etsy whenever possible.
These beads are all 108 meditation beads. They have been marked with $ to denote how much to spend. These beads are generally less expensive than many others, so there is a different scale than the other two mala bead lists:
$ = $25-40
$$ = $40-80
$$$ = $80+
The higher quality of the stone, the more clarity and power a stone has…. but the higher the quality, the more expensive it will be. It is not uncommon to spend $70-150 on a set of high quality, handmade mala beads.
Make sure you check out The Best 18 Mala Beads for Your Meditation Practice in 2020.
The Best 10 Mala Beads for Anxiety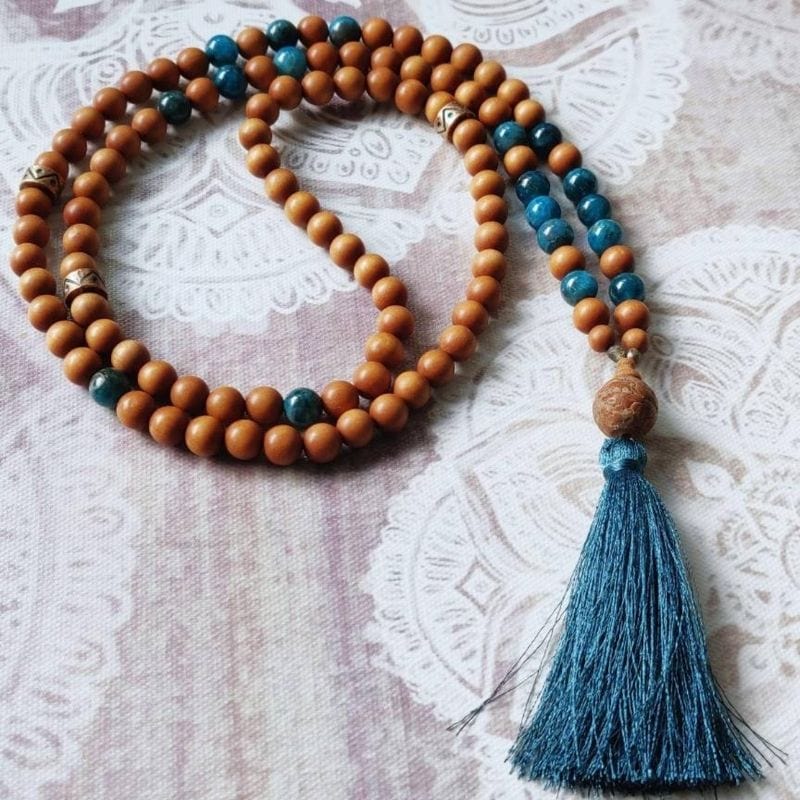 Purpose: These beads are beautiful and functional! With blue apatite and sandalwood, when you meditate with these beads, you'll open your awareness and feel more grounded.
If they aren't in stock when you click the link, check back again with the shop after a little while… they might come back into stock.
THESE STONES ARE COMPLETELY AFFORDABLE!
Stones Used: Blue Apatite and Sandalwood
Platform: Etsy
Purpose: These onyx and tiger's eye mala beads are designed to protect you from negative energy and help to ground you. Tiger's eye will help get you out of your head and feel more centered and focused with your purpose and life.
Stones Used: Tiger's Eye, Onyx
Platform: Etsy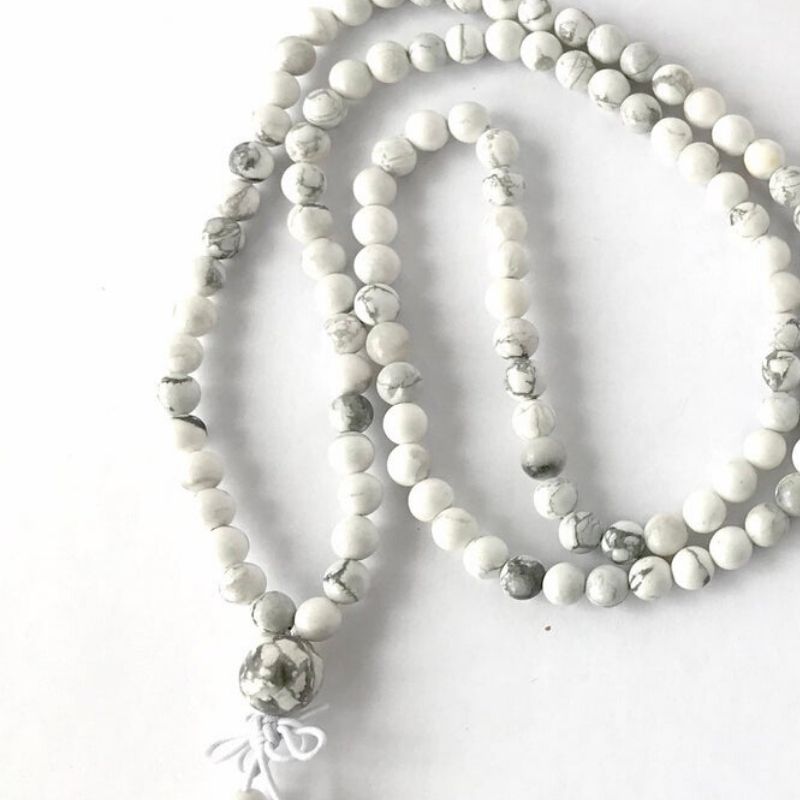 Purpose: Release your stress and anxiety with these howlite stones. Very simple style mala beads, these are very functional but can easily be wrapped and styled as a bracelet. Practice your best "Elsa" and "Let it go" 😉
Stones Used: Howlite
Platform: Etsy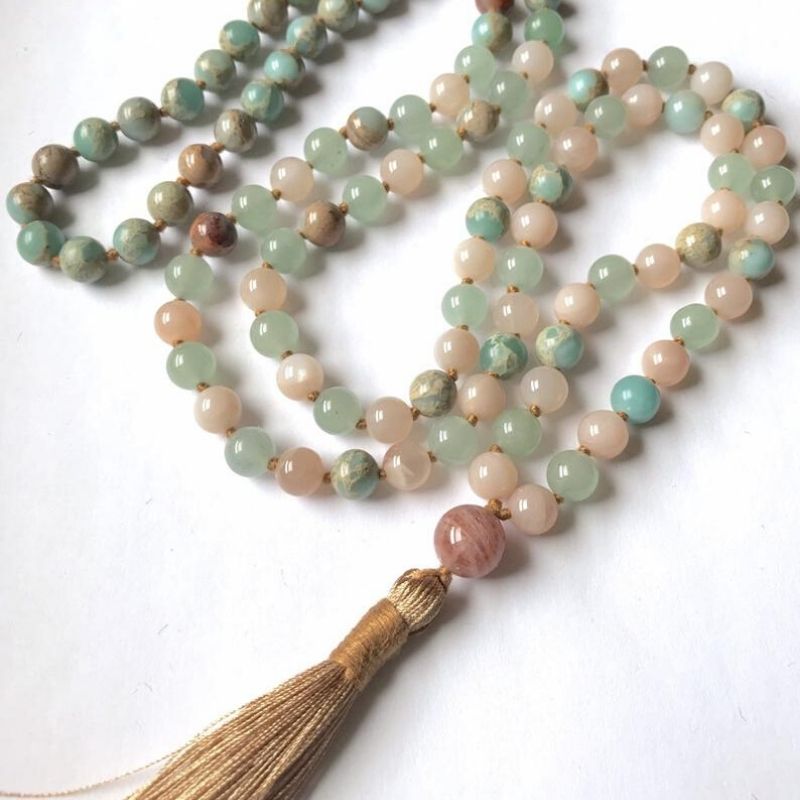 Purpose: With aqua terra jasper, these beads will help you feel grounded and calm your spirit. Sunstone helps bring abundance and positivity to your life! (Try these beads during the stressful holiday season.)
Stones Used: African opal (aqua terra jasper), sunstone, aventurine
Platform: Etsy
Purpose: With Tiger's eye to protect and ground you, rose quartz to open your heart, and amazonite to calm you and bring abundance, these mala beads will help to balance your whole life and energy.
Stones Used: Tiger's Eye, Amazonite, Rose Quartz, Ocean Jasper
Platform: Etsy
Thinking about Mala Bracelets instead? READ: 16 Mala Bead Bracelets for Style and Meditation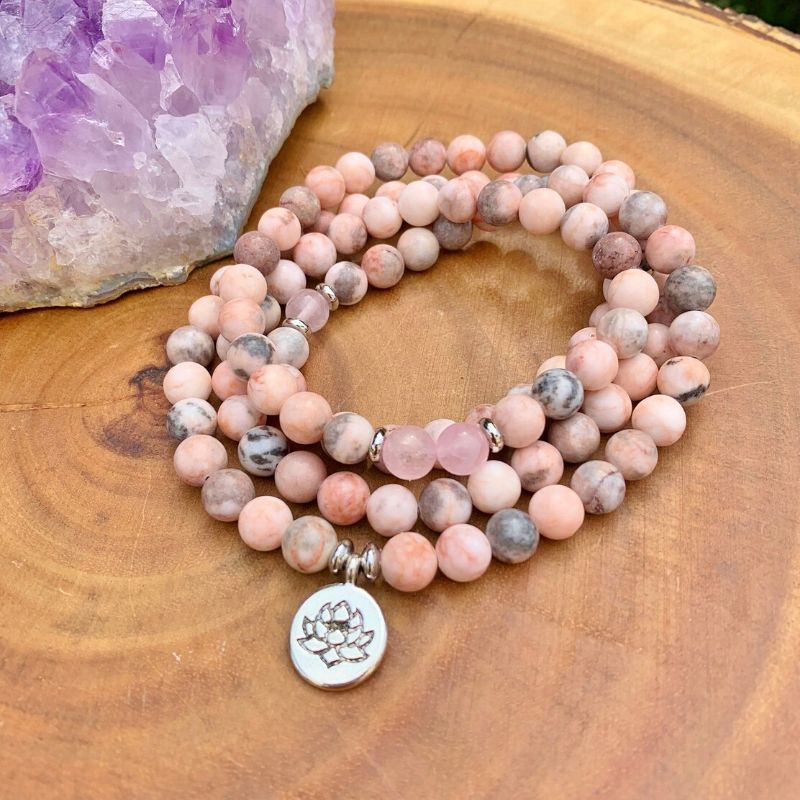 Purpose: On a stretch cord (no knots) these beads make it easy to wear them as a bracelet. Carry the calming properties of pink jasper and rose quartz to open your heart and bring balance.
Stones Used: Zebra Jasper and Rose Quartz
Platform: Etsy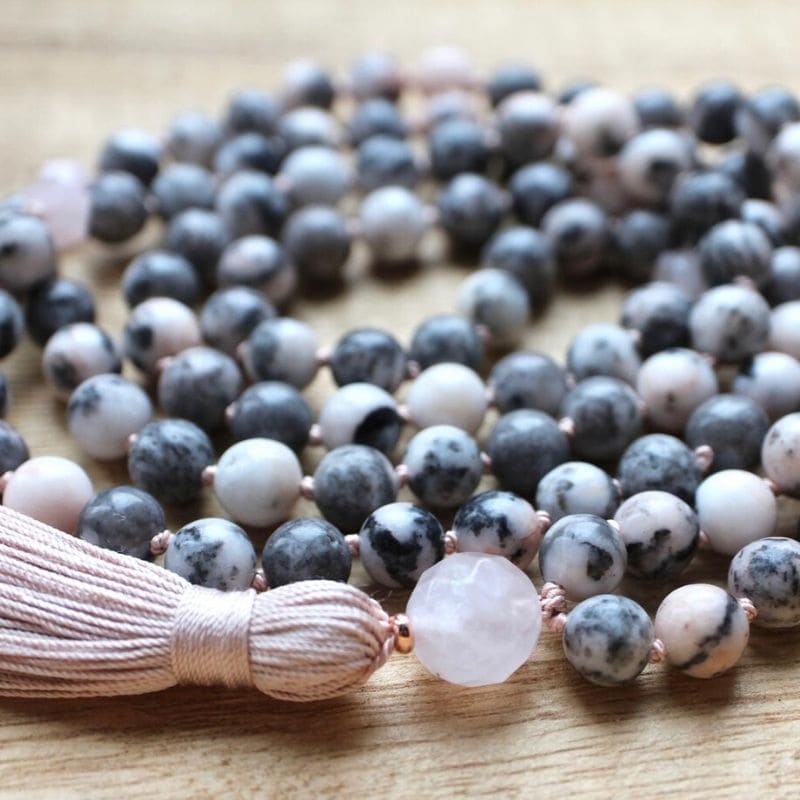 Purpose: Helping to balance and ground you, zebra jasper is a wonderful choice to help your stress and anxiety. These can be particularly powerful for anyone who has gone through trauma and wants to alleviate residual stress and anxiety from that event.
Stones Used: Zebra Jasper and Rose Quartz
Platform: Etsy
Purpose: Amazonite is an excellent stone for clearing away the bad and bringing the good into fruition. It can help calm your nerves and ease your spirit.
These beads are an excellent, less-expensive choice, and there are other stones available in this listing, including rhodonite, tiger's eye, and howlite.
Stones Used: Amazonite
Platform: Amazon
Purpose: With extremely high ratings and customer service, these mala beads from Amazon are a great choice. Rhodonite is a good choice for opening your heart and calming your nerves.
There are additional stones in this listing also good for anxiety and stress, including various types of Jasper and Rhodonite.
Stones Used: Rhodonite
Platform: Amazon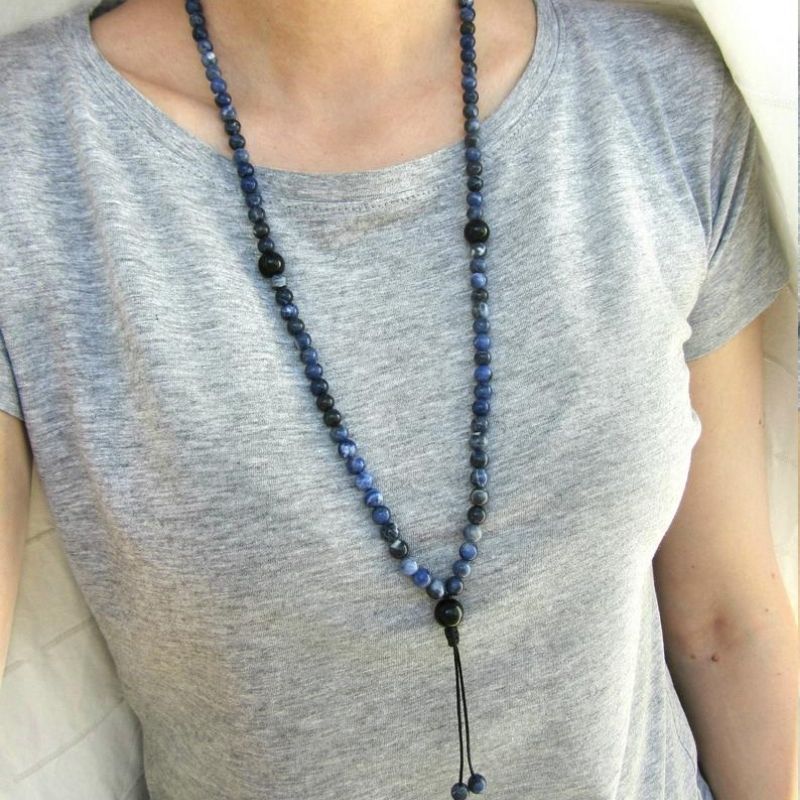 Purpose: If you're someone who is an empath (you absorb energies from the people around you), these beads can be particularly helpful for you. Onyx will help protect you from negativity and sodalite will guide you to a calmer energy.
Stones Used: Sodalite (6mm beads) and Onyx
Platform: Etsy
Conclusion
When searching for the best mala beads for anxiety, the best stones are howlite, tiger's eye, onyx, jasper, and blue stones like blue apatite or sodalite.
After you've made your choice, make sure to read: 6 Ways to Use Your Mala Beads.
Good luck on your search for the best mala beads for stress and anxiety for you!
YOU MAY ALSO LIKE:
The Best 16 Books to Guide Your Spiritual Enlightenment
15 Mala Beads for Fertility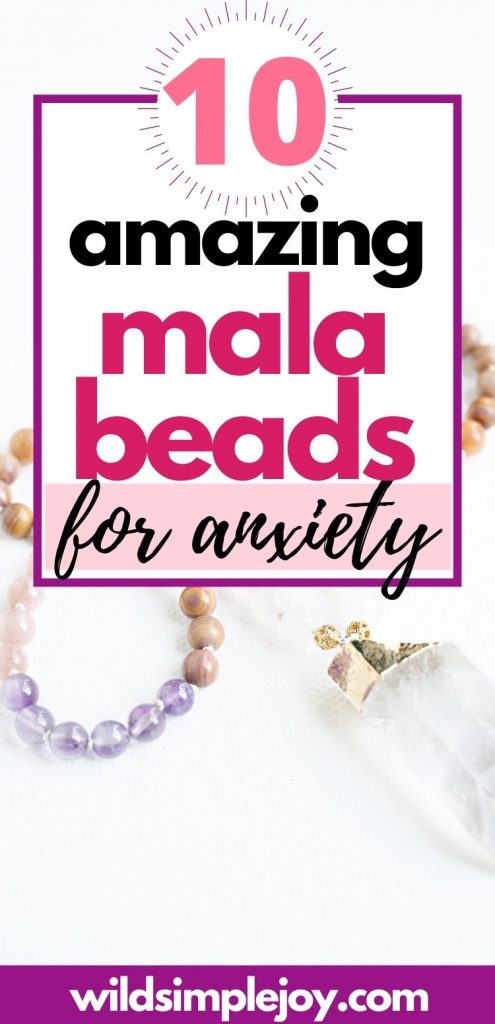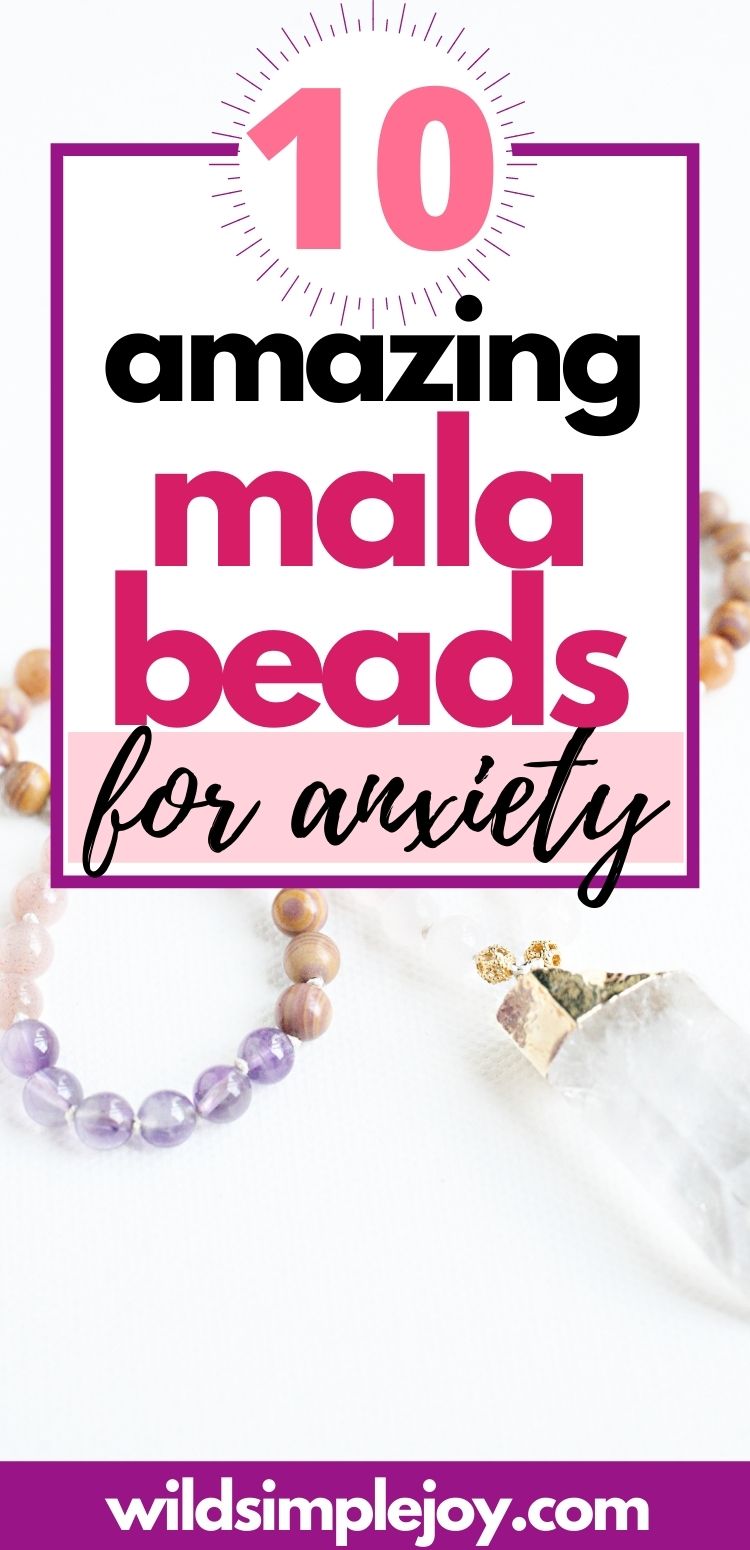 The Best Mala Beads for Anxiety and Stress Relief