I must be honest: until a month ago, I had no interest in mermaids. I'm a Virgo-Libra cusp, which puts me in the earth and air elements. Don't get me wrong, I love water! But it's never been a strong presence in my life.
Which is why when the Mermaid Tarot deck started to call for me, I was a bit surprised. I started dreaming in the cerulean, sparkling hues of this deck, swimming through clear waters with my powerful tail. I had seen Amanda Ellis use this deck several times, I went to the Amazon page and that was it: it was drawing me to it.
The deck has a very distinct personality, which I'll explain more below. So keep reading my Mermaid Tarot review to learn all about it.
I ordered this deck from Amazon, and they shipped it in a bubble bag package, which is unfortunate because the corner of the box was smashed. (You can see see just slightly in the top left corner of the box is misshapen in the picture at the bottom of this page.)
But I was quite surprised when I felt the mermaids calling to me, saying that it was superficial and they wanted to be unboxed.
Considering my previous tarot decks had never really spoken to me in this manner before, I wasn't sure if it was sincere. There's a lot of giggling and laughter from the mer-children in this deck. They were pleased when I decided to open the box and the cards.
RELATED POSTS:
The 20 Best Tarot Decks You NEED TO KNOW!
The 20 Best Oracle Decks to Know (for Beginners)!
Wild Kuan Yin Oracle Review
Mermaid Tarot Artwork and Cards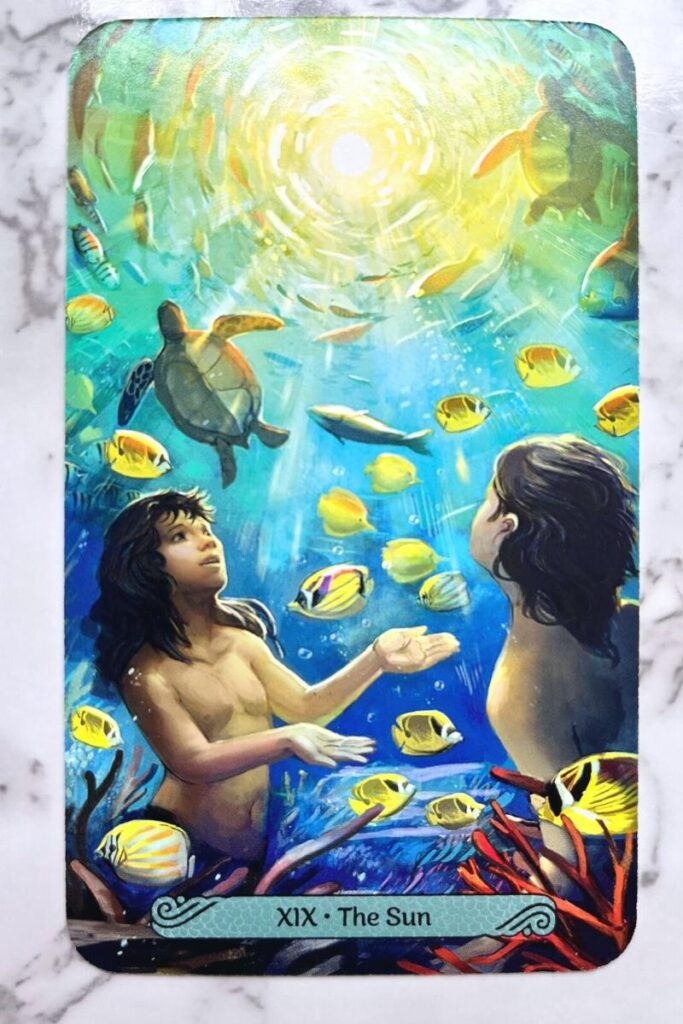 Julie Dillon's artwork is absolutely stunning. She uses color and light in an extraordinary way. Many of the cards are set under the water (naturally), so there are lots of blues and turquoises in this deck. But there are still plenty of reds and purples (see the Queen of Wands below).
There is great contrast in the cards, and a large number of them represent more modern problems with the oceans, such as pollution, dead sea animals, and gas spills (the Death card.)
Many of them also feature tales we know so well, such as the Little Mermaid (the Fool) and King Triton (the Emperor).
The cards are also very balanced in their masculine and feminine representations, and there are many skin-tones represented.
The Cards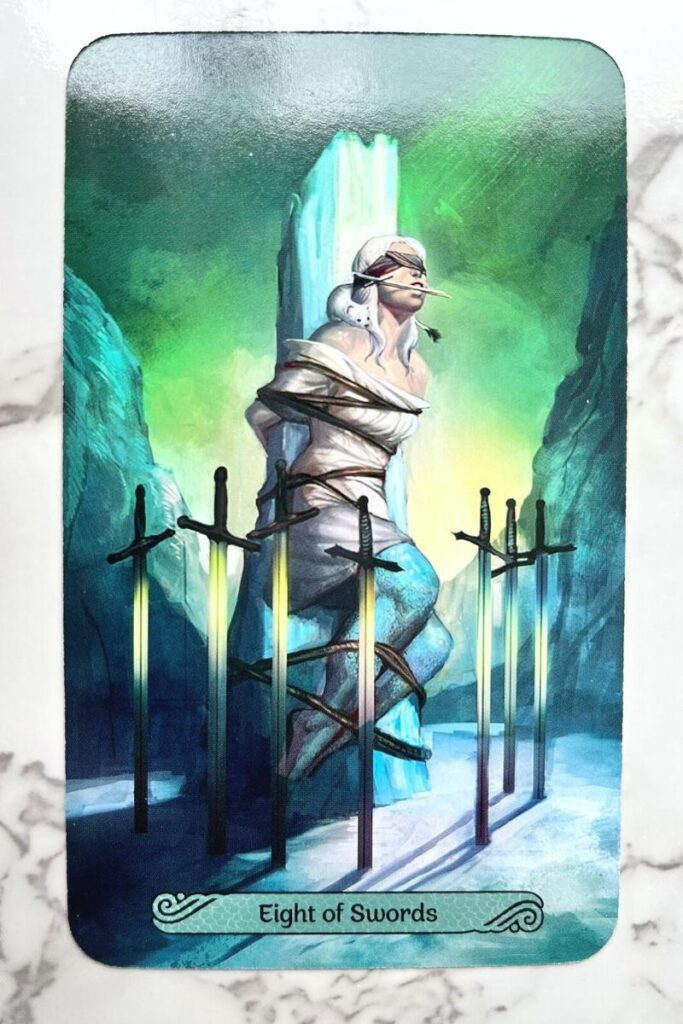 It is very closely based on Rider-Waite with all of the same 78 cards being there. Although there are many changes to the images themselves, the understanding of the card is there in the picture.
For example, the Five of Pentacles shows two women, one sobbing on the shore, the other in the water holding up five gold coins. The Five of Pentacles represents destitution and financial ruin, but richness and things to be grateful for are always there if you open your eyes.
Although the most popular review on Amazon is one that does not like the different representations of the Rider-Waite, I disagree. I find these cards to be incredibly easy to interpret with and without prior knowledge of the RW system.
I also find these cards to be quite witchy (both artwork and interpretations). In fact, I think this deck is significantly more witchy than the Witches' Wisdom deck.
The Guidebook
Wow, the guidebook is one of the best reasons to get this deck. It is in full color and has excellent descriptions of the cards. The font is much larger than the standard deck booklet and it is easy to read.
There are a few chapters at the beginning of the book that explain the flow of the deck and suggestions for getting acclimated to the deck. Then for each card, there is a paragraph or two of card philosophy, and then both an upright and reversed card description.
Chapter 5 of the Guidebook is dedicated to magic spells, spreads and questions. There are NO diagrams of spreads in the guidebook, which I was hoping for.
Product Quality
One of the biggest problems I have with this deck is the card quality. These are hardly more than glossy paper.
I've seen other reviews that mention that this is standard for Llewellyn Publishing. Yes, they are very easy to shuffle. However, I worry that if I'm not extremely careful with them that they will only last me less than a year.
Everyone has different needs and expectations when it comes to card stock of tarot cards. So don't automatically discount this deck just because the card stock is quite thin. But this is definitely my biggest point of contention with this deck.
Mermaid Tarot is the Best Tarot Deck for Clairaudients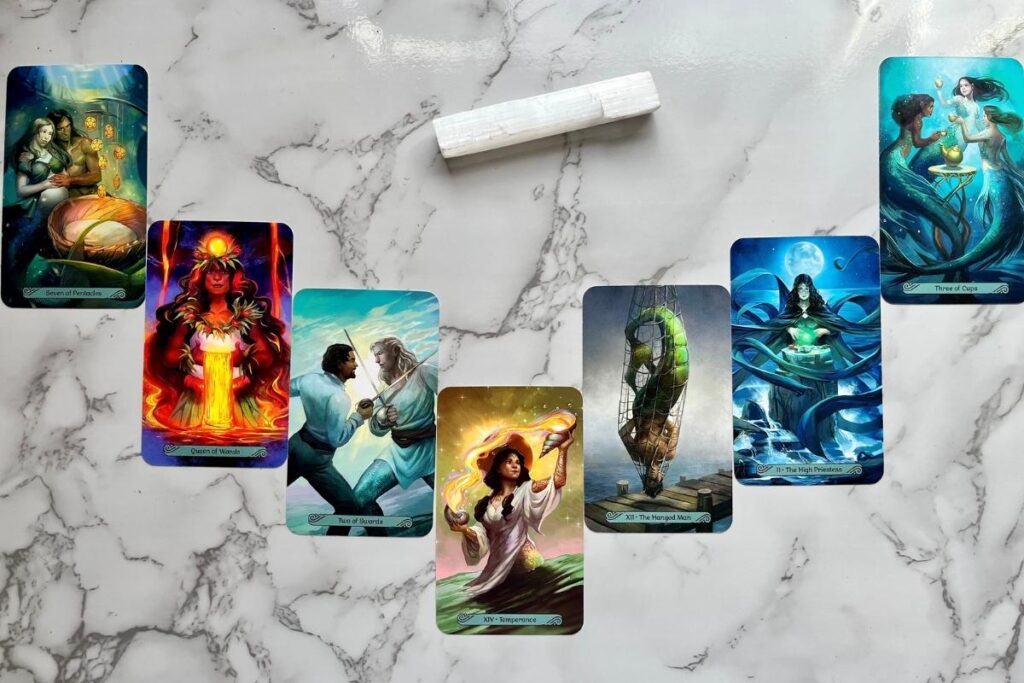 Here's the thing: I'm clairsentient. When I work with something that has energy, I usually feel the energy. But I also have small levels of clairvoyance and clairaudience.
This deck speaks to me. I can hear what it wants me to understand about the cards I've pulled not just feel the energy (although I can still do that too). The children and fairies in the deck, such as on the six of pentacles, the Sun, and the Page cards, are the loudest voices. The Sun card appears to me over and over again in this deck.
Through my limited experience, this is the best tarot deck for clairaudients. If you are clairaudient, you may be able to hear these cards talking to you to explain their interpretation.
RELATED POST: What It Means to Embody the Queen of Swords Energy
Tarot Spreads and Interpretations
I've used a few spreads for readings with this deck, including the three card spread, horseshoe spread, and Celtic cross. So far, all of the spreads that I've used have had a cohesive story or message to interpret from them.
I typically do a smaller spread though, usually using three to five cards. Just recently I asked about how I can help the world. The first card was the 10 of Swords. My gut reaction was that my message was to talk about my sorrows and suffering, don't hide it away.
Next, I drew the King of Cups. This card has come up in previous readings with different decks before. I took this to mean mastery of my emotions, and with the previous card, I also understood it as death of my ego.
Last, I drew the Sun. What comes after death of the ego is bliss, child-like wonder, and joy! This is my mission in life, and this is how I will help others–to share my journey of emotional mastery and abundant communication.
OTHER TAROT DECK REVIEWS:
My Field Tarot Review (My Favorite Deck)
The Spiritsong Tarot Review
Witches' Wisdom Tarot Review
Mermaid Tarot Review Conclusion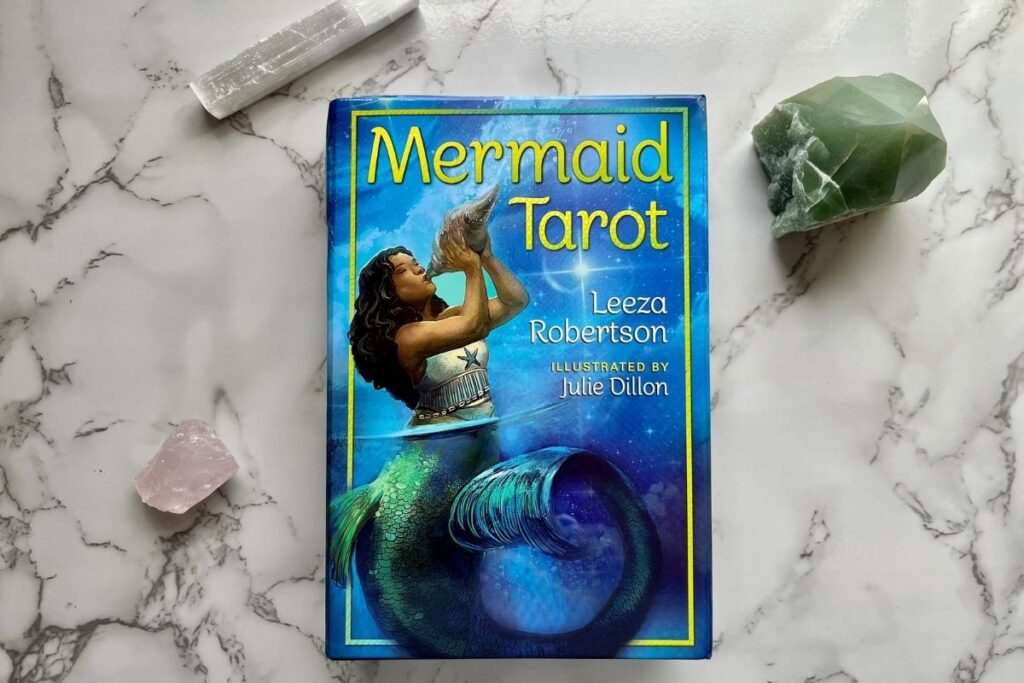 Pros
Great for clairaudients
Stunning artwork
Great adaptation that is close to the Rider-Waite
True and easy to interpret in a cohesive way
Powerful messages–great for BIG questions and overarching life goals
Despite a seemingly superficial exterior, the Mermaid Tarot is a very serious and meaningful deck
For my Mermaid tarot review, I give the deck 5/5 stars. It is a truly stunning deck that I'm SO glad called to me! The thinness of the cards is not even enough to knock off 1 star. The Mermaid Tarot is completely worth it for all types of tarot readers, both for yourself and for others.
Do you have the Mermaid Tarot Deck?
If so, what do you think about it? Would you rate it the same?
(Also, if you are clairaudient or clairsentient, have you had similar experiences with this deck as I have? Please drop me a comment!)
RELATED POST: Why I'm Using Doreen Virtue Angel Cards in 2022 (As a Beginner)
How to Be More Present in Life