The Witches' Wisdom tarot deck, by Phyllis Curott and illustrated by Danielle Barlow, is a stunning deck of cards that I use regularly in my tarot practice. Like any product out there, it might not be for everyone, however.
This Witches' Wisdom Tarot review is designed to help you determine if these cards will be a good fit for you and your tarot practice.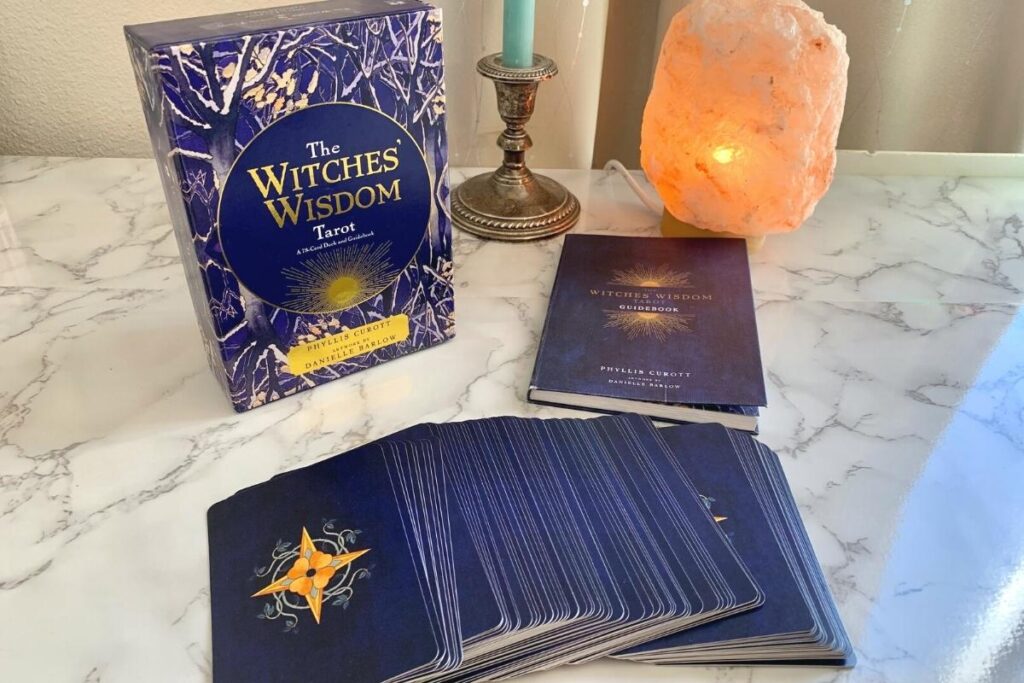 The Witches' Wisdom Tarot: A Fantastic, Nature-based Tarot Deck for Beginners
My cousin recently started a journey in tarot reading, mostly for herself, and I was immediately drawn to the tarot practice: following the energy, the magic, the connection to the natural world! But mostly I was interested in the insight into my own spirit and psyche.
She had recommended this Witches' Wisdom deck to me, and I bought it for myself as a Christmas gift.
This was my very first tarot deck and one that will be close to my heart for a very long time!
Can I buy a tarot deck for myself?
I know there's all kinds of myths about what you can and can't do as far as obtaining tarot decks, but I don't subscribe to any of it. I don't believe that a person has to be gifted a tarot deck. Tarot magic is there for you if you want to learn it, all you have to do is try it out for yourself!
Having said that, I'm so grateful that this was my first deck. I'll talk more about that below, but first, let's take a look at unboxing the Witches' Wisdom tarot.
RELATED POST: The Best Tarot Decks to Use in Your Tarot Practice
Unboxing the Witches' Wisdom Tarot
This tarot deck is much more intricate than many of the others out there on the market which are much more simple.
It comes in a large box that closes with magnets on the side. On the inside front cover of the box, it has the following poem:
Magic of feather, song, and Air
awaken, inspire, and make aware;
Magic of claw, hearth, and Fire
warm, enliven, and inspire;
Magic of fin, womb, and Water
love and dreams conjure;
Magic of fur, seed, and Earth
embody, nourish, and give birth.
Magic within and around awaken
Spirit's answers and guidance taken.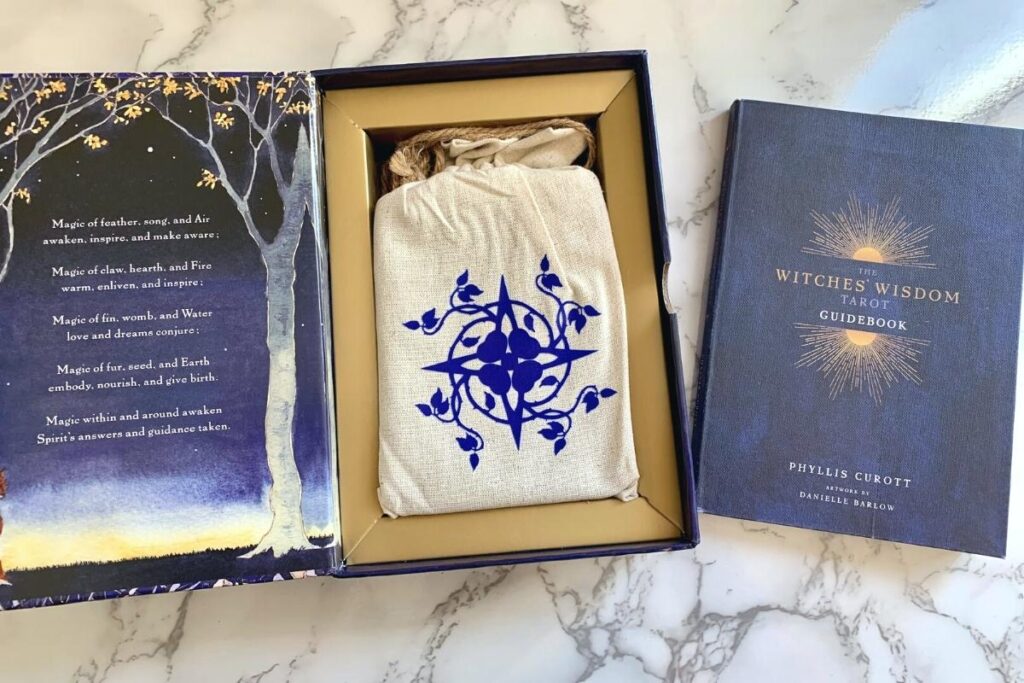 RELATED POST: The Best Oracle Decks to Use for Developing Your Intuition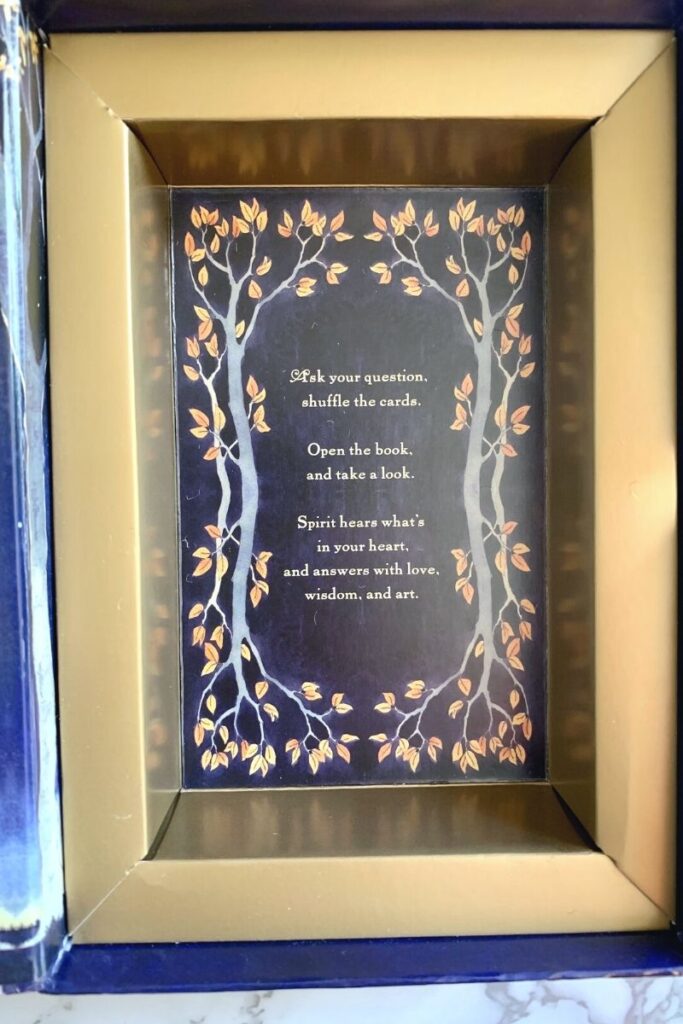 The guidebook fits in on top, and underneath is a bag with all the cards.
As you take out the book and bag of cards, there's another poem written underneath:
Ask your question.
shuffle the cards.
Open the book
and take a look.
Spirit hears what's
in your heart,
and answers with love,
wisdom, and art.
This attention to detail makes this deck such a lovely experience. As it was my first deck, it really set the bar pretty high for other decks that followed.

The Guidebook
As you can see from the pictures, the guidebook is quite large. The font is large and it's easy to read. The descriptions of the cards are quite thorough, especially the Major Arcana cards, which each have a full 2 pages dedicated to them.
The Minor Arcana cards each have a page dedicated to them as well.
For every card (both Major and Minor arcana) there are smaller sections for Wisdom (the story), Essence (keywords), Counsel (teachings), and Magic (practical application that you can use in your witchcraft).
I especially think this "Magic" section with activities and spells that you can do to help you on your journey with this card is especially thoughtful. Some of the spells can get rather long, or they require you to be near a body water (difficult for me, since I live in the desert). So they may be difficult to complete, but you can always modify or do a simpler version of the spell they are suggesting.
Danielle Curott has done a wonderful and thorough job with the guidebook and the essence of these cards with magic.
RELATED POST: Witch Protection Spell That's Never Failed Me
The Cards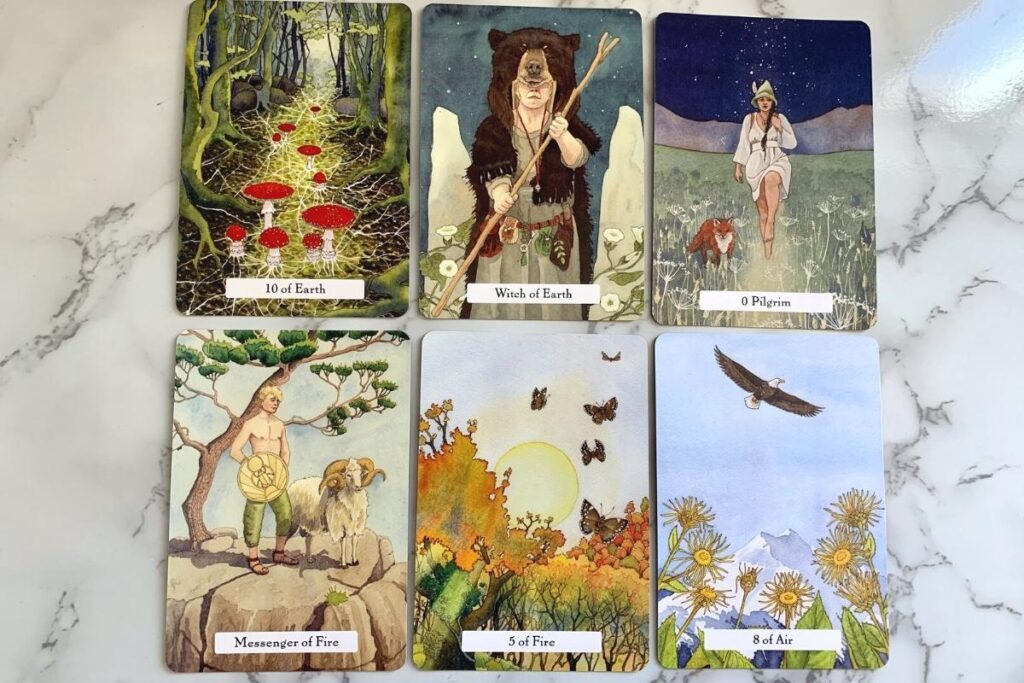 I cannot express in words the wonder and love I experience every time I look at these cards. The artwork is absolutely STUNNING.
Four Suits
The cards are separated into 4 suits according to the four elements: fire, air, water, and earth. As expected, they correspond correctly with the four suits of the Rider-Waite tarot deck:
Fire = Wands
Air = Swords
Water = Cups
Earth = Pentacles
Quality of the Cards
One of the most common criticisms of tarot decks when you read reviews on Amazon is the lack of quality in the cardstock.
With these, you don't have to worry about that. The cardstock is thick and weighty. The cards are NOT gilded, but for me, that did not make a difference.
Card Meanings
This deck is loosely based on the Rider-Waite. It has 78 cards and the Major and Minor Arcana. However, they are slightly (or not-so-slightly) off-set. For example, there is a Sun card, but it is card 3 in this deck (as opposed to XIX in the Rider-Waite). You might this the Pilgrim card would correspond to The Fool in the Rider-Waite, but instead, it corresponds to The World.
There is a table in the guidebook that outlines this.
Interpretations
While the Rider Waite tarot is pretty easy to interpret as far as implications for your life, positive or negative, etc, the Witches' Wisdom deck can be a bit more obscure.
This is one of the issues that I take with this deck. It is not at all straight-forward and can take a lot of effort and application to figure out what the cards are trying to tell you.
For example, the keywords might be be more present, or surrender and let go.
In this way, it may be helpful to know a little bit about the Rider-Waite and traditional tarot readings before diving into this deck. I find that my readings are more clear with the knowledge of the Rider-Waite.
That's not to say that it won't serve you if it's your first deck! It will! And it will teach you about your intuition and about taking obscure meanings and applying them to your life in meaningful ways.
This Deck and Other Religions
In addition to witchcraft and Wicca, I also regularly practice Buddhism; namely the 8-fold Noble Path, meditation, compassion, and interbeing (as taught by Thich Nhat Hanh in his teachings of Engaged Buddhism and the Plum Village tradition).
I find that this deck goes surprisingly well with these principles, especially the 10 of Earth card, which features the concept of interbeing. (Pictured above.)
RELATED POST: 16 Spirituality Books for Your Spiritual Journey
My Witches' Wisdom Tarot Review: Summary
Overall, I love the Witches' Wisdom Tarot Deck.
Pros:
An easy tarot deck to interpret visually
Thorough and descriptive guidebook
Stunning artwork
Not just for witches, but anyone who wants to live a life harmoniously with nature
Great deck for spiritual growth and development
Thick cardstock
Includes spellwork and witchcraft
Cons:
The themes of the different cards can get repetitive
It helps to know the traditional tarot first
Mostly limited to spiritual matters, difficult to interpret for finances, love, career, etc.
A bit obscure
More like an oracle deck than a tarot deck
If you're considering this deck, I highly recommend it, especially if you don't already have a deck like it! I often use it as a supplement for a more traditional tarot reading if I want more information about my spiritual journey.
I hope this review has helped you!
Do you have the Witches' Wisdom deck?
What do you think about it?
More Tarot and Oracle Deck Reviews Here:
Field Tarot Deck Review–My Favorite Deck
The Mermaid Tarot Review
Spiritsong Tarot Deck Review
Doreen Virtue Archangels Oracle Deck
Wild Kuan Yin Oracle Deck
Tarot de Carlotydes Deck Review
Affirmations for the Everyday Goddess Oracle Deck Review
Modern Hue Tarot Review