There's not much available about the Tarot de Carlotydes online (at least not in English), but there was something special that drew me to this deck. After a lot of contemplation, I decided to order it (from Europe) and spent some time getting to know this deck.
I've had it for about six months now and I've used it for some pretty specific circumstances that I wanted to share with you today. So keep reading for my Tarot de Carlotydes review below!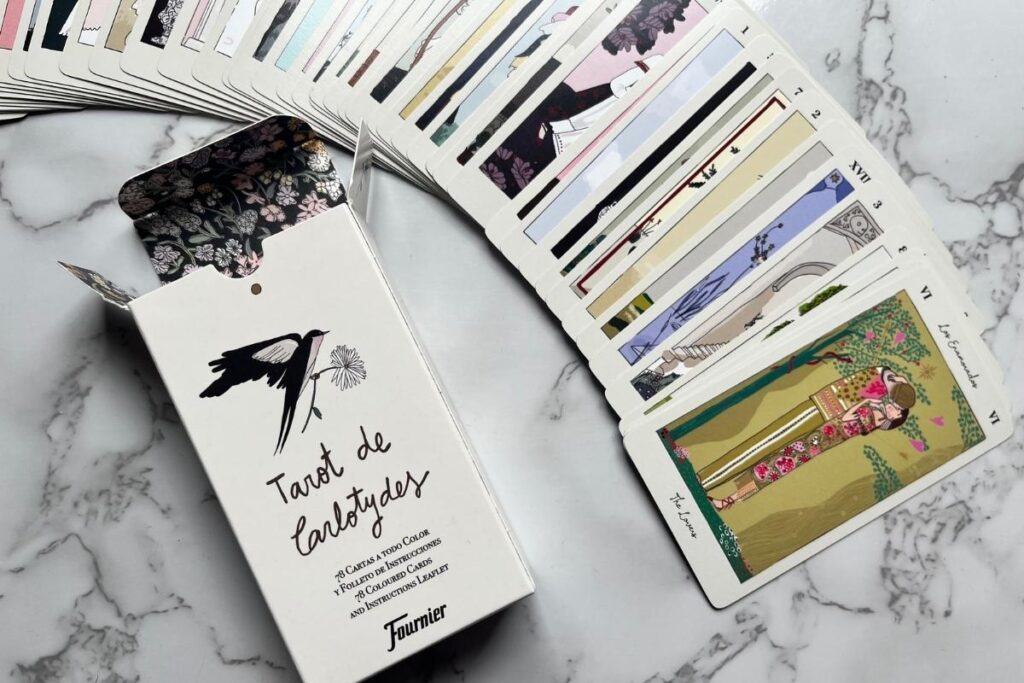 What is Tarot?
The tarot is a system of cards used for divination and energy reading. There are 78 cards that display different life circumstances, emotions, and dilemmas or challenges.
The Major Arcana are the 22 "trump" cards that show a soul's progression through life, starting with The Fool (new beginnings) and ending with The World (rebirth). The minor Arcana cards are the 56 numbered cards and court cards that show the smaller occurrences of life and people that you might interact with.
Typically, the Rider-Waite illustrations and structure are what most people think of when they think of tarot cards, and it has definitely become the standard.
Check out my list of the best 20 tarot decks for beginners! (This deck is more advanced and is not included on my list.)
What is the Tarot De Carlotydes Deck?
Tarot de Carlotydes is a tarot deck created by Carlota Santos published in 2021.
The card size of the Tarot de Carlotydes is 4.25 inches by 2.25 inches. This is definitely the smallest tarot deck that I have, but this makes shuffling easier since I have small hands.
The Tarot de Carlotydes has the full 78 cards in this deck, and while there are similarities to the Rider-Waite illustrations, this deck takes on its own style and variations.
Take a look at the Tarot de Carlotydes on Amazon.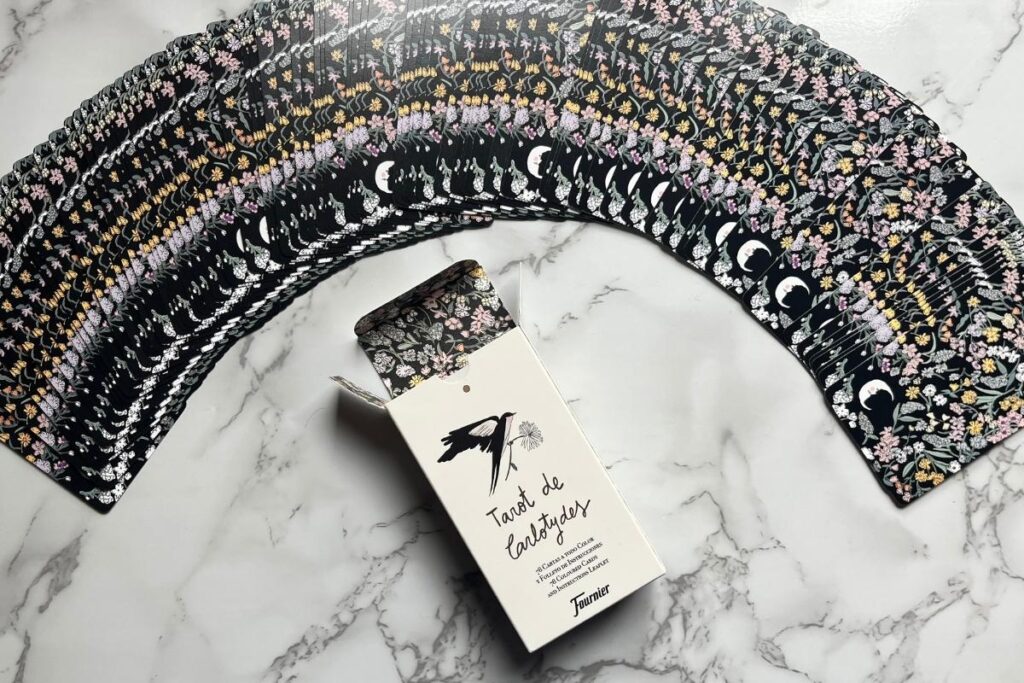 Booklet
Unfortunately, this deck doesn't come with a very comprehensive booklet. There is a handful of keywords for each card, and it is in the languages English, Spanish, German, French, and Portuguese.
Be prepared to know Rider-Waite and be a more intermediate to advanced reader who is experienced reading visual cues in the artwork.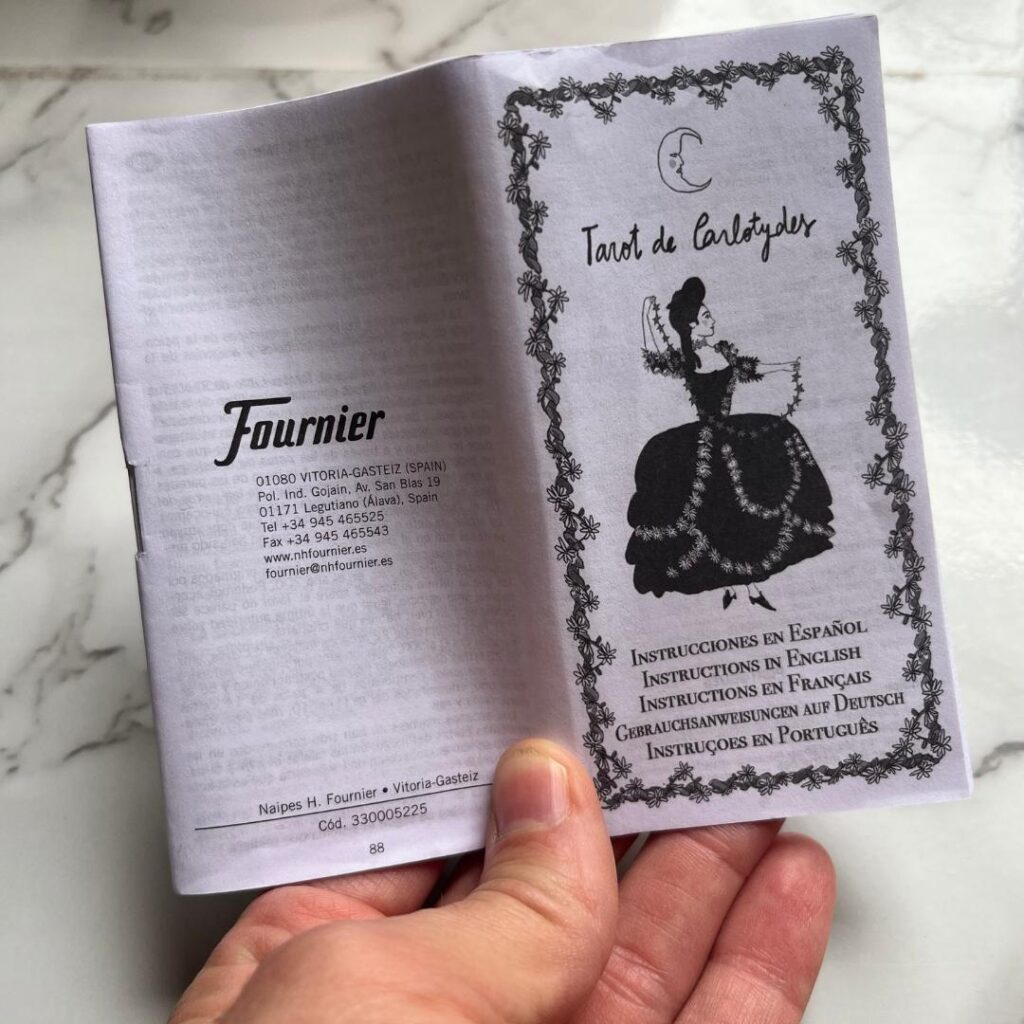 RELATED POST: The Wild Unknown Tarot Review
Card Quality
These cards are more along the lines of playing cards, with very flexible cardstock and plastic coating. They're super easy to shuffle, especially for small hands!
If you check out the reviews on Amazon, you'll notice a lot of negative reviews about card quality. They are in fact quite thin. If this is something that bothers you, you may not like this deck.
In fact, if you look at the publisher, this is a deck by Llewellyn Publications. Essentially, all of Llewellyn decks have this sub-par quality. The only other deck that is produced by Llewellyn that I own is the Mermaid tarot, which is exactly like this.
The Bottom Line: If you're going to be using this deck daily, you may find that they wear out quicker than you'd like. But for using this deck every now and then, they should hold up just fine.
MORE TAROT CARD DECK REVIEWS
Field Tarot Deck Review
Mermaid Tarot Review
Spiritsong Tarot Review
Tarot de Carlotydes Artwork: A Very Visual Deck
The visual cues in this deck are extraordinary. They're slightly different than the traditional Rider-Waite deck, but extremely helpful. I find myself reading the visual cues on these cards more than the traditional card meanings.
You'll notice that there are a lot of influences for this deck. The Cups suit has a lot of Imperial Russian influence (vodka, snow, fur-lined attire, etc.) There are other influences like Celtic paganism, Santeria, art deco.
I get very "Princess and the Pea" vibes from the Four of Swords above. The King of Swords (not pictured) also has a gag, as if he can't speak.
There are a lot of very different visual cues in this deck that are fascinating and lead to very dynamic readings!
Doing a Reading with the Tarot De Carlotydes Deck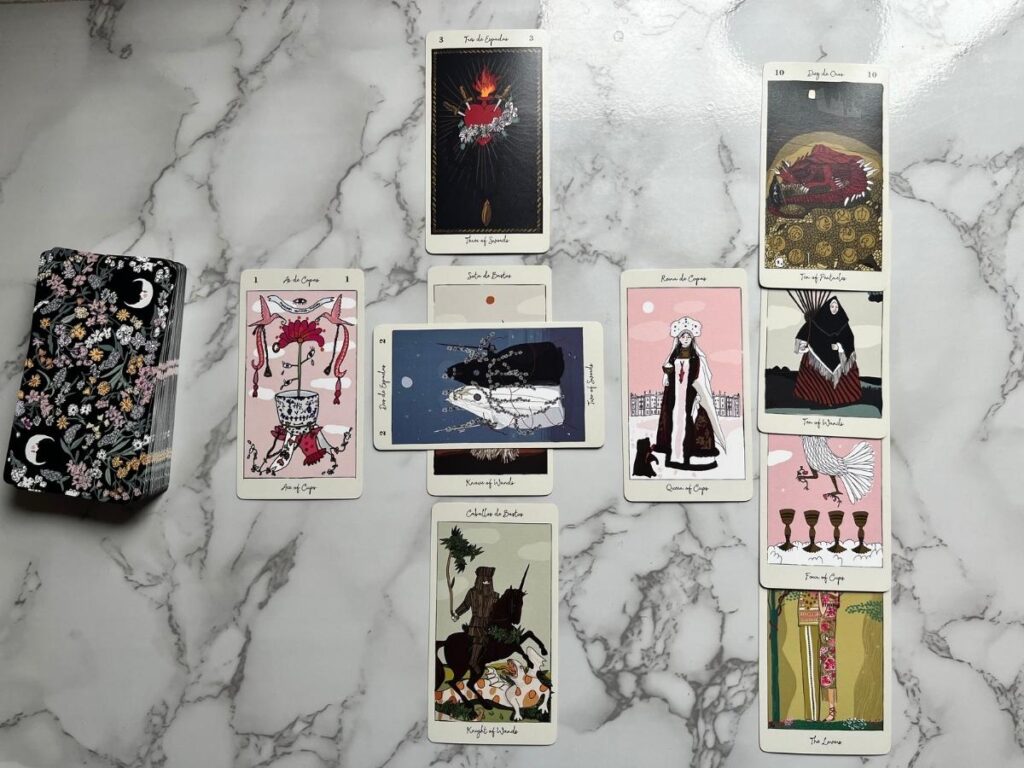 Even though the booklet will not be very helpful for you when doing a reading with the Tarot de Carlotydes, I personally find that readings and interpretations are incredibly intuitive and easy.
You can choose more complex spreads (like the Celtic cross spread pictured above) or you can choose simpler spreads. I prefer to use simpler spreads in general because it allows for a greater variety and open interpretation rather than trying to bottleneck a particular card meaning into one small area of life.
I especially like to use this deck when I'm writing my novels and I get stuck. Drawing cards for my characters really helps me to look at situations that I'm writing with fresh eyes and gives me perspectives that I haven't seen before.
Conclusion: Tarot de Carlotydes Review
I give this deck a 4/5 stars. I do wish there was a better guidebook with it, and the card quality might not be the best. But I cannot stress enough the amazing visual cues in this artwork!
Do you have the Tarot de Carlotydes deck?
What do you think about it? Drop a comment below and share!
Other Spanish Decks to Check Out:
ORACLE CARD REVIEWS:
Wild Kuan Yin Oracle Deck
Shaman's Oracle Deck
Affirmations for the Everyday Goddess Wisdom Deck
The Best Oracle Decks to Add to Your Collection