Pamela Colman Smith's original Rider-Waite artwork has been recolored and restyled so many times over the years. But when I saw this deck, it struck me as very different. I've always been drawn to watercolor paintings, and the coloring was very intriguing for me.
Now that I've used this deck for a few weeks, I wanted to give you my opinion in the form of a Modern Hue Tarot review. I'll talk about what works about this deck, and what doesn't work. Keep reading to find out how many stars I give this deck below!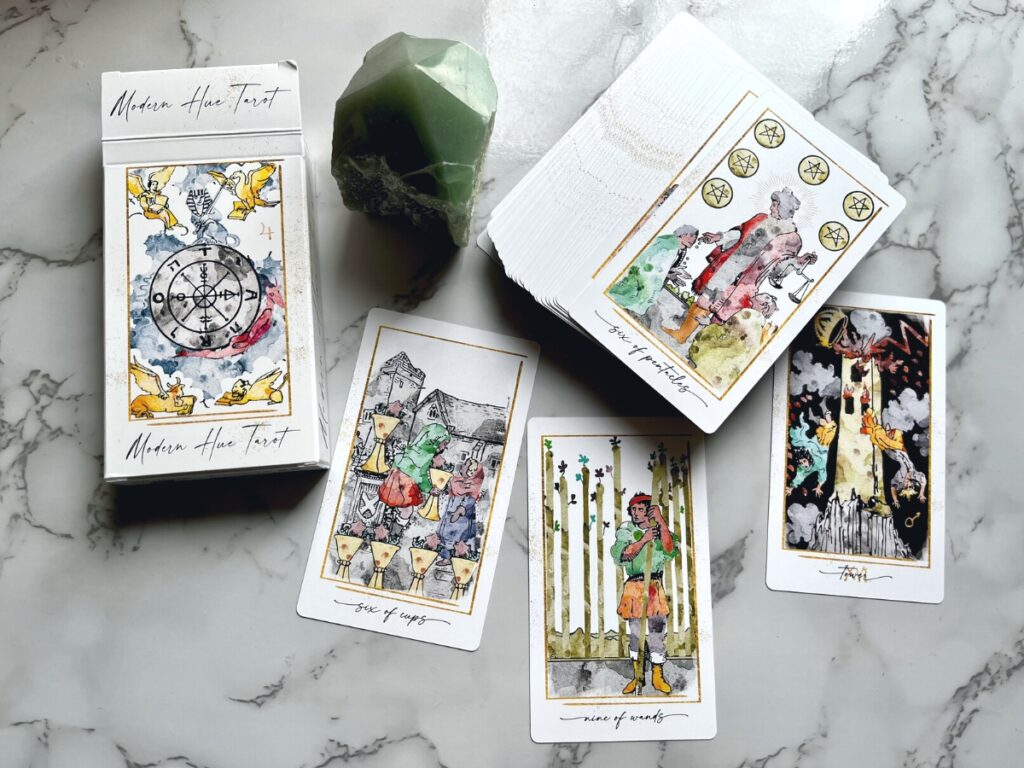 What are Tarot Cards?
Tarot is a system of cards for reading energy. They can be used for divination (fortune-telling or seeing the future), but they haven't always been used for that, and there are plenty of uses! Tarot cards are nothing but a tool to help you understand your spiritual growth and the direction your life is headed.
Rider-Waite
Because this deck is a Rider-Waite deck, I wanted to give a little background about the Rider-Waite. First published in 1909, the Rider-Waite tarot deck was written by Arthur Edward Waite and illustrated by Pamela Colman-Smith. These decks are often also called a Smith-Waite deck because of Pamela Colman-Smith's artwork.
The reason it's called the "Rider-Waite" deck is because of the publisher, the Rider Company. I vote we get rid of the "Rider" part altogether and honor the artist! (But that's just me!)
Regardless of name, this deck traditionally has 78 cards, 22 of which are Major Arcana cards and 56 of which are minor arcana cards. The major arcana cards detail the more important spiritual moments and growth of our lives, while the minor arcana cards relate to smaller events that happen in our lives and the people with us.
RELATED POST: Check out my list of the top 20 best Tarot Card Decks for Beginners
What is the Modern Hue Tarot?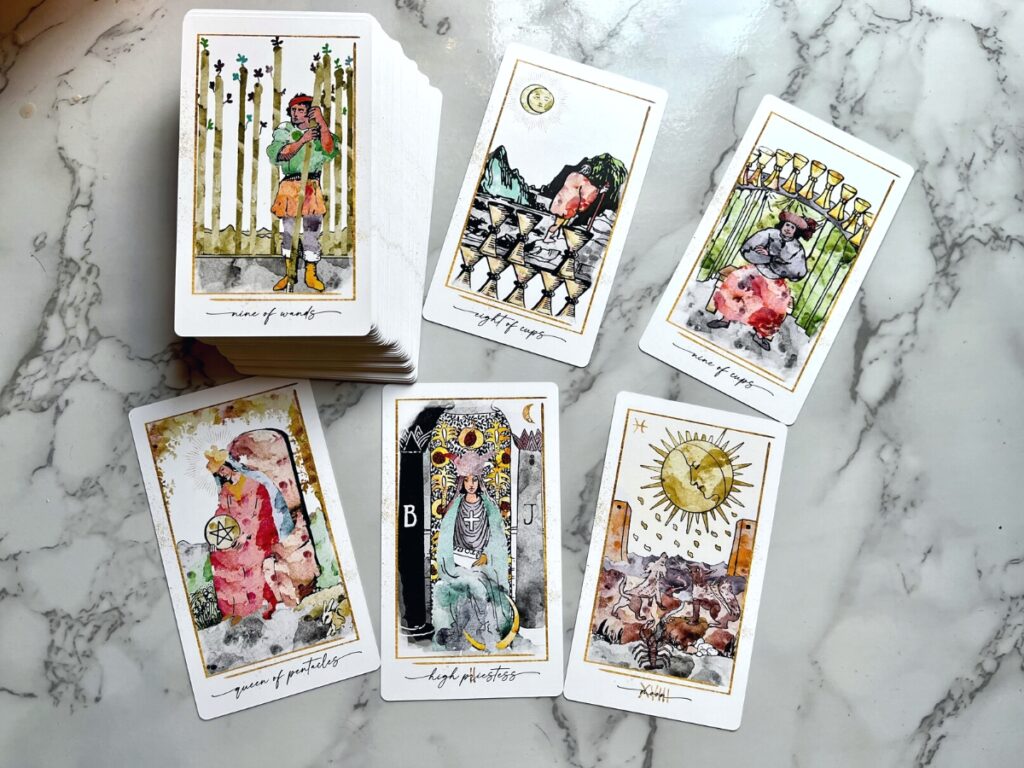 The Modern Hue Tarot (not an affiliate link) is a deck launched by journal company Writual. These journals are specifically for recording your tarot readings! I've never tried one of their journals but I kept seeing ads on Facebook for both the journals and this deck.
Modern Hue Author and Illustrator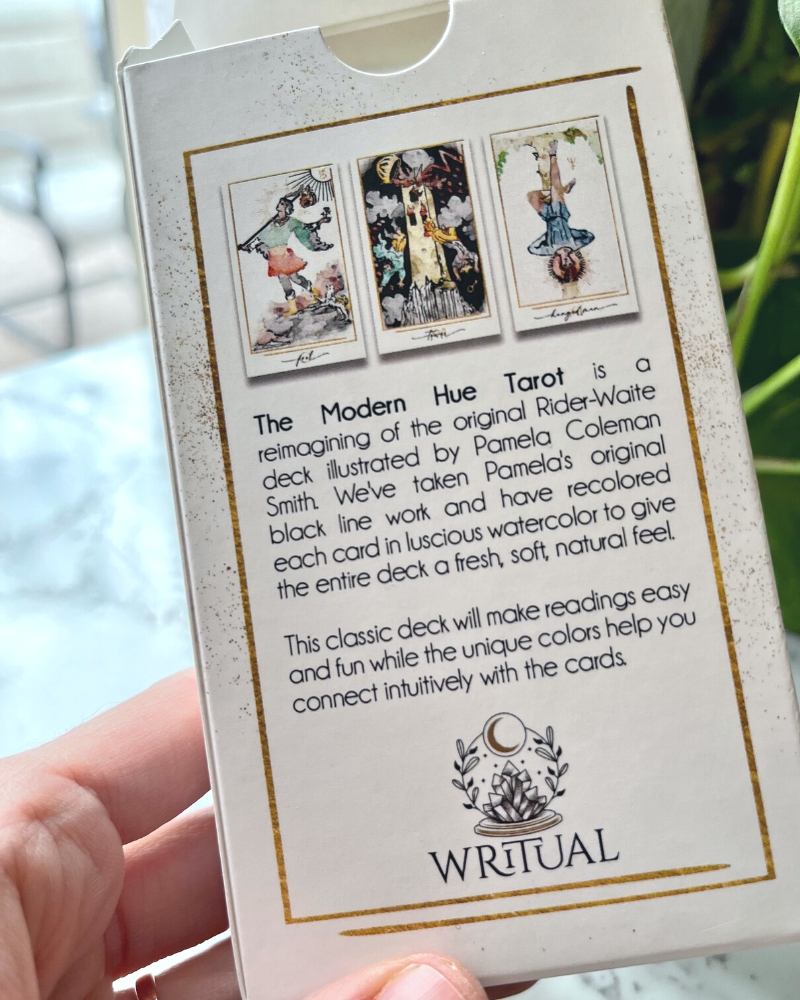 In my more traditional reviews for tarot decks, I like to talk a little about the author and illustrator. However, in this deck, there does not seem to be either of them! Because it is a Smith-Waite deck, there does not need to be much written about this deck.
It was, however, surprising that there was no artist listed. This could mean that it was designed by a team, or that it was simply haphazardly done without much thought, innovation, or creativity.
I think the latter is more likely the case, because of the next thing I'd like to talk about.
RELATED TAROT REVIEWS:
The Field Tarot Review (My All-Time Favorite)
Tarot de Carlotydes (Spanish Deck)
The Akashic Tarot Review (A Non-traditional Deck)
Unboxing the Modern Hue Tarot
One of the things I like to do when I get a new deck is take a moment to feel the energy of the deck. Some decks seem straightforward and masculine, others feel radiant and vivid, and others more gentle.
This deck felt like a blank piece of paper.
There was no buzz, energy, or feeling to this deck at all!
This doesn't mean that it's an ineffective deck, because I don't feel that to be the case. But it doesn't have a clear energy that most other decks have.
It feels like this deck regurgitates information from the Universe at the most basic level because it was not divinely inspired.
So doing a reading from this deck will yield basic answers, and I've found it to be quite honest during a reading, if not very face value.
Cards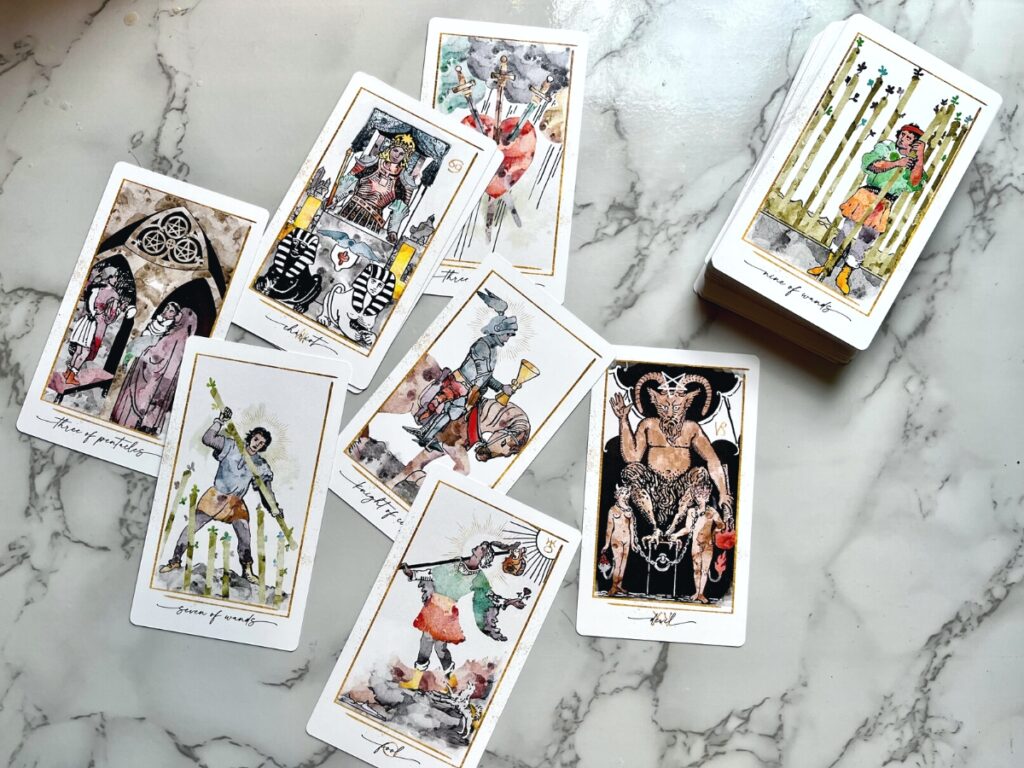 Here is the the other big problem I have with this deck: the watercolor is splotchy and messy, and it detracts from the integrity of the artwork.
You can see this illustrated in the cards above. Look at the Three of Swords and how texturized that heart and the clouds are. It's incredibly distracting! You almost have to study the card to even tell what it is!
It looks like watercolor blocks were created, using this overly dotted/splotchy technique, and then it was cut and pasted into the shapes of Pamela Colman-Smith's artwork. The watercolor was not painted directly onto the outlines of her artwork, which would have resulted in a smoother and more gradually shaded artwork.
RELATED ORACLE DECK REVIEWS:
The Psychic Tarot Oracle Review (A Masculine Deck)
Wild Woman Oracle Review (Cheyenne Zarate Artwork)
Doreen Virtue Oracle Cards
Card Quality
I do also have a gripe about the card quality of this deck. It is highly slippery, beyond any useful level. Sure, I hate it when my cards stick together when I'm trying to shuffle or draw. But when the cards are so slick they just fly right out of your hands…
…well, that's certainly not helpful, either.
My Modern Hue Tarot Review
Overall, I like this deck and I will continue to use it. However, the missing elements of the Rider Waite plus the messy design of the watercolor turns me off. It was a good idea that simply wasn't executed well. I'm not certain if it was just lazy designing, or if someone thought it was a good idea.
But it is a standard Rider-Waite that gives standard RW wisdom during a reading.
I give the Modern Hue Tarot 3/5 stars.

Do you think this new watercoloring of the traditional Pamela Colman Smith artwork is worth it?
Would you get a deck like this? Let me know in the comments below!
The Modern Hue Tarot Review – A Watercolor Rider-Waite