Since I first read Women Who Run with the Wolves by Clarissa Pinkola Estes two years ago, I have made an effort to embody the wild woman archetype. Aside from making sure you're reading the best wild woman books, putting together a killer wild woman playlist might be next on your list!
These 15 wild woman songs are sure to bring out the highest power in you, your sacred rage, your humor, and your wild side! Let's go!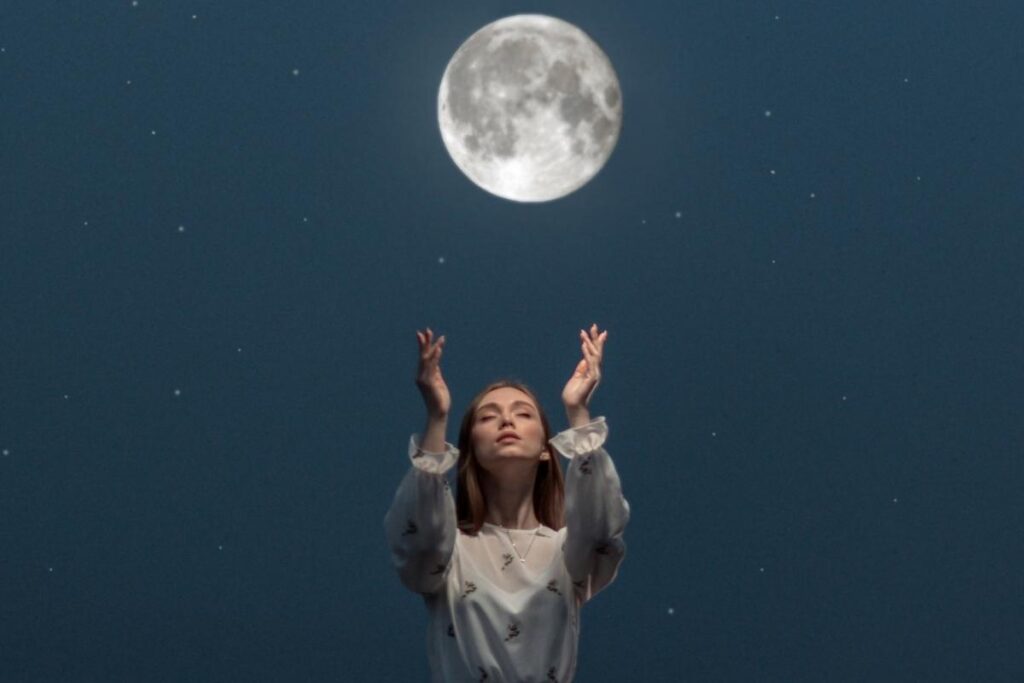 10 "Wild" Wild Woman Songs
1. I Am My Mother's Savage Daughter
How could I not start with this song to lead off our playlist of wild woman songs?
I am my mother's savage daughter,
the one who runs barefoot cursing sharp stones.
I am my mother's savage daughter,
I will not cut my hair, I will not lower my voice.

Karen Kahan, I Am My Mother's Savage Daughter
This video is one of the writers of the song, Wyndreth Berginsdottir, aka Karen Kahan, singing it a cappella on her property. But it's been covered by many different women since the popularity of this song took off about a decade ago.
It's not as popular as many others on this list, but I move to make this the official song of wild women everywhere!
2. She Moves in Secret Ways, Polly Paulusma
Polly Paulusma is one of my favorite folk singers, and "She Moves in Secret Ways" tells the story of a quintessential wild woman. In the song, the devil comes to her, preaching the ways to tame her wild. But the wild in her wins.
Add this one to your wild woman playlist to feel seen and heard… and maybe like you want to learn guitar or upright bass.
Now the devil's downstream, he's singing to someone, my horses are free.
They answer to no one, unbridled, untethered, they roam on the unmarked land.
In my house there's a calm, a peace has descended, no need for alarm.
It's as she intended, I'm through with trying to fight the things I don't understand.
Accept my sweet surrender to the greater, better plan.
It's hard to explain, I don't like hanging onto reins in my hands all the time.
I'm running out of trails where paths don't lead to where I need to get to every time.

Polly Paulusma, She Moves in Secret Ways
By the way, if you haven't already, make sure you've read Women Who Run with the Wolves. It's essential reading for Wild Women everywhere!
3. Rhiannon, Fleetwood Mac
This one gives me full body chills listening to the lyrics. This is a wild woman song if there ever was one. Rhiannon is a Welsh name meaning "Great Goddess."
She is like a cat in the dark
And then she is to darkness
She rules her life like a fine skylark
And when the sky is starless
All your life you've never seen
Woman taken by the wind
Would you stay if she promised you heaven?
Will you ever win?

Stevie Nicks, Rhiannon
4. Tightrope Walker, Ayla Nereo
When we say "wild," this song truly is. Upon first glance, this is a list of things you'll find out in nature, but really, it's a call to all the wild women out there. As wild women, we're like rushing waters and lightning strikes, we're broken, bold, and timid simultaneously. And we're beautiful.
Ricochet pinecone
Riverside elderberry
Underwater rushing
Tightrope walker

…

Timid as a raindrop
Bold as the iceberg
Broken as the thorn of the
Blackberry crushing

…

Undertone overcast
In breath outside, going on a limb
And tearing of the bandage
Uncover fearlessness
When lightning
Strikes it meets
In the middle, as a
Bone-bent riddle be met with a
Riddle be found
Inbreath outside…

Ayla Nereo, Tightrope Walker
RELATED POST: How to Radiate Divine Feminine Energy
5. Have You Ever, Brandi Carlile
Brandi Carlile is a ***king legend. This particular song of hers asks if you've ever wandered through the woods, stared at the sky, and stopped to slow down. Wild Women are observers of the natural world. We're witches. We work with the elements, plants, herbs.
And wild women have gratitude for everything we observe when we slow down. When was the last time you wandered lonely through the woods?
Have you ever wandered lonely through the woods?
And everything there feels just as it should
You're part of the life there
You're part of something good
If you've ever wandered lonely through the woods

Brandi Carlile, Have You Ever
RELATED POST: How to Live in the Moment and Be More Present
6. You and Me, Sara Watkins
Although a different kind of wild woman song, this one is all about the nostalgia of childhood. I imagine it as when we used to sit and listen to our grandmother's stories, or when we gathered at night for special celebrations.
I remember the night
I remember the sound
I remember the light
When the moon came 'round
The night flowers bloomed
The air so sweet
I remember you
I remember me

Sara Watkins, You and Me
RELATED POST: 25 Gifts for A Wild Woman
7. 32 Flavors, Ani DiFranco
Feel like you're "too much" sometimes? Then Ani Difranco is for you. She makes no apologies for being in someone's face, calling them out, and taking up space.
Squint your eyes and look closer
I'm not between you and your ambition
I am a poster girl with no poster
I am thirty-two flavors and then some
And I'm beyond your peripheral vision
So you might wanna turn your head
'Cause someday you might find you're starving
And eating all of the words you said

Ani Difranco, 32 Flavors
8. Dancing Barefoot, Fia Forsström
Unfortunately, the only recording she had posted on YouTube has since been taken down. But you can still listen to Dancing Barefoot on Spotify.
It's a lovely song about honoring your ancestors by healing generational trauma.
I am here, I am me
I am wild, I am free
Like the horses that run over wide open land
I feel their presence, I hear the drum
My ancestor voices
The songs that they've sung

Dancing barefoot upon holy land
Giving thanks to the water
Sun and Moon and the plants
Healing is here, we're clearing the past
Wounds we have carried are fading at last

Fia, Dancing Barefoot
9. The Call of the Wild, Polly Paulusma
The Call of the Wild is the story of a woman stuck in this masculine world, working herself crazy to have "stuff" like her Porsche, and trying to prove that she's not a child.
It is a cautionary tale of the lure of the modern world, but how truly backwards it is.
When I wake by the Wandle, I dream in my bed
That today is the day I will get ahead
And each night I can see my red Porsche with gold wheels
And someday I will know how she feels
How else can I prove I'm no longer a child?
Here I come, it's the call of the wild

Polly Paulusma, Call of the Wild
10. I Feel the Earth Move, Carole King
Sure, you might feel tempted to write this one off, claiming that it's just about a woman who's in love with a man.
But when we really think about it, this came from an era (1971) of women who were just truly starting to express the realization that they were allowed to fully embody their feelings. Experiencing feelings and desire as a woman is not a bad thing, in fact, it's POWERFUL!
And you tenderly call my name
I know that my emotions
Are something I just can't tame
I just got to have you, baby

Carole King, I Feel the Earth Move
15 More "Pop" Wild Woman Songs
11. No Woman, No Cry, Bob Marley
Perhaps not directly about a wild woman, or even written by one, I feel I would be remiss to leave Bob Marley's wonderful song off this list.
This song is a beacon of hope and a shoulder of encouragement. It's meant to be a reminder of everything that is worth living for in life. As a song that was recently covered for Black Panther: Wakanda Forever, I wanted to share the original.
As wild women, we know grief. We know that bad things happen in life and that we have to move through the grief, because grief is really just love.
Good friends we have, oh, good friends we've lost
Along the way, yeah
In this great future, you can't forget your past
So dry your tears, I say, yeah
12. Good as Hell, Lizzo
Lizzo is such an inspiration! There's so much more to life than having a relationship, so step into your true power and love yourself.
Come now, come dry your eyes
You know you a star, you can touch the sky
I know that it's hard but you have to try
If you need advice, let me simplify

If he don't love you anymore
Just walk your fine ass out the door

Good as Hell, Lizzo
13. Just a Girl, No Doubt
Here's another wild woman song from the 90s, when girls rocked hard! Gwen Stefani might not rock much any more, but damn, she was an inspiration to us all.
Just a Girl is all about how the patriarchal world tries to make us afraid, tell us what we can or cannot do. But at some point, we've "had it up to here" and we're going to snap.
No one is going to run our lives for us any more.
The moment that I step outside
So many reasons for me to run and hide
I can't do the little things I hold so dear
'Cause it's all those little things that I fear

'Cause I'm just a girl, I'd rather not be
'Cause they won't let me drive late at night
Oh, I'm just a girl, guess I'm some kind of freak
'Cause they all sit and stare with their eyes
Oh, I'm just a girl, take a good look at me
Just your typical prototype

Oh, I've had it up to here

No Doubt, Just a Girl
14. Therefore I Am, Billie Eilish
Say what you want about Gen Z, Billie Eilish knows what's up. She's all about calling people out on their patriarchal bullshit. So make sure you add this one to your wild woman playlist.
Stop, what the hell are you talking about? Ha
Get my pretty name outta your mouth
We are not the same with or without
Don't talk 'bout me like how you might know how I feel
Top of the world, but your world isn't real
Your world's an ideal

Billie Eilish, Therefore I Am
15. Shake It Off, Taylor Swift
While I'm not a huge fan of Taylor Swift, this one hits the mark right on the head. Taylor gives a refreshing amount of wisdom in "Shake it off," which is all about brushing off the gossip and doing what your heart truly loves. (In Taylor's case, it's music and dancing.)
Who says that being a wild woman has to be deep all the time? Sometimes you just gotta dance to the music of life.
I go on to many dates, ha-ha
But I can't make them stay
At least that's what people say, mmm-mmm
That's what people say, mmm-mmm

But I keep cruising
Can't stop, won't stop moving
It's like I got this music
In my mind
Saying, "It's gonna be alright

'Cause the players gonna play, play, play, play, play
And the haters gonna hate, hate, hate, hate, hate
Baby, I'm just gonna shake, shake, shake, shake, shake
Shake it off, I shake it off

Taylor Swift, Shake It Off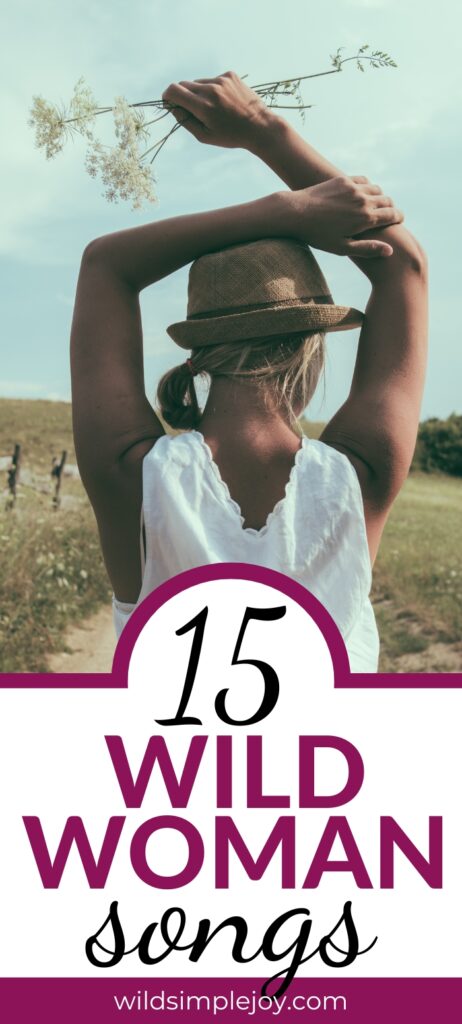 The 15 Best Wild Woman Songs for Your Best Wild Self Playlist