Looking for a popular yet unique deck to add to your tarot collection? The Wild Unknown Tarot might just be the one for you. I found it first while watching tarot readers on YouTube, and I was very intrigued. On Amazon, it has over 20,000 reviews and a rating coming in at 4.8 out of 5 stars!
Although this one has plenty of reviews, both on Amazon and elsewhere on the internet, I wanted to do my own Wild Unknown Tarot review for you, to address things like the general energy of the deck, and what to do if you're an intuitive/visual reader. Let's go!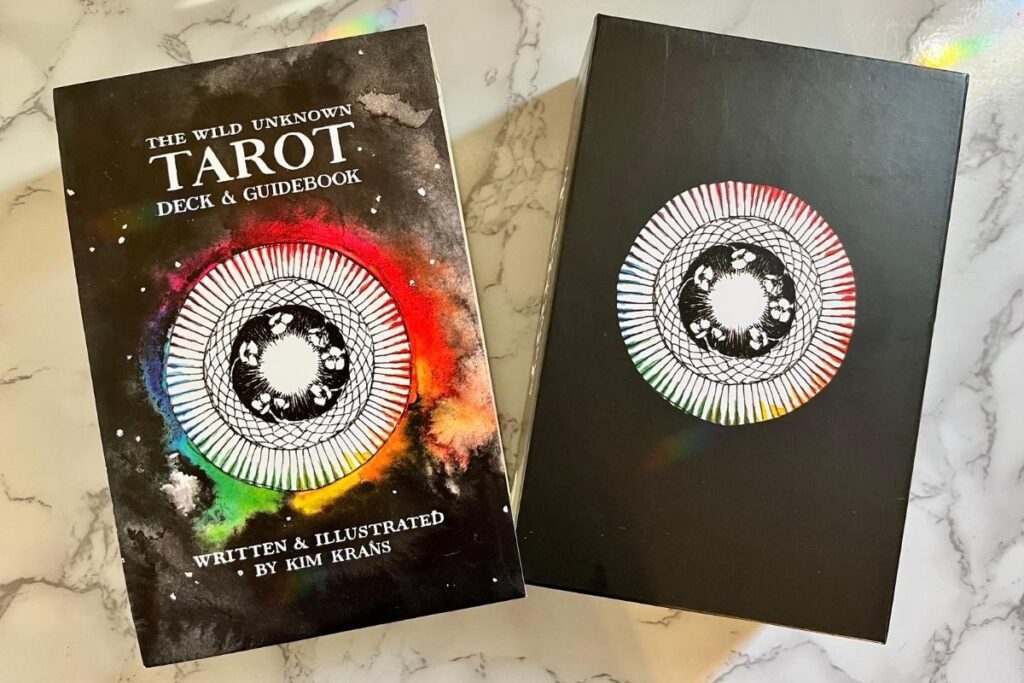 What is a Tarot Deck?
Tarot is a practice of reading cards that started in the 1400s in Europe. The tarot as we know it today was created in 1909 by Arthur Waite and artist Pamela Colman Smith, what we call the Rider-Waite tarot.
This system uses 22 Major Arcana cards, and 56 minor Arcana cards (including court cards) for a total of 78 cards.
These cards are used for divination, reading energy, answering questions from the Universe, and can even be used to read potentialities for the future.
To check out all my favorite tarot decks navigate over to: the Best Tarot Decks for Beginners. The Wild Unknown Tarot is on the list!
What is the Wild Unknown Tarot?
Wild Unknown Tarot is an illustrated deck based on the Rider-Waite, written and illustrated by Kim Krans.
The Wild Unknown Tarot has 78 cards in the deck and a large, 208 page guidebook.
The cards of this deck measure about 2.75 by 4.75 inches, which is a pretty standard/average size for a tarot deck. Because the guidebook is larger (7.7 by 5.1 inches), the box is also this larger size.
This is also available in a pocket edition.
Kim Krans
Author and illustrator Kim Krans is the visionary behind the Wild Unknown Tarot. It was first published in 2012, so it just celebrated its 10 year anniversary.
Kim seems like a very interesting person, having studied art as well as yoga, shamanism, and other practices all over the world. She is the ultimate creative and spiritual type person… the kind I like to celebrate on this blog!
Unboxing the Wild Unknown Tarot
Unboxing this tarot deck was lovely, actually! I always try to read the energy of a deck when I first open it.
I've heard from others that they felt a negative energy from the Wild Unknown Tarot when they first unboxed it and did readings with it. I did not feel that at all. In fact, the energy I got from this deck is very warm, soft, inviting, gentle, and supportive.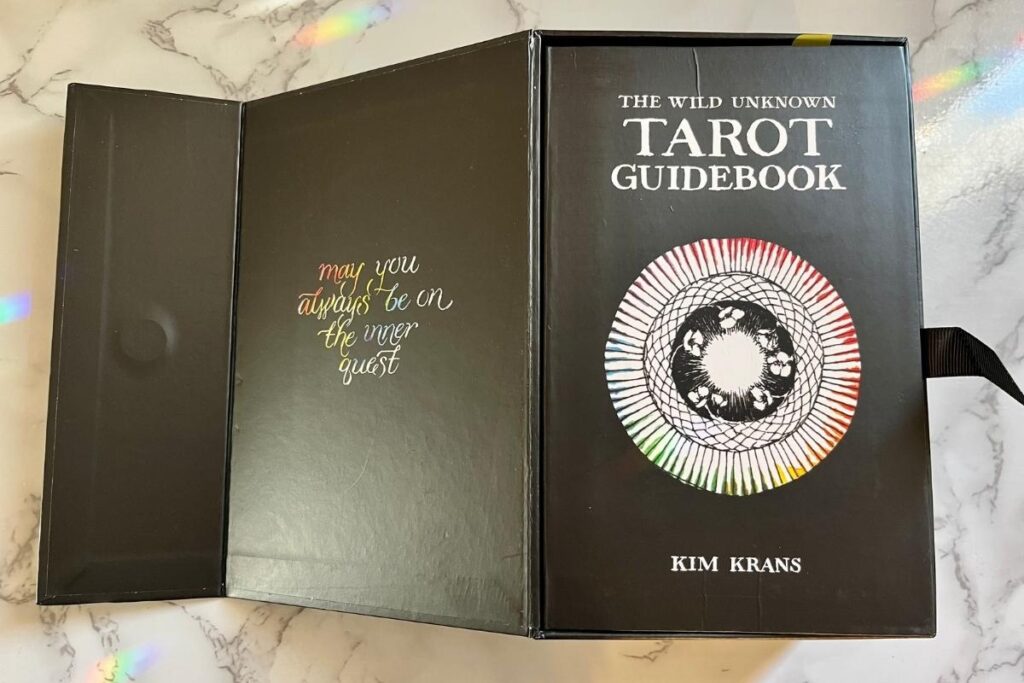 This item is the full-sized product, so there are many pieces to it. The guidebook is substantial, and the cards come in a separate box inside the main box.
MORE TAROT DECK REVIEWS:
Tarot De Carlotydes (Spanish Deck) Review
The Field Tarot Review (My Favorite Deck)
Akashic Tarot Review (Non-traditional Deck)
Wild Unknown Artwork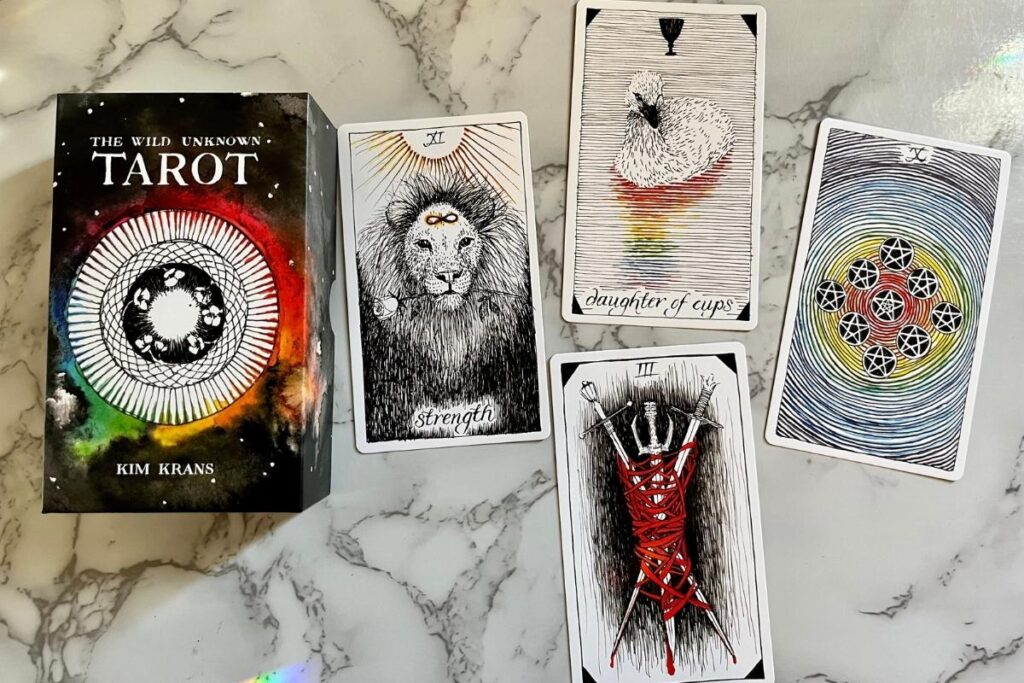 Part of what makes this deck so popular is the artwork. It's clear that Kim was very much in tune with a higher realm when creating the artwork for this deck. I have yet to see any tarot decks that come close to this very intricate and stunningly colored artwork.
As you can see from the photos, the artwork is done in black pen and colored in a rainbow of colors. Animals feature on many of the cards. Instead of the traditional King, Queen, Knight, and Page of each suit (the court cards), Kim has chosen to use Father, Mother, Son, and Daughter.
To me, this feels both more nature-based and more modern than the traditional Rider-Waite.
Card Quality
The card quality on this deck is medium to high. The thickness of the card stock is not supremely thick, nor is it thin (like the cards you get in a Llewellyn deck). They're somewhat in the middle.
The cards are also not glossy, which I find helpful in shuffling. Because these cards are a medium size, I find them easy to shuffle. (I am someone with small hands, and I struggle to shuffle some of the larger sized cards or thicker decks because of this.)
Wild Unknown Guidebook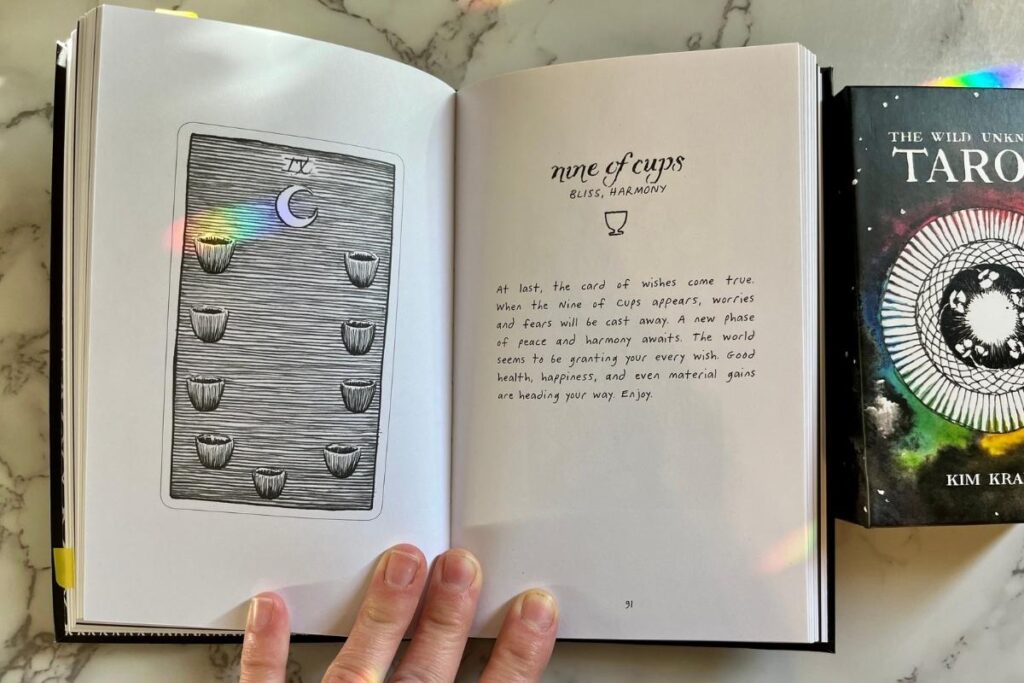 Kim's guidebook feels very personal, like notes written by an old, dear friend! The card's artwork features on one page, while the interpretation is written on the other. It is all hand-drawn, not typed. The interpretations are simple and honest, while still being warm.
My only complaint here is that while the guidebook is quite big and seems like it would have a lot to offer, it's honestly filled with a lot of white space.
Doing a Reading with the Wild Unknown
I find doing a reading with the this deck to be very interesting. I usually read with very visual decks, like a traditional Rider-Waite or the Tarot de Carlotydes. I find interpreting all the meanings to be easier with visuals to focus on.
This deck has fewer visual cues on the cards (think mountains, castles, grapes, etc.) but there are a few tricks that I've found to reading with this deck.
First is the use of darkness versus light. Because these cards predominantly feature black and white, you can use this to your advantage. For example, the 10 of Wands (featured in the picture below).
The background is fairly dark, almost to the point of not being able to see the sticks (wands). This feels very heavy, and in fact burdens can feel very heavy. The 4 of Pentacles looks to me like an intricate system of gears, which lends itself to the idea of putting your money to work for you. On the Ace of Swords, there is lightning, which might suggest explosive energy going toward beginning a new project.
And so on.
Now, you can always just use the traditional Rider-Waite definitions of the cards. But if you're a visual person like I am, reading from the Wild Unknown doesn't have to feel foreign or weird. It just takes a little while to get used to!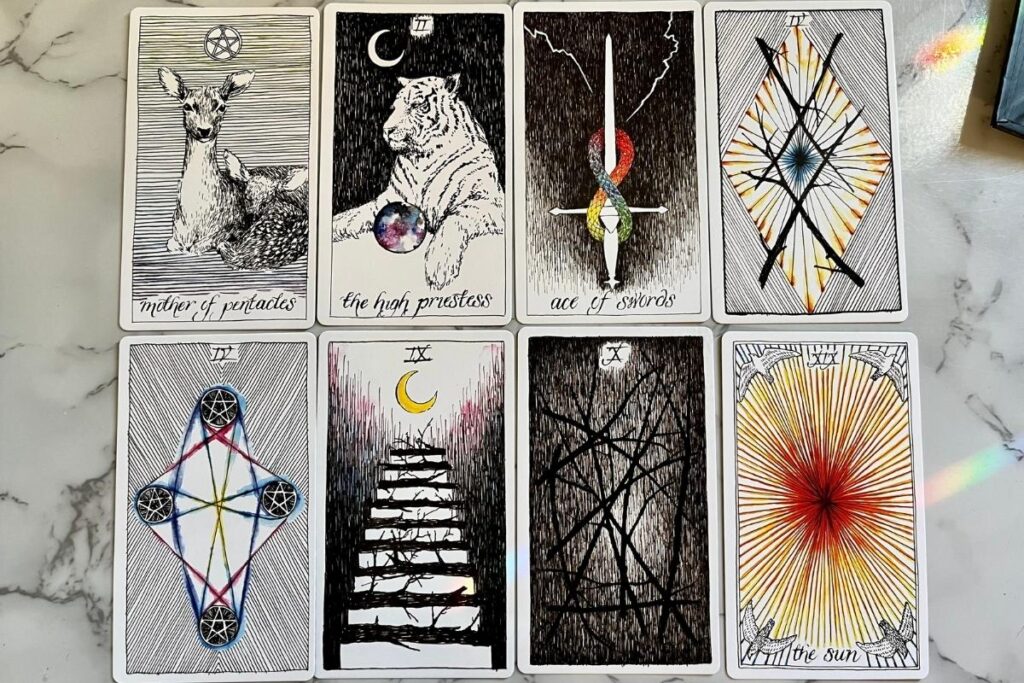 I find that you can use this deck to do all kinds of readings, including love, career, or financial readings. But I do find that it words well for general readings and for readings on your spiritual path and journey.
RELATED: The 16 Best Books on Spiritual Enlightenment
My Wild Unknown Tarot Review Conclusion
I am highly impressed with this deck and find it the perfect deck for many different types of readings! Even with the illustrations being simple, I find it easy to read visually. The product and printing are high quality, and the deck is sure to hold up under heavy use.
I give the Wild Unknown Tarot 5 out of 5 stars!
Do you have this deck?
What do you think about it or its energy? Drop a comment below!
Check out other Wild Unknown and Kim Krans decks and products:
ORACLE DECK REVIEWS:
Moonology Oracle Review
Wild Woman Oracle Review (Cheyenne Zarate)
Affirmations for the Everyday Goddess Deck
Psychic Tarot Oracle