If you're looking for a tarot deck that's got a very warm, inviting energy and uses animals as the primary influence, the Spiritsong Tarot might just be for you. Now, it's not a perfect deck, and it likely won't blow your mind with powerful readings, but it's there for gentle guidance when you need it most.
In this Spiritsong Tarot review, I'll go over everything from the size, number of cards, unboxing it, the guidebook, and what using the deck is like.
The Spiritsong Tarot
The Spiritsong Tarot is a tarot with hues of green and pastels, and features animals. It was, in fact, the artwork and overall aesthetic of this deck that drew me to it.
It was created by Paulina Fae, an artist who has done all kinds of tarot and oracle decks and sells prints as well.
Let's discuss stats first.
It has a full 78 cards, including 22 Major Arcana and 56 Minor Arcana.
The card size is somewhat small, about 3×5 inches and is standard playing card thickness. The size and thickness makes them easier to shuffle than many other decks.
The guidebook is 108 pages.
RELATED POSTS:
Why the Field Tarot Is My Favorite Deck
20 of the Best Oracle Cards for Beginners
Unboxing The Spiritsong Tarot
I purchased this tarot deck with the Field Tarot back in February. When I opened both (at the same time) I felt a distinct energy from each one. The Spiritsong Tarot has a very warm, fun-loving energy about it. Sure, the cards can be serious, but overall, the energy that struck me was gentle.
RELATED POST: 20 of the Best Tarot Decks to Try if You're a Beginner

Cards and Interpretations
When you look at the artwork that Paulina Fae has done, these are truly stunning works of art. Looking at all her works now, I see a different energy in some of her other decks that is more striking, and I wonder if I had known her before purchasing this deck if I would have chosen a different one. Probably.
It almost feels to me that she was purposefully trying to tame her energy down and make something softer for this deck.
That energy comes through in the readings that this deck gives. Yes, it is an honest deck and doesn't have any trickster energy like some other decks do. But when a reading should be powerful, it seems to fall flat.
I am not one who likes to make assumptions, so I'm just theorizing here. But it's also possible that if she was hiding her true self and feelings while creating this deck, that the deck only picks up on the surface-level of energy when doing a reading. This is another possibility that could account for the more gentle and sometime unclear reading results.
Because of the "sameness" of the cards in this deck, as well as the very detailed, ornate work, sometimes it can also be difficult to read the cards based on the artwork and what you see in the picture. So if you're a visual person who likes to read what's in the picture, this might not be the deck for you.
MORE TAROT and ORACLE DECK REVIEWS:
Witches' Wisdom Tarot Review
Mermaid Tarot Deck Review
Doreen Virtue's Archangel Oracle Deck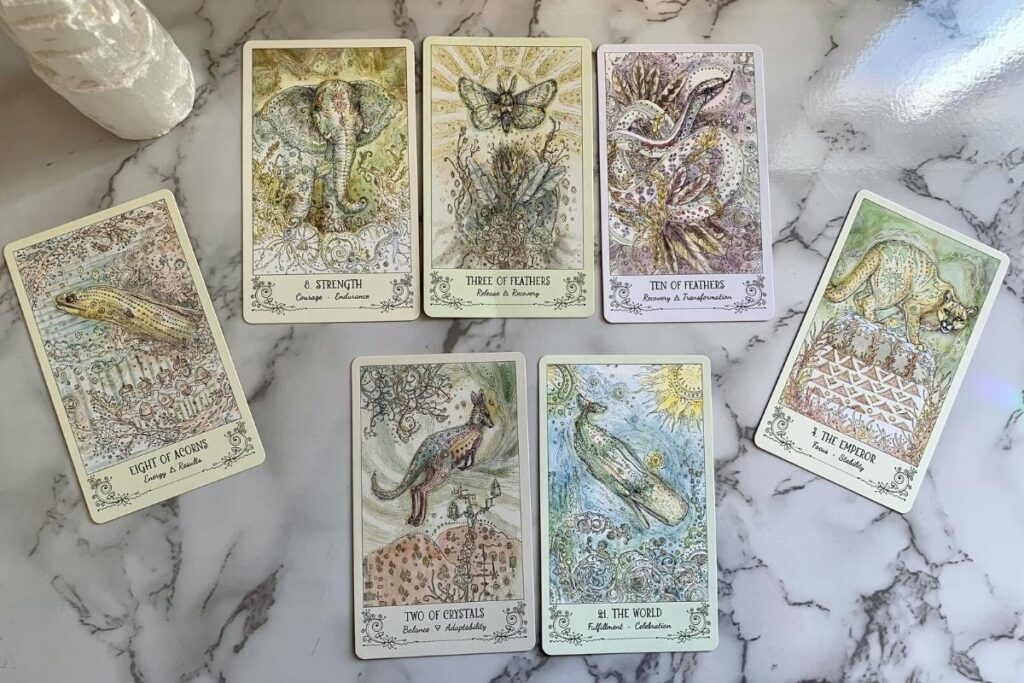 Comparison to the Rider-Waite Tarot
This deck is a little different than the Rider-Waite even though it has the same number of cards and suits that correspond.
For the Spiritsong Tarot, the suits and their equivalents are:
Acorns = Wands
Feathers = Swords
Shells = Cups
Crystals = Pentacles
There are some distinct differences in many of the cards. For example, the fives don't always represent contention. The 5 of Shells is a positive card with hope, repair, and change. The 5 of Feathers (which the 5 of Swords typically means competition and fighting) means integrity, patience, and acceptance.
The fives are the biggest difference. The ones in each suit of the Spiritsong still suggest movement and beginnings, and the twos do still represent choices.
Another difference that you may discover is that the upright keywords are all positive, while the reversed keywords are all negative. More on upright and reversed below.
RELATED POST: Modern Hue Tarot Review… a Mediocre RW Watercolor Deck
Animals and Lore
Animals have always had special meaning and representations of certain traits. And much of those traits come through in this deck. I have not had training in animal meanings or spirit animals, so I definitely need to do additional research and read the summary of the card in the booklet.
If you're someone who knows the meaning and symbolism of animals, this may be a good deck for you.
RELATED POST: Wild Unknown Tarot Deck Review
The Guidebook
It's also important to look at the guidebook when choosing another tarot deck. I think it's important to note that while many tarot decks have both an author and an illustrator, the Spiritsong Tarot only has Paulina Fae, who has done both! This is highly impressive.
For each card, there are sections on "Message," "Keywords," "Reversed Message," and "Reversed Keywords". I am someone who does not read reverse cards, and if you're also someone who prefers to keep all their cards upright, then this is important to note.
Whenever I read with this deck, I use both the primary message and the reversed message in my reading. The reason for this is because of free will. Depending on how the person (for whom you are doing the reading) acts, the energy surrounding the cards may change.
So essentially, both upright and reversed energies are always there, and it depends on which way the person takes it.
Because of this, I prefer decks that only have the one message for the card or give you a quick summary of reversed energy. I almost feel pressured to read reversed messages with this deck.
RELATED POST: What It Means to Embody the Queen of Swords Energy
Conclusion: My Spiritsong Tarot Review Summary
Pros:
Great for people who know meanings of different animals and have animal spirit friends
Great for gleaning small pieces of information or traits to embody
Gentle energy for someone who is perhaps not ready for Rider-Waite
Cons:
Very difficult to understand the meaning of the card unless you're very familiar with RW and animal spirit meanings
Not always clear in its messages
Overall, this deck is not my favorite. Its energy is a bit weak and its messages aren't always clear. However, I absolutely love the artwork that Paulina Fae has done on the cards, and I'm definitely interested in purchasing more of her work.
RELATED POSTS:
15 Ways to Live in the Present Moment
The Best Spiritual Awakening Books to Read
Wild Kuan Yin Oracle Deck Review