Over the last year or so, I've tried a bunch of different supplements in an attempt to get my hormones back into balance and reset my system after having two babies almost back-to-back.
One of the symptoms I was experiencing was hair loss. I was shedding everywhere and it seemed like I had a huge clump of hair in the shower every morning. I decided to try a couple products, including the multivitamin and supplement product Nutrafol.
Keep reading for my honest Nutrafol review. Learn about the ingredients of the products I tried, as well as the subscription and doctor's call. Let's go!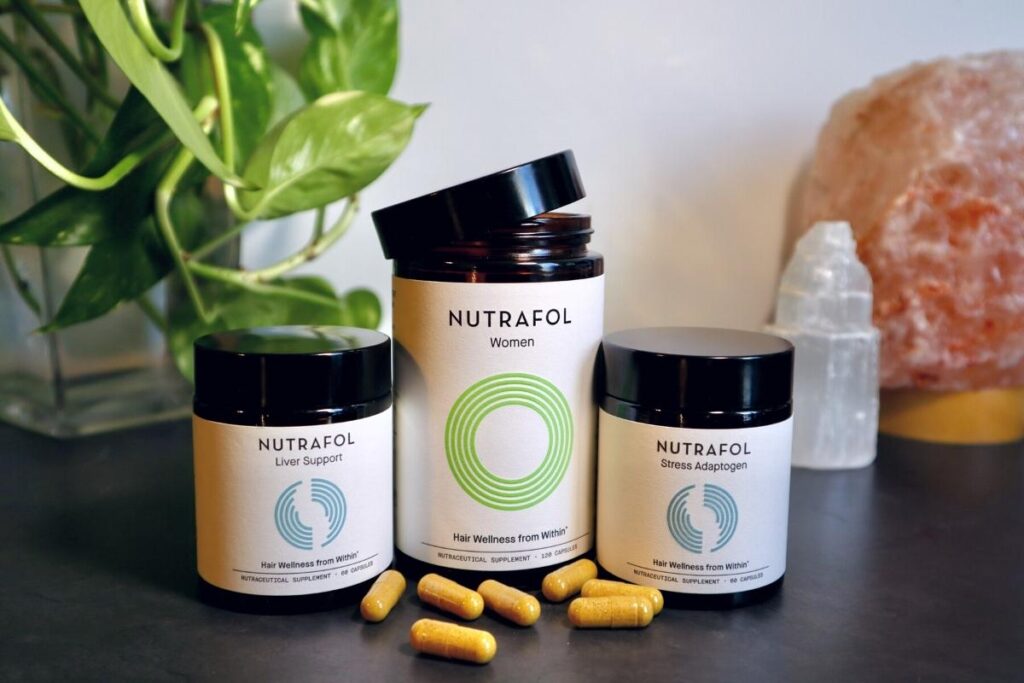 My Thinning Hair and Postpartum Hair Loss
My hair during pregnancy and breastfeeding
Like many women, I experienced long, lush hair during pregnancy and breastfeeding. If only we could keep those hormones forever!
After stopping breastfeeding
I made the unfortunate decision to cut my hair short when my second son was only 11 months, and I stopped breastfeeding him when he was 13 months old. The process of weaning was absolutely brutal on my body. After stopping breastfeeding entirely, I had about two months of continued amped hormones, followed by two months of declining hormones.
When my son was not quite 18 months old, my endocrine system seemed to completely collapse.
I had every symptom in the book, from weight gain, to hormonal acne, extreme fatigue, sudden allergic reactions to foods (like dairy and caffeine), extreme breast pain, and painful periods. My IBS came back (it had been gone during pregnancy and breastfeeding) and I suffered a lot of digestive distress and pain.
I talk about my struggle with that hormonal imbalance in this post: How I Helped My Hormone Imbalance and IBS Naturally
Hormone Imbalance and Hair Loss
I was experiencing hair loss in that male pattern baldness area of my head, along my hairline. While I can definitely attribute my hair loss to this endocrine system issue that I was dealing with, I had never experienced this level of hair loss before. Not even after I stopped breastfeeding my first son.
I felt like I was pulling my hair out in clumps… there were piles of it in the tub after a shower, and I could, for the first time in my life, see through the hair line because the hair just simply wasn't as dense any more.
In addition, after stopping breastfeeding (and after I had cut my hair off), I realized that my hair was growing painfully slow.
When I was in my twenties, I had grown my hair about 8 inches in less than a year. But suddenly, I was growing hair at about 4 inches per year.
Trying Vegamour First
Like many hair supplement brands, Vegamour has both topical and internal products. I tried their hair growth serum. The caffeine in Vegamour's hair serum was OFF THE CHARTS and I sent it back after a week of use.
Nutrafol Ingredients for Healthy Hair Growth
The creators of Nutrafol supplements (not an affiliate link) have really done their homework. There are tons of great vitamins and herbs in these supplements.
These are just some of the ingredients. Other helpful ingredients include ashwaganda, resveratrol, keratin, hyaluronic acid, curcumin, and collagen. Check out the full list of ingredients here.
(Nutrafol's products are free from gluten, soy, dairy, hormones, and GMOs.)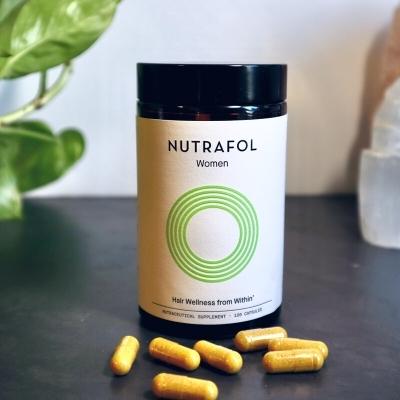 Saw Palmetto
Saw palmetto is something that I had heard great things about for skin, hair, and joints. It's is a berry (not an herb). And it has results that are proven.
Horsetail Extract
Horsetail extract is a plant oil that has positive scientific results for its effect on hair health.
RELATED: GEM Vitamins Review "Food" Vitamins
Stress Support Ingredients
The Stress Support booster is for those whose stress is impacting their hair growth. This is definitely me. This blend has the adaptogens reishi, schisandra, and rhodiola.
Reishi is a mushroom that has been shown to help boost the immune system, fights against cancer, fights depression, and may even help with heart health.
Schisandra is a fruit extract that can help with upper-respiratory distress, boosts the liver, and even increase strength and stamina.
Rhodiola is an herb that helps to fight the effects of fatigue and stress.
Liver Support Ingredients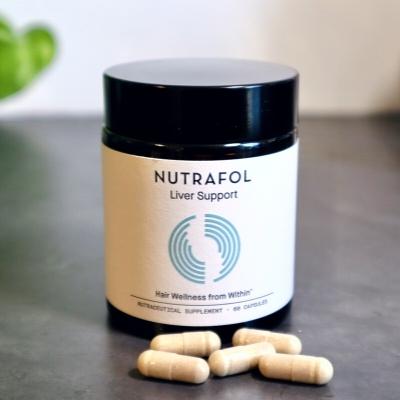 The Liver Support booster is all about helping your liver detox your body. The liver (as well as the kidneys and skin) are responsible for removing toxins out of your body.
There are many misconceptions about doing a "detox" or "cleanse", but mostly, these are all about helping your detoxification organs work efficiently and do their job well.
So the herbs in this blend that help with that are milk thistle, artichoke root, and yellow dock.
Other Boosters available
There are other boosters that they might recommend you to add onto your order based on your quiz results include a Vitamin B-Booster, DHT Inhibitor, Hairbiotic, and Collagen Infusion. They also have a scalp serum called Growth Activator.
My Experience with Nutrafol
I found Nutrafol through a Google search
Like I had mentioned above, I started with Vegamour and decided that I didn't like it due to the caffeine levels. So I went on the hunt for a hair supplement that didn't have caffeine. I found Nutrafol supplements. I first looked at the hair serum (which was new), but I decided that a supplement might be better.
My Quiz Results
Nutrafol has a quiz to determine which supplements are right for you. This was actually quite helpful. I thought I might need the postpartum product or the women's balance vitamin, but it turns out the Nutrafol Women was enough for me given my age and that I had had my baby 2.5 years ago.
However, I was likely experiencing elevated cortisol levels because of my stress. Those stress hormones are not helpful for regenerative processes like cell regeneration or hair growth. I needed to reduce oxidative stress that was causing my thinning and hair loss, so they recommended the Stress blend as well.
My nutrition call with Dr.
One of the fantastic parts of your Nutrafol subscription is that you can call to talk to a real doctor. She was able to tell me that my stress was likely causing my hair loss, but also that it sounded like I needed to support my liver.
She sent me a bottle of the Liver Health product for free, which was absolutely amazing. It is a $30 value.
Nutrafol Review: My Results
Before Nutrafol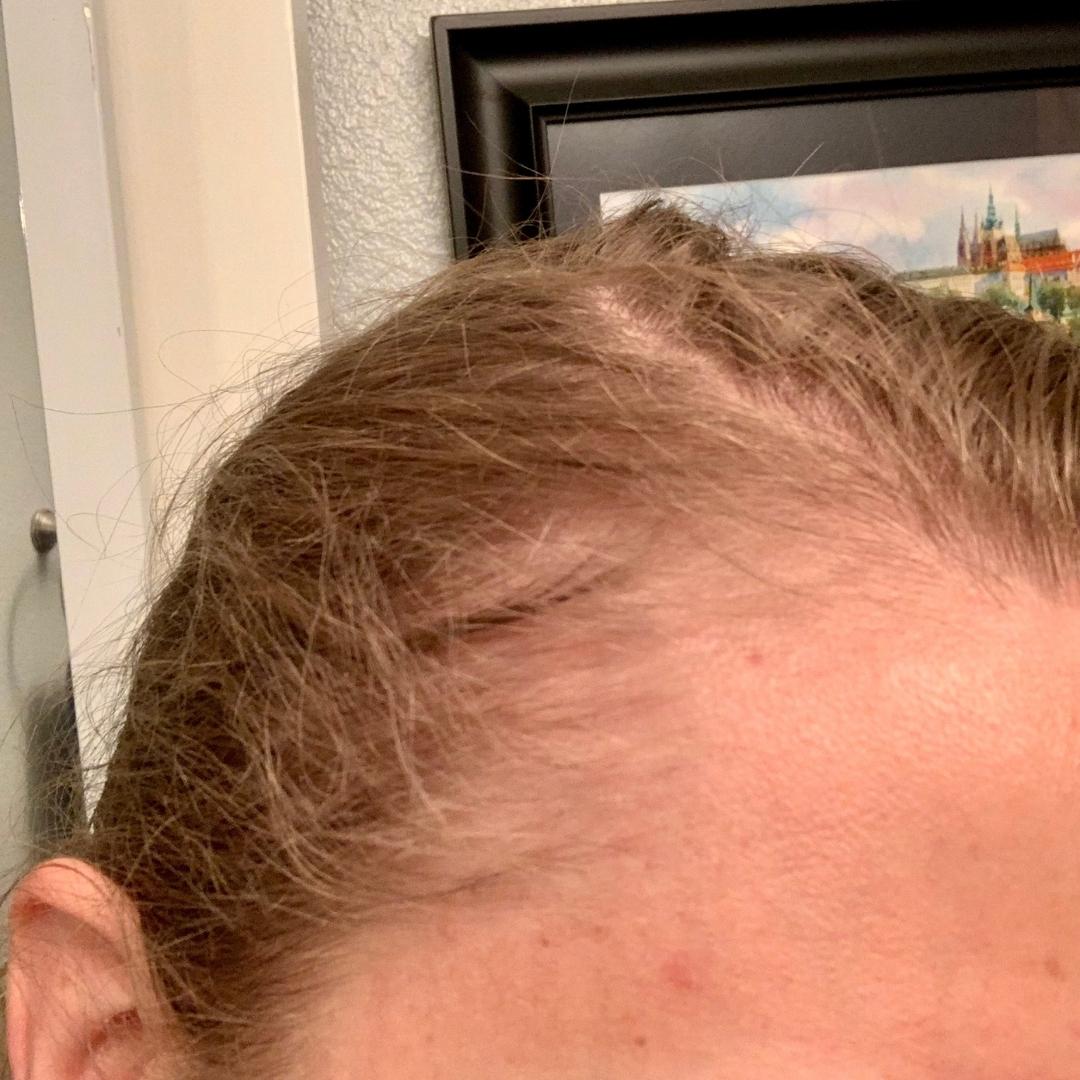 You'll notice several things about these photos. First, the lighting isn't that good (sorry…), and second, I had definitely just taken a hat off.
So aside from poor light and hat hair, you can also see where there are sections of my scalp exposed. Some of you might say that this is normal, but my hair had never been like this before. Especially on the first picture (the left side of my head), you can see just how far that hairline had receded.
Additionally, there was no new growth or tiny little hairs that were growing on this area of my head.
Nutrafol After 1 month
This is after only one month. You can see that I still have sections where my scalp is exposed, but the nice thing here is that I have those little new growths on both sides.
On the top, my hair looks a little thicker.
But here's the thing, you can see in this picture that the hair I have is pretty healthy, it's just a little thin. (I do have my hair half pulled up here, but that one same side is particularly devoid of any hair.
My hair was also growing unevenly. It's not just the picture. My right side of my head was growing quicker and was an inch or so longer than my left side.
After 3 Months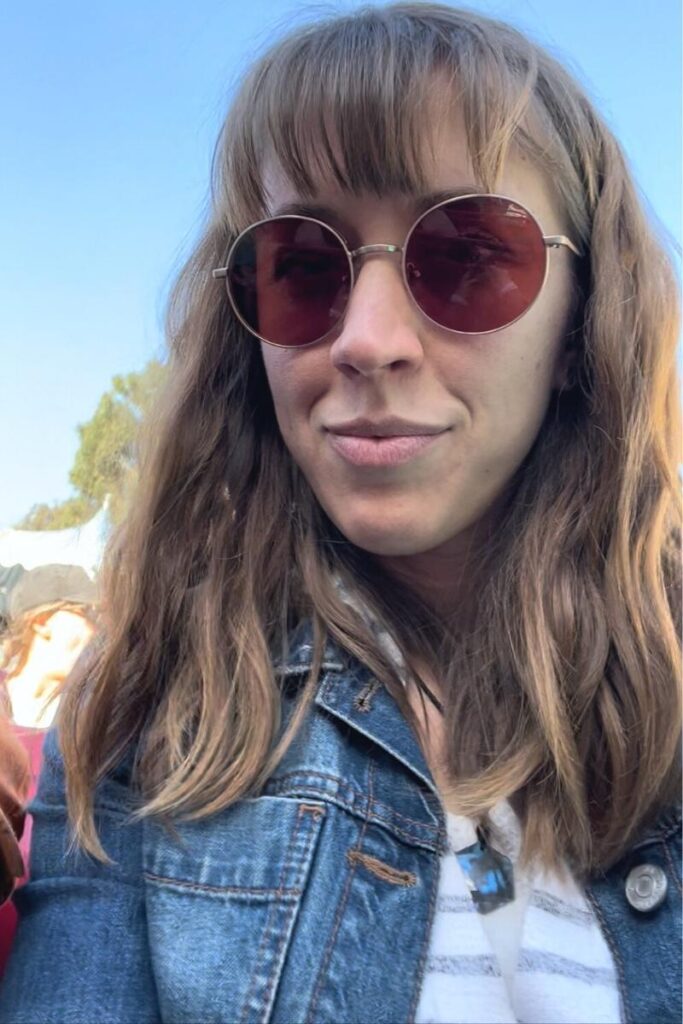 Somewhere in these months I decided that if I did bangs, my receding hair would not be as noticeable. So I cut my own bangs to give the appearance of a more typical hairline.
But this was only a month after I stopped taking Nutrafol, and you can see just how much my hair has grown–at least an inch (if you consider that my hair was half-up in the picture above).
I feel that Nutrafol gave my hair the kick it needed to start growing at a more regular pace. My hair is even longer now… about 1-2 inches longer than in this picture. I have plenty of new growth now, and those bald patches aren't nearly as noticeable.
Other Health Benefits of Nutrafol
One of the things that Nutrafol can also do is improve skin health. During my second month on Nutrafol especially, I felt that my acne was down significantly. Not completely gone, but at least minimized.
Another thing that all those supplements above can help with is a healthy metabolism. I found that I had more energy naturally and didn't feel as depressed or lethargic as I had the months prior to taking Nutrafol.
Conclusion: 5/5 Stars
I absolutely loved the Nutrafol Hair Growth supplements. I felt that it was a multivitamin that targeted the root causes of hair loss. I love how it helped my skin as well.
However, due to the price (combined with inflation and rising gas prices) I had to stop my subscription after two months.
When we are in a better place financially and I'm able to return to Nutrafol, you can bet that I'm absolutely going to do so! I saw very distinct results, both with how I felt and with how I looked while taking Nutrafol.
I do also believe that it triggered or kick-started my hair growth. Because even though I stopped taking the product, my hair has gone back to growing approximately 1 inch every 2 months even after I stopped taking it. That's a huge improvement!
Are you considering trying Nutrafol?
Let me know what you think about it in the comments below!
Check some more product reviews:
RASA Coffee Replacement Review
KaChava Meal Replacement Shake Review
FLO Vitamins for Women Review