Raw food vitamins have been gaining in popularity in 2022 and into 2023. These Gem Daily Essentials are one such example. Having a background in nutrition, I knew that absorption of nutrients work best when you get your vitamins through real food, so why not give these a chance?
I'm officially on my 3rd box of Gem vitamins, so I've been taking them for over 2 months, and I felt like it was time to write my Gem Vitamins review. So keep reading to find out what I think about them!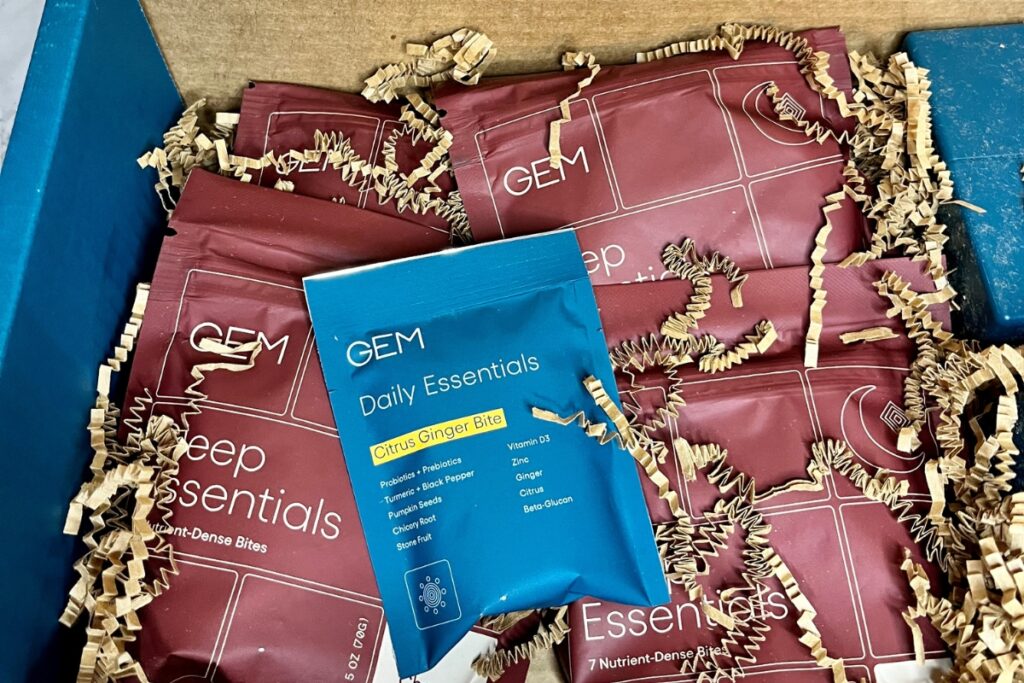 Table of Contents
What is GEM?
Gem is a whole-food, plant-based vitamin.
When I first saw an advertisement for Gem Vitamins, I was incredibly intrigued. The concept of having a multivitamin that's built out of food rather than processed supplements is sure to produce a greater quality of health, at least from my understanding.
From this article from Harvard Health:
It's best to improve the diet before using supplements, advises Dr. Sesso. That's because vitamins and minerals are most potent when they come from food.
The Gem website "About Us" page says that: "GEM is designed under the simple philosophy that food is medicine. By nourishing with sustainable plant-based ingredients, we can transform both human and planetary health."
Consuming food as medicine, plant-based ingredients, and an emphasis on sustainability? Sign me up!
I decided to try both Daily Essentials and Sleep Essentials the first time (since I have difficulties sleeping) and the second time around I tried Calm Essentials as well. Let's take a look at all the ingredients in each of these and how my body responded to each of them.
Unboxing Gem Real Food Vitamins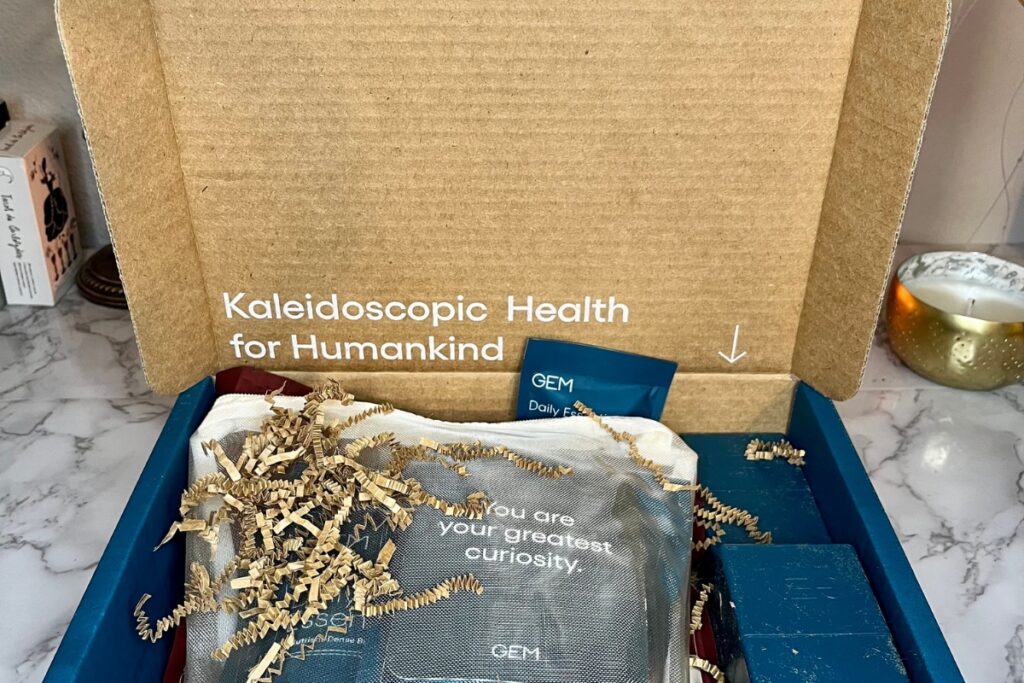 Honestly, this first box was pretty complex and came packaged very nicely. I ordered both Gem Daily Essentials and the Sleep Essentials. You can see below that the Daily Essentials came in a little mesh bag, and the Sleep Essentials were just in the box with the other items.
Because each bag has 7 vitamins, there were 4 bags of Daily Essentials and 4 bags of Sleep Essentials. They also sent me two travel boxes, the mesh bag, and one sample vitamin of the other flavor. (More on flavor below.)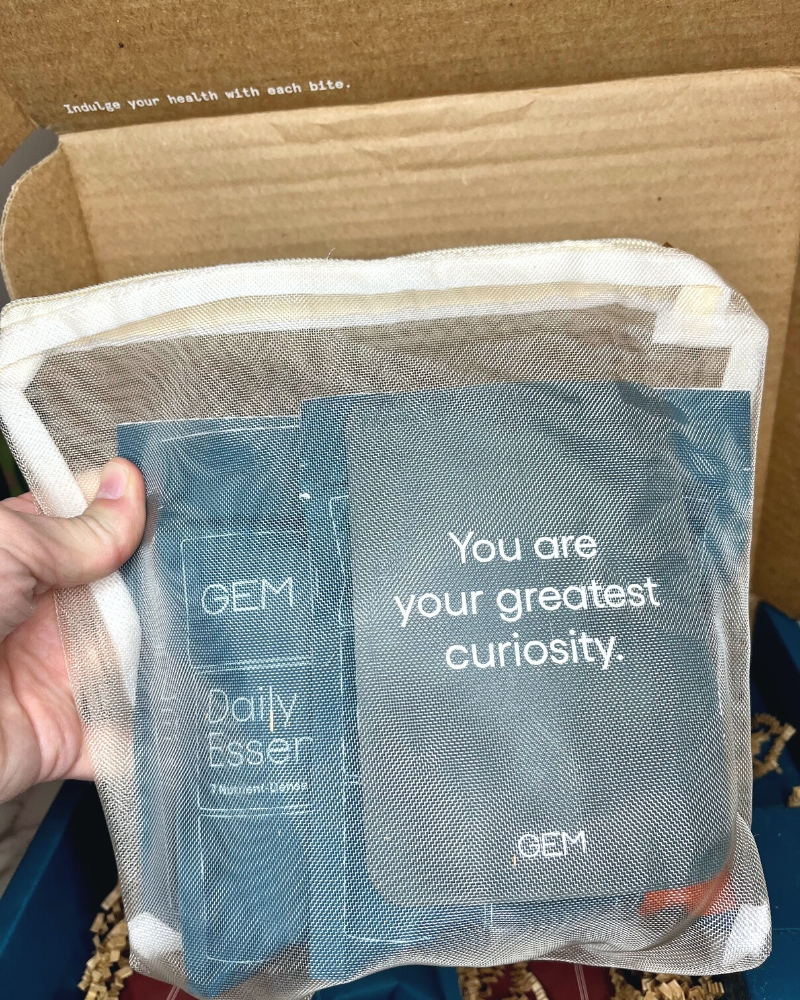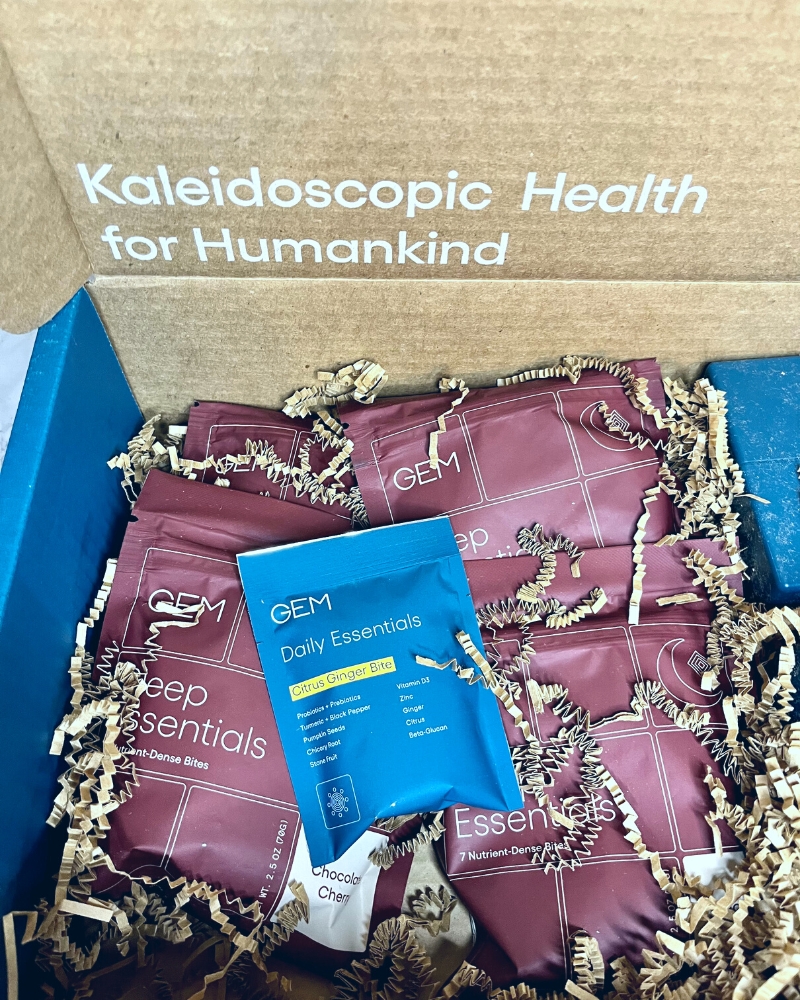 This packaging only came with the first shipment. After that, I only got my 4 bags of weekly vitamins in a mailer envelope.
RELATED: Nutrafol Hair Growth Supplement Review
Gem Daily Essentials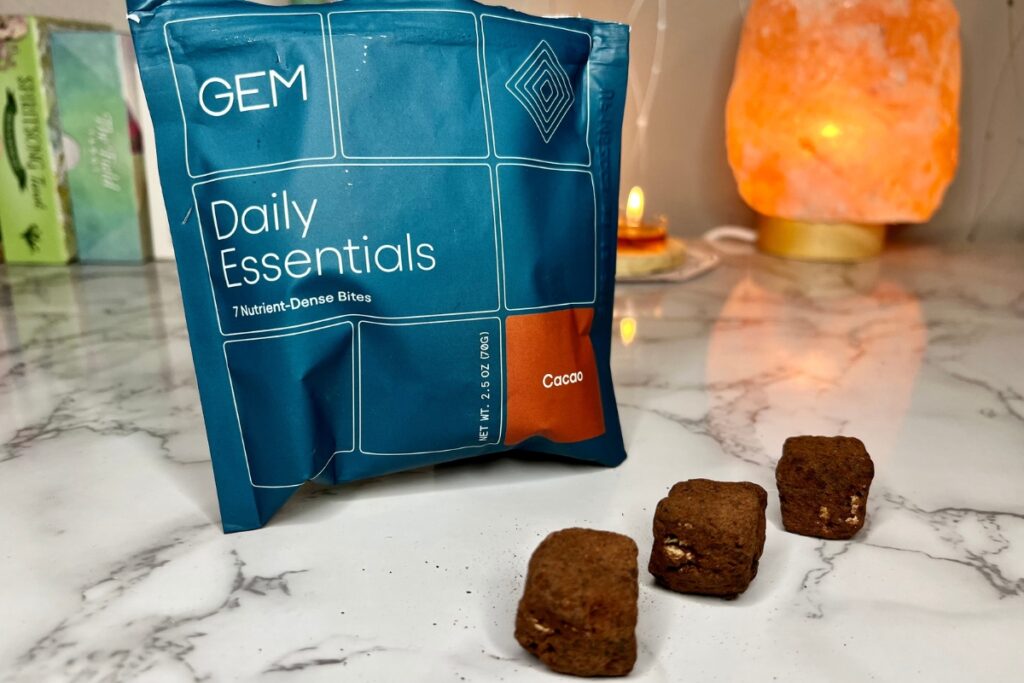 Daily Essentials Ingredients
Gem Daily Essentials is a basic multivitamin for both men and women.
It comes in 3 flavors, Cacao, Lemon Raspberry, Peppermint, and Citrus Ginger. Here's the somewhat strange part: Cacao, Lemon Raspberry, and Peppermint have the same ingredients. Citrus Ginger has different ingredients and could be considered a completely different multivitamin.
So when you're in the process of picking a flavor, make sure you've sorted out your nutritional priorities to ensure you get what ingredients/nutrition you want.
Cacao/Lemon Raspberry/Peppermint- "Energy, balance, and clarity"
First and foremost, because food is medicine, here are the "food" items included in this type of vitamin:
When you research the nutritional profile of all these foods, you'll see they're all quite nutrient-dense. They have protein, fiber, zinc, vitamin K, B vitamins, magnesium, and much more.
Then there are other more "supplement"-type ingredients that you'll find in them, like:
magnesium hydroxide (for sleep, bone, brain, digestion)
spirulina (for detox, brain & heart support)
Vitamin D3 (for immune system & sleep)
ashwagandha (for hormones & stress)
astaxanthin (for skin & eyes)
Citrus Ginger- "Digestion, mood, and immunity"
As mentioned, the citrus ginger kind are a completely different vitamin altogether.
Here, the food sources are primarily:
And the other herbs and spices include:
My Gem Daily Essentials Review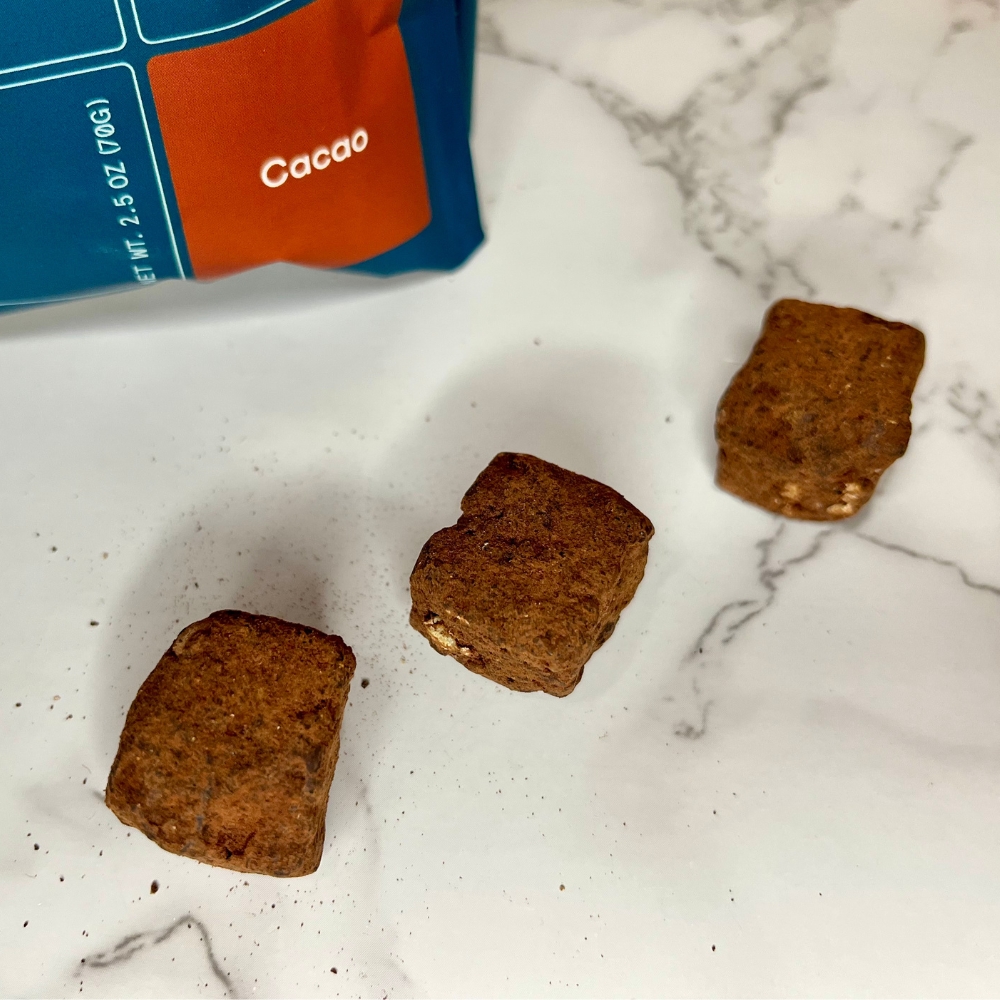 I definitely had a positive experience with these vitamins! The Gem basic vitamins really deliver!
I got the Cacao flavor, and while it's chocolaty, it doesn't have a pure chocolate taste.
They did send me a sample (see in one of the pictures above) of the Citrus Ginger kind, which I thought were quite sour and spicy, actually.
The very second day I had one in the morning with my breakfast, I already had more energy and felt more satiated throughout the day.
One of the other things that I find to be superior with these vitamins is that I deal with IBS & hormone struggles, but these vitamins keep my digestive system working smoothly and regularly. It's not perfect… I mean that Gem vitamins haven't cleared up ALL my symptoms, but the fact that I'm not dealing with major constipation for 2 weeks out of the month is a huge win!
Something I find really interesting is that if you take a look at the daily percentage for most of these vitamins, you're looking at percentages less than 100%. Usually on pill-form supplements, you're looking at daily percentages from 100% all the way through 12,000% for some B vitamins!
But the really amazing thing is that pill-form supplements are designed that way because your body simply doesn't absorb all the vitamins inside the capsule, so really, you end up with very expensive pee.
With food-based vitamins, you're absorbing more of the vitamin, thus there's less waste, and because it comes from a natural source, it's more easily digestible and usable by the body.
Pretty cool.
The only caveat of having food-based vitamins is that these will not keep as long as pill-form supplements. So if you have them delivered in December, the "Best By" date is going to be January or February. They're only meant to last the month, so make sure you take them every day to avoid having vitamin bits that you just have to throw out.
I'm definitely going to be taking these regularly! 5/5 stars!
(*As mentioned above, this is my experience and it does not constitute medical advice. Please consult a doctor to determine if these are right for you.)
Gem Sleep Essentials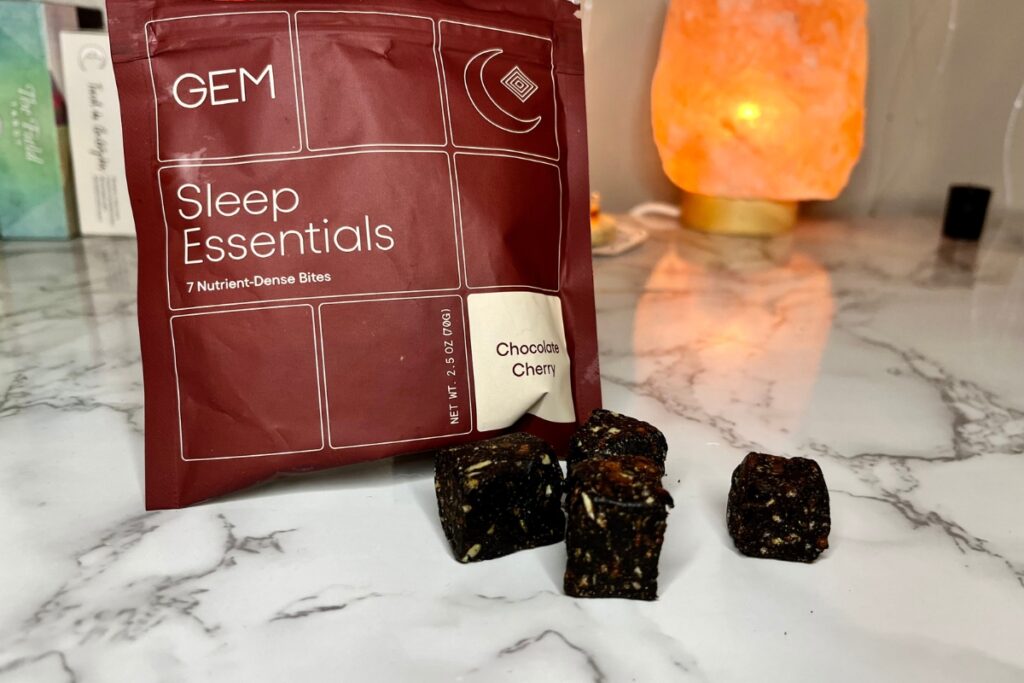 Sleep Essentials Ingredients
For the food items in these nutrient bites, here's what you can expect:
cherries
dates
pumpkin seeds
Cherries have a melatonin as well as tryptophan, both which help to promote sleep!
For the other herbs and supplements in these bites:
You can see that these herbs and compounds are sleep-promoting. They purposefully did not include melatonin, which can interfere with the body's own natural production of that hormone.
So if you're someone who has tried melatonin and hasn't had success, you don't have to worry about this one, because there is none!
My Gem Sleep Essentials Review
Overall, these supplement bites did their job. The first time I tried them, I only ate about half a cube, because I know that I'm super sensitive to basically all supplements.
They did help me fall asleep quicker that first night, which was great! However, on the third night of taking them, I was back to not being able to fall asleep right away. I could see how people could very easily take more and more of these because after a little while they stop working.
In fact, most natural sleep aids advise you to take them for a few nights, then stop them for a few nights to keep your body in balance and not become dependent on them to fall asleep.
So when I ordered this first shipment two and a half months ago, I've only gone through 2 bags (14 cubes) of this supplement. Technically, they've expired already. As mentioned above, because these are whole-food based bites, they aren't going to last as long.
Unfortunately, they only come in 4 packs of 7 bites. I would love if this supplement was available in smaller amounts or trial sizes!
It's a good thing I got these at half off, because while they work great, they haven't been completely worth the money.
(*As mentioned above, this is my experience and it does not constitute medical advice. Please consult a doctor for personalized suggestions for sleep aids.)
Gem Calm Essentials
Calm Essentials Ingredients
After my initial shipment, I decided to try Gem Calm (not the full subscription, just one single bag). Now, these were very expensive, at $18 for 7 vitamin bites.
Aside from some food items including banana, coconut, as well as some of the ingredients mentioned above in the other products, including golden chlorella and magnesium the primary ingredient in these bites to help with anxiety is lemon balm.
Lemon balm is an herb and a member of the mint family. It's been used since the Middle Ages for treatment of stress, among other things.
One contraindication of lemon balm may be in those that have hypothyroidism. If you have an under-active thyroid or you have a close relative with hypothyroidism, you may want to check with your doctor about this product.
Calm Essentials Review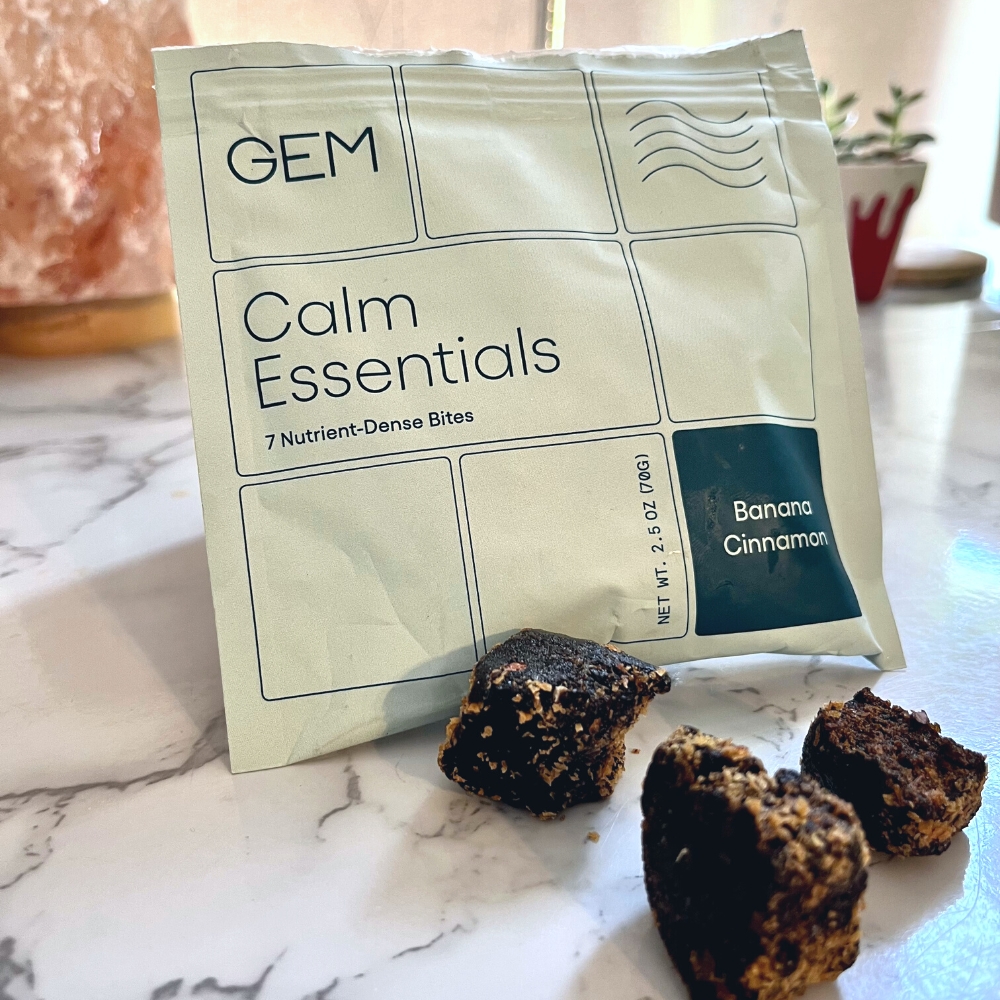 Again, these come in small cubes/bites of real food. They taste a little tropical with banana coconut flavor.
I should have read all the ingredients before purchasing these. I have a really bad reaction to lemon balm, which I discovered when I tried FLO vitamins for PMS. This reaction seems to be quite common, because I've heard from dozens of women who had the same symptoms.
Although it's never been confirmed by a doctor, I suspect I have thyroid issues. It's possible that the lemon balm made this issue worse.
So when I tried Calm Essentials, I immediately had the same reaction – over-stimulated and jittery with ingrown hairs in my armpits. Definitely NOT calming!
However, this isn't the company's fault. If I had been more diligent about checking out the ingredients before purchasing, I would have known these were not for me because of the lemon balm.
So yes, I would consider this a negative review for Gem Calm Essentials, but that's not to say that you won't have a different experience than me.
(*As mentioned above, this is my experience and it does not constitute medical advice. If you suspect you may have issues or wonder if lemon balm would be a good fit for your issues, please consult a doctor.)

Subscription Information
I do think this is an important aspect to talk about, because I've found that some subscription programs make it very difficult to cancel or change a subscription, and sometimes, the system doesn't even create an account for you when you register a new subscription.
Gem Vitamins subscription was not like that at all. It's very easy to use. For each product in your subscription, you can easily go in and change or cancel that product.
Another thing of note is that the Gem vitamin subscription is 24 days long for a 28 day supply. I've also had (and currently have) other subscriptions that renew every 30 days, and if the system takes a while to send out the order, or if the mail is being slow, I'll have to wait a few days between when my old subscription runs out and when I get my new monthly supply.
Again, this is not like that. Because it renews every 24 days, you're certain to get your vitamins on time.
I have not been taking them for enough months to have a surplus of vitamins in my cabinet yet, so when/if I reach that point, I'll be sure to update this review to include how I handled that!
Subscription service: 5/5 stars.
Conclusion: My Overall Gem Vitamins Review
Overall, I'm incredibly happy with my choice to try Gem vitamins. The "Energy, Balance, and Clarity" Daily Essentials bites were a very good fit for me!
Please let me know if you've tried these and how they worked or didn't work for you.
Leave me a comment below!
Here are some more supplement and health food reviews I've done:
Arbonne 30-Days to Healthy Living Program Review
Ka'Chava Meal Replacement Shake Review