Interested in astrology and looking for a great oracle deck to use? The Moonology Oracle cards just might be the most popular deck for moon phases and astrology on Amazon with a grand total of over 24,000 reviews and a 4.7 star rating!
After having used this deck for a few months, I feel more acclimated to it and wanted to share my Moonology Oracle review (in depth). Let's go!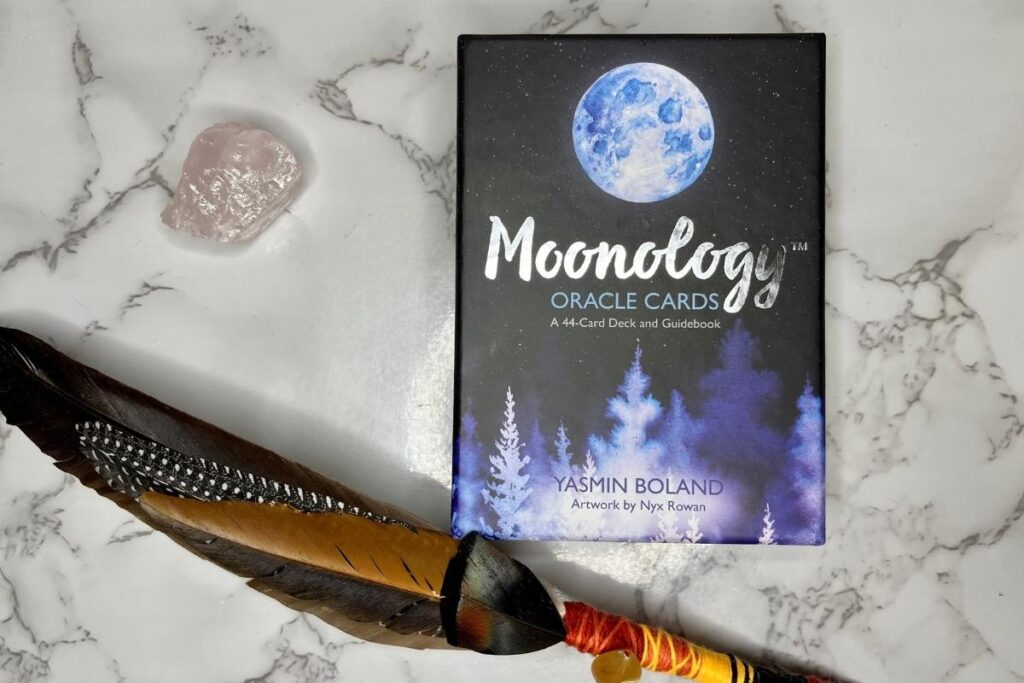 What is an oracle deck?
An oracle deck is a divination tool, a tool to help you read energies around you and potentialities for the future. While tarot decks are traditionally 78 cards, an oracle deck can be an number of cards. They are often themed, like this one (moon phases), and there are a great many themes an oracle deck can have.
Reading from an oracle deck is often seen as a "starter" to reading tarot, because often tarot can appear more "scary" or intense, but in reality, oracle decks can be just as serious.
Because I love oracle decks so much (they're actually my favorite form of card deck between affirmation cards, oracle cards, and tarot), I've put together a list of the BEST Oracle Decks for Beginners, and this deck is included! Be sure to check it out!
What is the Moonology Oracle Deck?
The Moonology Oracle is a deck of cards created by Yasmin Boland. This deck uses the phases of the moon and the astrology behind them to give practical advice that you can apply to your life.
The Moonology Deck has 44 cards in the deck. The cards are 3.5 by 5 inches, making them a medium size card.
While this deck does use astrology terms, I don't find that you need to know a great deal about astrology before using this deck (more on this below).
Unboxing the Moonology Oracle Cards
I always like to get a read on a deck when I first open the box. (First impressions are important!) When I first brought these cards home, I found that opening the box, it had quite soft, but radiant energy. It feels very fluid and flexible, not at all rigid or constant like other decks. (One such rigid deck is the Psychic Tarot Oracle, which I find to be more masculine.) This deck is definitely more feminine.
The actual box and packaging were very nice… the box was shrink wrapped and protected, while the cards inside were held gently together with a piece of paper around the outside. (The cards themselves were not shrink wrapped.)
Moonology Guidebook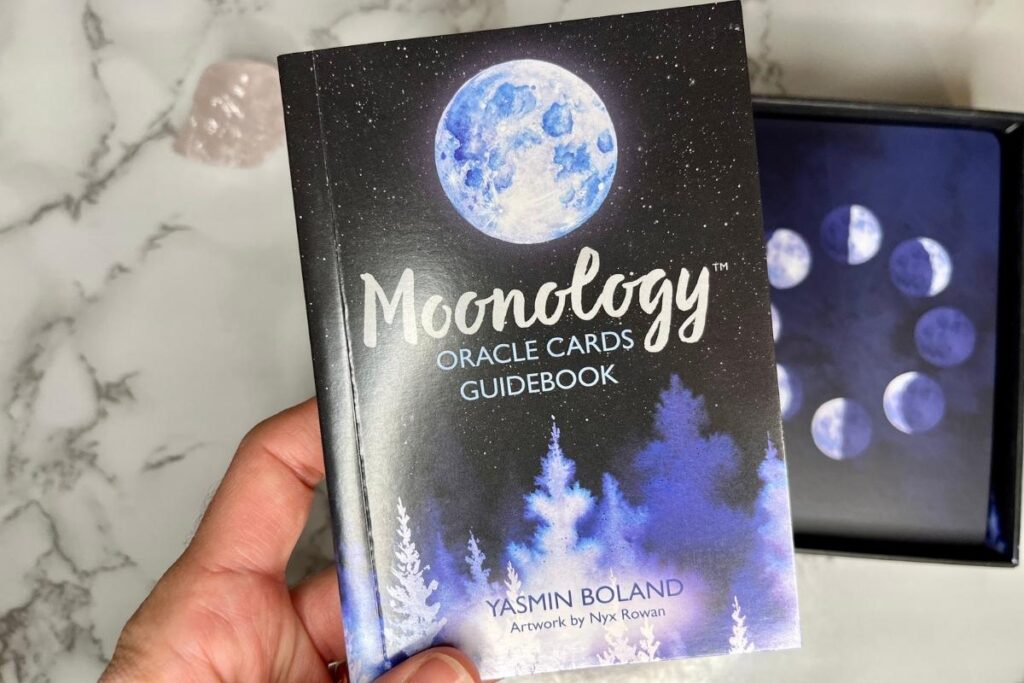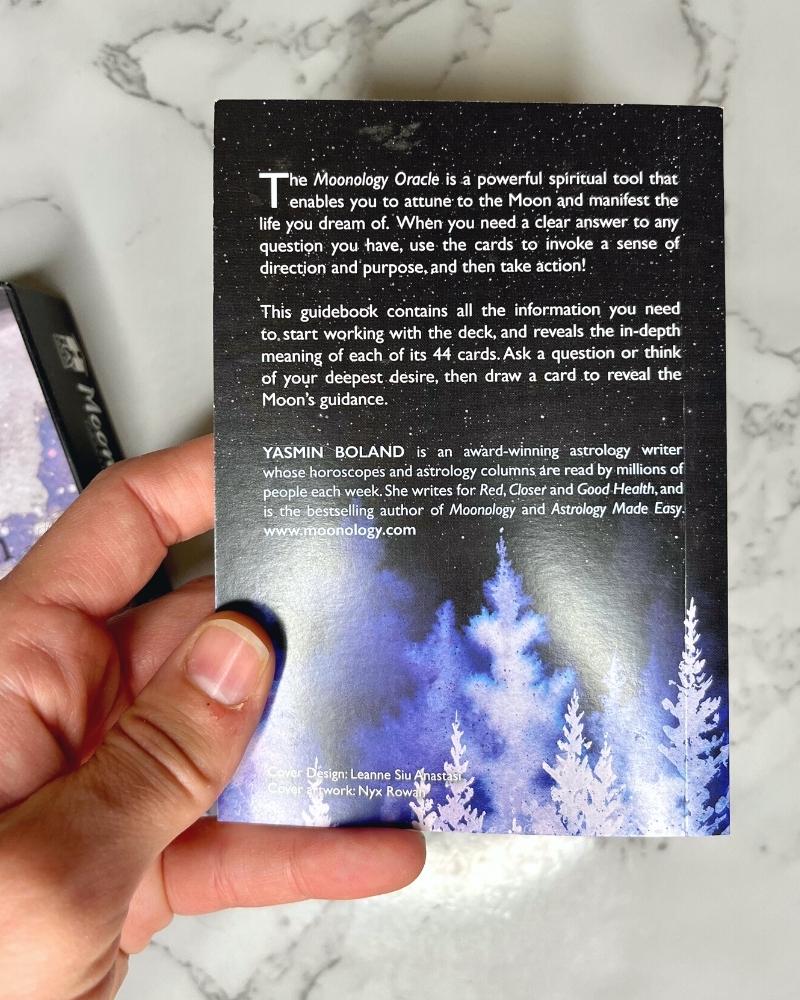 The first thing you see when you unbox the Moonology deck for the first time is the guidebook. It's small, but the print is readable and it's well organized.
Yasmin Boland, the author, is a well-known and award-winning astrologer who has been writing powerful horoscopes for years. She has other decks and books that correspond with the "Moonology" theme/branding. (Scroll to the bottom of this page to see them.)
For each card, you can find an introduction paragraph, affirmations, additional meanings and then teachings.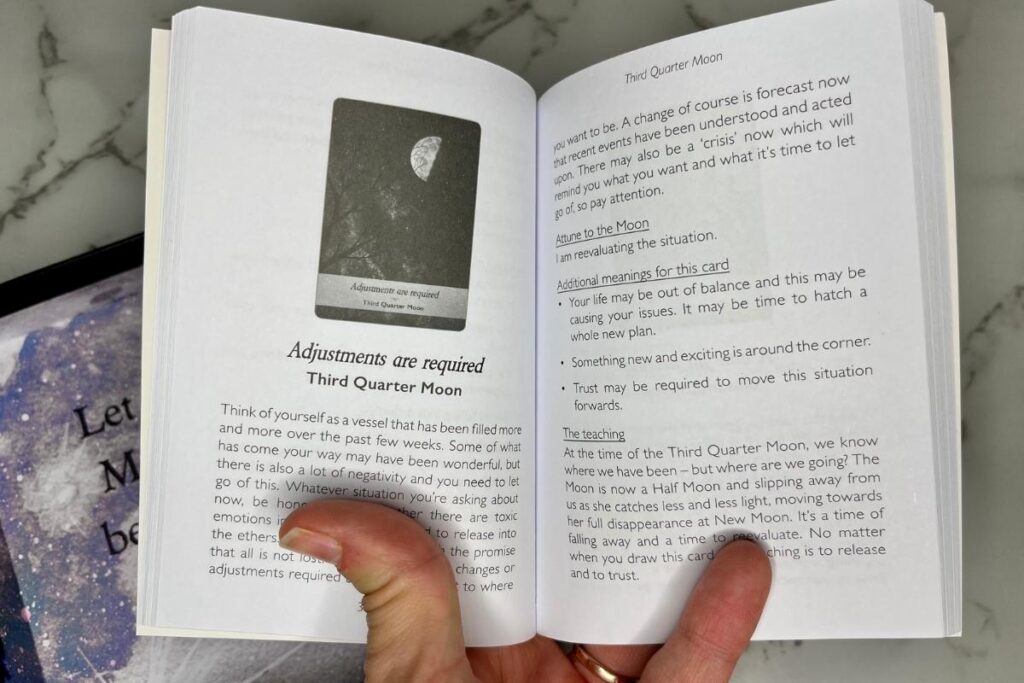 One of the things that I particularly like is the "Additional Meanings" section. I often find when I draw cards (from any deck, not just this one), that the primary meaning of the card may not be the message I'm getting. First, I like to tap into my intuition to see what it's telling me, then check the additional meanings to see if anything there aligns. More often than not, it does!
Make sure you check out the new Dream Weaver's Oracle Deck too… here's my review!
Moonology Oracle Cards Artwork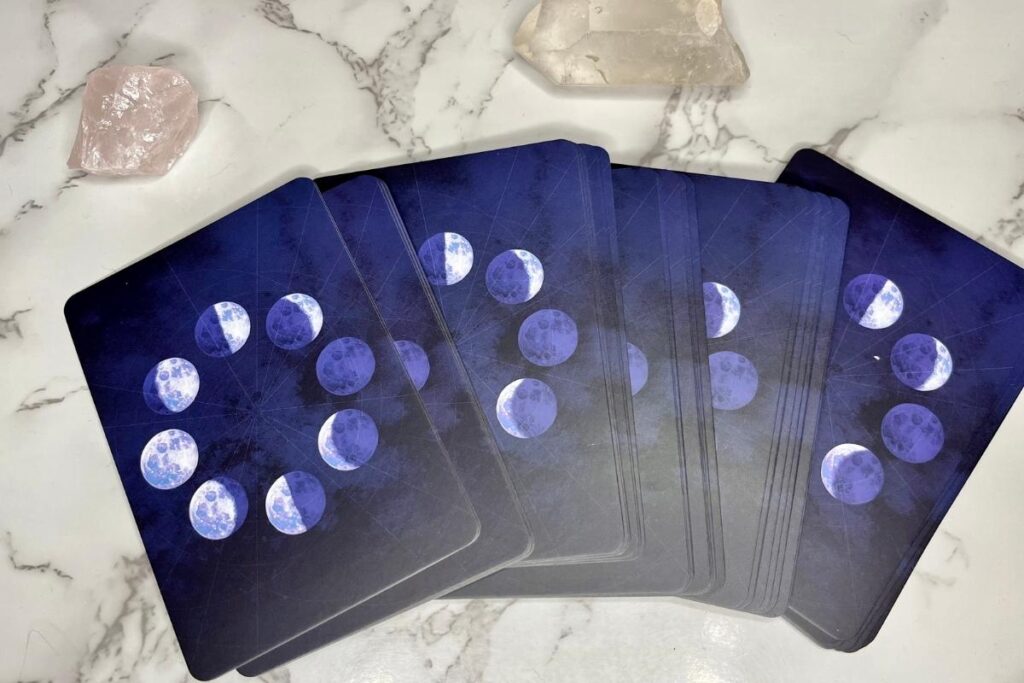 The artwork in this deck was done by artist Nyx Rowan. Nyx Rowan is someone who derives much of her creativity from nature.
One of the things that I really appreciate with this deck is that the artist is listed directly on the cover of the box and guidebook. Many decks promote the author and sort of hide the artist away on the back pages of the guidebook. I find this to be particularly hurtful toward the artist.
Kudos to the Moonology Oracle deck for putting the artist name on the front!
The artwork itself is lovely, a mixed media approach. I love the pink, purple, blue, and turquoise hues chosen, and how they are set so vibrantly against the dark blues and black of the night sky!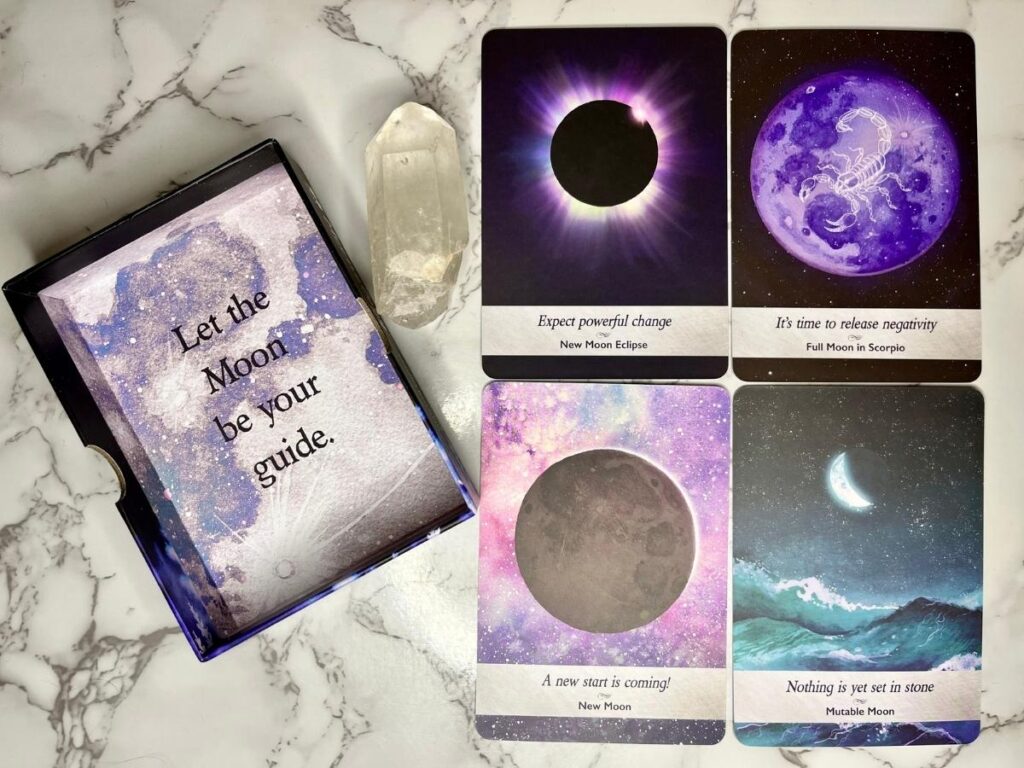 Card Quality
The cards in the Moonology Oracle deck are a very high quality. They're not glossy, so they don't stick quite as much as very plastic-feeling cards do. However, they don't slide as easily as I would like them to.
They shuffle very nicely! They're a little large for my small hands, but because the deck is only 44 cards and thus the deck is not as fat, it's a bit easier to shuffle these well!
But the cardstock is thick, and I anticipate them holding their quality for a long time.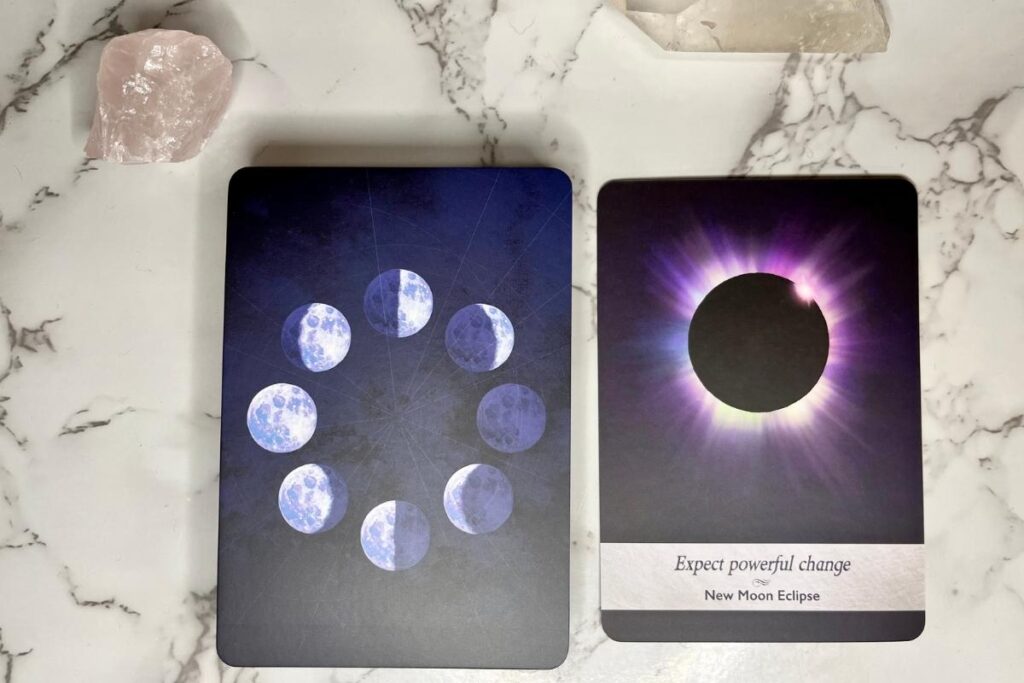 Doing a Reading with the Moonology Oracle
While there is a lot of information on these cards and in the book about astrology, I don't find that you need to know a lot about astrology to get a good reading from these cards. They are very intuitive and give you lots of information right off the bat.
I recently did a reading for myself, just for the energies this weekend. I asked, "What should I be aware of this weekend?"
The answer was the Full Moon Eclipse card: Conclusions are within reach.
Because this has not been a time of questioning or confusion, I went to the guidebook and looked at the additional meanings. There, I found "Cede control and let events unfold."
This is very much in line with the spiritual lessons I'm learning right now! The affirmation for this card is, "That which is meant for me will not pass me by."
I shouldn't push myself or try to make things happen. I need to let go of control and understand that what the Universe wants for me (which I believe is something that I also want) is on its way… perhaps on its own timeframe!
Then I asked about things I should watch out for this weekend and I drew the Mutable Moon: Nothing is yet set in stone.
At first glance this seems to contradict the first card, but again, with those additional card meanings, they are right in line with everything else. "I know that the best will unfold for me." "Staying adaptable is the key to success."
Asking concrete questions of this deck will give you more potential energies, so make sure you're in tune with your intuition and that you read all the possible meanings of the cards.
I highly recommend pairing this with the Wild Woman Oracle Deck by Cheyenne Zarate. I've found that a lot of these cards will directly related to Wild Woman cards that I pull.
Conclusion: Moonology Oracle Review
For this Moonology Oracle review, I give the deck 5 stars!
Sure, this deck will take you a little while to get used to, and you really have to tap into your intuition for it, but I truly love this deck. It gives accurate messages and brings to your attention things that you might not have thought about before.
It is a high quality product and will last a very long time.
Do you have the Moonology Oracle?
Tell me what you think of this deck below!
Here are other Oracle Decks that I've done full reviews for:
Wild Kuan Yin Oracle Deck Review
Shaman's Oracle Deck Review
Affirmations for the Everyday Goddess Cards Review
The Psychic Tarot Oracle Deck Review
Check out other cards and books by Yasmin Boland
Moonology Oracle Review: Feminine Deck to Tap Into Your Intuition