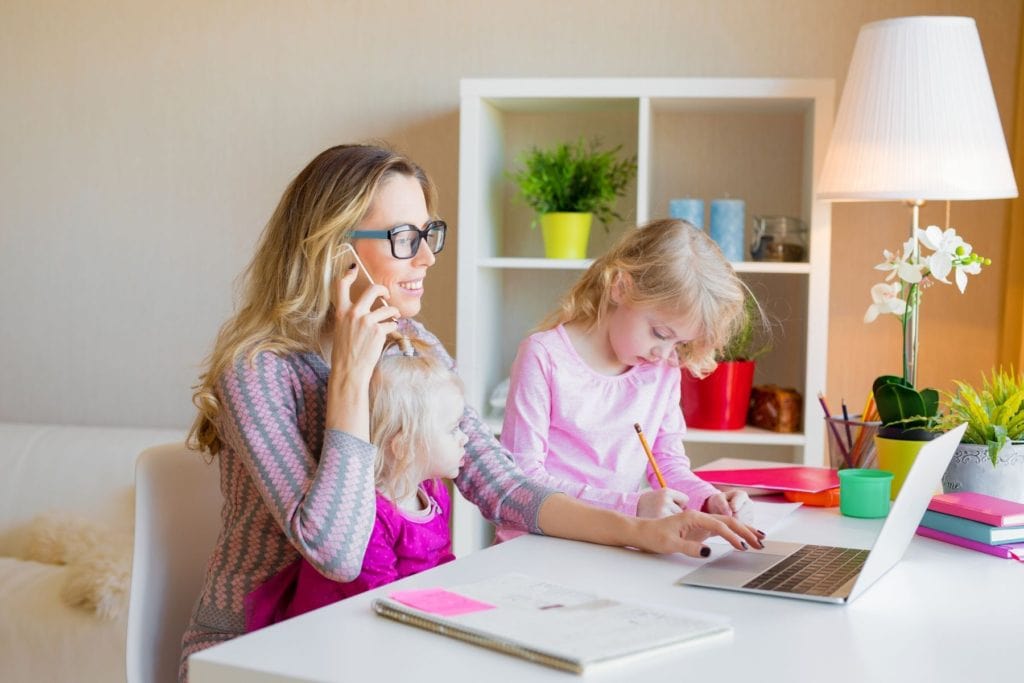 Being a Stay at Home Mom: Benefits and Problems
It was almost a year ago I started thinking about becoming a work-at-home mom. I knew after D was born that I was going to want to be home full time. I was already missing Morgan tremendously, and I knew it would only get worse.
And I thought, "I can do this! Easy-Peasy!"
I prepared for it, by getting a few part time gigs, getting our finances in order, and quitting my teaching job.
But already after a month it feels like someone pulled the rug out from under me and I'm scrambling to find my balance before I fall flat on my face.
This is hard work, man.
It's the hardest I've ever worked in my life. Because with 2 kids and 4 part-time positions that I'm balancing, my to-do list never ends, and the items on it hang precariously dependent on the other items and whether they get done or not. I wake up at 2:30am to teach classes and go to bed when the kids do.
It's magical, though. Because being able to share smiles and laughs with my children all day, every day, is more than I could have ever dreamed! Singing them to sleep for their naps and finding special things that we all look forward to every day is absolutely one of the reasons I signed up for this crazy journey called motherhood.
READ MORE:
Working Mom Time Management Tips for Balancing Your Work and Life
Pros and Cons to Becoming a Work-At-Home Mom
If you're considering being a stay at home mom, there are plenty of pros and cons you must weigh before you make your final decision.
Cons
Work-Life Balance is more weighty than ever.
I thought it was tough being a working mom. Phew! A work-at-home mom is even more demanding… at least the way I've chosen to do it.
I am my own boss. Finding time to work on my 4 jobs while I watch, feed, change, play with, and parent my children is more than I really need to juggle at once. Don't even get me started on self-discipline and accountability…
(Did I mention I get up at 2:30am every day? Yup, that's how tough it is.)
Career Identity still suffers
It's amazing how much you associate with your career—how much it defines you.
I'm still teaching, through VIPKid online (which is an amazing gig, by the way), but I still feel a huge loss at not being a full time music teacher.
Pros
Seeing my boys faces whenever I want
This is number one! I'd so rather be annoyed with my toddler or exhausted by my infant than spend my day missing them! There's no contest here!
And if I'm not annoyed or exhausted? Really, they're honestly not very annoying or exhausting, even for a toddler and infant! Dude, bonus times a million! This job is worth it!
Not driving to work every day
I can't even begin to describe my glee at not having to pack the kids in the car at 6am to drop them off at daycare.
It wasn't terrible last year, but it was dreadfully time consuming. And the daily goodbyes made my poor heart ache.
Finances
Yes, this is actually in the pros column!
With a child comes HUGE financial responsibility. So our costs were going to go up regardless.
But it turns out, it's actually financially more sound to quit work full time to stay at home. The amount we're saving by NOT having the kids in daycare is truly astounding.
Of course, I'm also not putting as much toward retirement, but I'm hoping as my Arbonne business begins to grow (as does my blog) that will change.
(Who wants to retire from work anyway?!) which brings me to my last point.
I am still able to keep my brain (somewhat) sharp
Having children kills your brain cells, it's true. But being able to still find things to do and express myself creatively is absolutely essential to who I am as a person. I absolutely have to do some kind of work, and I've found the perfect things to occupy my time during naps.
I blame my mom… she always has some sort of project going on, and so do I!
However, with fewer interactions with negative coworkers and less driving every day, I feel that I am more mentally healthy!
RELATED:
Mom-Shaming 101: How to Recognize It and STOP It
Conclusion
Even though it's tough, being a work-at-home mom has been kind of the dream job that I've always been looking for! If you're thinking about becoming a work-at-home mom, I absolutely hands-down recommend it. You won't regret it!
Thinking About Becoming a Work At Home Mom – Some Pros and Cons