*This is a sponsored post.
Looking for a Family Photographer in Albuquerque, New Mexico?
You NEED to check out Jennifer Warren Photography!
Jennifer is a freelance photographer based in Albuquerque's East Mountains. She's incredibly skilled with light and is SO fantastic with kids!
Start by checking out a few of her pictures from our recent photoshoot!
*These photos may appear grainy on your screen because they are compressed. But I assure you the full quality photos are crystal clear!
Albuquerque Family Photographer
Jennifer specializes in family photography and kids, but she also does other types of photography as well.
We met Jennifer up at the junction of Forest Service 333 and La Cueva Rd (on your way to the La Luz Trailhead). It's high enough to get some amazing views of the sunset, so it makes for a great spot for family photos!
She had incredible patience with our kiddos during the session, especially with M. As a 2.5 year old, M was more interested in digging in the dirt and exploring than he was with the camera!
She asked us if we were interested in more candid moments or "family portrait style" photos. I told her that we were interested in a little of both.
She was glad to work with both and explained that because young kids often have a tough time sitting still and looking at the camera, staging fun or loving moments can be the best option.
Still, Jennifer worked with us to find ways to incorporate M's curiosity and activeness into the photos, even when we had shots looking at the camera. She also brought some things to attract the attention of D, who, surprisingly, was super interested in the camera and was a natural!
The shoot itself felt a little chaotic–but that was because of the kids, not her! When we got the final shots, I was shocked at how organized and cohesive they looked! She worked some serious magic, that's for sure!
LOOKING FOR MORE ALBUQUERQUE FAMILY PHOTOGRAPHY SPOTS?
Albuquerque Botanical Gardens
Tingley Beach
the Bosque
El Pinto Mexican Restaurant (check with the manager there, but they have a fantastic patio space and backyard!)
the Sandia crest
Albuquerque Biopark Zoo
Quality Photography That's Affordable
This.
Is.
My.
Absolute.
FAVORITE!!!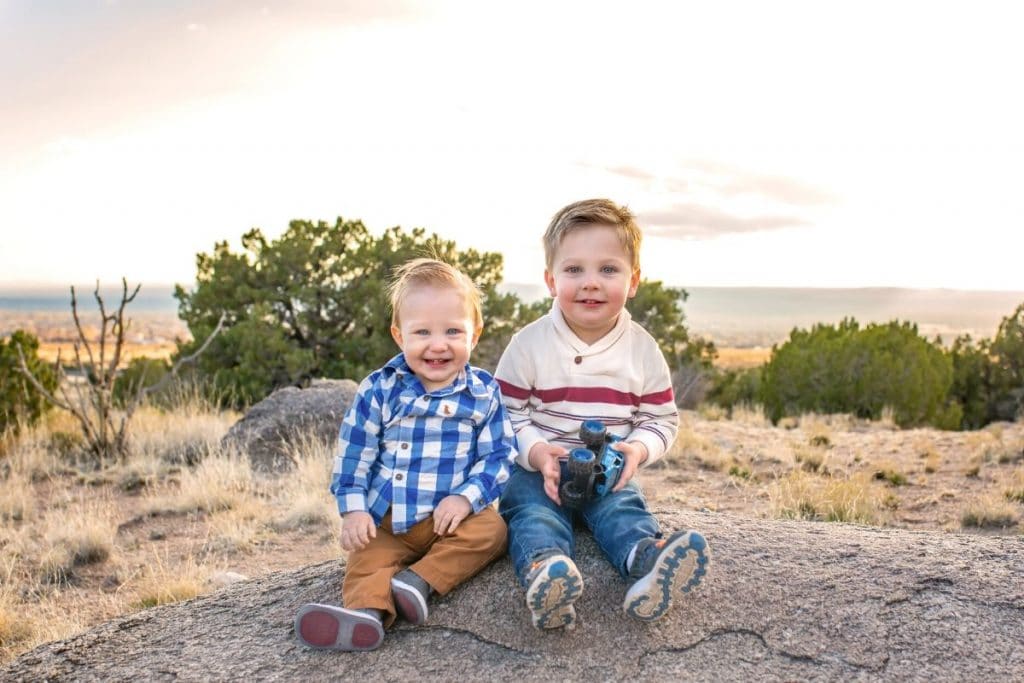 Look at those two handsome boys? It takes skill to get a 2.5 and 1 year old to look at the camera at the same time and get a great shot like this!
And who doesn't love some mischief?!
More about Jennifer
Jen has two beautiful, young boys of her own, who are her regular subjects! (You can check them out here.)
Prior to being a photographer, Jennifer was an elementary music teacher for the public schools here in Albuquerque, and she still teaches music classes part time.
Jennifer also photographs for the Awareness 21 Project, which highlights the strengths and beauty of children with Down Syndrome.
Conclusion
I love her beautiful mission statement:
I believe that there is more to photography than just images. It is about capturing and documenting beautiful moments and the connection found between one another. Photography is about capturing every last detail, so the images produced may be treasured for years to come.
So if you're on the hunt for the best family photographer in Albuquerque, I hope I've convinced you to go with Jen!
YOU MAY ALSO LIKE:
Educational and Active Gifts for a 2 Year Old Boy
Mom-Shaming 101: How to Recognize It and STOP It
Jennifer Warren — Albuquerque Family Photography