A few weeks ago I looked at Affirmation cards for general use and meditation. This post is looking at the best Affirmation Cards for Kids, from Amazon and Etsy.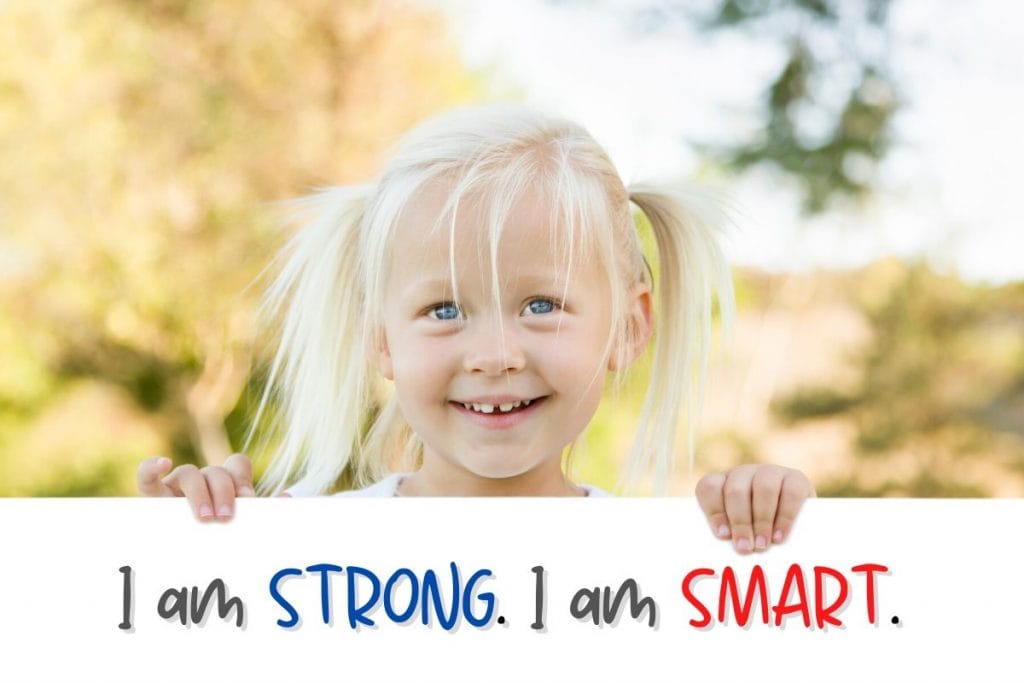 The Best Affirmations Cards for Kids
If you're curious (or in a hurry) here are the top ones!
Scroll to the bottom to read more detail about these 4 TOP AFFIRMATION CARD SETS FOR KIDS
***If you're new to affirmations, make sure you check out my Guide to Affirmations: What are affirmations and how do they work?
Affirmations are for EVERYONE!
Why Would My Kid Use Affirmation Cards?
Here are 7 ways you can get started using affirmation cards with your kids today. Affirmation cards can help kids:
get pumped up for school and ready for learning
feel safe in bed at night
ease anxiety about a variety of situations
have a growth mindset
learn new words
embrace natural empathy to understand others
feel confident
Not only that, but a child's age is going to have an impact on what kind of cards you get. Make sure you consider:
Are they listening to you read them?
Are they going to repeat the affirmations?
How advanced language your child can speak?
Are they going to be reading the affirmations on their own?
Do you want pictures? (Certainly a good idea, especially for younger kids.)
Are you going to be displaying them?
Are the kids going to be carrying the cards in a backpack?
As you can see, affirmation cards are not designed for one specific use and can be altered to fit your kid's specific focus or need. That's why picking the right affirmation card set for your child is absolutely imperative.
Physical Affirmation Card Sets for Kids
There are hundreds of affirmation cards out there, I had to narrow my criteria to choose the absolute best affirmation cards.
Here are some things that are NOT in this post:
❌ mindfulness cards
❌ lunchbox notes and encouragement cards
❌ yoga cards
❌ affirmation books
Here are the things that I looked at:
✅ must be in first person (i.e. I am unlimited.)
✅ must be specifically for kids
✅ must be a physical product (cards)
✅ must be simple language (especially for toddlers and young children)
This post does not include printable affirmation cards–this post is specifically about physical products that will be shipped to you. To check out printable affirmation cards for kids, click here.
All products are between $10 and $40, with an average price of about $22.
These Affirmation Cards Are On Amazon and Etsy
Amazon is one of the best places to buy anything online. Etsy is another fantastic choice. Etsy is a place for small business owners to market their products online, and they give the shop owners a larger cut of profits, and they also offset the carbon footprint for every shipment that is made through Etsy.
So whenever possible, I encourage you to shop through Etsy. Many of these cards are available on BOTH Amazon and Etsy.
13 Best Affirmation Card Sets for Kids
These are the BEST affirmation cards available as of September 2020 for kids!
How many cards?: 64
What age group?: ages 6-12
These cards have great reviews, but there is little information about them. They're advertised as being for ages 6 through 12, and the affirmations are a little more complex than simple "I am ___". There are some images of the actual cards available in the customer review section.
How many cards?: 20
What age group?: ages 3-12
Adorable and simple, these affirmation cards would be great as nursery decor. They feature the affirmation and a small picture on each card. The affirmations use simple language and short sentences, making them perfect for younger children to repeat back to you.
How many cards?: 36
What age group?: ages 2-14
These cards from Inner Rainbow Project are simple and powerful. The affirmations are great for a variety of kids, especially for reading to younger children.
If you're hoping that younger children will read these affirmation cards, I would prefer that the cards have pictures. But these are solid affirmation cards that will suit your needs just fine!
How many cards?: 10
What age group?: 5-10
These affirmation cards for girls are a great selection for display. Hanging them up on a banner or putting them in frames are both wonderful ideas for use of these cards. The watercolor pictures with each affirmation are just beautiful.
How many cards?: (Not specified)
What age group?: ages 6-9
These cards have multiple affirmations per card with longer, more advanced sentences. For that reason, they would be more suited toward children who are learning to read and can speak well. But the artwork is very young, so they're probably not suited for children past 9 years.
The actual affirmations and thought-provoking mindfulness ideas are delightful, and the cards are large and sturdy!
How many cards?: 21
What age group?: ages 7-13
Another great choice for older elementary and even middle school kids, these cards have great illustrations for each powerful affirmation. Help those kids who will be hitting puberty soon to develop good self-esteem, body autonomy, and belief in their own power!
How many cards?: 26
What age group?: 0-4
These ABC cards are adorable! Read babies and toddlers their alphabet with affirmations to go along! Each card has a smiley face doing something related to the affirmation.
Obviously, because these are geared toward toddlers and even babies, they will need to be read by an adult.
How many cards?: 26
What age group?: ages 4+
The next step up, these alphabet affirmation cards for kids are geared toward students in elementary school. The affirmations are a little more complex than the 0-4 year ones, but are still perfectly attainable for kindergarten or even preschool children.
How many cards?: 50
What age group?: ages 2-7
These are another excellent choice for younger children. Featuring bunnies, rainbows and unicorns, these cards are bright and happy!
The affirmations on these cards will help your kids feel safe and secure and calm.
How many cards?: 54
What age group?: ages 4-12
This affirmation card deck features 54 cards with many I AM affirmations as well as others. The sentences are a bit longer and offer suggestions for gratitude and mindfulness activities in daily life.
The only drawback is that, while they do feature bright colors, there is no artwork or pictures for children to look at, which is important for visual learners.
They are excellent, standard cards for anyone looking for affirmation cards for their kids. These cards are the BEST VALUE, at about $.27 per card.
These cards can be found on both Amazon and Etsy.
How many cards?: 52
What age group?: ages 7-11
Renegade Mama affirmation cards are some of the best quality cards you can find on the internet. These kids affirmation cards are no exception.
With bright colors and stunning artwork, these are great for kids of all ages to look at and enjoy! With children of different ethnicities, these cards are inclusive.
While the cards themselves say ages 3-10, the affirmations are longer and more advanced, making them better suited for children in elementary school grades 2 through 5. But they will help a child ease anxiety, particularly if they have anxiety about school.
These cards can be found on both Amazon and Etsy.
How many cards?: 35
What age group?: ages 2-7
These adorable flashcards feature a fox doing different activities related to each affirmation! Especially for younger kids who don't read yet (or are just beginning), it's very important to have pictures on the cards, and this fox is adorable!
The affirmations are 3 words each (I am …) making them perfect for little kids to repeat back to you.
These cards are also a great value, at about $.31 per card!
They can be found on both Amazon and Etsy. Currently Unavailable on Amazon.
How many cards?: 44 Cards
What age group?: ages 3-12
These cards are exquisite. They're great for children of all ages, but especially helpful around 9-11 when social pressure and puberty may begin. The cards are very inclusive and feature 4 different characters of different ethnicities and personal styles.
With affirmations like "I am the boss of my own body," and "I am kind to everyone even if they are different," these cards will inspire authority over themselves, accountability for their actions, and authenticity.
(Just so you know, shipping costs on these cards are quite steep, since they ship from Australia. Even including shipping, these are not the most expensive cards on this list.)
These cards can be found on both Amazon and Etsy.
Make sure you also look at the Best 21 Printable Affirmation Cards for Kids too!
Want some suggestions for you?:
16 Spiritual Enlightenment Books
37 Wild Woman Gifts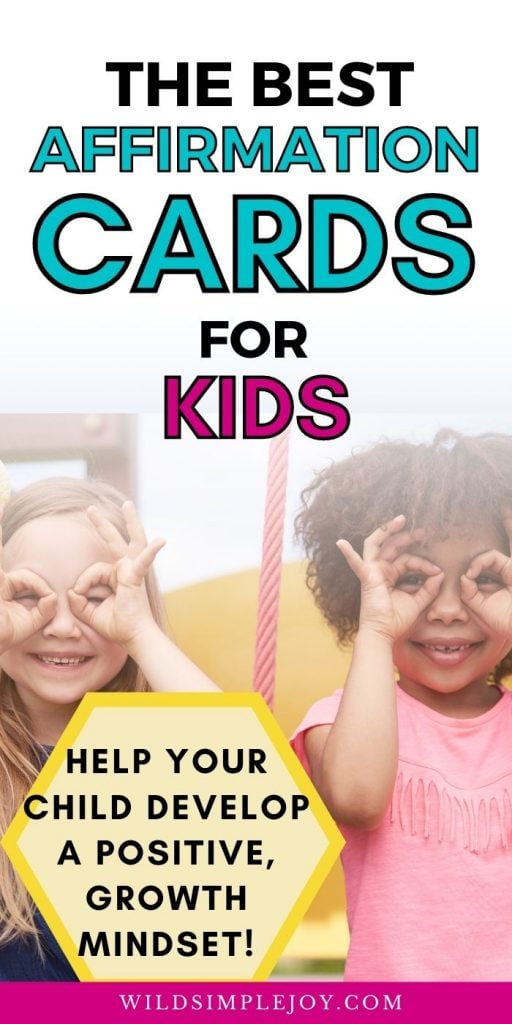 The 13 Best Affirmation Cards for Kids