I've been on a quest to find some coffee alternatives that really work for me. I've tried it all… adaptogen brews, mushroom coffee, teas, matcha… you name it!
One that I hadn't tried was simple drops. I saw MaryRuth's Adrenal and Focus drops on Amazon and decided to do some research.
It's geared toward people who can use some extra focus, for example, adults with ADHD (there's a separate one for children). I was intrigued by the reviews, so I decided to try it.
Here is my MaryRuth's Adrenal and Focus review, where I will cover what the ingredients are, what they are designed to do, how I take this product, and what results I had.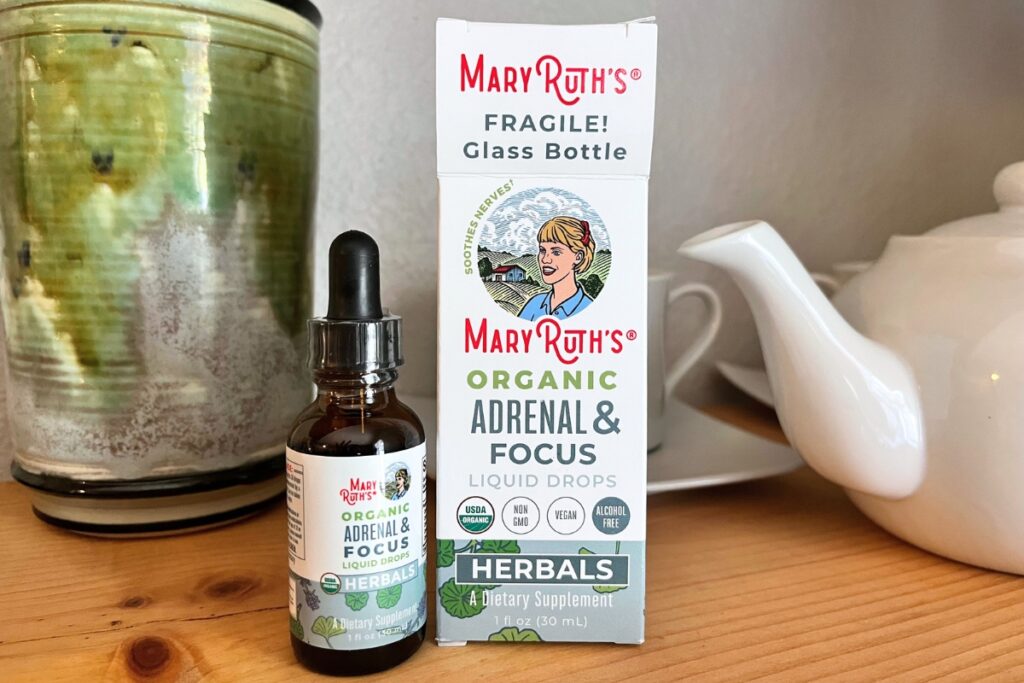 What is MaryRuth's?
MaryRuth's is a brand of organic supplements named after the founder: MaryRuth Ghiyam. These supplements are vegan, liquid, non-GMO, gluten-free, and mostly organic. The company is also a Certified B Corporation (like Arbonne), which is very impressive.
Here is what I take to be their mission statement from their website (link above):
MaryRuth's wholeheartedly creates vitamins and supplements with the utmost care, fueling your wellness journey and uplifting your loved ones to move forward every day.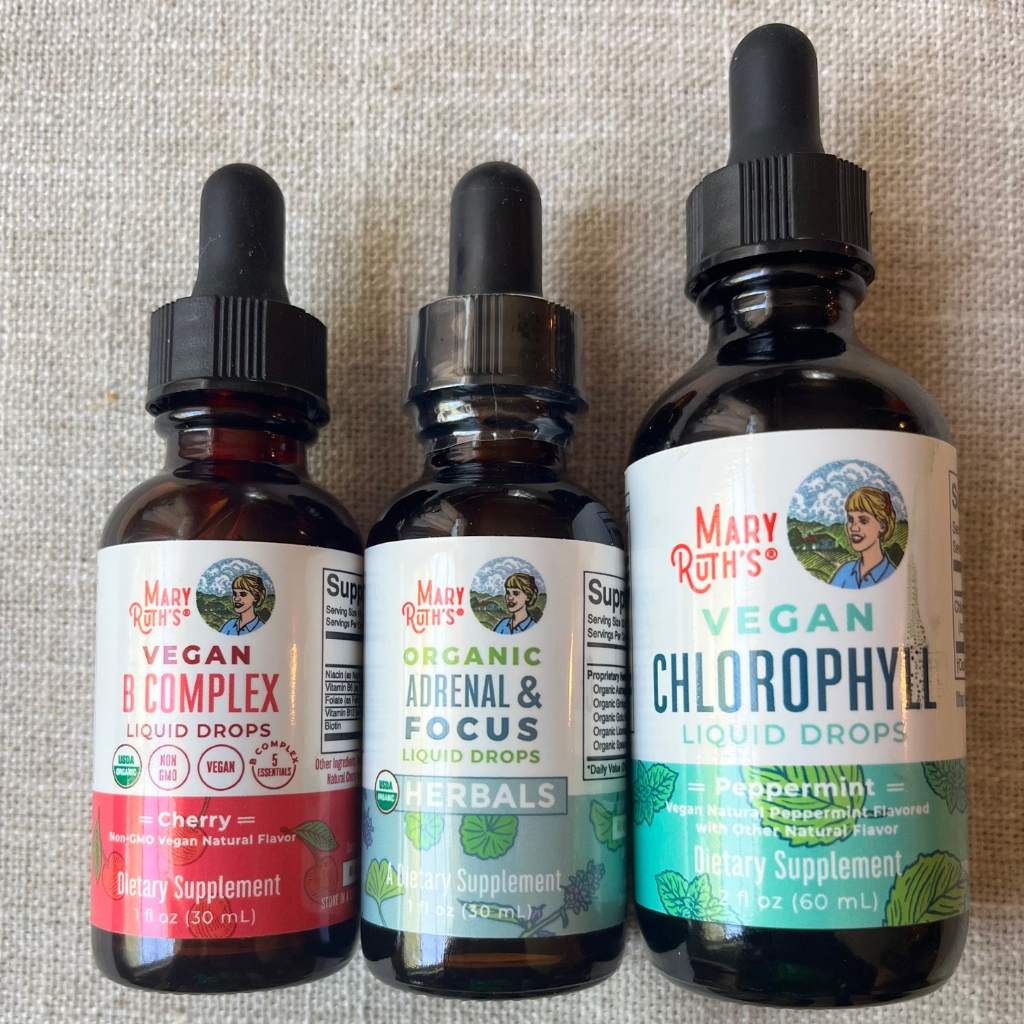 They have a wide selection of supplements, and I have used several of them, including the B complex, Adrenal and Focus, Chlorophyll, and Ginseng (not pictured).
(I couldn't take the Ginseng because it had maca in it… I'm very sensitive to maca.)
Their supplements are in liquid form. This has its pros and cons, but overall, I like the ease of use and the fact that absorption is better with liquid supplements.
The MaryRuth's Adrenal & Focus blend for adults is a supplement designed to help calm the nervous system, improve focus, and manage stress.
It combines a variety of herbs that are known to assist with the nervous system.
Honestly, rather than go through their website, I just purchase this product through Amazon. The shipping is faster with prime, and there's no worry I'm getting a fake product.
RELATED POST: 9 Ways to Nourish Your Body for Optimal Health
Ingredients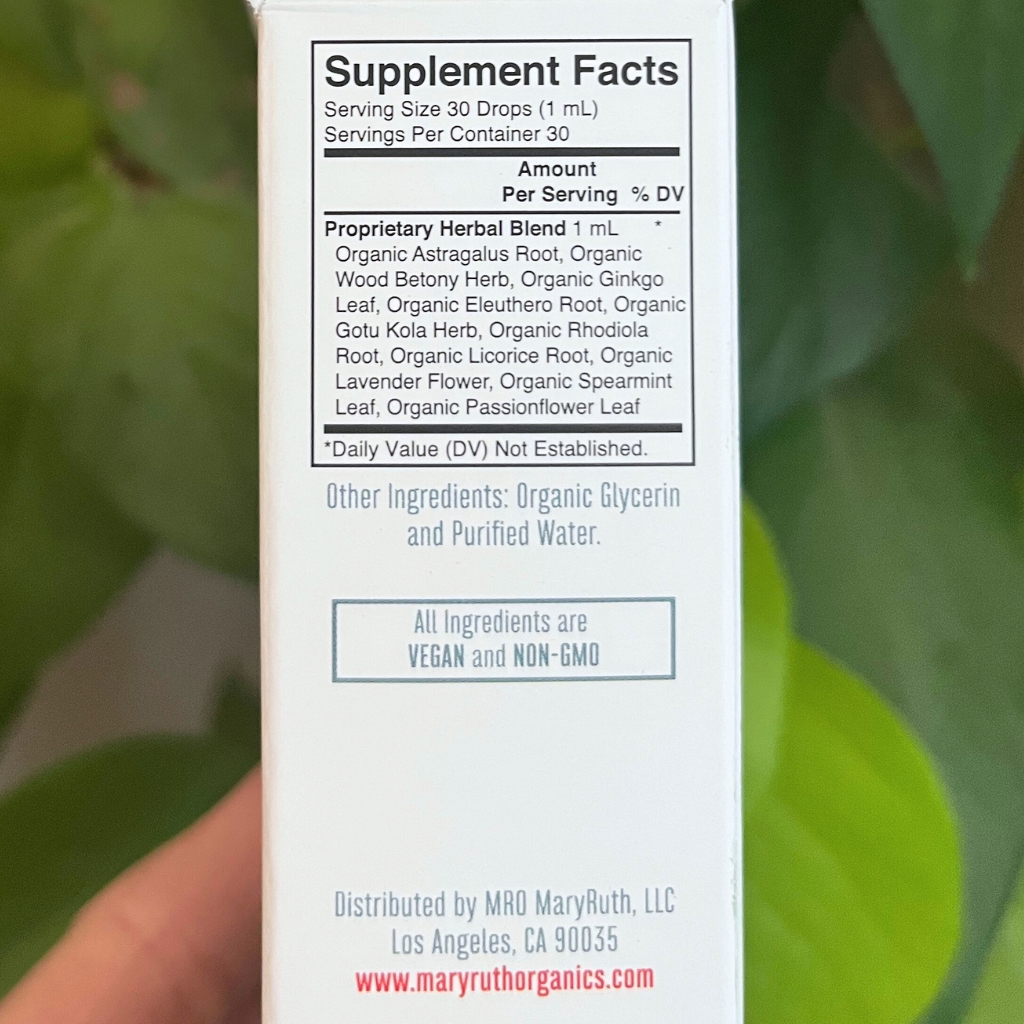 Astragalus Root
Astragalus root is an herb that has been used in combination with other herbs in Chinese medicine. It is known for helping to regulating energy, preventing fatigue, boosting the immune system and more.
Wood Betony Herb
Wood Betony is an herb that I had not heard of until using this product. It was used in European folk medicine as a treatment for various ailments including headache and failure to thrive.
Ginkgo Leaf
Ginkgo is known as a living fossil because the tree it comes from in China is the sole surviving type of tree from an ancient group of trees. Ginkgo leaf extract is known to help reduce inflammation, promote healthy circulation, improve brain function, and reduce anxiety.
Eleuthero Root (Siberian Ginseng)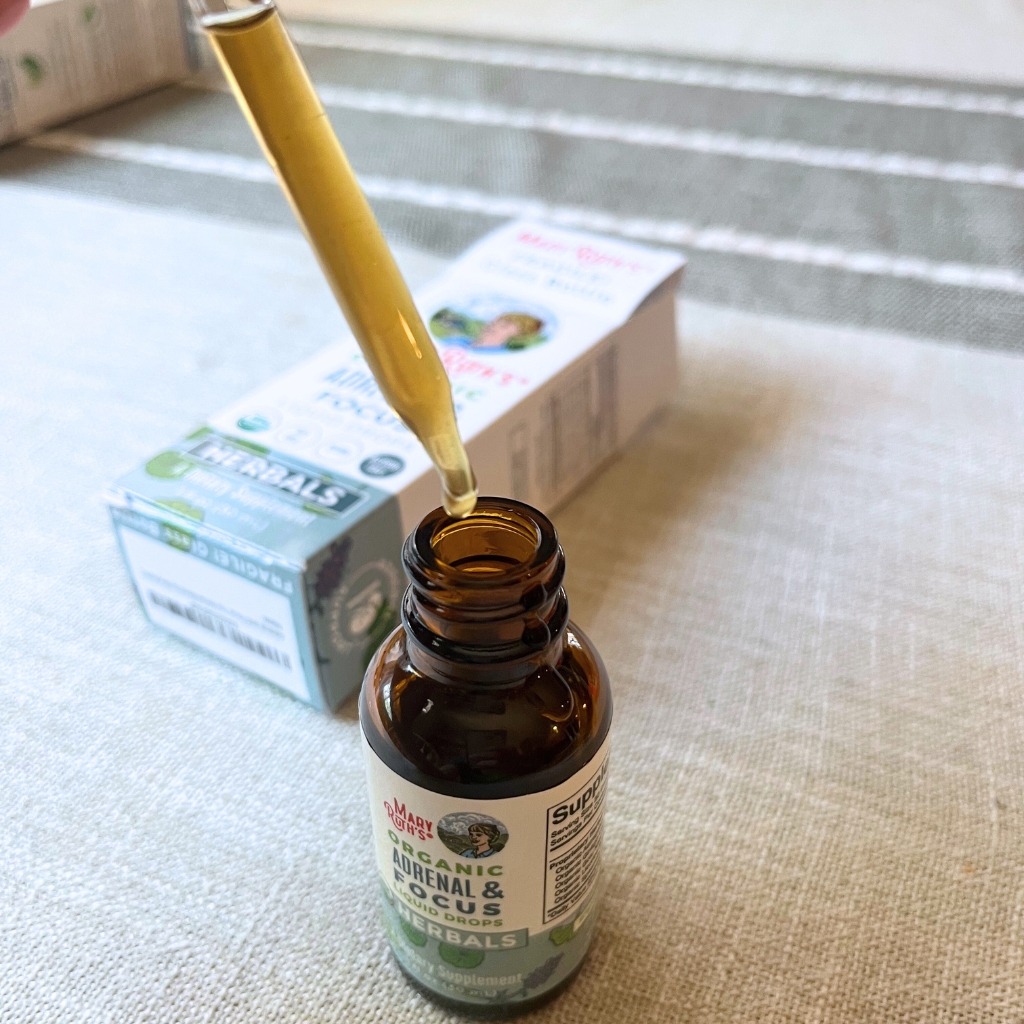 Siberian Ginseng is known to boost energy, help with performance during exercise, reduce inflammation, and help to heal wounds more quickly. It is truly a powerful herb!
Gotu Kola Herb
Gotu Kola is another herb on this list that is primarily known for its ability to boost energy and cognitive function, focus, and reducing anxiety.
Rhodiola Root
Another excellent adaptogenic herb, Rhodiola root is especially good for reducing stress and anxiety, but it's also used to boost brain function and fight fatigue.
Licorice Root
Licorice root is one of those herbs that everyone knows because of licorice candies. It has a potent flavor, but its benefits are great. It is known for helping to clear skin conditions and heal digestive system issues.
Lavender Flower
Lavender is a scent that everyone knows. But it not only smells good, the plant might also help with skin issues, sleep issues, and pain.
Spearmint Leaf
Spearmint is a great herb that not only tastes great, but it is also known to help balance hormones, lower blood sugar, and reduce stress.
Passionflower Leaf
Passionflower is an herb primarily used today to treat sleep problems, anxiety, and ADHD.
RELATED POST: Good Health and Success Are Closely Connected
Other Information
The back of the box (seen below) give the suggested use to take up to 30 drops 1 to 3 times per day. One pump from the eyedropper is equal to about 22 drops.
Therefore you can take approximately 4.5 pumps per day if you wanted to. (But that is an estimation, so please make sure you count number of drops and check with your doctor!)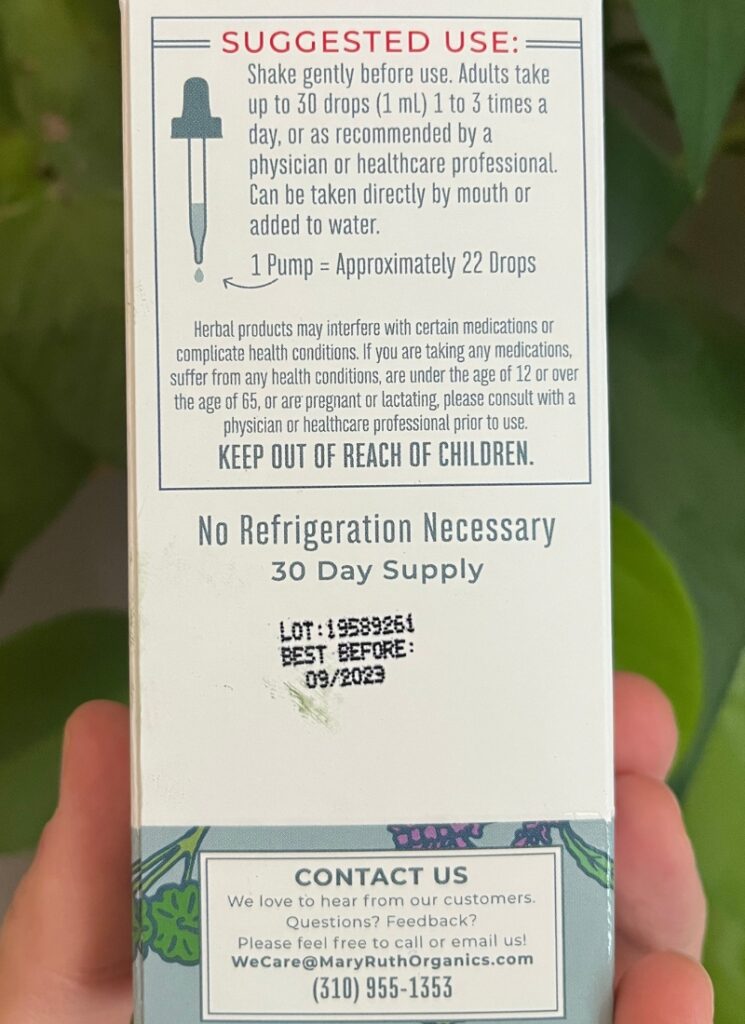 The side of the box reads:
"What is a nootropic? Natural nootopics are herbs and botanicals traditionally used to support cognitive function, particularly executive functions — focus, memory, creativity, or motivation — in healthy individuals.

What are adaptogenic herbs? Adaptogenic herbs are aptly described by their name, as they assist the body in adapting to different stressors, and support the body's ability to maintain its natural homeostasis.

What is a nervine herb? Herbs which are known to soothe and support the nerves are called nervines. These calming herbs soothe the mind and support the nervous system."

(-Adrenals and Focus, side of the box)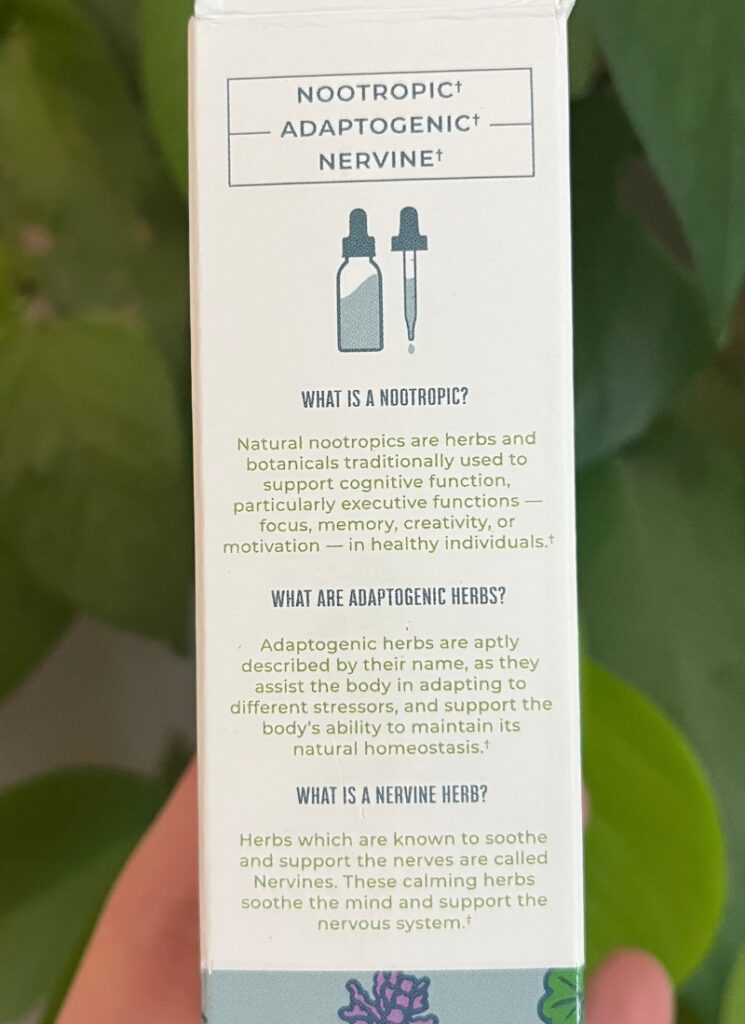 RELATED: GEM Whole Food Vitamins Review
My Adrenal and Focus Review
If you're looking for a review of this product from someone with ADHD, I have not ever been diagnosed ADHD. I do have some symptoms of ADHD, and I'm most certainly neurodivergent (likely undiagnosed autistic).
My review might not be exactly what you're looking for, but if you're a neurodivergent woman, mother, or woman in her mid-thirties, this review might apply to you.
In general, I only take 15 drops once per day, which is a little less than 1 pump. I put it in my tea. I wish I could have more of it, but I feel jittery and "wired" when I take more than 2 pumps per day.
For those who have ADHD, you might find that you can have more without adverse effects.
MORE COFFEE ALTERNATIVES TO CHECK OUT:
Ryze Mushroom Chicory "Coffee"
Energy Levels
One of the primary benefits for me has been a boost of energy. I am incredibly sensitive to caffeine, and I use this as part of my coffee replacement. (I'm also sensitive to maca, another stimulant.)
But this supplement seems to give me a slight boost of energy with a definite boost in focus and attention, especially in the morning. It takes about 30 minutes to kick in.
Immune System
Another huge benefit I've noticed from taking this is a boost to my immune system. There have been multiple times that I stopped taking this, either because I ran out and hadn't ordered more, or because we were traveling and I forgot to bring it with me.
Whenever this occurs, I generally get sick within a few days.
While I know that eating a strictly paleo diet is the biggest boost to my immune system that I could choose (at least for my body), because I have kids, being this strict with my diet is challenging. So this supplement is a great second option to make sure that my immune system is going strong!
Questions…
One thing I do have questions about, however, is the name.
I would love to know why this is called "Adrenal" and Focus. Aside from the fact that it is designed to help reduce stress, nowhere in any of the "literature" (website, back of the box, etc.) does it mention adrenaline or cortisol.
So the connection to the adrenal glands that sit over your kidneys is not as well defined as I would expect.
I do wonder why they named it that!
Negative Side Effects
I have been taking these for about six months, and I have not noticed any negative effects from MaryRuth's Adrenal and Focus blend, except when I take too much, I do become jittery.
If you are sensitive to caffeine of can't take maca for any reason, you might find that you are sensitive to these drops as well.
Conclusion
I have been taking these for months and they have become a cornerstone of my supplements. Heartily 5/5 Stars!
I love the immune system boost and focus these give me! There aren't any negative side effects to note unless you take too much. (Please remember that I am not a doctor, so if you're on any medications or are concerned with how these liquid drops might affect you, please consult your doctor for more information.)
Have you tried MaryRuth's Adrenal and Focus blend? What did you think?
Especially if you had a bad experience with them, let me know below. I love to hear from you and thanks for dropping by!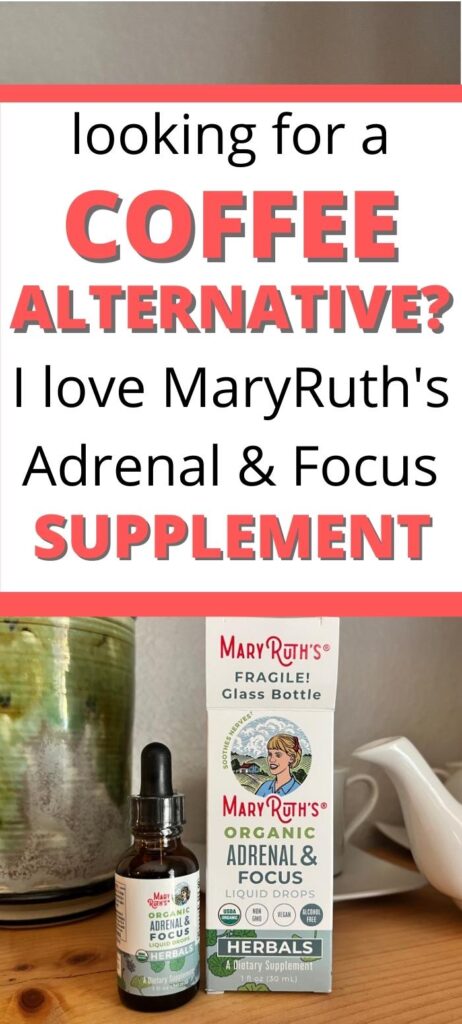 MaryRuth's Adrenal and Focus Review – My Coffee Replacement