I've been seeing ads for Clevr SuperLattes for a couple months now, and I finally caved and decided to try them. I'm someone who struggles with endocrine issues (hormonal imbalance) and so I've tried many products, from adult acne products, to sleep supplements, and other vitamins to help myself find a new balance.
So after a bout of poor sleep, when an ad for this Sleeptime SuperLatte showed up on my facebook feed, I decided to try it out. Here's my review of the Clevr Starter Box, which included the Sleeptime SuperLatte and Matcha SuperLatte. Let's go!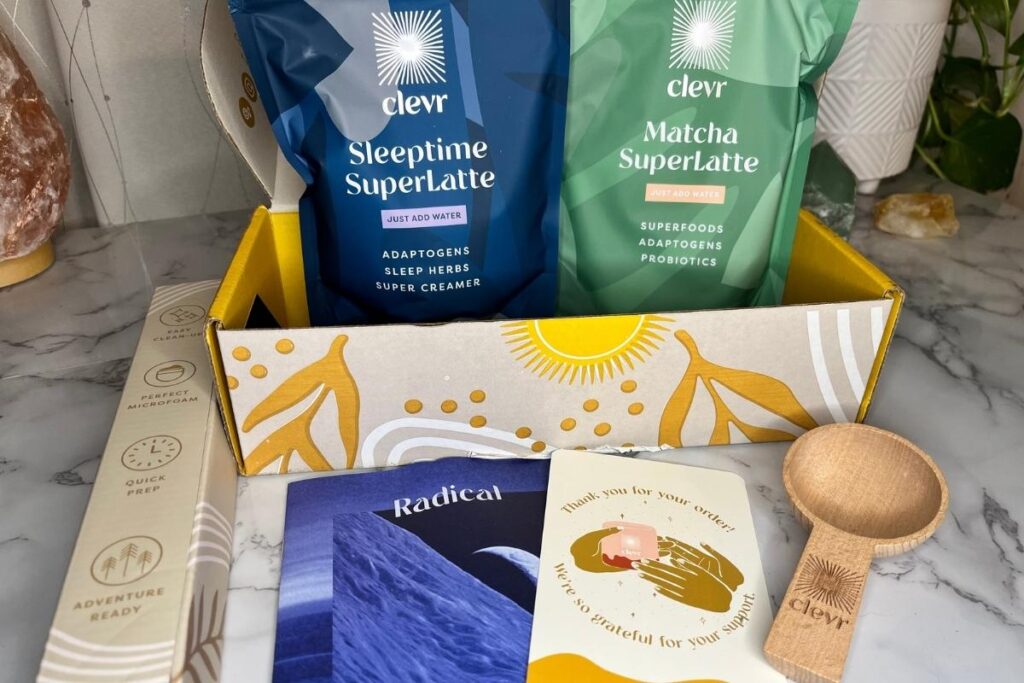 Clevr Brand Identity and Story
Created by Hannah (last name unknown?), Clevr started as a pop-up adaptogen coffee bar in 2016. So this is a fairly new company. But after a few years of fine tuning their products, they started to deliver their products. They really started to gain in popularity in fall of 2020.
Their story on their site is a short one and doesn't really give a lot of insight to the company. But their brand identity/branding is really good. I've called out other companies for potential cultural appropriation before, so it's good to see a brand that's not exploiting groups of people for the sake of their brand.
Ordering a Starter Kit
When I first ordered, I decided that I wanted to try another product that would also have a small amount of caffeine. I decided on the Matcha SuperLatte, which has about 40 mg of caffeine, somewhere between a cup of green tea and a cup of black tea (28 mg and 47 mg, respectively). (More on matcha below.)
They have the following SuperLattes available (as of writing this):
Sleeptime
Matcha
Chai
Golden (Turmeric)
Coffee
Rose Cocoa
The Starter Kit seemed like a good way to go, in order to get a 25% discount, and you also got a measuring spoon and a frother. I did not already have a frother, so this was a good buy for me.
If you already have a frother and don't mind measuring your lattes with a basic tablespoon measuring spoon, then go right to the SuperLattes themselves and skip the extra stuff.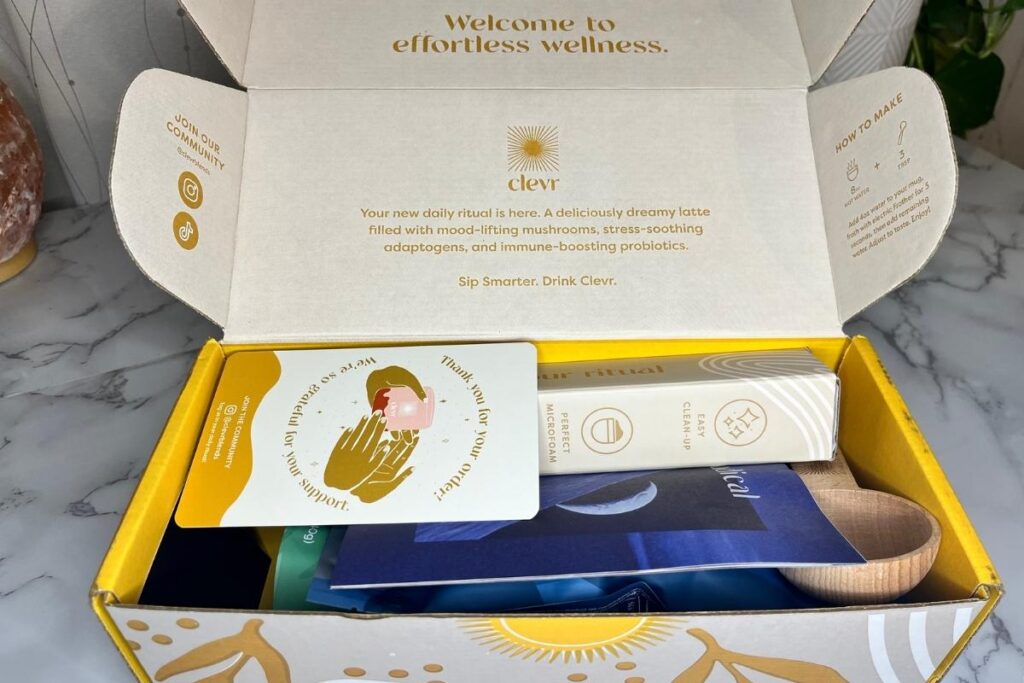 How Does Clevr Compare to Other Adaptogen Coffees?
One of the things that makes Clevr superior to other adaptogen coffees is that you just add water. You can do hot water for a hot beverage, or cold water and top with ice to cool down on a hot day.
I've tried other coffee alternatives, and there are other options out there like Rasa Adaptogen Coffee, which has to be brewed in a French Press or a stovetop Moka Pot. (Rasa might technically be fresher, but Clevr is WAY easier.)
MORE ADAPTOGEN DRINKS:
Ryze Mushroom Chicory "Coffee"
MaryRuth's Adrenal and Focus Blend
Clevr Sleeptime SuperLatte Review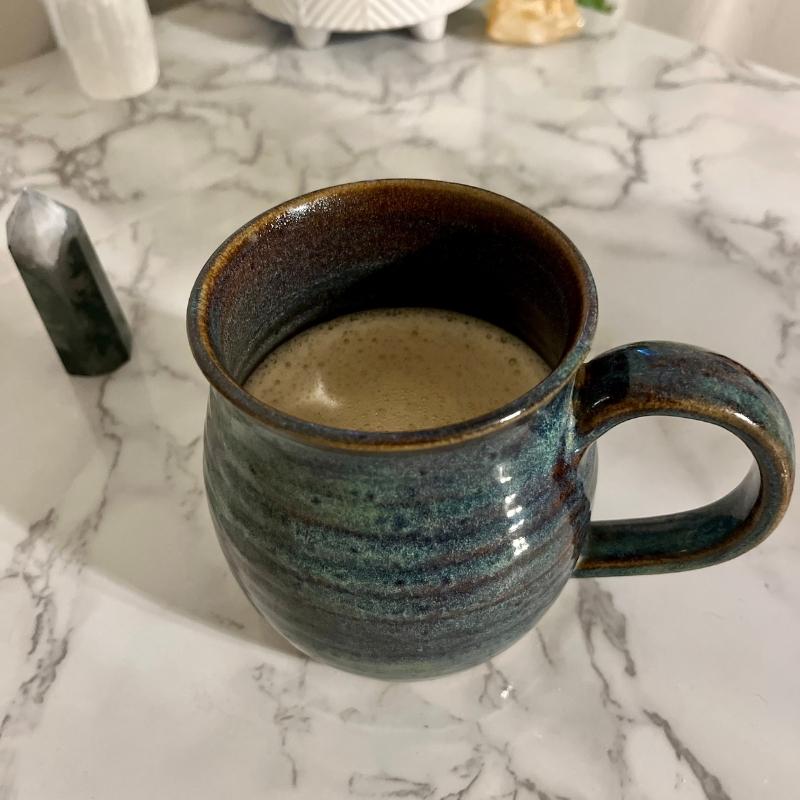 Sleeptime was the whole reason I wanted to try Clevr. I hadn't been sleeping well, and their ad was very persuasive (for better or worse).
Here's What's In It
The first ingredients are for the dairy-free "creamer," including oatmilk and coconut milk (these are dehydrated, obviously).
This is followed by Monkfruit, Chicory root, Carob powder.
Next is L-theanine (sometimes called Theanine, depending on where you are located in the world). This is a compound found in teas that promote restfulness and ease anxiety. While it does not help you sleep, it promotes a more restful sleep due to more relaxed brain activity.
Valerian root, hops, and passionfruit are next in the ingredient list, and these are the compounds that promote sleep. Valerian root has been used since the middle ages to treat insomnia. Hops (yes, the ingredient in beer) has a sedative effect. Passionfruit also has a mild sedative effect and can help with sleep.
Let's also mention quickly that there are 4g of fat, and only 2g added sugar.
Making Your Sleeptime SuperLatte
Making this drink couldn't be simpler. Put the desired amount (recommended 3 Tbsp) into a mug. Pour in water (hot or cold) and mix with the frother.
Flavor
Clevr's Sleeptime Superlatte described as a caramel latte flavor, but really, it tastes very similar to those powdered, flavored lattes that were the peak of sophistication in college in the early aughts. (You know the ones I'm talking about!) Just a little less sweet.
It has a mild coffee/caramel flavor, which comes predominantly from the chicory root and vanilla bean.
Toward the bottom of each cup, the blend gets a little grainy.
Effectiveness
Before this product, it was taking me about 2 hours to fall asleep, cutting my sleep potential short. (I was getting between 6 and 7 hours, instead of the 8-9 hours that I need and would much rather prefer.) So I was looking for a product that would help me fall asleep faster.
I have only tried it every other day for about a week, but I have not noticed any difference. It still takes me about 2 hours to fall asleep after I go to bed. I have noticed that overall, I seem to wake up feeling more rested in the morning, but I wish this product helped me get more than 6 hours of sleep a night.
Clevr Sleeptime Superlatte Overall Score
Overall, I would rate this 3 out of 5 stars. I wish I could give it more. Because it is definitely yummy, but it didn't do what I was looking for, which was help me fall asleep faster.
Clevr Matcha SuperLatte Review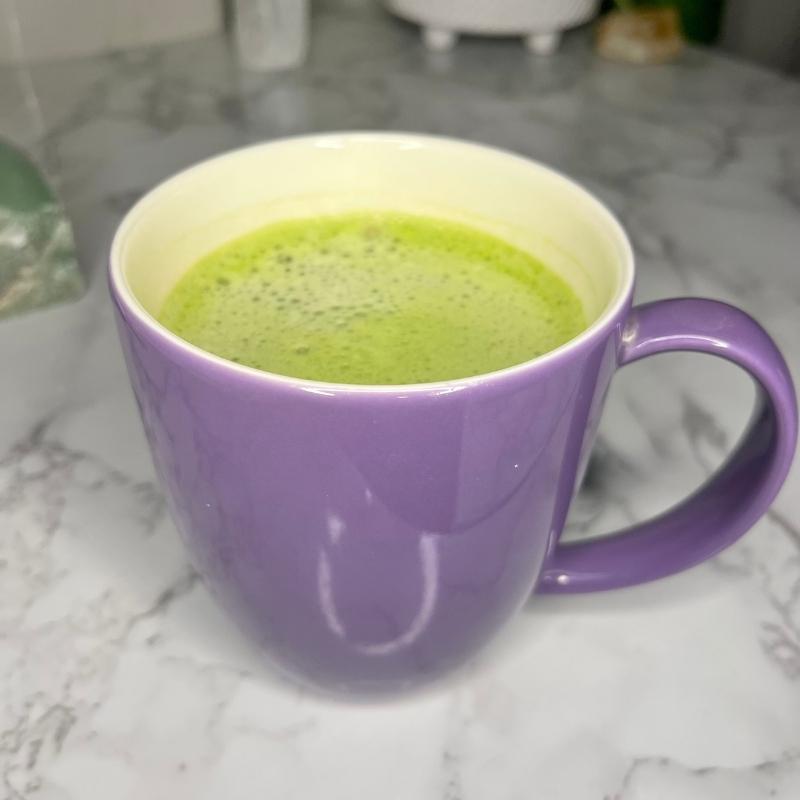 Matcha has been long toted for its health benefits, which include:
high in antioxidants
protect the liver
boost brain power
and more
It's produced through tea leaves, but it requires a different process during growing, which ensures a higher concentration of chlorophyll. (Totally fascinating… read more at the link above!)
Here's What's In It
The ingredients of this Clevr Superlatte include:
Oatmilk powder (creamer)
Monk Fruit (sweetener)
Coconut cream (creamer)
Matcha (primary tea)
Ashwaganda (adaptogen)
Lion's Mane (adaptogen)
Reishi (adaptogen)
Probiotics (gut health supplement)
Let's talk about the adaptogens for a minute. Adaptogens are compounds that help combat stress.
Ashwaganda is a root that is proven to reduce stress and it can help balance and boost your endocrine, immune, neurological, and reproductive systems.
Lion's Mane is great for your brain! It's a mushroom that has been used in Asian countries both as a medicine and as a food. It helps with dementia, depression and anxiety, and can even help your digestive tract heal ulcers.
Reishi is another mushroom. It is used for boosting the immune system, increasing strength and stamina, and can even help lower cholesterol.
Making the Matcha SuperLatte
Again, one thing that this brand has going for it is its ease of use. Put 3 Tbsp into a mug, fill with water, blend with the frother. Done!
One warning though….
It's worth it to note that in order to enjoy the benefits of the probiotics included in this blend YOU MUST DRINK IT COLD or ROOM TEMP! Hot water kills bacteria!
I find that most drink products that promote their inclusion of probiotics fail to mention that their beverage cannot be consumed hot!
Flavor
I'm not going to lie. I really dislike the flavor of matcha. Really REALLY dislike. I won't go so far to say that I hate it, but it is not easy to enjoy. (If you enjoy matcha, kudos to you! I wish I had more of your tastebuds!)
It is very much like drinking a freshly brewed lawn cuttings latte. Seriously, it tastes like grass.
But the taste has grown on me over my first week of drinking these in the mornings, and the rest of the benefits and effectiveness of this latte absolutely counters any complaints I have about the taste.
This SuperLatte includes 3.5g of fat and 2g of sugar, which is very reasonable and doesn't overload you with sugar!
Toward the bottom of each brewed beverage, the latte tends to get a little chalky.
Effectiveness
One of the things that I love about this latte (perhaps even more than I like with Rasa Coffee Alternative) is that the adaptogens are a fantastic balance to the small amount of caffeine.
The adaptogens help that little boost of caffeine feel more grounded and less jittery, so if you want to drink caffeine but you're very sensitive to it, this might be a GREAT option for you.
Clevr Matcha SuperLatte Overall Score
Overall, aside from the grassy flavor, I'm very impressed with this product. I like the little boost of caffeine without the jitteriness as well as all the adaptogens to help keep me balanced and grounded in the morning.
My Clevr SuperLattes Review Conclusion: Is Clevr Worth Trying?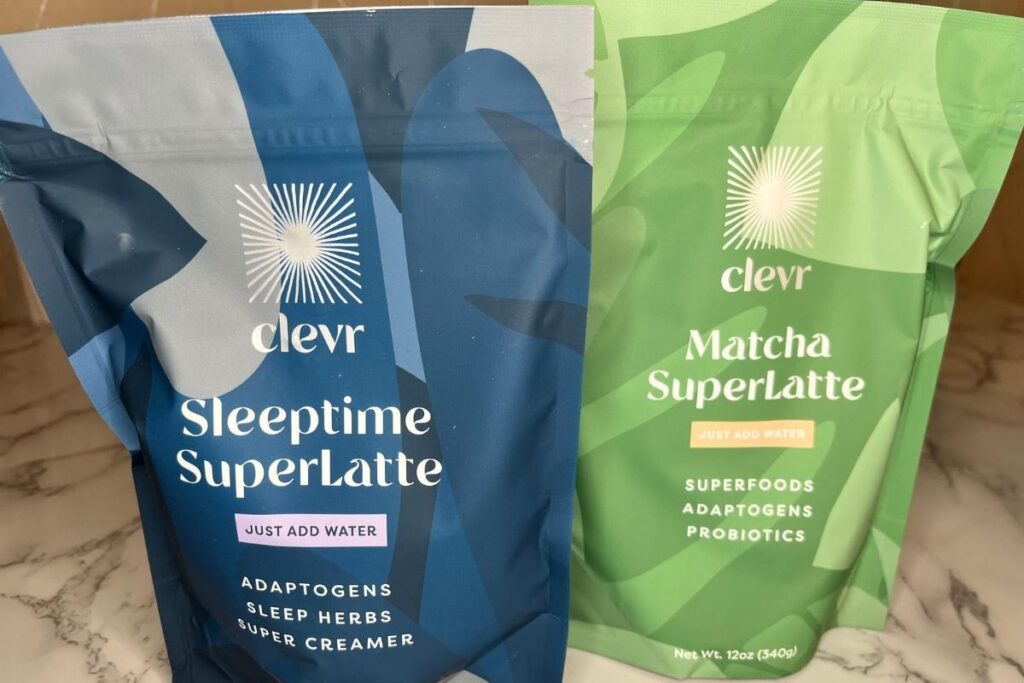 Clevr Superlattes have a lot going for them, including their ease of use and overall flavor. But not all of their lattes are so effective.
Overall, I was impressed with the Matcha SuperLatte more than the Sleeptime SuperLatte, but you can bet I'm going to try some of their other lattes soon!
Have you tried Clevr brand before? What did you think?!
Drop a comment below if you feel like sharing!
RELATED: GEM Whole Food Vitamins Review