When the New Year came around this year, I knew 2021 was going to be a different year. I have wanted LASIK for years and years and this was going to be the year. If you're wondering what it's like getting LASIK, keep reading for my LASIK experience and my review of Coleman Vision.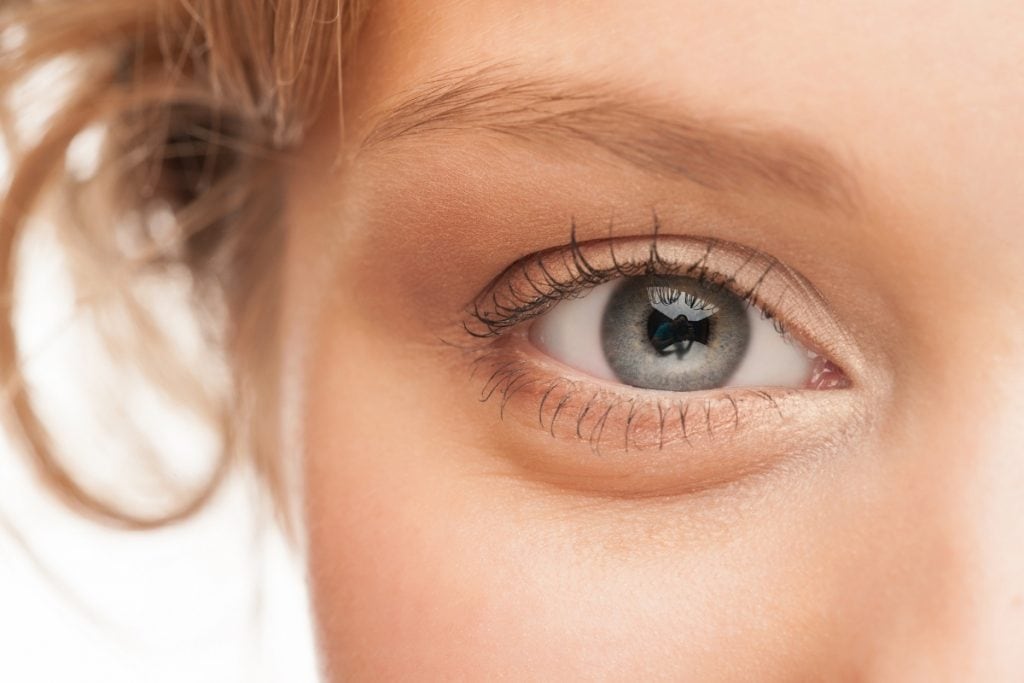 *This is a sponsored post. All reviews and opinions expressed in this post are based on my personal perspective.
Deciding to Get LASIK
I've worn contacts for 22 years (since I was 13), and in the last few years, my eyes had become chronically dry. I could wear my contacts for decreasing amounts of time, and my glasses were old. In the fall of 2020, I decided to try switching to glasses full time.
I ordered some new glasses online, but my eyes felt tired and unfocused whenever I wore my glasses for an extended period of time. I wonder if this was due to the strength of my prescription. My eyes were very bad: my contacts prescription was -7.5 in my right eye and -7 in my left. (Basically, I could only see about 8 inches in front of my face without contacts or glasses. I had worn the same prescription for almost 20 years.)
For several months in the fall, I was constantly switching between glasses and contacts, sometimes several times a day.
I knew I couldn't keep it up. I had always wanted LASIK surgery, but it never seemed like it was a "good time" to get it. It was now the best time to get LASIK, and it felt like now or never. I knew this would increase my quality of life.
When I started my research, my eye doctor's office pointed me to Coleman Vision, and my insurance pointed me to a big corporation that performs tons of different surgeries across the country.
I opted to set up a free consultation with Coleman Vision even though I knew little about them. Not only was I apprehensive about my own needs and comfort level getting washed under with a big company, but I thought a smaller clinic could be more reassuring and reliable.
Was I ever right!
My LASIK Experience
My LASIK experience was a thorough process, and it wasn't rushed at all. Here is my LASIK experience and the different steps I went through before, during, and after my procedure.
Visiting Coleman Vision the First Time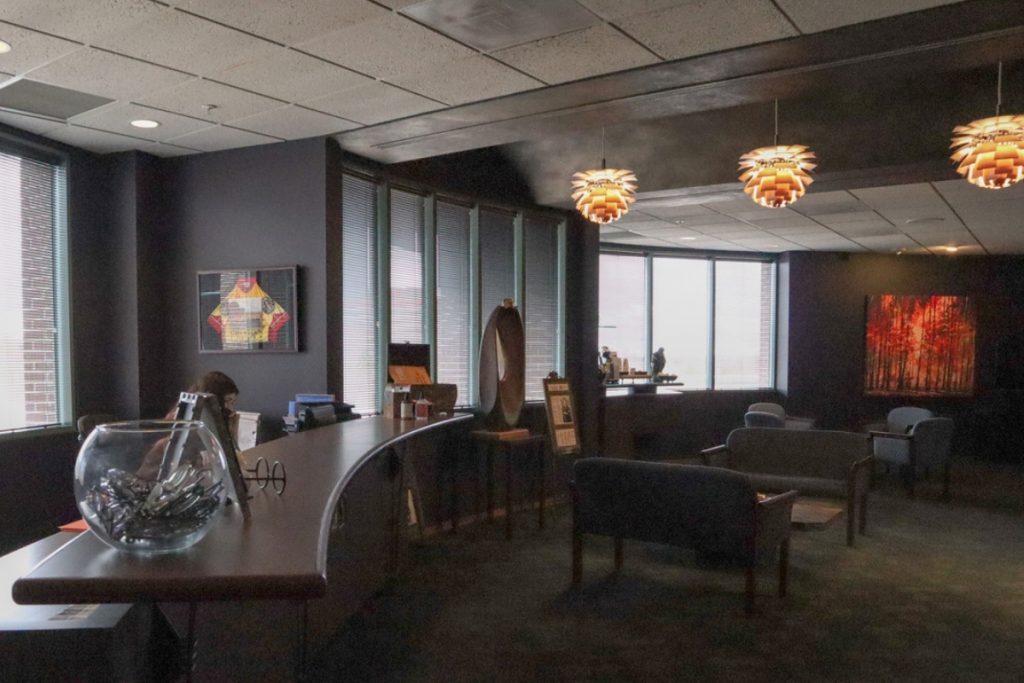 My first thought walking into the clinic at Coleman Vision was that there was no way I would be able to afford the procedure! (Not true, by the way: I was totally able to afford it.) The office is classy and relaxing, with low lighting, beautiful modern art, couches, and a coffee station. Pictures and newspaper clippings hung on the wall in the waiting area that detail Dr. Coleman's work and awards. (Also, everyone was wearing a mask. Thumbs up!)
One of the staff there greeted me and got me set up with an audio tour of the facility while Dr. Coleman finished up with another patient. I got to see and hear about all the accolades Dr. Coleman has received, as well as the equipment used in the eye assessment and the LASIK procedure equipment itself. I learned that people come from all over the American Southwest to have their LASIK done by Dr. Coleman.
My LASIK Experience: Testing My Eyes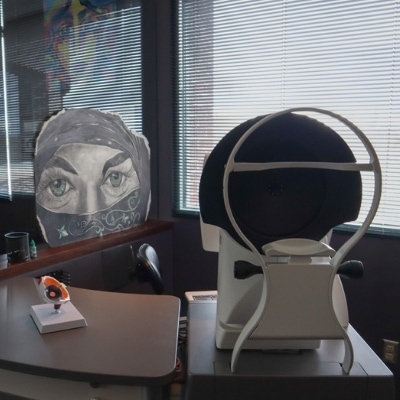 When I finished the audio tour, Dr. Coleman's sister, Ann, spoke with me briefly and introduced me to Dr. Coleman. We went through the two pieces of testing equipment (one of which Dr. Coleman was a part of the FDA clinical trials) which assessed whether my eyes were a good fit for the procedure.
One of the markers to look for when finding a LASIK surgeon is that they do not accept everyone. The simple truth is that not everyone is a candidate for LASIK, and the high quality, reputable surgeons will be honest about turning people away because their eyes are not a good fit.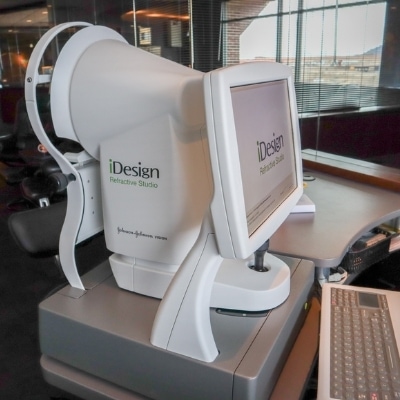 Dr. Coleman showed me the print out of the pictures of my eyes that were taken by the machines and how they compared to someone who is a perfect candidate for the surgery, and someone who is not. The bottom line is that my eyes were a great fit for LASIK.
Everyone was incredibly warm and accommodating and the whole process was completely transparent. Also, they do have a discount if you have eye insurance, which was a huge help.
I decided to go ahead with scheduling my LASIK procedure for February 19th.
Leading Up to My Procedure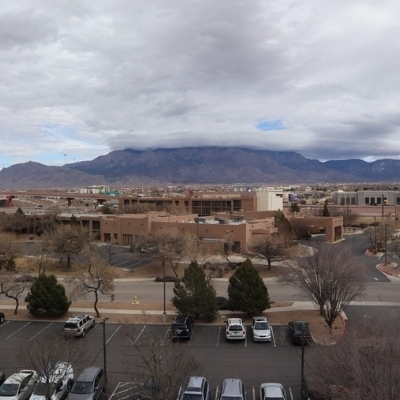 The week before my procedure, the office called and emailed me and made sure I was prepared for my appointment. I had to stop wearing my contacts for a full week before the surgery, which, while annoying, was a happy sacrifice to be sure my eyes were ready for the surgery!
I also needed to make sure my in-laws were available to watch my two boys during my surgery. While the surgery itself was not going to take a long time, they permitted only one other person in the office at the time of my surgery, and that person was responsible for driving me home.
There were a few other things, like making sure I wasn't wearing any makeup the day of the procedure and to make sure I ate a meal before I came.
A week before my surgery, they also emailed all of the disclaimers and papers that I would be signing the day of the procedure. This is another one of the ways that they were fully transparent, in that I had a full week to read exactly what I would be signing before my surgery.
My LASIK Experience: The Procedure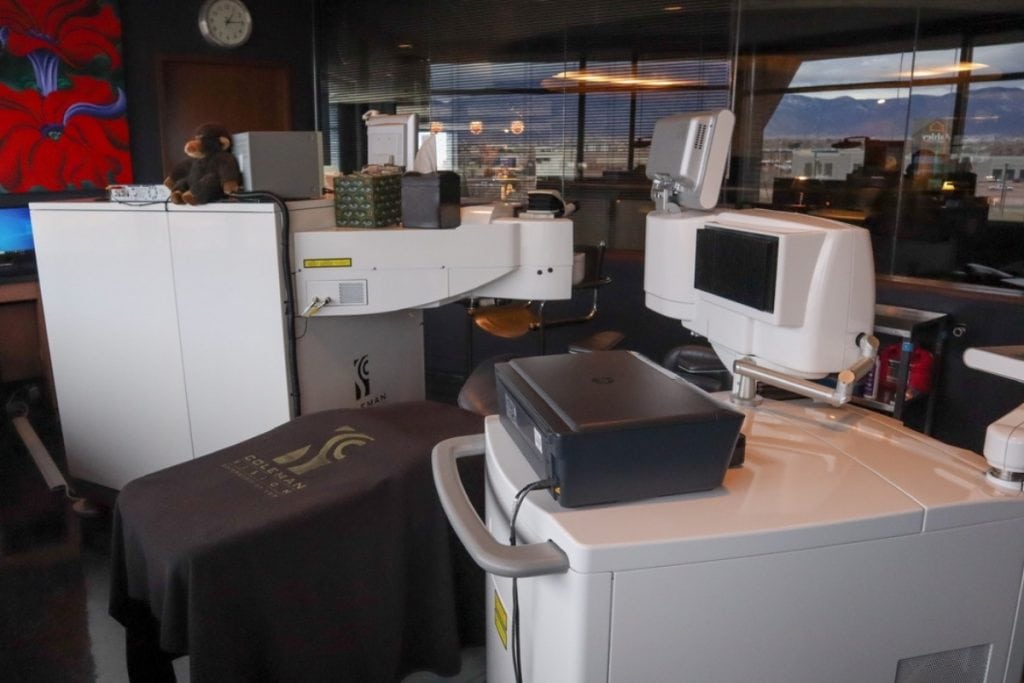 The staff at Coleman Vision reassured me throughout the process how they would take care of me, but I still couldn't help but be a little nervous, considering that it was an elective surgery.
However, the actual LASIK experience was nothing but easy. I've had several surgeries at hospitals and private doctor's offices and this was nothing like any of them, in the best ways possible!
When I arrived, they took a few more measurements of my eyes, then I settled into a private waiting room with a Xanax and comfy chairs. They walked my husband and I through the aftercare process and different eye drops that I would be taking. They gave me several eye drops including numbing drops so that my eyes wouldn't feel anything.
Once they were ready, they brought me into the surgery room. I laid back on the chair between the LASIK machines. They had a stuffed gorilla for me to hold and covered me with a blanket to keep me warm. I was feeling relaxed and at ease.
They talked me through the whole process. Dr. Coleman placed what I will call a "cap" on my eyes to prevent me from blinking and prepare for the lasers. He started with my left eye. I followed the laser light (which I could only barely see), and it cut the flap and buzzed away. I did notice the smell of the lasers, which was the only thing mildly uncomfortable about the experience.
He used a tool to put the flap back down over my eye, then we moved on to the right eye for the same process.
The whole procedure was only a few minutes long.
There was NO pain, just minimal and transient discomfort. It was quick and easy, and it's clear that Dr. Coleman and the staff pride themselves on giving their patients a minimally invasive procedure that is comfortable the whole time.
If you want to watch the surgery (YES, they filmed the whole 10-minute surgery), check out the YouTube video I did below:
Healing from My LASIK Experience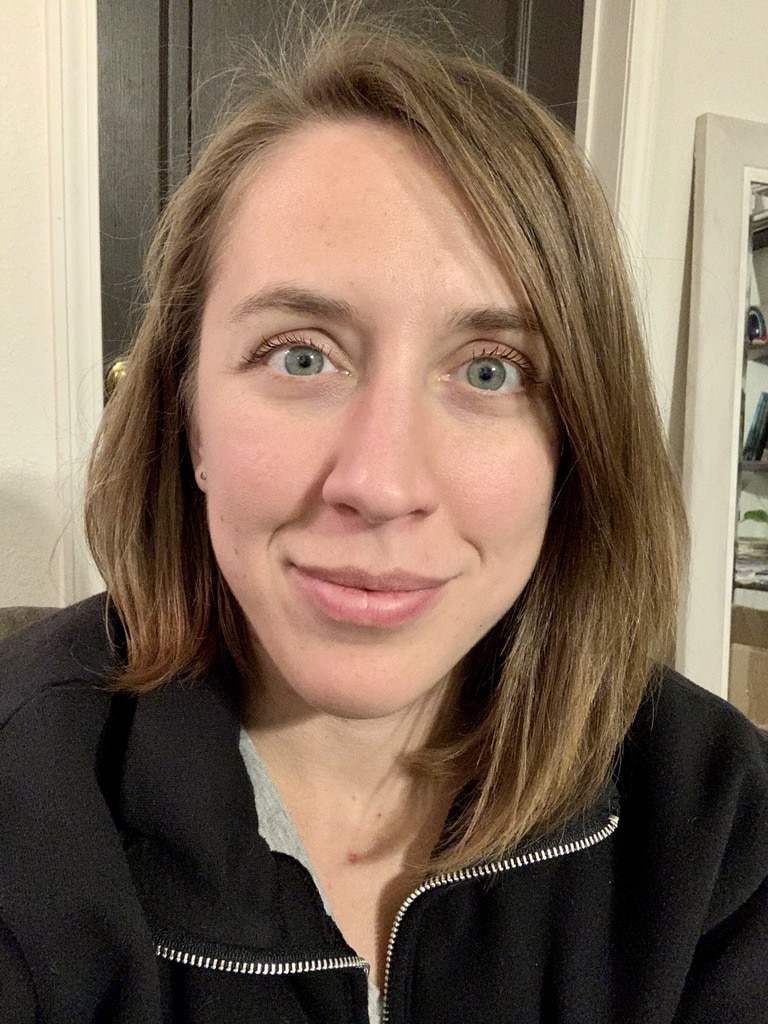 I went home after the surgery to sleep it off. I took the Ambien they gave me and slept 12 hours.
When I woke up at almost 6am, I began the course of steroids, antibiotics, and lubricants they gave me. My vision wasn't quite focused yet, but as the sun started to come up, my vision got clearer. By about 9 or 10 a.m., I was seeing perfectly.
I did not experience any redness in my eyes following the surgery. My only side effects were halos around lights and dryness, but I didn't experience anything other than mild discomfort and a Xanax hangover.
At 11am that morning, I drove myself to my follow-up appointment (yes, my eyes were literally seeing that good that quickly!) and Dr. Coleman checked to make sure the flaps were positioned correctly for proper healing. He told me that I was seeing 20/15!
The dryness of my eyes went away after about 4 days, and the halos were gone after about 5 days.
(Some people don't experience any dryness after their surgery, but it makes sense since one of my reasons for wanting to ditch my contacts was due to chronic dryness.)
Review of Services at Coleman Vision
This Coleman Vision review is based on my own LASIK experience.
Coleman Vision Review on Qualifications and Experience

Like everything in life, you get what you pay for. I was not willing to take a gamble on a mass-market "budget" LASIK surgeon to perform my surgery.
Dr. Coleman is a true expert in the field of LASIK surgery. He performs only LASIK surgeries, and he has worked in the field for years, even working on the FDA trials of some of the technology that is used to test eyes for the LASIK procedure.
There was never a moment during any point in my visiting the office or speaking with anyone on the phone that my instincts "put on the brakes". I felt good every step of the way and trusted Dr. Coleman and the staff there fully.
Make no mistake, I paid more for my LASIK experience than I had initially planned, but the expertise, environment, and experience were well worth the price.
5 out of 5 stars
Coleman Vision Review of Service

The service I received at Coleman Vision was exceptional, from the moment I walked in until my day-after check-up.
When I was there, I felt like their only patient, when in fact, the day of my procedure there were many others there as well, either for their procedure or to get tested. The office worked smoothly and everything felt calm. Nothing was rushed, but I didn't have to wait to be seen.
I could not have wished for a more relaxed and easy experience for the actual LASIK procedure. It was painless and quick, and healing was simple!
5 out of 5 stars.
RELATED: 3 Blue-Light Blocking Glasses from Amazon
My LASIK Experience: Conclusion
I would give 2 pieces of advice for those who are interested in getting LASIK.
Do your research. Find a LASIK surgeon who is an experienced, reputable doctor. Cost is insignificant.
Trust your instincts. If you feel brushed aside, you're probably not important to them, and you should look elsewhere. If the people at the surgeon's office treat you like you're important, you are!
I had the most wonderful experience with Coleman Vision, and I highly recommend them!
Are you thinking about getting LASIK? Would you ever get LASIK in the future?
Drop me a comment below!
RELATED POSTS:
20 Affirmation Cards for Your Best Life
6 Ways Good Health and Success Are Connected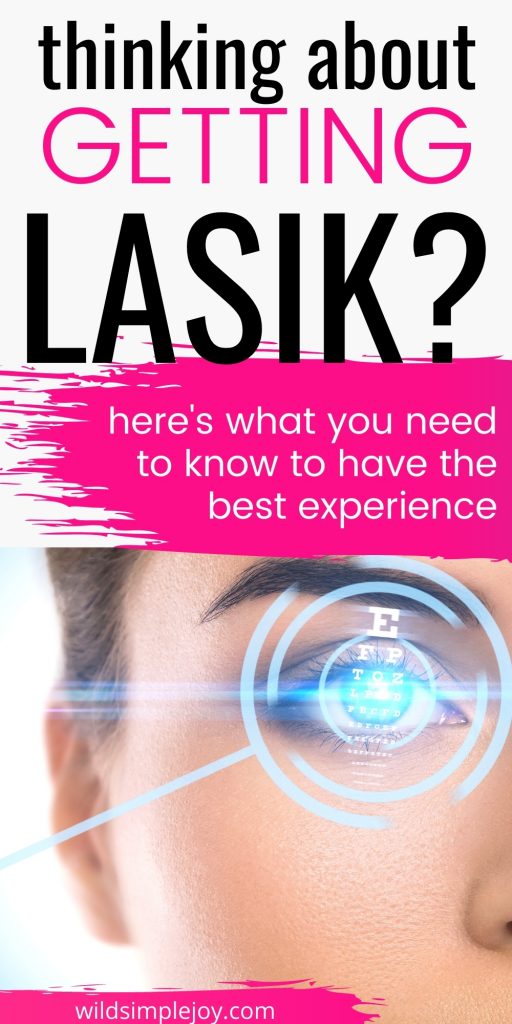 My LASIK Experience at Coleman Vision