When looking to let out your wise and wild instincts, Wild Woman affirmations are a great place to start. Inspired by Dr. Clarissa Pinkola Estes' book, Women Who Run With The Wolves these affirmations will get you feeling wild, free, and totally uninhibited!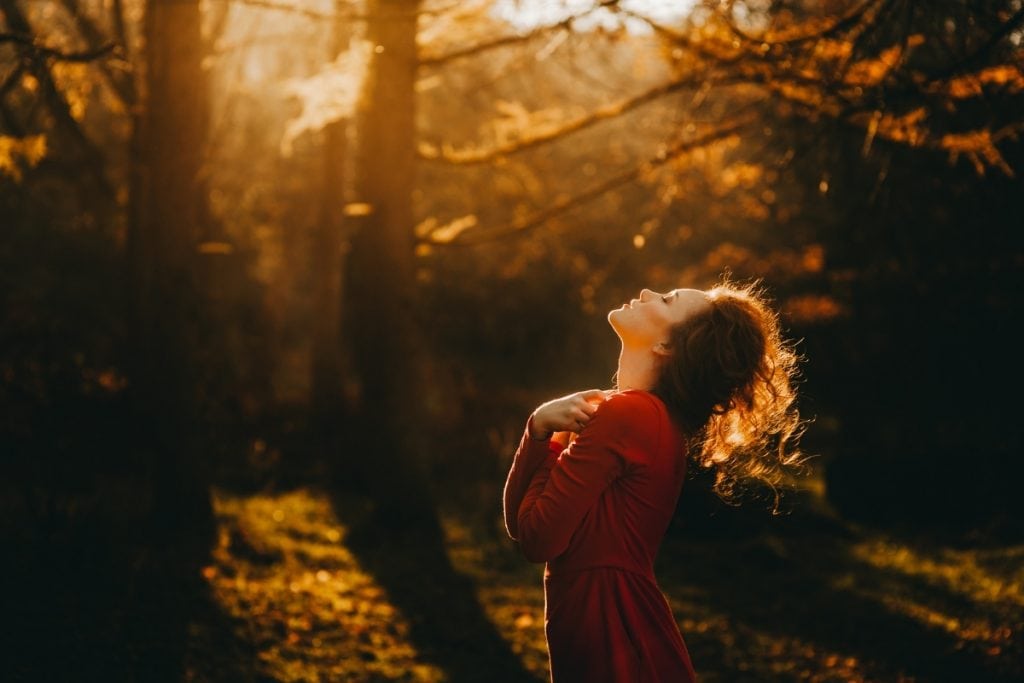 What is a Wild Woman?
Dr. Clarissa Pinkola Estes is known best for her wonderful book Women Who Run with the Wolves. She says:
Within every woman there lives a powerful force, filled with good instincts, passionate creativity, and ageless knowing. She is the Wild Woman, who represents the instinctual nature of women.

From

clarissapinkolaestes.com
RELATED POST: More Quotes from Clarissa Pinkola Estes
The primary goal of the wild woman is to care for her soul, care for others in her tribe, and nurture her good instincts. She is curious, passionate, creative, and knows the value of herself beyond what the white, Christian patriarchy says. She knows her inherent worth.
A wild woman recognizes the things in her world that are meant to control her. For example, she knows the constant media bombardment of flawless, youthful women is meant to make her feel bad about herself. She knows the pressure from older generations to "move on" with life, or "suck it up" when she is grieving is meant to take away her emotions and her power.
Her instinctual nature is the best gift and she treats it as such.
RELATED POSTS:
Bitter Woman Syndrome… How to Overcome Bitterness
Personal Empowerment for Women
RELATED POST:
20 Affirmation Card Decks for Your Best Life
Using Affirmations to Nurture Your Instincts
Unlocking your inner Wild Woman is possible with affirmations. In fact, choosing any affirmations of self-love will undoubtedly help you open your true inner being.
But these Wild Woman affirmations below are specifically written to get you thinking about your soul, your instincts, your art, your compassion, your creativity, your tribe, and your uninhibited side.
Inspired by Women Who Run with the Wolves, these wild woman affirmations are designed to crack open the hard exterior to find your true inner being.
Use them regularly, through journaling, walking meditation, japa yoga, or any other regular practice you can think of.
The saying goes that if you're thinking of a red car, when you go for a drive, you will see a lot of red cars. When you're thinking of your inner Wild Woman, you will see her everywhere! She will captivate you and empower you. Like any spiritual awakening, you may get angry. You may feel overwhelmed. But the more you practice them, the greater peace and understanding you will find.
Here are some Affirmations for Self-Worth and Loving Yourself
Transformational Affirmations Ebook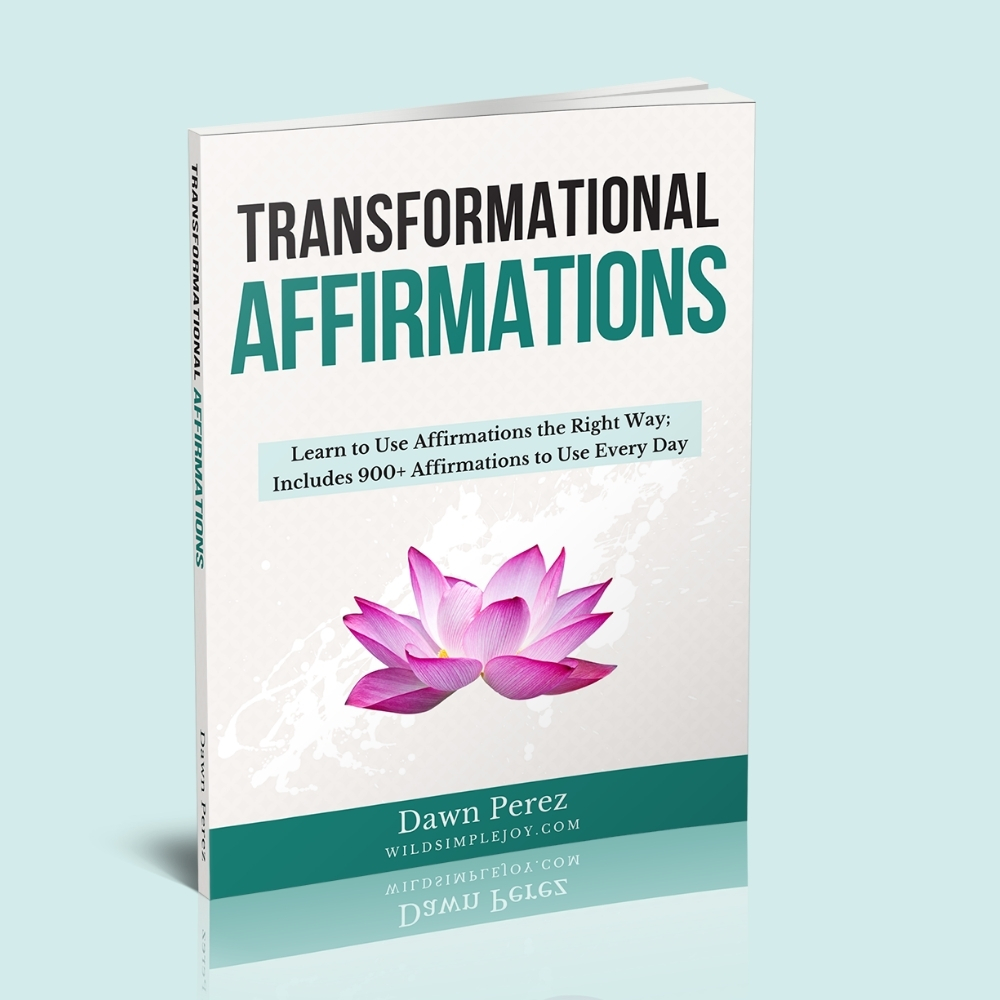 Affirmation ebook with 900+ Affirmations
This post and ALL 30 affirmation posts on Wild Simple Joy have been combined into a PDF ebook. If you feel that you will want to come back to this information again and have easy access to 900+ affirmations, then this might be for you.
Beautifully formatted with no ads. $12
35 Powerful Wild Woman Affirmations
I am tapped into my divine feminine energy.
I listen to my intuition.
I am water: a perfect balance between structure and flow.
When my body tells me to rest, I rest.
My soul thrives in the wilderness.
I hear the calling and I go.
I embrace my sealskin and return to my home.
I know where I belong.
The wolves come when I call.
My heart is a vessel, filling with love.
Nature nourishes and heals my soul.
My creativity flows like a river.
I dance in the moonlight and my soul feels free.
As I walk through the forest of my life, I find my own path.
My heart is free as a bird.
I feel my ancestors standing behind me.
I embrace and support my tribe.
I naturally know what I need to do.
I follow the cycles of life.
Childlike wonder fills my life!
I live, I laugh, I love!
I know where my soul resides.
I go out in the woods and have no fear.
I howl to the moon.
I build my own life, bone by bone.
I see, I listen, I learn.
I heal suffering with but a caring touch.
I wear bravery like a crown.
I stand for passion. I am the beautiful maiden.
I teach the children. I am the beautiful mother.
I love growing old. I am the beautiful crone!
No matter where I rove, I always return home.
I am wise. I am wild.
I am woman. Hear me ROAR!
MORE AFFIRMATIONS:
Affirmations to Nurture Your Creativity
Affirmations for Finding Love and Manifesting Romance
Affirmations for Anger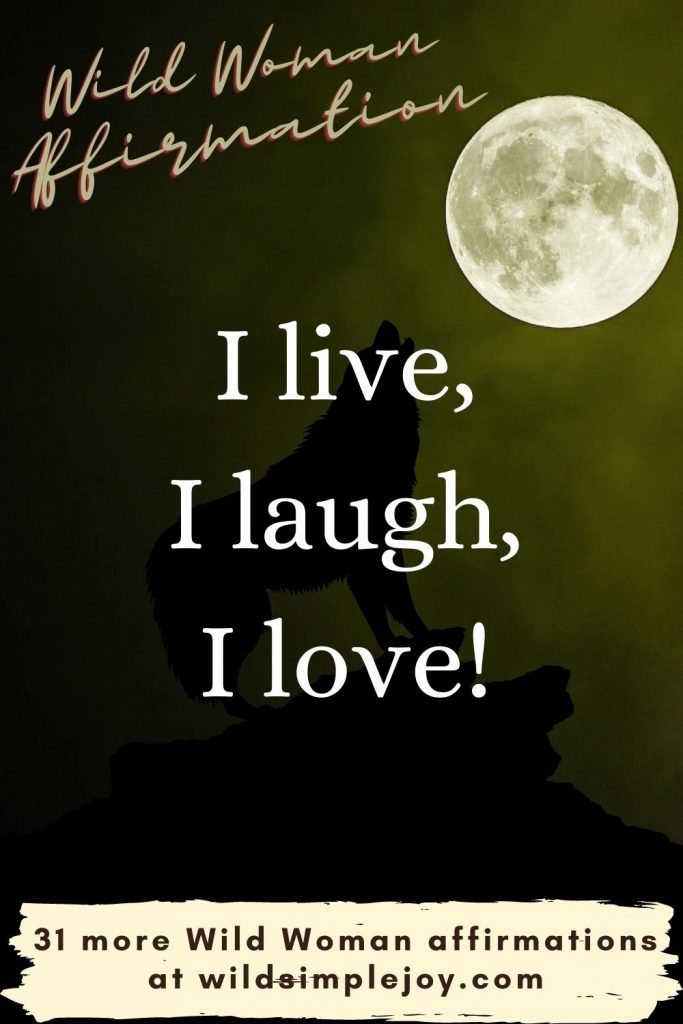 RELATED POSTS:
15 Life-Changing Tips for Overwhelmed Moms
42 Quotes About the Wild Woman Archetype