I just wear a wedding band. If you've found your soulmate and are getting engaged you may be wondering if it's okay to wear only a wedding band, too.
Or maybe you're here because you're already married and thinking of stashing your engagement ring away and only wearing your wedding band.
Well, you're in the right place!
Let's talk about the history of the engagement ring, why it's totally okay for you to just wear a wedding band, and some different options for engagement and wedding rings.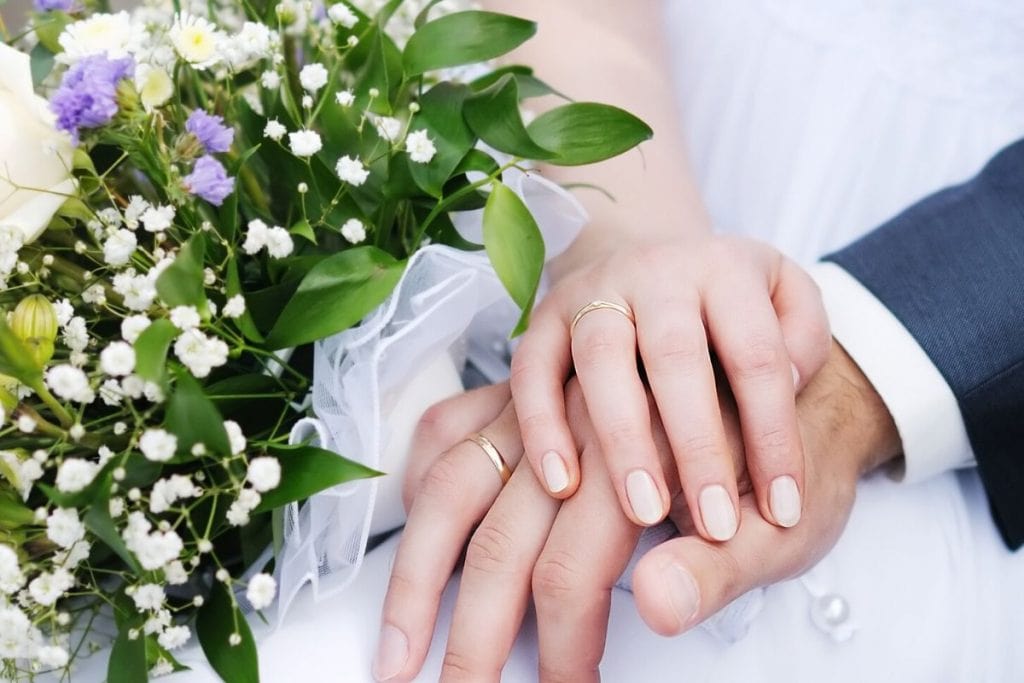 History of the Engagement Ring
It all started in 1477 when some rich white guy in history proposed with a diamond engagement ring. (In case you're interested, that would have been Archduke Maximilian of Austria.)
That was only the beginning. Throughout Western culture, rings have been used to symbolize a betrothal between people, and various different stones were popular at different times.
Following the Great Depression, the price and value of diamonds tanked. So the De Beer company started a massive advertising campaign in 1947, and that's when the real pressure began.
You've heard it before:
"A Diamond is Forever."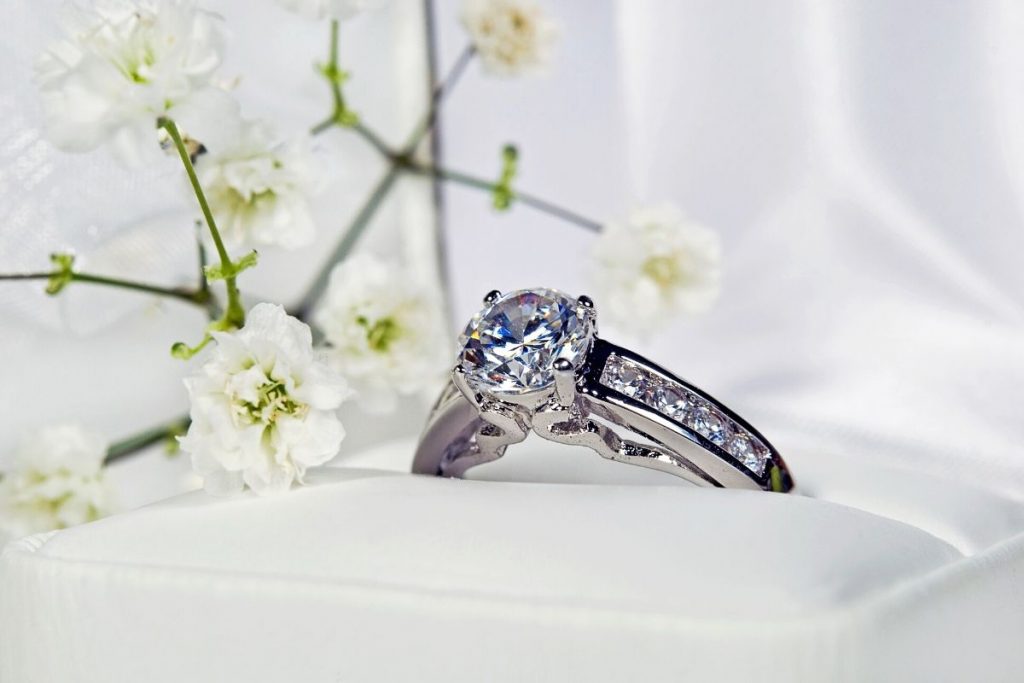 Yep. (Personally, I think it's BS!)
Because of marketing, people all across America believed that they needed to spend about two month's rent on a ring. According to Glamour magazine online, do what works for you and your partner. At least that is a little more realistic!
Approximately 75% of men and 83% of women think it's appropriate to spend $5000 or less on an engagement ring. Considering that median household income is around $55,000 in the US, that's almost 10% of total income in a year, much higher than 2 months rent.
Wow!
Difference Between an Engagement Ring and a Wedding Ring
Before I got married the first time, I didn't even realize that an engagement ring and wedding band were even different things! (No, an engagement ring and a wedding ring are NOT the same thing!)
I've heard it said that engagement rings are like fast, flashy cars: a man wants to show off his wealth, status, and woman by claiming her with a big, fancy diamond ring.
Sure, sometimes that's true, but other times, a man's love language is gift giving and he legitimately wants to give something nice to his partner!
But, while only a woman traditionally wears a diamond engagement ring, both the husband and wife wear a wedding band.
Typically, on the wedding day, a woman will switch her engagement ring to her right hand so that, during the ceremony, when wedding bands are exchanged, she can have her husband put on the wedding band first. Then later, she'll switch her engagement ring back to her left hand.
The wedding band is worn on the inside: closest to her heart.
It's said that the circle symbolizes the eternal nature of love: that you will always come back to your spouse, and that your union is forever!
Is it socially acceptable for women to just wear a wedding band?
That's the question, isn't it?
Gauging from the history I talked about earlier, through most of history, women didn't wear diamond rings! But things have changed, and you probably have people expecting you to don a huge rock as soon as your man gets down on one knee.
I'm here to tell you that it is becoming more socially acceptable to NOT wear a diamond engagement ring!
Engagement rings are sparkly and pretty and nice to look at, but for many women, there are so many more things to take into account.
You might also like:
How to Manifest a Healthy, Loving Relationship
How to be a More Supportive Partner
My Experience with Wearing Only a Wedding Band
The first time I got married, we probably spent about 2 months rent, though nowhere near $5,000. I've always been a little eccentric, so I wanted a sapphire instead of a diamond, but it was set with baguette diamonds on the side and white gold. It really was a beautiful ring.
But see, I'm someone who works with my hands.
I cook and clean, I garden.
I play piano.
I rock climb.
I paint.
I was constantly taking my ring off for a variety of things, and it was lucky that I never lost it.
Worst yet, whenever I had to take my engagement ring off, I had to take my wedding ring off because it was shaped to fit around the engagement ring and looked awful on its own.
It just wasn't practical. We had done it that way because I felt like I needed to keep up with the Joneses. It was what was expected of us. It was a show. It was all about proving that we could do what everyone else did.
What the engagement ring wasn't about? Love, caring, marriage, true commitment. If it was, to me, at least, we would have never done it that way. (And honestly, if it was, we probably wouldn't have gotten divorced… just saying.)
A Second Chance
So when we got divorced, I knew that if I found the person I was meant to be with, I didn't want another ring like the one that I had had. I wanted a wedding ring that could be on my finger at all times—I would never take it off. It would be practical, and it would be a symbol of our love.
When Phil and I got engaged, it was an experience! We picked out an oyster in a jewelry shop in Maui Hawaii in the summer of 2015. We tapped three times and shout Aloha! They cracked the oyster and showed us the two pink pearls! We had one set in a ring, and the other in a necklace, both with rose gold. They were beautiful! (And quite frankly, inexpensive!)
He formally proposed after we arrived home from our trip. It was simple and perfect!
I wore that ring while I was engaged, but I was upfront with him that I didn't intend to wear it regularly once we were married.
I do wear my engagement ring for special occasions.
I just wear my perfect wedding band from Ash Hilton on an everyday basis. (My husband's band matches.)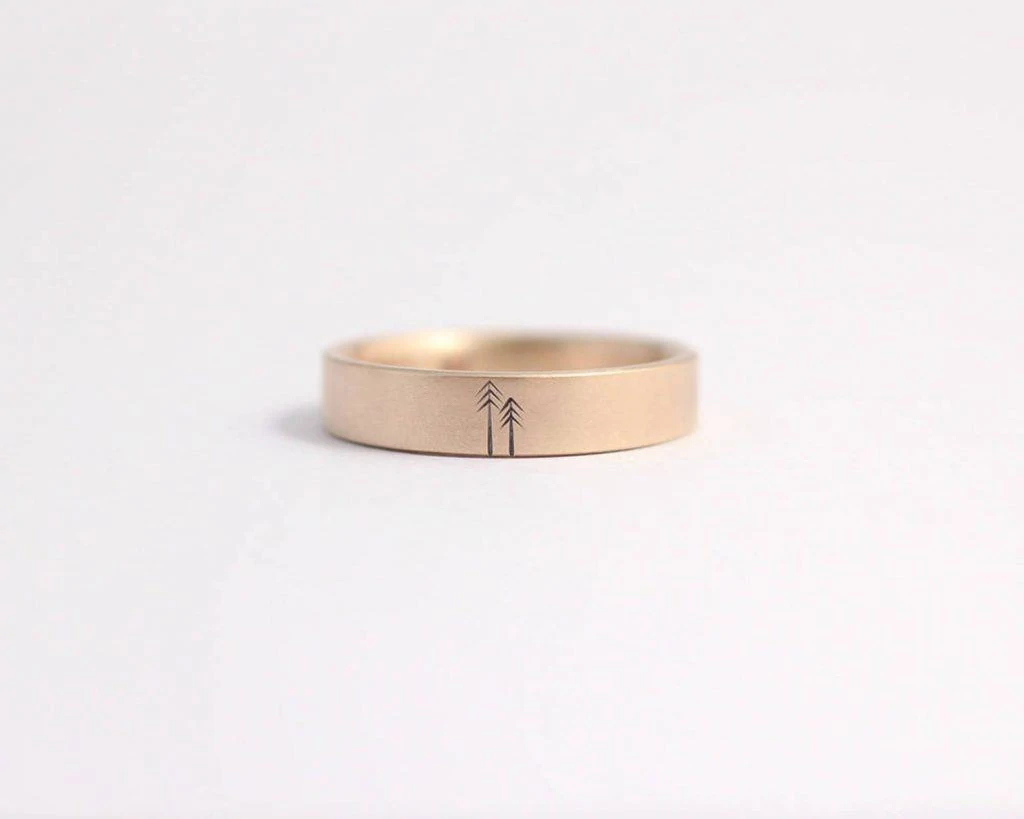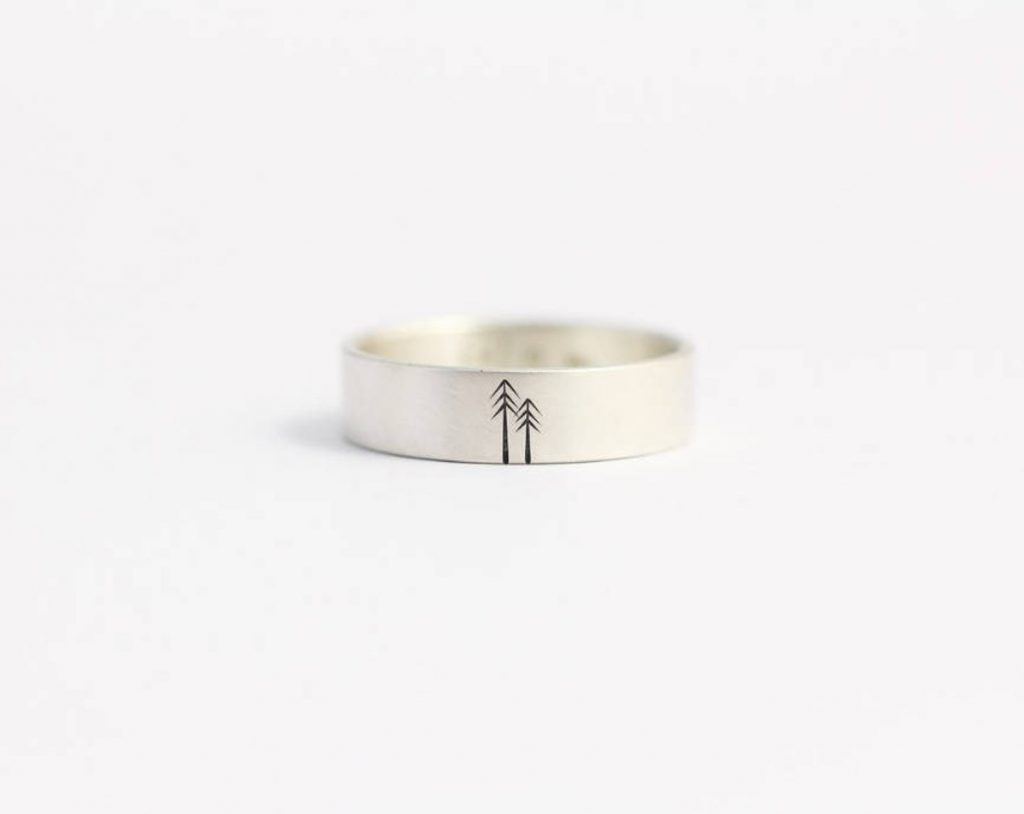 They're a family business making ethical jewelry. My husband's and my rings each have two pine trees on them, one that is taller than the other, just like us.
An Even More Controversial Practice
After two years of marriage, my husband's matching ring actually cracked! It split down the seam—you see, Ash Hilton's rings are made the old-fashioned way… by flattening out a strip of metal, curving it, and welding it together. More mass produced rings are poured into a mold, thus preventing them from cracking like that.
Well, it took us almost 6 months to get his ring shipped off to New Zealand for repair. (Hey, give us a break. I was pregnant with boy #2 and he was busy with work, besides having a toddler at home.)
So what did he wear on his finger those 6 months?
Nothing.
Did it make us any less married or committed to each other?
Of course not!
Your Options for Practicality: Engagement Ring vs. Wedding Ring
If you're thinking of wearing only a wedding band when you're married and not wearing an engagement ring, let's chat. Here are some reasons you might want to ditch the engagement ring:
you are incredibly active and use your hands a lot
you're going to have to take your ring off a lot
you're incredibly conscious about where diamonds and other stones come from
you don't care about convention and tradition and like to do things your own way
you lose things a lot
you have no idea where your high school class ring is
you might damage it
it might get in the way of your profession (i.e. a professional musician)
you're concerned about it being stolen
Here are some other options for ring wearing:
ask your fiance-to-be to get a different stone
get an engagement ring, but only wear it for special occasions
get a wedding band that can stand alone, so you can still wear it when you have to remove your engagement ring for different activities
purchase an ethical diamond ring from a jeweler like Ash Hilton
don't get an engagement ring at all
Thinking about going rouge for your wedding bands too?
Here are some other potential options for your wedding bands!:
Wear a

silicone band.
Silicone bands are becoming more popular, especially for people who have professions where they use their hands a lot.
Here are a few inexpensive silicone rings for women and men you may consider:
Tattoo Ring
You may even want to consider getting a tattoo ring. These are also fairly popular, and I've seen them many times.
Don't Wear a Wedding Band At All
Yep. I said it. You don't even have to wear a wedding band if you don't want to!
Some people don't like wearing rings, and some people just feel that they don't need something on the outside to show what they feel on the inside.
It's all a matter of choice.
Oh, and guess what? If you want to wear no wedding band and only an engagement ring? There's no rule that says you can't do this as well!
RELATED:
Affirmations for Finding Love
Engagement Ring vs. Wedding Ring vs. None
I guess my point is this:
If you want to spend 2 months rent on a ring, then BE INFORMED! Make sure your SO is on board and has budgeted for it, then go for it! Consider getting an ethically sourced diamond and gold.
If you want to wear only a wedding band, that's great!
Should you decide to not wear engagement rings or wedding bands at all because you use your hands or for another reason, then rock it!
You've decided to wear no wedding band, only engagement ring? Get it, girl!
I just don't want some corporation or society telling me what works best with my life, and where my priorities and values should be.
Being informed and being yourself are healthy, balanced choices, and you're allow to want to only wear a wedding band if you're a woman.
What's your experience? Do you wear an engagement ring?
Let me know below!
READ MORE: How "Meet Them Where They Are" Can Help Any Relationship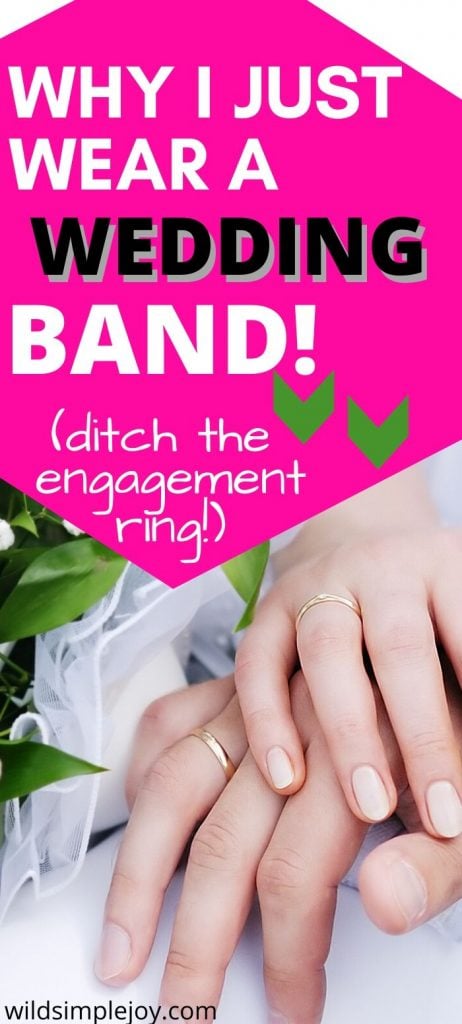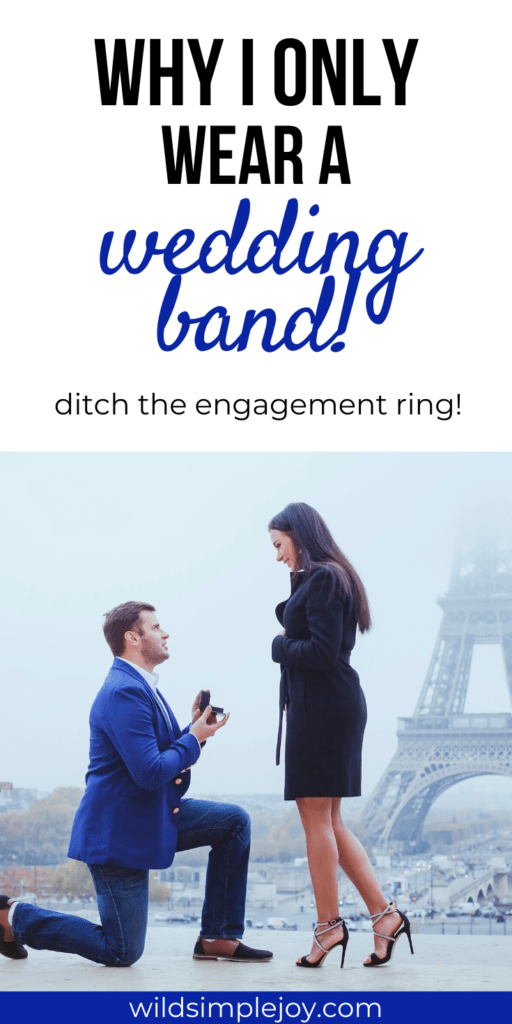 Wedding Band vs. Engagement Ring: Why I Wear Only a Wedding Band