When you're a doer and an action-taker, staying focused is of utmost importance. But setting monthly or weekly goals can sometimes be overwhelming and set us on the path to burnout. And no one wants to burn out before they achieve their goals!
One way to mitigate the laser-like intensity of weekly or monthly goals is by instead setting a word of the month. This is a technique employed by many over the last few years, and it's growing in popularity. Like a word of the year, choosing one single word for any given month can help focus your attention on your goals while still being flexible.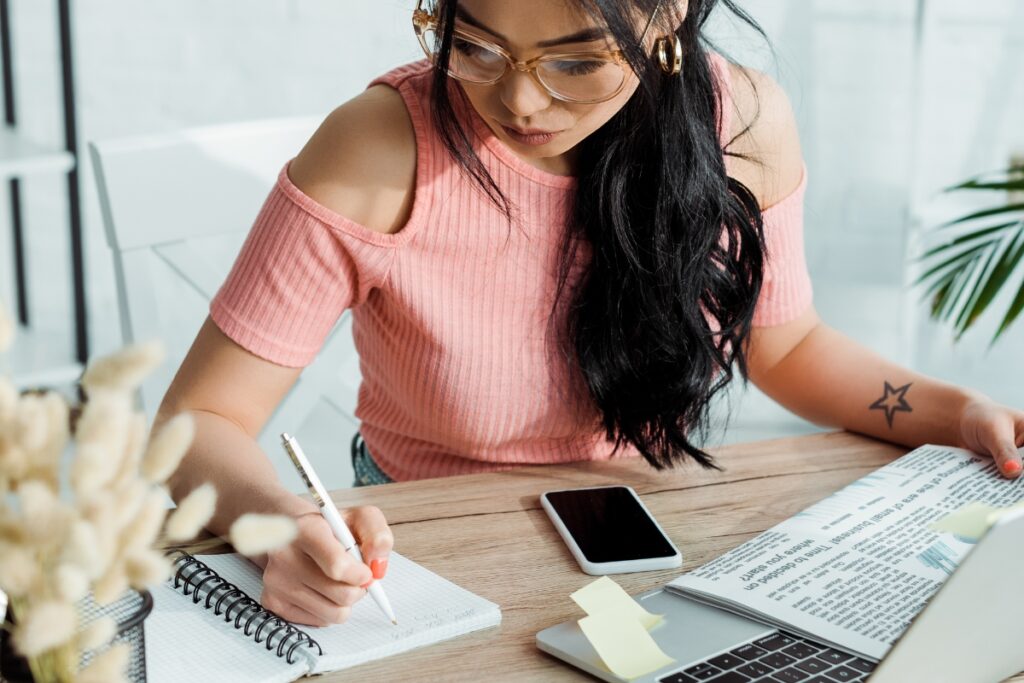 Words Have Power
If you know Wild Simple Joy, you know that I believe words have tremendous power over our lives. They have the power to tear us down and set us into a tailspin of negativity. But they also have the power to lift us to greater heights, to release our burdens, and to help us attract mind-blowing things into our lives.
According to Dr. Joe Dispenza, the words we use during self-talk are powerful in creating new neural pathways in the brain, effectively rewiring our thoughts and mindset. This can help us create more joy, success, and learn to take calculated risks.
Words also have the power to communicate to others in our lives our devotion and gratitude, or our inattention and disconnection. There is no need to provide evidence that words greatly affect others around us!
But did you know that the words we use in our thoughts and speech are also like prayers to the Universe? The Law of Attraction is primarily what dictates this. When we focus our attention on positive, abundant, fulfilling words, we're more likely to be given those gifts by the Universe, Spirit, God, or whatever you believe in!
(Learn more about Dr. Joe Dispenza and some of his famous quotes here.)
History of Word of the Month
Word of the year has a very distinct history, stemming from dictionaries that assigned a word of the year for each year as it came to a close. Individuals decided that this was a wonderful practice for themselves, and they started to choose a word for the coming year instead!
This then got narrowed down into a word of the month to accommodate the ebb and flow of life.
Why You Should Choose a Word of the Month
The premise is simple, really: it's powerful to choose a word of the year… but life is cyclical and changes with the seasons. Why not embrace that feeling of flow and break down your time period into months instead of just one for the year?
You can choose a word for each month of the year in conjunction with a word of the year, or you can do a monthly word in place of a yearly word. There's no right or wrong way to do this. Do what works best for you.
You can choose them in advance, or you can pick the word on the last day of the previous month.
How to Choose a Monthly Word
You can honestly choose however you like! I prefer to brainstorm and narrow down my choices to find the right fit. I also like to be flexible when a word isn't working for me. (Read all about my horrendous experience with my word of the year last year!)
1. Brainstorm
What kind of word do you want your life to embody for the next four weeks? Energetic? Radiant? Calm? Focused?
There's no wrong choice. Brainstorm a few things that hold deep meaning for you right now.
2. Ask yourself some personal development questions
If you need more ideas, greater focus, or need to narrow down your list, you may want to ask yourself some personal development questions.
What words bring me a feeling of accomplishment?
What words bring me a feeling of peace?
If you need ideas for what questions, check out this huge list of deep questions to ask yourself!
3. Narrow down your list
Once you have some excellent words, work on narrowing the words down to choose just one for the coming month.
RELATED POST: 20 Decks of Affirmation Cards for You To Utilize the Power of Words
My Words for the Months January Through December 2023
I decided to choose my word of the month in advance (all 12 months at once), and I decided to use my New Year tarot reading to inspire my monthly word. (Obviously this is a personal choice that goes along with my own beliefs, so take it if it resonates, or discard it if it doesn't.)
Here are my power word choices for 2023:
January – Foundation
February – Strength
March – Power
April – Wit & Insight
May – Beauty
June – Commitment
July – Swiftness
August – Balance
September – Master Artist
October – Priestess
November – Light
December – Rest & Reflection
The beauty is that I have goals to work toward, but if, for example, something happens in March and I need to reset my priorities for the following months, I can always just go back in and change the next few words until I get back on track.
I'll make sure to come back at the end of the year and let you know just how well these words worked for me!
Always remember that these words are like sending out a prayer to the Universe! Be careful what you wish for!
350+ Word of the Month Ideas
I've selected these 361 words to be widely-varied and applicable to a great many aspects of your life, such as relationships, finances, job or career, community, home, children, spirituality, and so on.
Many of them are the same as those one the personal word of the year list, but there are a few more here.
ability
abundance
abundant
acceptance
achieve
admire
adventure
adventurous
affect
affluence
align
alignment
alive
allure
allow
amaze
ambition
ambitious
amplify
appreciate
art
artful
artisan
ascendancy
ascending
aspiration
astonishing
attraction
authentic
authority
awake
awareness
awe-inspiring
awesome
badass
balance
be
become
beautiful
beauty
believe
belong
birth
blessing
bliss
bloom
boss
bold
bouncy
boundaries
brave
bravery
breakthrough
breath
breathe
breathtaking
brilliant
buoyant
buoyancy
captivate
captivating
celebrate
centered
ceo
challenge
challenging
charisma
charm
charming
cheer
classy
cleanse
colorful
comfort
command
commit
commitment
community
complete
completion
connected
connection
conquer
consistent
contained
contemplate
contribution
courage
courageous
create
creation
creative
curious
dedicated
delightful
depth
desire
design
devoted
discipline
discover
divine
dream
driven
dynamic
Earth
earthy
ease
easy
ecstasy
effortless
electric
electricity
elegance
elevate
empathy
empowering
energy
enjoy
enliven
enrapture
enrich
enthralling
epic
epitome
exceptional
exciting
exclusive
exquisite
extraordinary
fabulous
faith
family
fantasy
fantastic
fearless
feeling
feisty
ferocious
fierce
fiery
finish
floating
flow
flowing
fly
focus
force
forgive
forgiveness
foundation
foundational
free
freedom
fun
gain
genius
gentle
genuine
give
giving
glamour
glisten
glow
glowing
goal
God
Goddess
gorgeous
grace
graceful
gratitude
grounded
grit
grow
growth
happiness
healing
health
heart
heavenly
help
hero
heroine
honest
honesty
hope
humility
idea
ignite
imagine
imagination
immerse
impact
improve
influence
innovation
insight
inspiration
inspirational
integrity
intense
intention
intentional
invest
joy
joyful
jubilant
kindness
King
laugh
lead
leader
leadership
learn
liberate
light
limitless
love
lovely
luxury
magic
Magician
magnificence
manifest
manifestation
marvelous
meaning
meditate
metamorphosis
mind-blowing
mindful
mindset
miracle
miraculous
moon
money
motivated
new
nirvana
nourish
optimistic
passionate
patient
peace
peppy
perfect
perfection
perspective
phenomenal
play
playful
pleasure
positivity
power
powerful
prevail
Priestess
priority
progress
purpose
Queen
radiant
rainbow
receive
refined
reflection
release
renewed
rest
rich
rooted
safe
satiating
secure
security
self-care
self-love
self-worth
sensational
sensual
service
share
simple
simplify
smile
soar
soothe
sophisticated
sovereign
sovereignty
soul
soulful
space
sparkle
Spirit
spirited
spiritual
splendid
splendor
spritely
stargaze
still
stillness
strength
sublime
success
sun
supernatural
surprise
surprising
surrender
swiftness
sympathy
teach
tenacity
thrilling
thriving
timeless
trailblaze
transform
transformation
travel
unbreakable
unchained
understanding
unlimited
unstoppable
Universe
vibrant
vigor
vigorous
vision
visionary
vital
vitality
vivacious
vivid
voice
warm
warmth
wealth
wealthy
weightless
wellness
wholehearted
wild
wish
wicked
wit
witch
witchy
wonder
wonderful
worthy
yearning
zeal
zealous
zenith
zest
zestful

350+ Ideas for Your Word of the Month