Arbonne Feel Fit Pea Protein Shake was my absolute favorite part of the 30 Days to Healthy Living Program. It's a vegan protein mix with vitamins and minerals and fiber.
Below, I'm going to tell you all about:
the ingredients
the cost
if it is a healthier option for protein
what it tastes like

ways you can use it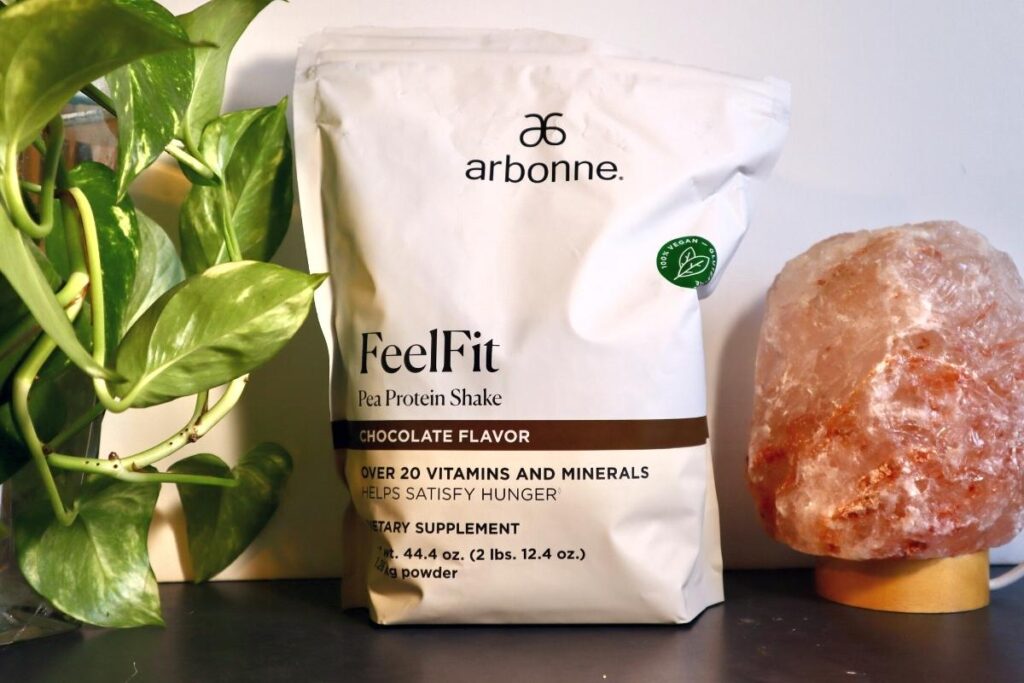 What is Arbonne Protein Powder?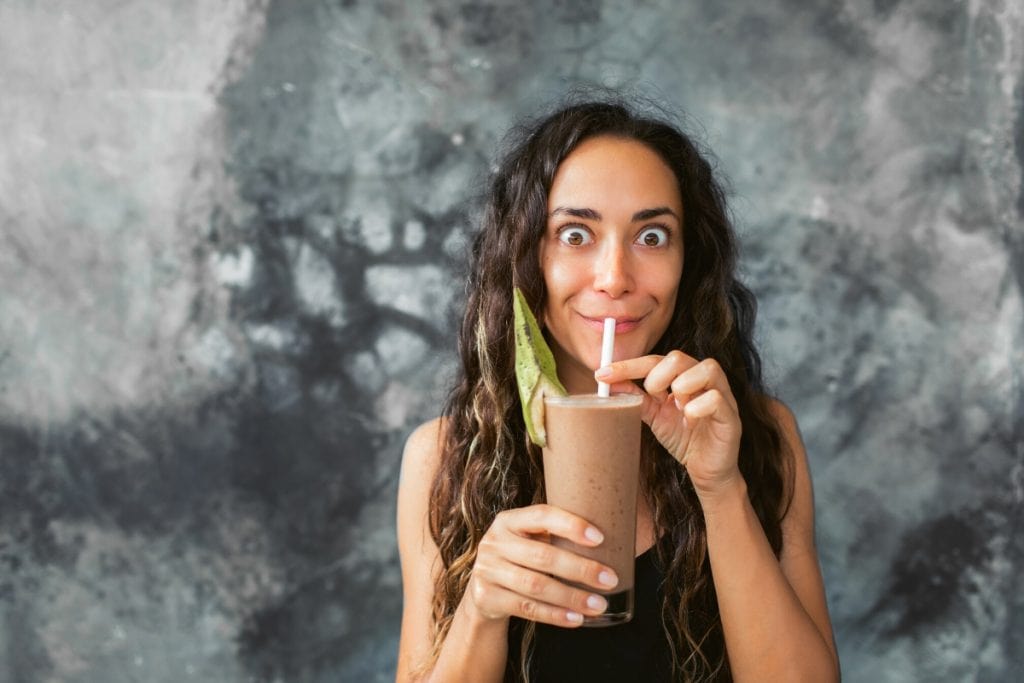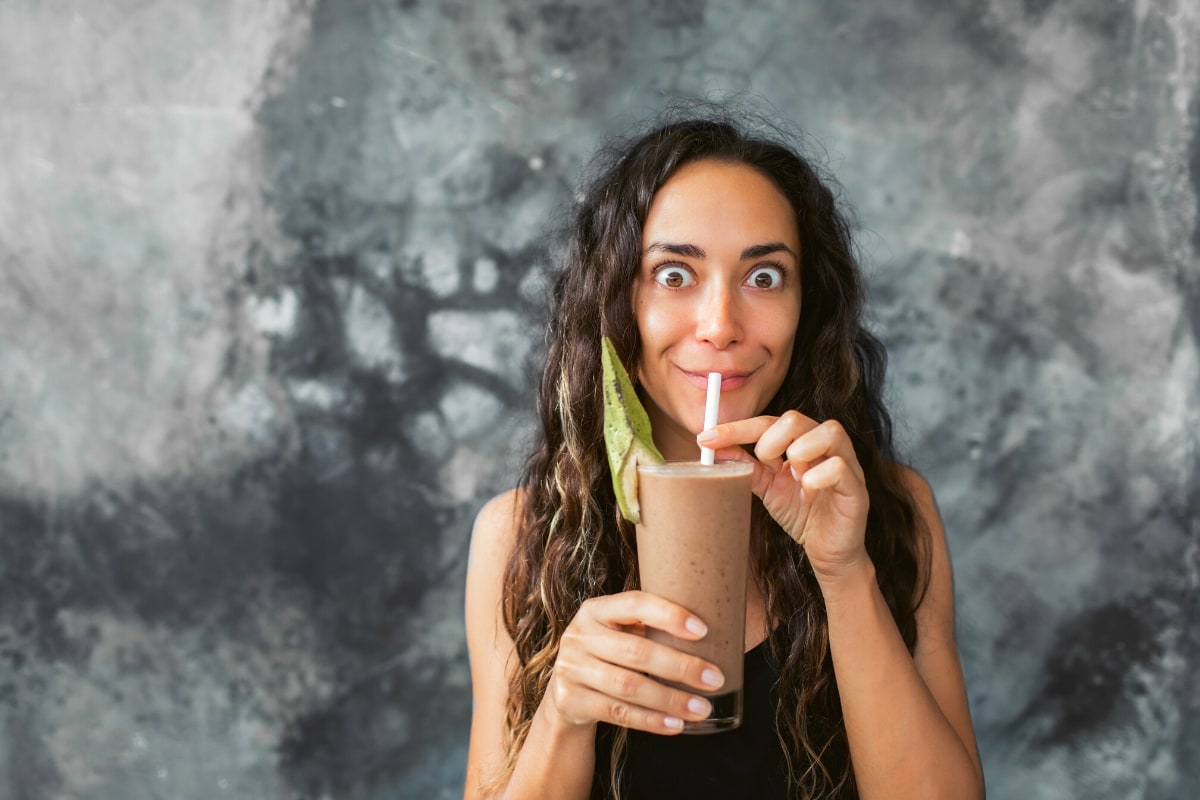 Arbonne's protein shake mix, as described on the Arbonne store, is:
Clinically tested and certified to have a lower glycemic index (which shows that it has little effect on blood sugar levels and does not cause a significant spike in blood sugar*), each tasty vegan protein shake is packed with 20 grams of easy-to-digest protein derived from Peas, Cranberries and Rice. With a blend of 24 vitamins and minerals (including methylated forms of vitamin B12 and folate), think of these great-tasting vegan protein shakes as an easy choice that's beneficial for your body!
Like all of Arbonne's products, the Protein mix is vegan, which means that it isn't derived from dairy, like many other protein powders. Dairy can cause gastrointestinal distress and is beginning to be understood as not as healthy as it was once thought.
Additionally, because of the poor health profile of soy, Arbonne avoids all soy products.
So where does Arbonne get the protein for its protein shake mix?
And how can plants have enough protein to fuel a vegan protein powder?
Let's break it down!
RELATED POST:
How to Learn What's Healthy and What's Not, Nutritionally
Arbonne Protein Powder Ingredients
Arbonne has recently updated their protein powder shake mix to be called a "Pea Protein Shake". Pea is one of the three primary proteins that they use. The other two are rice protein and cranberry protein.
After that, there is a blend of vitamins, minerals, and fiber added to these shakes that makes it a great supplement as well.
Pea Protein
Pea protein started to gain popularity recently as a vegan substitute for whey protein. But is it healthy?
Actually, according to the American Cancer Research Institute, pea protein has a better balance of amino-acids than most other protein isolates like whey or rice.
But remember, once a protein is isolated from the rest of the plant, it loses all its other vitamins, minerals, and beneficial components. So any other health benefits from peas are lost.
Rice Protein
Rice is a surprising source of protein, but it's actually quite a healthy source.
Despite its rep as a carb source, rice contains a fair amount of protein—around four grams per cup of white rice, and more than five grams per cup of brown rice.

Joe Wuebben, Onnit Academy
Rice protein digests easily, and you don't have to worry about allergens from dairy or soy-based proteins.
Cranberry Protein
Cranberry is another protein isolate that has a full amino acid profile and is a complete protein. In addition, it's incredibly beneficial to digestion. It has a lot of fiber compared to other protein sources.
Although it isn't as high in protein as other sources (like pea or rice, which are also part of the protein profile of Arbonne's protein mix), it does also contain some good antioxidants and essential fatty acids.
Vitamin and Mineral Complex Unique to Arbonne Protein Powder
Arbonne protein powder contains a mix of vitamins and minerals, including vitamins A, D, C, E, B, iron, iodine, magnesium, and zinc, among others. But the thing I love about the protein powder is that it also includes Ginseng and Coenzyme Q10.
Ginseng is an herb that has been used for centuries in countries like China, and is known for its ability to boost brain function, support your immune system, and boost energy levels.
CoQ10 is a compound that is incredibly beneficial to heart health, but it has also been known to aid with boosting fertility, helping skin health, and even reducing headaches.
Fiber Content
With 6 grams of fiber, Arbonne protein powder gives you about 15-30% of your daily fiber in 1 protein shake, depending on your age and gender. You can also add additional fiber with Arbonne's Fiber Boost.
But of course, fiber works best when it is consumed as part of foods like fruits and veggies. So make sure you get plenty of those during the day as well!
RELATED POST:
My 30 Days to Healthy Living Review (With Pictures)
How Healthy Is Arbonne Protein Powder?
Harvard Medical School published a warning about protein powders. Here are a few takeaways:
some protein powders may have way beyond your daily recommendation of added sugar
watch out that you don't consume too much protein
protein powders may be packed with all kinds of chemicals and toxins
Protein Recommendations
Recommendations for daily allotment of protein isn't actually as high as you'd think. From that same Harvard post above, women should get about 46 grams of protein a day and men should get around 56 grams.
This will vary, depending on your activity level and intention to build muscle. For thousands of years, it has been noted that athletes naturally consume more protein. So if you are highly athletic or active, you may want to aim for more protein.
On 30 Days to Healthy Living, you may consume 1-2 protein shakes a day as meal replacements. Arbonne's protein shake mix has 20 grams of protein per serving, so you can drink 2 per day and stay within that 36-56 gram limit.
Sugar Recommendations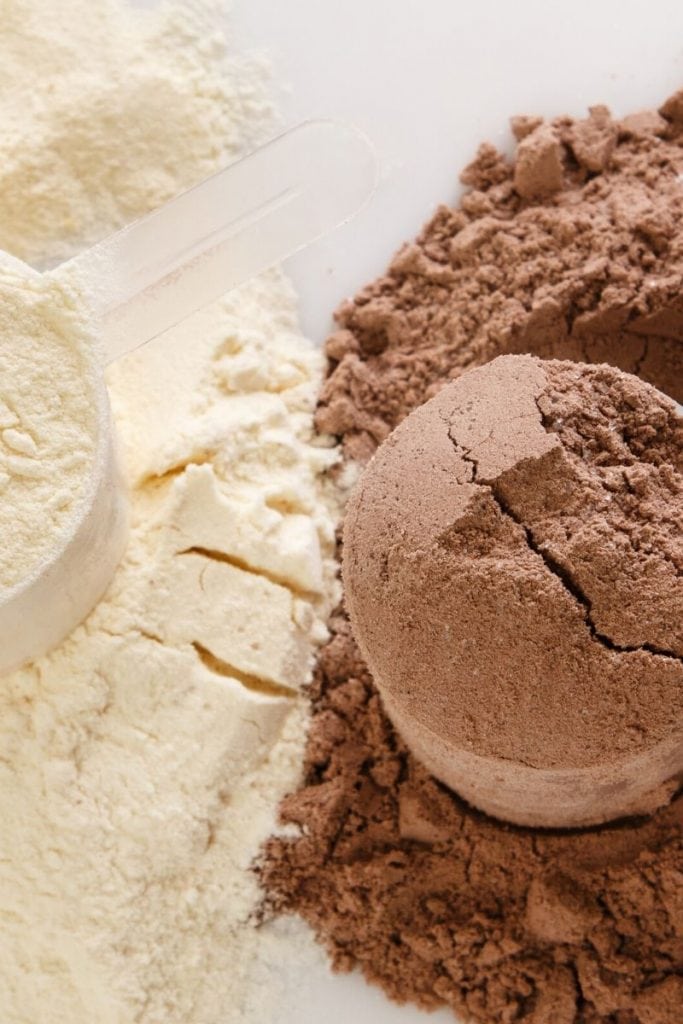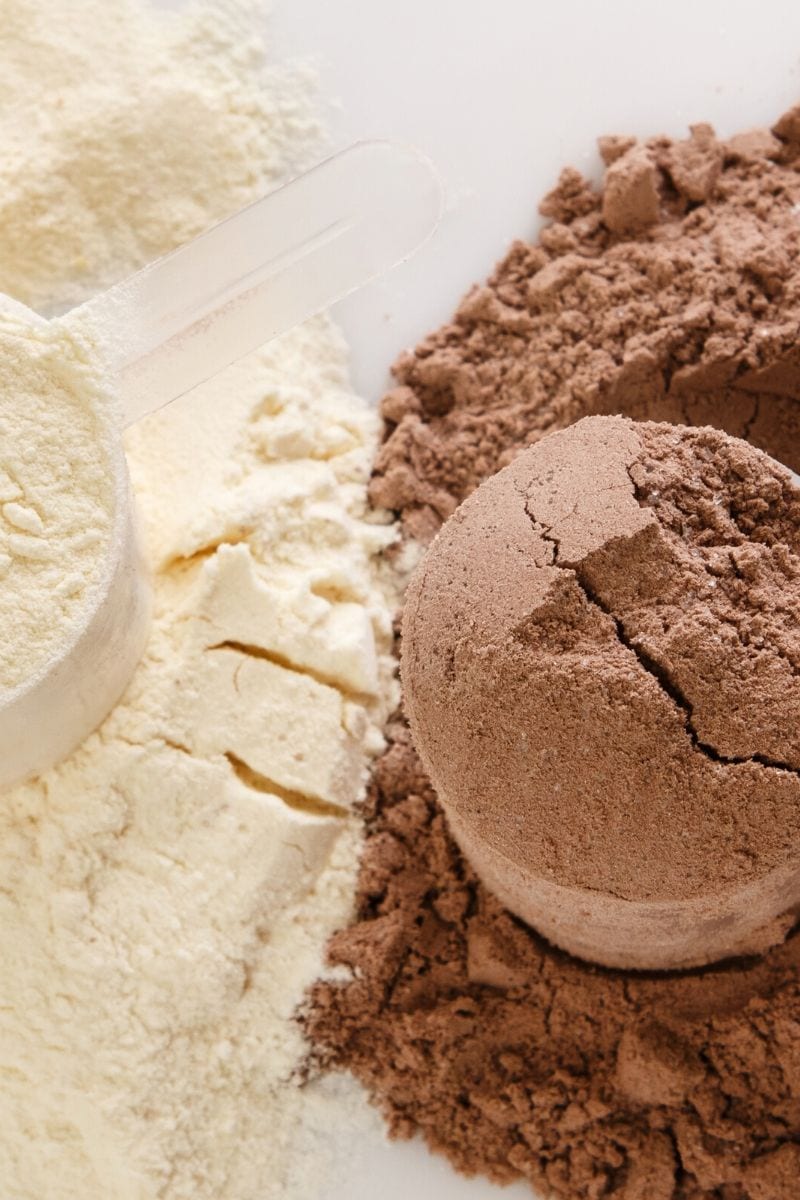 According to the American Heart Association, "men should consume no more than 9 teaspoons (36 grams or 150 calories) of added sugar per day. For women, the number is lower: 6 teaspoons (25 grams or 100 calories) per day."
In fact, if we look at other protein powder mixes, some of them have over 23 grams of added sugar per scoop and pack a walloping 1,200 calories per drink!
Thankfully, Arbonne is much healthier than that!
According to Arbonne's Feel Fit protein mix nutrition facts, there are 7 grams of added sugar for every 2 scoops. It is also sweetened with stevia for an extra sweetness without the sugar calories.
Seven grams of added sugar is only 19% of recommendations for men, and 28% of recommended added sugar for women.
*Keep in mind that the government's recommendations and the American Heart Association's recommendations are DIFFERENT. This accounts for the difference in the daily allotted added sugar being listed as 14% on Arbonne's protein shake mix bag.
For the 30 Days to Healthy Living program, when you will be consuming 1 or 2 shakes per day, that still keeps your daily consumption of added sugar at LESS than 60% of what is recommended by the American Heart Association, and that's only if you're a woman who is replacing 2 meals a day with shakes.
Sugars that occur naturally in fruits, raw honey, and pure maple syrup are some examples of more beneficial sugars. Raw cane sugar is another with a lower negative impact on the body when it comes to blood-sugar spikes. (Cane sugar is what is used in Arbonne's protein mix.)
On the other end, high fructose corn syrup or highly processed artificial sweeteners are going to be worse for your health.
LEARN MORE:
Nourishing Your Body for Optimal Health
Carbohydrates
How many carbs are in Arbonne protein?
In 2 level scoops of Arbonne Protein (chocolate flavor), there are a total of 13 grams of carbohydrates, including 7 grams of sugar. In a 2,000-calorie diet, 900-1,300 calories, or 225-325 grams should come from carbs. Thus, one Arbonne protein shake is approximately 4-6% of your daily carb intake.
Toxins and Harmful Chemicals
Due to its Certified B-Corporation status and its dedication to non-GMO, organic labeling whenever possible, and providing the healthiest nutrition products, Arbonne provides a cleaner protein powder.
Arbonne has banned over 2,000 harmful ingredients from all products, upholds high standards, and works with teams of experts to formulate the best products. Of course, things change regularly, and as they learn more information, they continue to update and reformulate products to meet the highest standards.
What Do Arbonne Protein Shakes Taste Like?
Personally, I find Arbonne protein shakes absolutely delicious.
It's not chalky at all. It is super smooth and easy to blend just by shaking your protein cup (no electric blender needed).
It's surprisingly sweet for only having 7 grams of sugar. There is a little stevia in it as well, but I don't find Arbonne protein to have that stevia taste. The sweetness is just right.
I like to mix mine with almond milk/coconut milk blend and sometimes a scoop of greens or spirulina. But there have been videos done where people (who are notoriously critical of protein powders) mix it just with water and have found it still perfectly delicious.
NEW* Arbonne Feel Fit Pea Protein Shake Simply 1
A new product on the line up is the Simply 1 Shake from Arbonne.
This one has the same base proteins and the same vitamins, minerals, and fiber.
Literally the only difference is that it has no added sugars (only 1 gram that is naturally occuring with the proteins) and is sweetened with stevia.
If you're looking for a very low sugar protein powder and don't mind the taste of stevia, this one might be a great option for you!
Currently, it's only available in chocolate and vanilla.
Check some more product reviews:
Nutrafol Hair Growth Supplement Review
Nutrafol Hair Growth Supplement Review
RASA Coffee Replacement Review
How Much Does Arbonne Feel Fit Protein Cost?
At $79, Arbonne protein powder is, undoubted, too expensive for many people. But there are great ways to lower your cost, such as becoming an Arbonne Preferred Client. This will lower the cost to $63 a bag, or become a consultant and lower your cost even further.
Personally for me, the healthy ingredients, guaranteed clean products far outweigh the cost.
Ways to Use Arbonne Protein
First, make sure you're using your Arbonne Protein Shake Mix correctly for Arbonne's 30 Days to Healthy Living Program.
The most basic way is to use your favorite non-dairy, non-soy milk, 2 scoops of protein powder, and shake to combine. Add extra fiber if you need it, or some of Arbonne's Green Balance to get your veggies in a convenient way.
You can also use Arbonne protein powder in smoothies. Here are a few of my favorite smoothie recipes!
Wild Blueberry Chocolate Coconut Smoothie
Chocolate Banana Protein Shake
Strawberry Green Protein Smoothie
Last, consider using the protein mix in desserts like Protein balls or vegan brownies. Check out these recipes for Arbonne Protein Balls!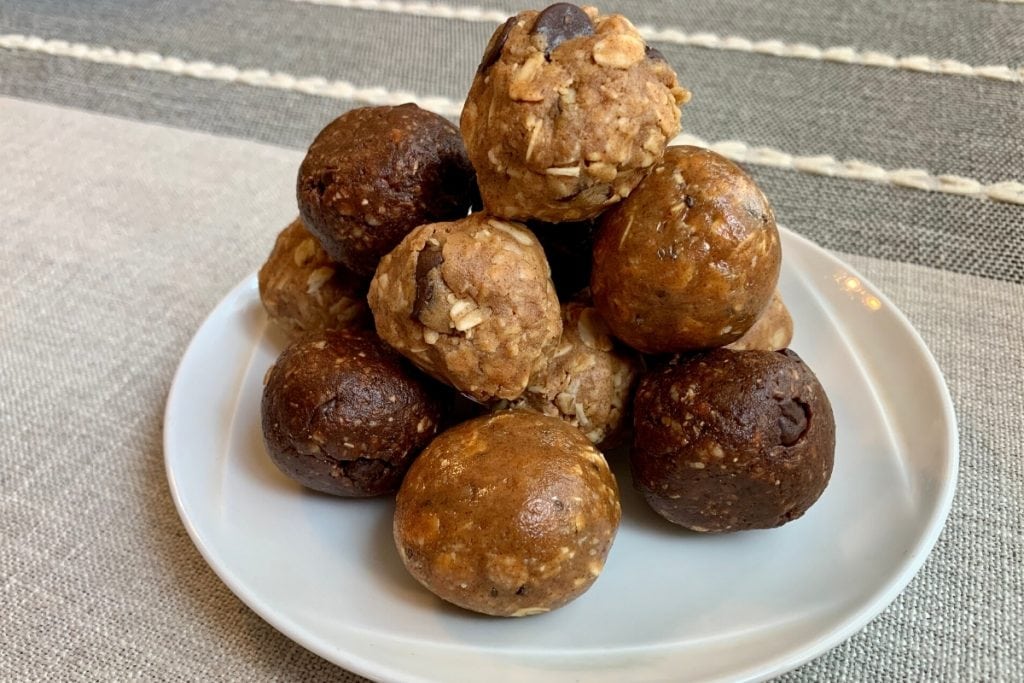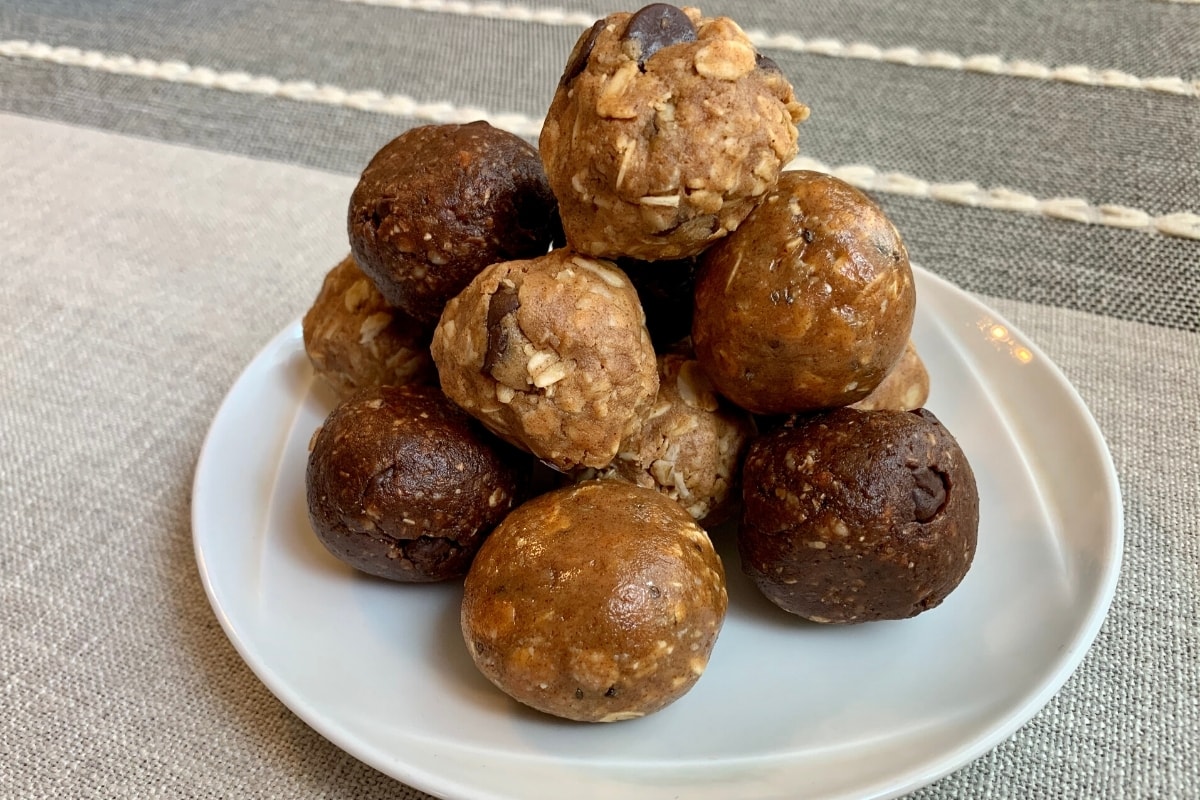 Also, check out this post for Thanksgiving and Holiday dinner recipes and scroll to the bottom: there's an amazing recipe for vegan protein brownies!
RELATED POST: I Tried Clevr SuperLattes: Here's What I Thought
Conclusion
Low toxins, balanced and complete proteins, full amino acid profile, low sugar, and high fiber make Arbonne Protein Shake Mix an excellent choice for protein powder.
Besides this, it's delicious, and it comes (currently) in chocolate and vanilla, with other rotating flavors throughout the year, which have included:
chai
cinnamon
strawberry
mint chocolate
raspberry truffle
coffee
Remember, no product is perfect, and there is no substitute for organic, non-GMO whole foods in your diet like vegetables, fruits, and lean meat. But when it comes to protein powders, Arbonne is definitely one you'll love to use.
LEARN ABOUT OTHER PRODUCTS FROM ARBONNE:
Arbonne 7-Day Body Cleanse
Arbonne Fizz Sticks
Arbonne Mind Health
Arbonne Skin Elixir
Arbonne Detox Tea
Arbonne Digestion Plus
Arbonne Greens Balance