The moment I saw that Tarn Ellis was illustrating an Oracle deck, I immediately got on Amazon and pre-ordered it! I have a collection of pieces that I purchased from Tarn Ellis from her shop on Etsy, and I've always had plans to purchase more, but now that this has come out, it will satisfy my need for more of her artwork!
Keep reading for my review of the Clairvoyant Oracle Deck and all its beauty below!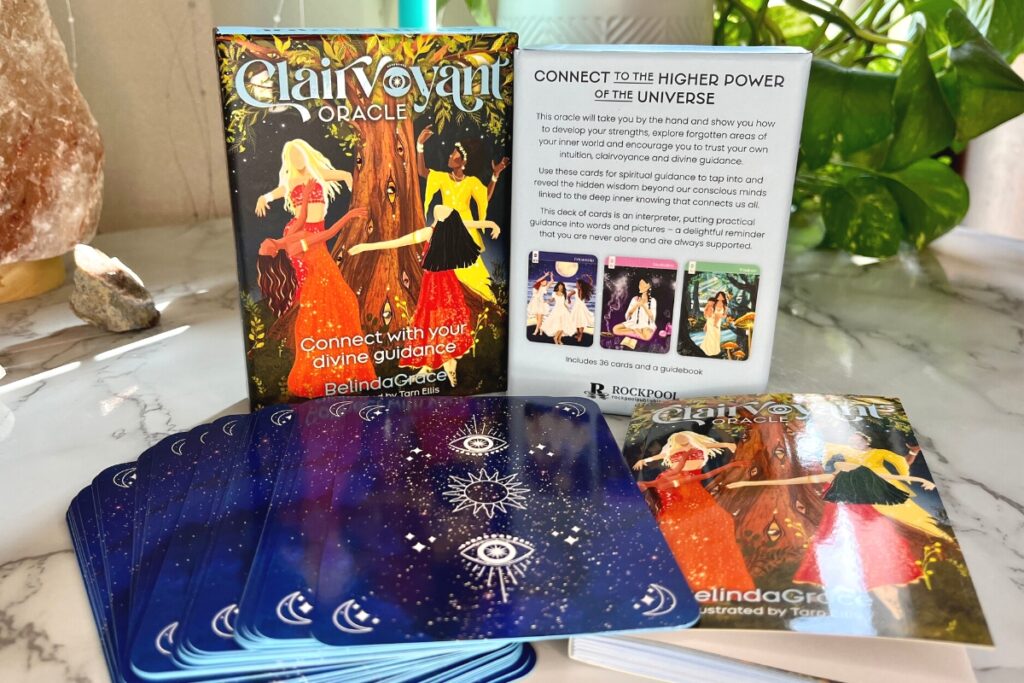 What is an Oracle Deck?
An oracle deck is simply a deck of cards designed to give you insight or wisdom about life or a specific subject. Many oracle decks are geared toward love, or enlightenment. Some have animals, others are for witches or for wild women.
You use an oracle deck to read the energies around you and help you gain greater perspective on your life. Some say that you can use tarot and oracle cards to read the future or tell potentialities for the future!
Make sure to check out the best oracle cards for beginners! (And the best tarot cards for beginners too!)
What is the Clairvoyant Oracle?
The Clairvoyant Oracle is a deck of 36 cards by author BelindaGrace and illustrator Tarn Ellis. It features artwork of women in a variety of natural settings with keywords for developing intuition and clairvoyance.
This deck first published on April 4, 2023, so it's a brand-spanking-new deck!
The cards measure 3.5 x 5 inches, which is a standard size for oracle cards.
It comes with a guidebook written by BelindaGrace, which is 104 pages long.
BelindaGrace, Author
BelindaGrace is a clairvoyant healer and psychic from Australia. She is the author of several books (including You Are Clairvoyant, which I listened to as an audiobook last summer as I was developing my clairsentience.)
Read more about BelindaGrace here.
RELATED POST: Signs You're a Lightworker Witch
Tarn Ellis, Artist
Tarn Ellis is a UK-based artist and illustrator that focuses a lot on feminine power, wisdom, friendship, and wonder. I have been a huge fan of her artwork for a long time, and you can see some of her artwork on Etsy.
Read more about Tarn Ellis here.
RELATED: 13 Ways to Support Other Women
Unboxing the Clairvoyant Oracle Deck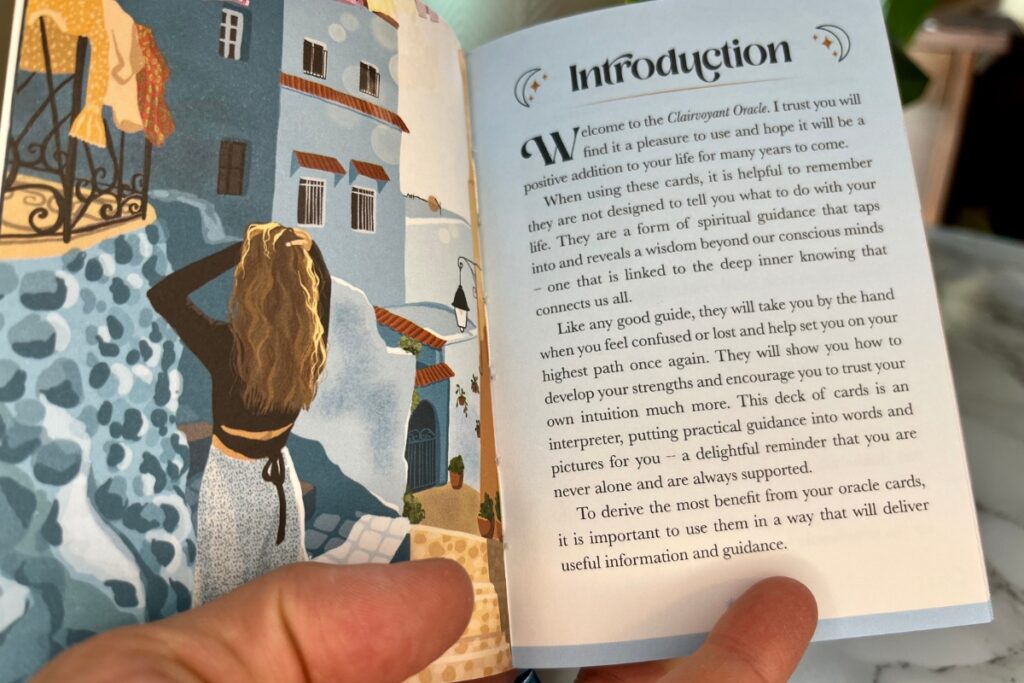 The beauty of this deck cannot be overstated. Each element is so well-structured and brought together in a cohesive way, from the glossy eyes on the tree on the front box to the eyes, moons, and stars on the inside of the guidebook. The colors all align so perfectly from the indigo on the back of the cards, to the pastel blues inside the booklet.
This deck is so well designed, branded, and packaged that it is pure perfection!
MORE ORACLE DECK REVIEWS YOU MIGHT LIKE:
Wild Woman Oracle (Cheyenne Zarate) Review
Affirmations for the Everyday Goddess Review
Wild Kuan Yin Oracle Deck Review
Clairvoyant Oracle Guidebook
I'm not going to lie, some of the wording of the guidebook rubs me the wrong way. The introduction reads a little cocky and at times, ambiguous. Some of the messages for the cards seem immature and even negative.
I want to be clear, these are merely several moments within 104 pages! But it was enough to make me question the messages in these cards. I wonder if BelindaGrace is perhaps clairvoyant but has not done much as far as a spiritual journey. Again, not judgment, but curiosity as to why the guidebook reads this way to me.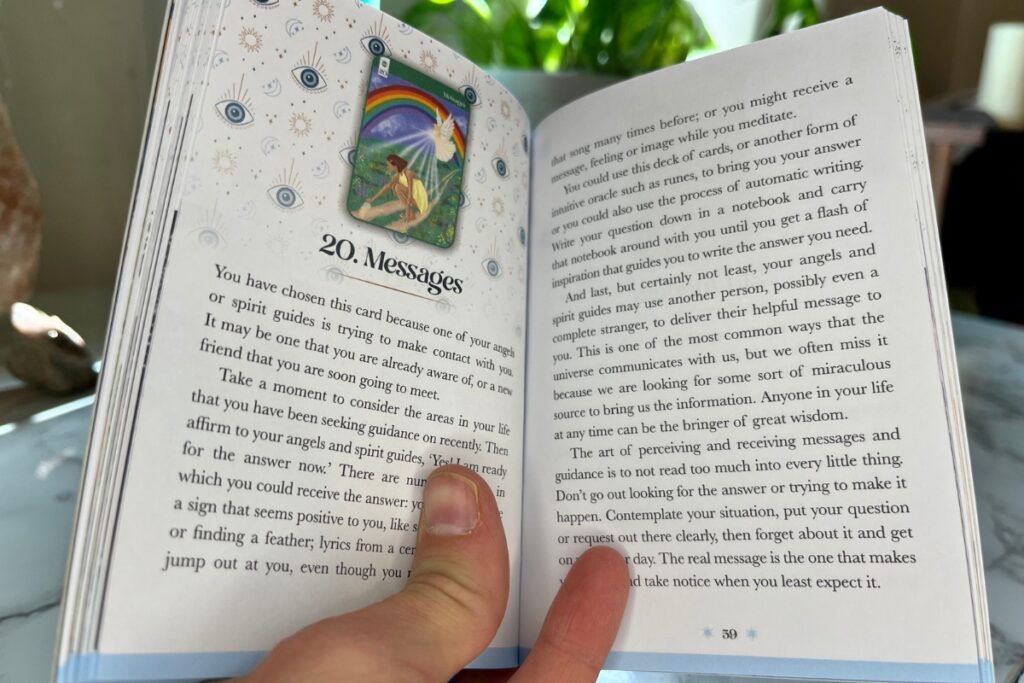 Another aspect that I dislike about BelindaGrace's writing is that she writes in first person and gives personal stories that tend to lift herself up or present herself as an authority. As a reader and a user of this deck, I don't really care how this concept changed her life… I want to know how it can change my life!
Overall, the messages of the cards is positive, varied, and applicable to life in real and tangible ways. Even if you find the same kind of frustration in reading the guidebook, there are more than plenty nuggets of wisdom within the pages.
RELATED POST: The 10 Books That Altered My Life… FOR GOOD!
Clairvoyant Oracle Cards
Artwork
The artwork by Tarn Ellis is exquisite! If the only reason you use these cards is for the beauty of the artwork, purchasing this deck will be highly worth it for you!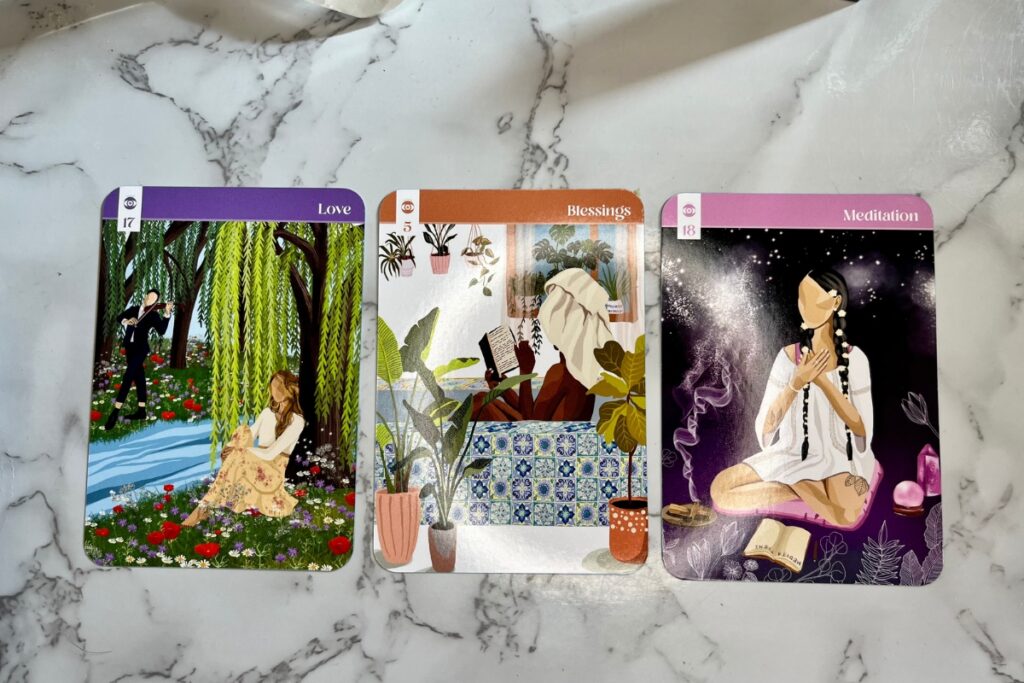 The colors, contrast, and characters of this deck are lovely in every aspect. They are colorful and bright, setting the scene for all kinds of positive scenarios and circumstances.
My only complaint is that all of the women in this deck are young and thin. I would love to see some bigger women represented, as well as older women… let's see some gray hair, folds, and wrinkles!
RELATED POST: 25 Signs You're a Wild Woman
Card Quality
These oracle cards are printed on thick, sky blue cardstock with a glossy finish. The edges are rounded and they are the perfect thickness for shuffling.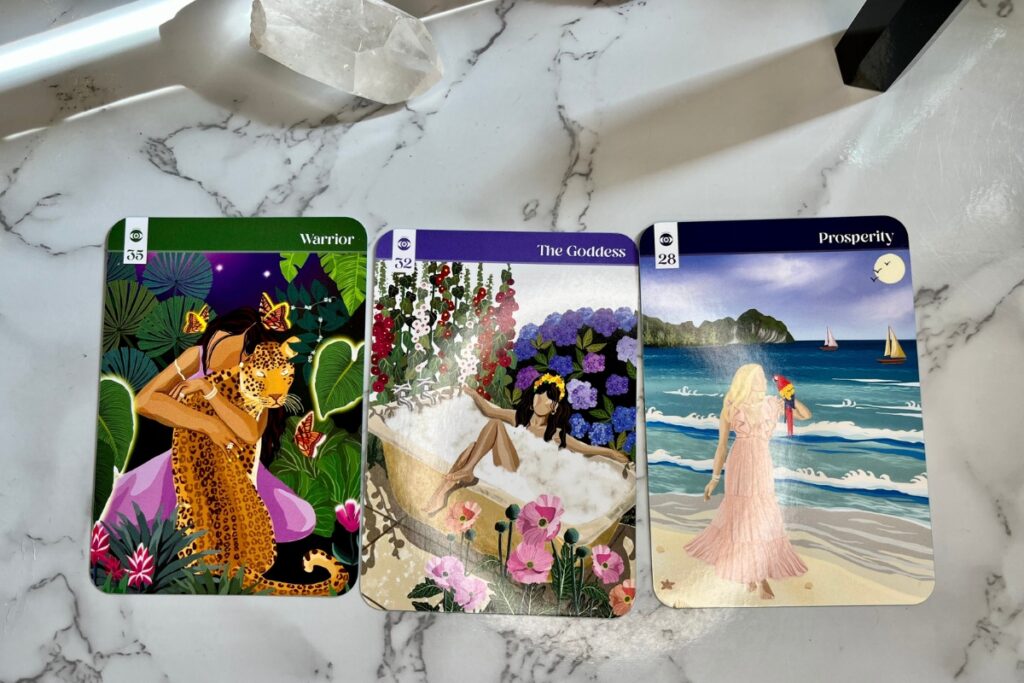 RELATED POST: Want to Radiate Feminine Energy? Here's How!
How Does the Clairvoyant Oracle Compare to Other Decks By Belinda Grace?
Honestly, I was not familiar with Belinda Grace's work before this deck. I was more interested in Tarn Ellis's artwork. But I decided to do some research about Belinda Grace's works.
Her oracle cards all have a 4.5/5 star rating on Amazon, which is very great! (Most high quality oracle decks have between a 4 and 5/5 star rating.) However, some of them do seem a little simplistic.
Check out more about these card decks below.
Doing a Reading the Clairvoyant Oracle
I did a simple past, present, future spread to give me some insight about my recent career change and development. Here are the cards I drew:
PAST: Life's Journey
PRESENT: Friendship
FUTURE: Rewards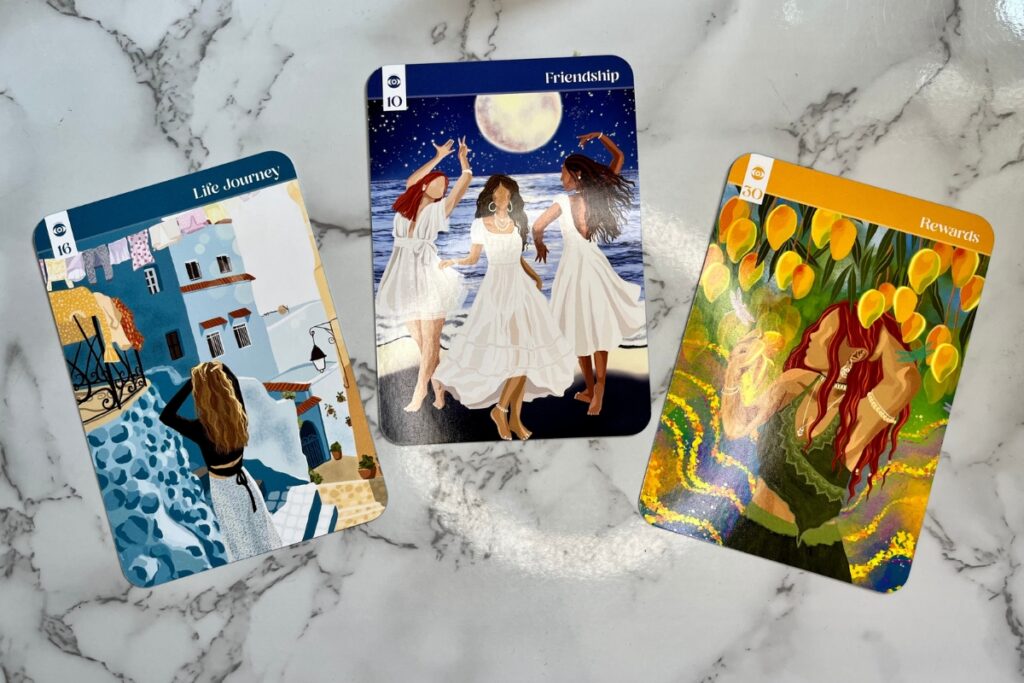 I absolutely love this reading! I did not feel the need to read the selections from the guidebook, but rather give my own interpretation.
This new path that I've chosen is part of my life's journey. It is destiny for me, and no matter how narrow or wide the path gets, no matter the ups or downs, this is where my life has been headed.
Currently, I am making connections and networking in my new occupation, collaborating with others who will not only be beneficial for this new path, but will also become my friends as well!
Last, in the future, I can count on my efforts on this new path to pay off. I will reap the fruits of my labor and bask in the glow of what I have created!
My Clairvoyant Oracle Review Conclusion
Overall, the Clairvoyant Oracle is perfection in its artwork and design, but the guidebook is severely lacking in spiritual integrity and fails to connect to the readers. I will continue to use this deck for its cards, but whether I use the guidebook in the future remains to be seen.
For this reason, I give this deck a 4/5 stars. I do recommend getting this deck if you're considering it, especially if you're a fan of Tarn Ellis's art!
Are you thinking about getting the Clairvoyant Oracle deck, or do you already have it?
What do you think about it? Did you feel the same way about the cards or guidebook?
Drop me a comment below!
TAROT REVIEWS YOU MIGHT LIKE:
The Field Tarot (Feminine, Visual Deck) Review
The Mermaid Tarot Review
Witches' Wisdom Tarot Review
The Clairvoyant Oracle Review (Belinda Grace and Tarn Ellis)