In my quest to find the best affirmation cards, these Lamare cards were ones that I got long ago and never wrote about! When you're someone who needs an extra dose of positivity or you're looking to change your mindset, these cards can definitely do the trick.
It helps to have a product so well-designed and beautiful as well!
Read on for my review of Lamare Affirmation Cards, which you can purchase on a variety of retailers, including Amazon and Etsy.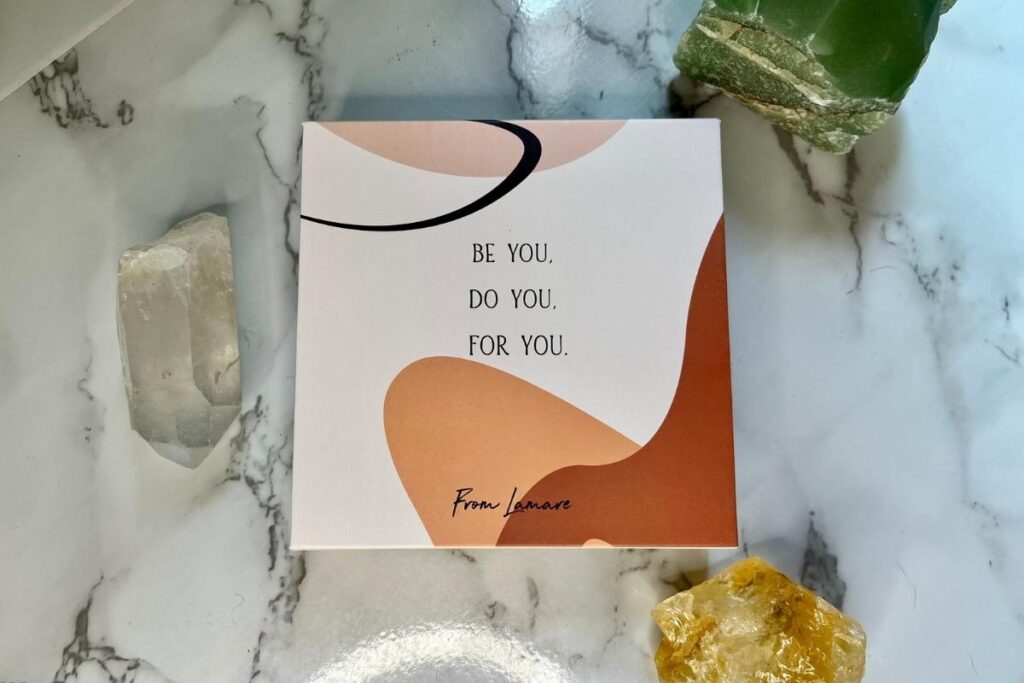 What are Affirmation Cards?
Affirmation cards are individual cards that typically have 1 affirmation per card. You can pull 1 card per day, copy them down into your journal, or tape them up on your mirror.
The whole purpose of affirmation cards is to help you alter your mindset to focus on things like gratitude, positivity, and releasing those "negative" emotions. Many affirmation card decks are themed by what topic you'd like to focus on, like self-esteem, finding love, or gaining spiritual enlightenment.
I've included these Lamare Affirmation Cards in the post about the Top Affirmation Cards on the market in 2023. Make sure you check out all the other cards as well!
What Are Lamare Affirmation Cards?
Lamare Affirmation Cards are a highly styled affirmation card deck with a feminine design. It's marked by muted blues, pinks, and ivories, and gold embellishments on some of the cards.
What size are Lamare Affirmation Cards?
Lamare affirmation cards are square and they measure 4 inches by 4 inches. The box itself is more like 4.4″ by 4.4″.
How many cards are in the Lamare Affirmation Deck?
There are 40 cards in this deck, and they all have a different affirmation. Something I love about this deck is that the cards are printed on environmentally-friendly paper!
RELATED POST: 36 Eco-Friendly Gifts for Women for All Occasions!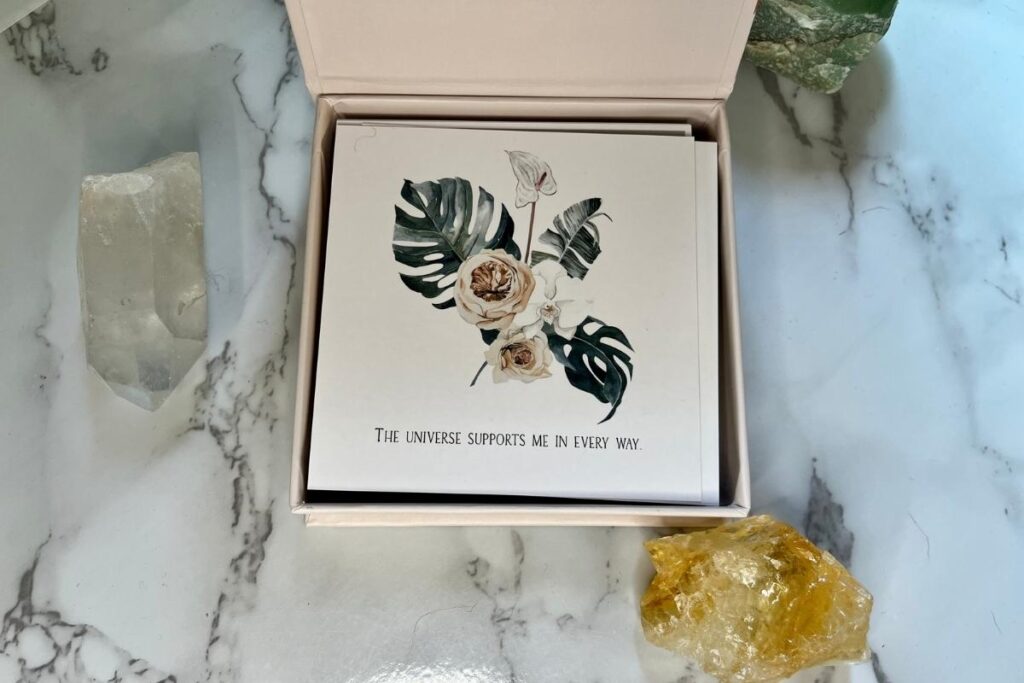 Lamare Style
One of the things that I love about these cards most is the style. These cards have been on the market for a very long time and have been the inspiration for many other affirmation card decks. (Many other cards ripped off the style of these cards.)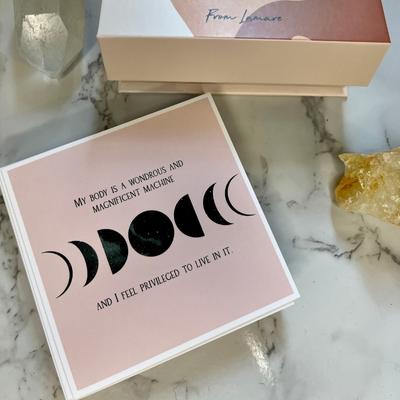 The style is actually quite varied. Some of the cards have a more watercolor look, and others have a single-line ink drawing style. More still have a witchy look with moon phases and celestial designs.
This kind of eclectic look is part of the Lamare charm!
MORE CARD DECK REVIEWS:
Affirmations for the Everyday Goddess Review
Legendary Affirmation Card Deck Review
Affirmations
The affirmations on this deck are mostly geared toward self-care and self-esteem.
Here are a few of the affirmations on this deck:
My Body is a wondrous and magnificent machine and I feel privileged to live in it.
The Universe supports me in every way.
I am at peace with my past.
I let go of all expectations.
Whatever I choose to believe comes true for me.
I release all fear, guilt, and anger. I'm safe and I am at peace with the process of life.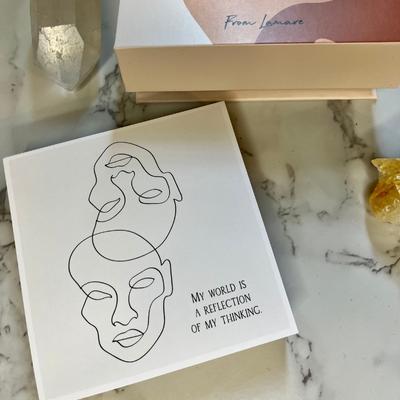 Another thing I love about this deck is that it makes use of the Law of Attraction.
If you're not familiar with the Law of Attraction, it is simply the law that like attracts like. What you think, what you say, what you are, all determine what you attract into your life. This is often called manifestation.
While you can use affirmations and affirmation cards without believing in the Law of Attraction, it is definitely something that is always there, working behind the scenes!
RELATED POSTS:
Affirmations for Self-Care
Morning Affirmations for Women
"I Am" Affirmations for Women
Product Quality
I always look for high quality products that are going to hold up under use.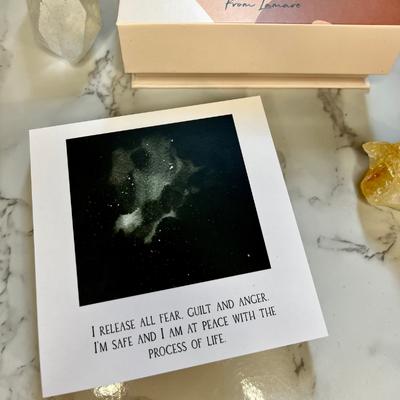 The box is lovely. When you first open it, it creaks just a little, as if the stress of bending the cardboard might eventually harm the quality of the box. But at least for now, it is in good shape.
The cards themselves seem a little flimsy. They are a standard cardstock that you can get from any office supply store or Walmart, and that's a little disconcerting to me. I prefer cards that are either coated or much thicker to protect the integrity of the cards.
If you are someone who might use your cards heavily or plans to use them for an extended period of time, you might find that these cards won't last long.
Where to Buy Lamare Affirmation Cards
The main place to buy Lamare Affirmation Cards is on Amazon.
But you can also get them on Etsy as well!
My Lamare Affirmation Cards Review Conclusion
Overall, I love the energy and affirmations on this deck. The style is on point, and these are the original for this style of affirmation card!
But because of the card quality, I give them a 4/5 stars for my review.
Do you have the Lamare Affirmation Cards?
What do you look for in an affirmation card deck? Drop me a comment below!
And make sure you check out all my favorite affirmation cards here!
Try these Affirmations for Full Moons and New Moons!
Lamare Affirmation Cards Review – Great Style, Poor Card Quality