Many of us who are prone to anxiety in general are probably feeling a little on edge right now and feeling anxious about coronavirus.
Costco has been out of toilet paper for days now.
The NCAA has cancelled all college sporting events.
The State of New Mexico Public Education Department, where I live, just called 3 weeks of no school to prevent the spread of coronavirus.
It's probably for the best, but wow, I've certainly never lived through anything like this!
People Are Feeling Anxious About Coronavirus
Teaching kids in China, I have seen my students cooped up in their apartments for weeks on end with no school. Many of them have been taking online classes and seem to be doing fine except a little stir crazy. But their country has been on lockdown for weeks now, and they're just now possibly getting over the peak of the virus outbreak.
What does that mean for our own country's state of affairs?
I'm a fairly even-keeled person, but if I stay in my house with my two kids (and my husband, who's a teacher), I'm going to start feeling overwhelmed. It's time to really focus on stress management.
This pandemic has thrown us all into a tailspin and we're trying to wrap our heads around it and keep ourselves safe and healthy at the same time. Luckily, there are some great ways you can free yourself from crushing anxiety during this stressful world event and help to instill balance and health back into your life.
Please remember, I'm not a doctor, so if you didn't read my disclaimer above, make sure you check with your healthcare provider before you start any health care program.
RELATED: How to Reduce Stress and Anxiety by Changing Your Mindset
The Best Mala Beads for Anxiety
How to keep your anxiety in check
Here a few things you can do to manage your stress and put yourself in a happier, healthier, and more productive place in life!
1. Know what your anxiety looks like
Anxiety looks different to every person.
Here are some things that you might experience if you have anxiety:
procrastination
racing thoughts
insomnia
fatigue
alcoholism or substance abuse as a coping mechanism
agitation
tense muscles
irritability or anger
panic attacks
heart palpitations
I know that I experience anxiety as tense muscles and intense feeling of not having enough time to get things done.
Being able to recognize your anxiety is the first step to reducing your anxiety and feeling better!
RELATED:
Why Fear Is The Only Thing Holding You Back
2. Write it out
Journaling has always helped me with my anxieties, fears, and past baggage that has needed working through.
Getting your thoughts out of your head onto paper can help you ascertain, objectively, if your worries are something that needs more exploring, or if it is a fleeting thought that won't impact your life.
Start with a blank paper and a pen, or get out an actual journal or diary.
Here are two great guides to journaling for anxiety:
After all, if you're quarantined for the coronavirus, you're going to need something to do to pass the time, right?!
Amazon is still delivering all kinds of goods (except toilet paper… insert irked emoji face here), so if you need a beautiful journal to start, here are a few of my favorites!
Lao Tzu (one of my favorite philosophists, writer of the Tao Te Ching), wrote:
"If you are depressed you are living in the past.
If you are anxious you are living in the future.
If you are at peace you are living in the present."
If you're anxious and living (with worry) about the future, then you need to bring yourself back to the present. For me, deep breathing exercises do this the best, and I prefer Nadi Shodhan pranayama–breathing through one nostril at a time.
Here's a great video about it. (Don't worry, the twangy music only lasts a few seconds in the beginning!)
RELATED: 16 Excellent Books on Spirituality and Enlightenment
4. Do some EFT Tapping to release your pent up emotions
I stumbled across the Emotional Freedom Technique by accident. This can be absolutely helpful if you're feeling anxious about coronavirus.
If you're not familiar with Tapping, it is similar to meditation in that it is a calming activity: it can be guided or not. You tap various points on your body in order to release tension while reciting positive mantras.
Brad Yates is, hands down, the best person to start with if you're unfamiliar with tapping!
Here's one of his videos for worry. Follow along right now and I bet you'll start feeling better already!
5. Stay Hydrated
Drinking water is the absolute basis of self-care.
We need water to function, but if you're feeling anxious about the coronavirus, you might be sent into panic mode. When we go into a state of panic or worry, taking care of ourselves is the last thing we're thinking of.
This is, honestly, quite counterproductive!
We're worried about our survival, but we're failing to take care of ourselves in the present moment!
It all goes back to #3 and staying in the present moment. Our job in each moment is to care for ourselves as if life is totally normal and we have nothing to worry about.
Here's what Medical News Today has to say about dehyration:
Dehydration occurs when more water and fluids leave the body than enter it. Even low levels of dehydration can cause headaches, lethargy, and constipation.

Medical News Today
So fill up a big water bottle and sip it throughout the day.
Aim for a minimum of 64 ounces of water (8 glasses of 8 ounces). But consider your current health situation, where you live, and lifestyle choices. If you drink coffee or alcohol, or if you live in a dry climate, you might want to drink more.
Personally, I aim for 100 ounces a day.
Not only is it important to avoid dehydration, but accomplishing this one little thing can give your mood a huge boost!
6. Avoid trigger foods
There are many foods and drinks out there known to make anxiety worse. Here's a list of some foods to avoid:
regular soda
diet soda
fruit juice
toast or white bread
ketchup
doughnuts & sweets
processed meats
It's not an exhaustive list, so if you think you have foods that may be making your anxiety worse, be sure to look them up and check with your doctor.
Additionally, with a quarantine, you're sequestered and may not be able to get out to the store. You might be limited on what is around your house to eat.
If that's the case, just be strategic.
Maybe soda is the worst culprit for you. Or maybe it's alcohol.
Make sure you're adding healthy coping mechanisms like meditation, deep breathing, journaling, and other techniques to help you avoid emotional eating.
7. Eat foods to beat anxiety
On the opposite side of the coin, there are some great nutritious foods that can help you beat your anxiety! Many of these work by helping your gut health and allowing natural probiotics to flourish.
Here are some great foods to add to your diet if you have the chance:
avocado
blueberries
turkey
almonds
kale
yogurt
salmon
eggs
pumpkin seeds
tumeric
chamomile
green tea
Again, you might be limited on what to eat. But if you have any of these (perhaps some salmon in the freezer or almonds in the pantry) they will be a great addition to your diet!
RELATED POST: 12 Nutrition Books to Teach You the Power of Healthy Eating
8. Move Your Body
All of the pent up emotions of anxiety need some way of getting out!
While journaling is a great way to get out your thoughts, you need to physically move your body in order to get your physical energy spent.
Moving our bodies is vital to our mental health.
Even a walk outside if you live in a low-populated area, or a walk on the treadmill will do wonders for your anxiety and quality of sleep!
Especially during a quarantine, you're leaving the house much less (if at all), you're getting fewer steps in during the day.
Even a quick workout at home can be a lifesaver.
Even something as simple as a 20 minute "Mom Fit" workout can do wonders! It's just slightly less cheesy than an 80s workout video with neon spandex, but hey, I can dig the enthusiasm and simplicity of the work out!
If you're a little more serious, Amazon delivers some amazing products!
Treadmills
Whether you want to splurge or save, there are some great treadmills out there. I actually prefer the treadmill to the exercise bike because I don't like sitting while I exercise, but that's my own personal jam. You do you.
Exercise Bikes
Bikes are a low-impact way to really amp up the cardio. I'm not an advocate of cardio for cardio's sake, but moving your body and increasing your heart rate is good for you.
Again, there are save and splurge options.
RELATED:
The Morning Routine That Changed My Life
How to Wake Up Early EVERY DAY!
Conclusion
If you're feeling anxious about the coronavirus, you're not alone. But remember, it's super easy to fall into the fear tactics of the media.
Sure, this is a scary time, but you CAN remain calm and at ease while you go through it.
Also, make sure you find cool things to do… don't just be online all the time!
Check out tomorrow's post for ideas of things to do while you're staying at home because of the coronavirus outbreak!
What sorts of things do you do to help your anxiety? Are you feeling anxious about the coronavirus at all?
Need some help? Here's a printable for 14 QUICK ways to get rid of anxiety!
(This is from the sister-post about how to get rid of your anxiety FAST!)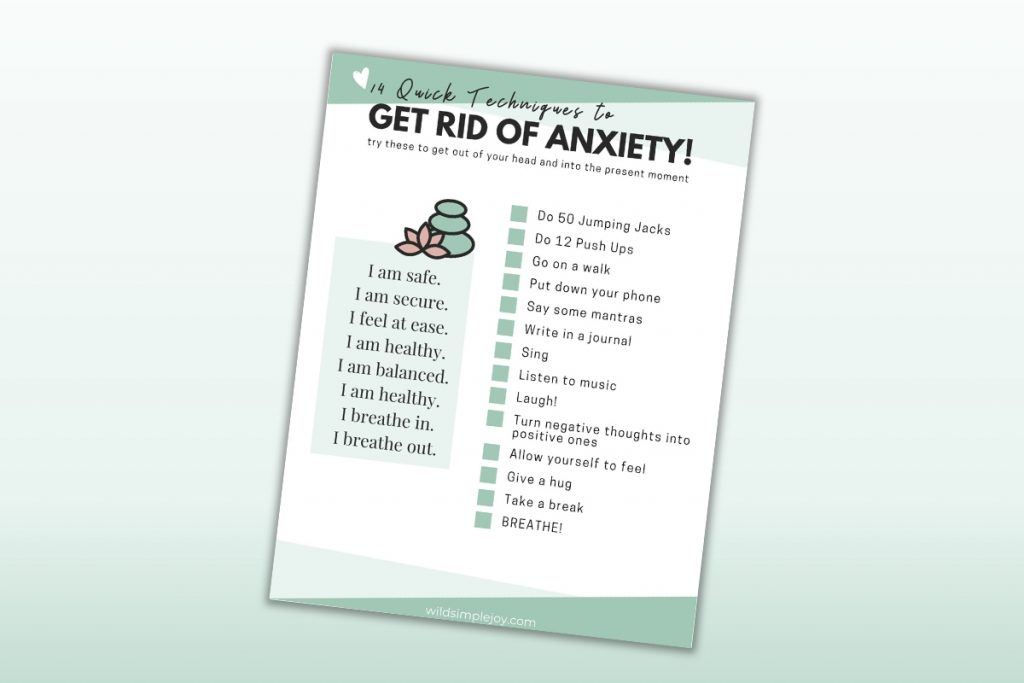 Feeling anxious about the coronavirus? How to Prevent Anxiety When You're Quarantined