It is totally possible, and even INTEGRAL, that you practice self-care during lockdown!
What is self-care? We know from context what self-care is, but what is the real definition of self-care? Essentially, it's taking an active role in preserving and strengthening our mental, emotional, and physical well being.
Quarantined? Use these 25 Self-Care Ideas!
As people around the world become quarantined, locked down, and told to social distance, self-care has never been more important.
Our usually methods of maintaining our sanity have been stripped away… date nights with the hubby, coffee with your girlfriends, even hanging out with coworkers at lunch has been either tainted or eliminated.
Some of us, like teachers, have been thrust with no training into completely new environments and are being asked to change almost everything we do. Others haven't been as lucky and have had their positions eliminated entirely.
This is the time to take care of ourselves!
This is the time that we need to add value, health, and wellness into our existence. But how exactly can we do that while we're stuck at home?
I have 25 simple ideas for how to self-care while we're weathering this storm.
1. Make yourself a cup of tea
There's something inherently relaxing about a cup of tea, and this makes it a fantastic idea for self-care during lockdown.
Be intentional. Make a small cup. Sip slowly and savor the flavor!
RELATED: Learn To Nourish Your Body Intentionally
2. Take a bath
You don't have to do anything fancy to get the benefits of soaking a tub for a little while. But if you want some ideas,
Light a candle
Use essential oils
Put on a face mask while you're soaking
Use this ultimate epsom salt bath recipe to melt away your stress! (And in case you wondered, here's why you feel weird after an epsom salt bath.)
3. Listen to music
As a musician, I hear music all the time. I'm surrounded by it, so I don't always listen to it for pleasure.
But when I'm away from making music professionally, I love to bust out some old albums and listen through.
Music can bring about all kinds of emotions, and it helps to take us away from any problems we're experiencing in the moment. Music is full of hope and full of inspiration.
RELATED POST: Learn to Nourish Your Soul
Writing is one of my favorite ways to get all those anxious thoughts out of my head.
You don't have to write poetry or intend to publish anything, JUST WRITE!
5. Go on a walk
YES, you're actually allowed outdoors, just not in crowded places! If you live in a neighborhood or in the country especially, take the opportunity to get some fresh air.
If you live in the city or close living like an apartment complex, you probably shouldn't go out in your neighborhood, but you can drive to a place to hike or walk that is going to be sparse with people.
Don't walk to burn calories, and don't walk to go anywhere. Just walk and relax. Look at the sights.
Take it slow, and if you see a rose, be sure to stop and smell it!
Just because everything as we know if has come to a grinding halt doesn't mean you can't start dreaming and planning for when everything opens back up!
Write a bucket list Start to plan a backpacking trip through Europe for summer 2022 Write out some professional goals you have.
7. Do some crafts
I've become less crafty now that I have kids (little time for it), but I know many avid crafters, and it is great stress relief and a wonderful way to stretch your creativity!
Maybe you have some paper and stamps at home. Make next year's Christmas cards!
Have a bunch of yarn sitting around? Knit a scarf.
Markers? Bust out that adult coloring book from last Christmas that you haven't touched!
8. Sunbathe
If the weather permits, head into your backyard in your bikini and get some sun!
Vitamin D is excellent for our immune system and bones, and even promotes good sleep! The sun is our primary source for Vitamin D (it isn't really present in many foods) and it's safe to get about 10-30 minutes of sun without sunscreen! Cool!
9. Sing
Listening to music may have beneficial effects, but singing is even better!
No matter your skill level at music, singing helps us release emotions and pent up energy the same way that EFT tapping or a 15 minute jog does!
I have a vision board that I've updated for 2020. I included all 10 categories in the Level 10 Life, and it helps me visualize my goals.
Plus, it uses creativity and focus to create it, and can help you get into flow!
11. Read a book
Reading is a great self-care option for when you're stuck inside!
I frequently read both fiction and non-fiction, but sometimes when you feel like you're stuck in a bizarre dream, it may be helpful to disappear into a new world!
Other times, learning about a new subject may be your jam, or perhaps you'd like to explore and expand your knowledge on something.
If you don't already have a Kindle, it's a great way to get new books without having to go to the library (closed!).
You could also check out Audible for audio books!
Here are some books I recommend:
12 Books on Nutrition and Healthy Eating
16 of the Best Books on Spiritual Enlightenment
19 Wild Woman Books to Read After Women Who Run with the Wolves
12. Write a book
Bursting with creativity? Maybe it's time to write a book!
I've thought about doing NaNoWriMo before, but now that you likely have the time for it, it'd be a great time to write a book in the next month!
13. Have a dance party!
Self-care during lockdown can also be fun! I love doing this with my sons! We crank up some tunes and just dance it out!
Put on some music with good energy that's easy to move your body!
It's all about moving your body and raising your vibration!
14. Give yourself a homemade facial
Any kind of skin care doesn't have to be complicated or full of chemicals. Use food products to create a luxurious face mask for yourself!
Some ingredients you might need could be:
avocado
honey
oats
coffee grounds
olive oil
banana
egg white
Find some great recipes on Pinterest!
15. Do some light yoga
16. Make a luxurious cup of hot cocoa or have some dark chocolate
Self-care during lockdown doesn't have to be complicated! Have some chocolate! Chocolate is my FAVORITE!
It's sweet, rich, and bitter, and it's delicious.
Make yourself a cup of hot cocoa or have a couple pieces of dark chocolate. Really try to savor it and get into the present moment.
17. Use your favorite Essential Oil blend!
Arbonne has its own single oils, but I am a huge fan of doTerra's oil blends! I mixed them with a few other oils and some carrier oil to dilute them and make blends even more suited to my needs.
You can diffuse them or dab a little on different parts of your body.
I've created blends for Sleep, Balance, Energy, and Depression, as well as skin blends for different areas of my face.
Here are some awesome blends I found on Pinterest!
18. Pick some flowers from your backyard
It is springtime right now, and buds and flowers are starting to pop up!
If you have some flowers in your backyard, pick yourself a small bouquet for your dining table!
My favorites are lilac, which should be blooming soon! I don't have any in my yard, so I have a tendency to snip some from the nearby park when I go!
(Shhhhhhh…. don't tell anyone!!!)
19. Play an instrument
I've already talked about singing as therapy, but playing an instrument can be just as therapeutic!
I play the piano, and I've already ordered some sheet music from Amazon so I have something new to play.
20. Take a nap
This is the perfect opportunity to take a nap during the day if you're stuck at home.
Even if you have young kids, when you put them down for their nap, close your eyes for a little while!
A 20 minute nap can help to refresh you without making you feel groggy!
READ MORE: Top 5 Benefits of Self-Love and Self-Care
21. Take a trip down memory lane
Pull out some of your high school yearbooks or photo albums!
I'm not a super-nostalgic person, but it is nice to occasionally revisit the past and how it helped bring me to where I am today!
Even watching some vacation videos from just a few years ago (before we had kids) lightens my mood! (And usually makes me wish I was back in Hawaii!)
Or maybe Venice….
22. Eat some sweet fresh fruit
When you get a chance to get out to the grocery store, don't just get canned and frozen goods. Get some fresh fruits too!
Personally, I like raspberries, but strawberries, pomegranate, or pineapple might be good choices!
Make some homemade whipped cream to create a simple a luscious dessert with your fruit!
23. Do a brain dump
Sometimes when stress gets to us, we can feel overwhelmed, especially when we're parents. A brain dump is a quick and effective way of getting things out of our head.
Usually, I'll get out my journal and just write down everything that's bothering me… sometimes in list form, sometimes in narrative form.
Either way, a brain dump is an effective stress relief and self-care technique during lockdown!
24. Write a letter
When you can't see your friends and family, nowadays it's typical to just Facetime or text.
But what about hopping back a century and writing them a letter?
Put yourself in Elizabeth Bennet's shoes and write with your best handwriting or script. Hopefully you have a Mr. Darcy to tell them about! 😉
25. Meditate
I try to meditate a few times a day for at least a few minutes.
Meditation is a great way to get out of your head and relax your body. It helps me tremendously to shut my brain off and let it reset, even if only for a few moments!
Never meditated before? Try this short, 5-minute meditation.
Conclusion
Practicing self-care during lockdown or when you're house-bound for an extended period of time doesn't have to be difficult! Use what you have at home and make sure you practice joy EVERY DAY!
What's your favorite way to take care of your health and well-being?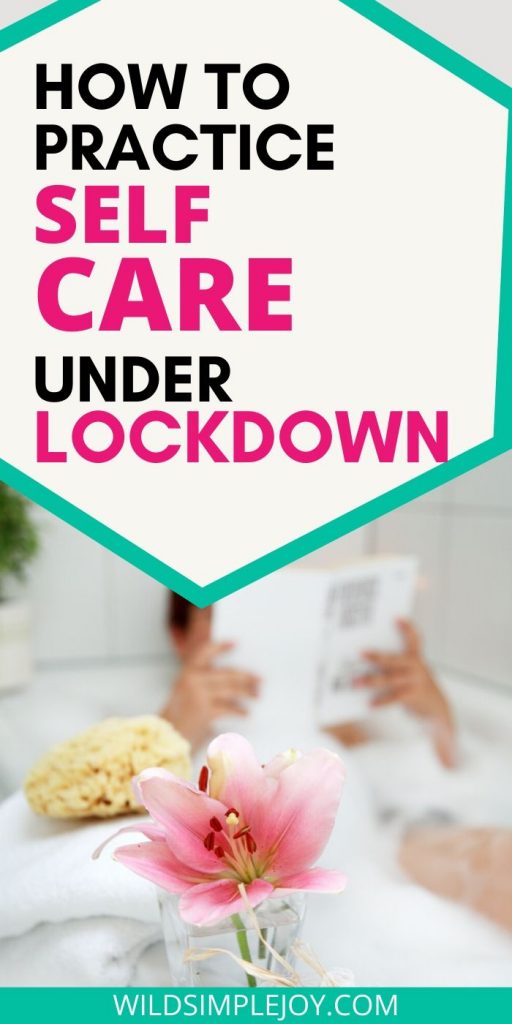 25 Self-Care Ideas While You're on Coronavirus Lockdown