If you're a witch, and you're thinking about setting a New Year's resolution this year, then I have some powerful news for you: New Year's resolutions, and New Year in general, are a powerful spiritual portal that you can tap into and take advantage of.
Especially when you're looking to level up your witchcraft practice, you want to learn more, or you're hoping to be a better person and better witch, this is the perfect time to set goals for yourself.
Below, you will find 20 widely-varied witchy New Year's resolutions that you can try in 2024 that will carry you through to 2025 so much better than you arrived to begin with!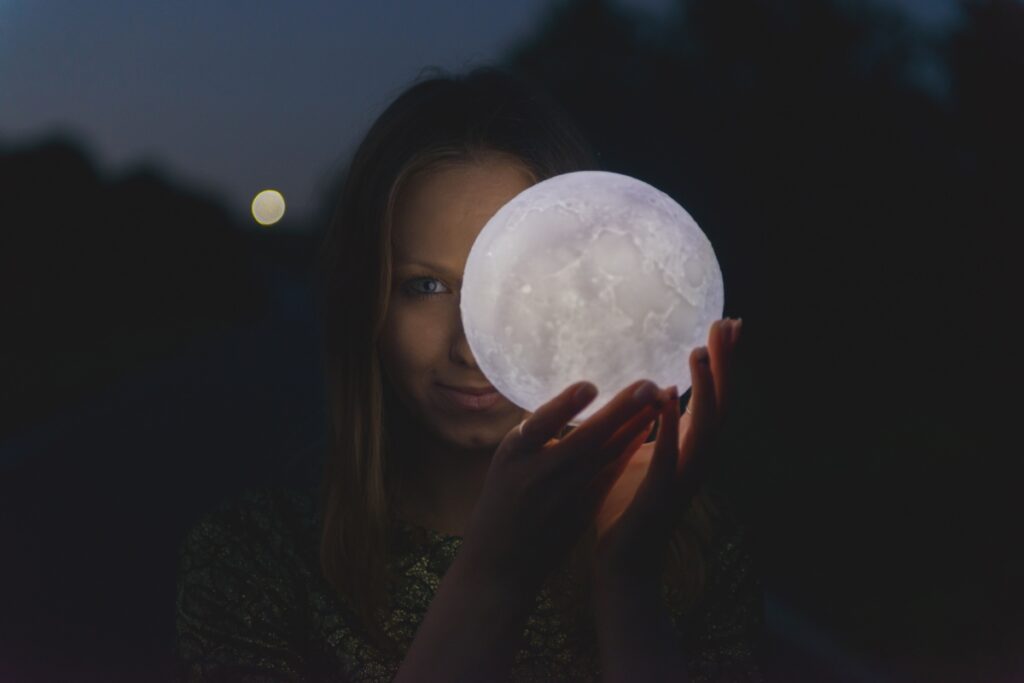 20 New Year's Resolutions for Witches
1. Join a coven
This is a great witchy new year's resolution idea for a solitary witch. Joining a coven might help you branch out in order to grow your craft and skill.
Because witchcraft, and Wicca, are not organized crafts or religions, it can be a little difficult to find a group. Start with this article here to help you know where to look to find your group!
2. Explore a different type of witchcraft
A witch is simply someone who practices magic, and there are all different types of magic to practice. Here are a few types of witches, just to get you started!:
Crystal witch
Green witch
Kitchen witch
Lightworker witch
Hedge witch
Grey witch
Try looking up some practices and rituals of these different types of witches and see what you're interested in!
3. Practice your magic every day
One easy witchy New Year's resolution is simply to practice your magic every day. Practicing regularly helps us hone our craft, but also helps us see that magic is everywhere, all around us. Being mindful of how truly profound and all-encompassing magic is gives us more gratitude for what we do as witches!
RELATED POSTS: Affirmations for the Full Moon
Affirmations for the New Moon
4. Learn tarot
Certainly, an easy and commonly used New Year's resolution for witches is to learn to read the tarot. Tarot is a system of cards that has been used for generations, but we most frequently associate it with the Rider-Waite-Smith cards (see adjacent photo).
The tarot can help you tap into your intuition, help you sort your priorities and make decisions, and even help you see potential future paths.
I started learning tarot over a year ago, and it was one of the best decisions I ever made! While you're learning tarot, make sure to do a New Year's tarot reading for yourself!
RELATED POST: The 20 Best Tarot Decks for Beginners
5. Explore the connection between witchcraft and world religions
Although it's becoming more common to have witchcraft passed down from your parents, I would gather that most people adopt witchcraft after leaving their religion, which are often highly judgmental toward spiritual practices such as witchcraft.
For example, I practice both magic and Buddhism, and I find that they go very nicely together! There are many others who consider themselves Christian witches, and you might learn more about the relationship between Islam and magic.
6. Flaunt your witchiness
Here's a ballsy New Year's resolution idea for witches! To be honest, when I started to practice various forms of magic and witchcraft, I was a little concerned at how it would be received. Especially having grown up in the Midwestern United States, I know how judgy people can be.
But I've since settled into my witchiness and I don't mind sporting a pentagram or wearing all black.
7. Resolve to support women and minorities
As it is said, being a witch is political. When you want to combine your witchiness with your politics or feminism, a great witchy New Year's resolution might be to support women or minorities.
Purchase items from women-owned businesses. Buy local. Buy books at a Black-owned bookstore. Donate to organizations that help Indigenous communities. We're all in this together.
8. Practice unapologetic self-love and care
Part of being a witch is stopping ourselves when our instinct is to apologize. As women, we're trained by society to put others first. We apologize for taking up space, for speaking our minds, and for not having it all together.
As witches, we learn differently. We embrace the mess and love ourselves regardless. We don't apologize for telling others when we need something from them or when we take up space. Being a witch means being unapologetic with our existence.
RELATED POST: 2024 Affirmations for A Fantastic New Year
9. Learn herbs and potions
If you want to make a witchy New Year's resolution to learn something new, you might consider starting with herbs and potions. There are hundreds if not thousands of uses for herbs, from spells, to healing, to cooking! So buy a book and get a starter kit to begin your new endeavor!
Don't forget your herb kit!
10. Learn astrology
Astrology is another aspect of nature that witches may choose to learn about. Astrology is the study of the movement of the stars and constellations, and how it impacts our lives here on earth.
When you know a little about astrology, you can use it to enhance your spells, harness energy, and practice more deeply. An excellent New Year's resolution idea for witches.
11. Get out into nature once a week
Witches have historically been associated with nature and the natural world. Our witchy power is heightened when we have access to the energy of the sun, the moon, water, earth, and air, and fire.
Making a resolution to get into nature even just once a week can really help you become more mindful and reset your energies, as nature is excellent at restoring vitality and focus!
12. Learn to forage
Learning to forage might be another excellent choice for something new to learn this year! Foraging is the act of going into nature or wild land, and collecting things we find there, like herbs or mushrooms.
Obviously, you need to do a lot of research before you head out and just start collecting things, so make sure you have some excellent resource books or take a class. Depending on where you live, something like this may not be possible.
13. Teach others about witchcraft
Now, I'm not suggesting you become preachy. No one likes door-to-door salesmen. But becoming a teacher of witchcraft might be right up your alley if you're already an established witch with plenty of knowledge to share.
Consider making a course for Udemy, or maybe teach classes in your local area. There are plenty of people out there who are interested in your skill set and want to be able to do what you do. Teaching is the way to share your skill.
14. Resolve to learn to read auras
If you're looking for a more basic witchy New Year's resolution, you might consider learning to read auras. It's another energy practice that's often associated with different new age practices or religions, but it can be incredibly useful for witches as well.
You can read a book or take a class, or chat with other witches about it and see what comes up for you. I started reading auras long ago with very little training or education on the subject. If you're in touch with your intuition, reading auras should come easily.
RELATED POST: What is a Lightworker Witch?
15. Practice new spells
Feeling tired of the same hackneyed spells you've been using for years and years? Try some new ones!
New spells might freshen up your practice and feed some new vitality into your energy. I prefer to write my own most of the time, but there are plenty of excellent resources to find new spells online or in books.
16. Level-up your altar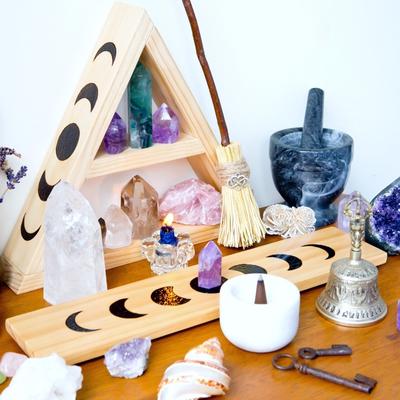 Here's another simple New Year's resolution for a witch: redo your altar. If your altar has been the same, or perhaps has expanded over the years, it may be time to strategically add some new things to your altar.
This is also a great way to connect with the other witches in your life, because you might consider gifting them some of your old pieces. If you have crystals you hardly work with, or perhaps a statue of Athena when you usually work with Medusa, consider giving these items away to better homes.
17. Accept yourself unconditionally
Like number 8 above, which is about being unapologetic about taking up space with others, we should learn to accept ourselves. Witch or not, this may be tone of the most difficult tasks you ever choose to do!
Accepting who you are unconditionally usually means a lot of shadow work. Getting to know yourself when you're at your worst isn't always pretty, but it's essential for growth.
RELATED POST: 7 Spiritual New Year's Resolutions for 2024
18. Learn about the history of witches
I would be remiss if I didn't include learning about the history of witches in my list of witchy New Year's resolutions. If you're a witch, knowing the history of witches can help you in conversations with witches and non-witches alike.
This can help us stand up for ourselves, explain why we choose to be a witch, and help others to not repeat the same mistakes as people in the past.
19. Learn to read tea leaves
Tasseomancy, or the art of reading tea leaves, is another amazing witchy skill to have. Sure, this might conjure up images of Trelawny seeing a black dog in Harry Potter's tea cup in his third year, but really, there is a rich history of reading tea leaves and it takes as much knowledge and skill as reading tarot.
This could be another potential powerful New Year's resolution for you to make this year!
20. Learn healing arts
Last, but definitely not least, you may consider learning healing arts as your witchy New Year's resolution. There are many different types of witchcraft, and many of them do healing rituals. Currently, I am reading a book (an oldie but a goodie) about Psychic Healing.
Using energies to heal ourselves is a powerful gift that we all have the ability to learn, should we choose.
Conclusion
These are some widely varied New Year's Resolutions for witches to get your mind turning. Hopefully you've found one that you like, but if not, you have SO many other opportunities and choices out there!
Drop me a comment below and share what your New Year's resolution is!
If you're interested in more posts about improving your spiritual life in 2024, here is our Wild Simple Joy Resource Page for New Year's Resolutions!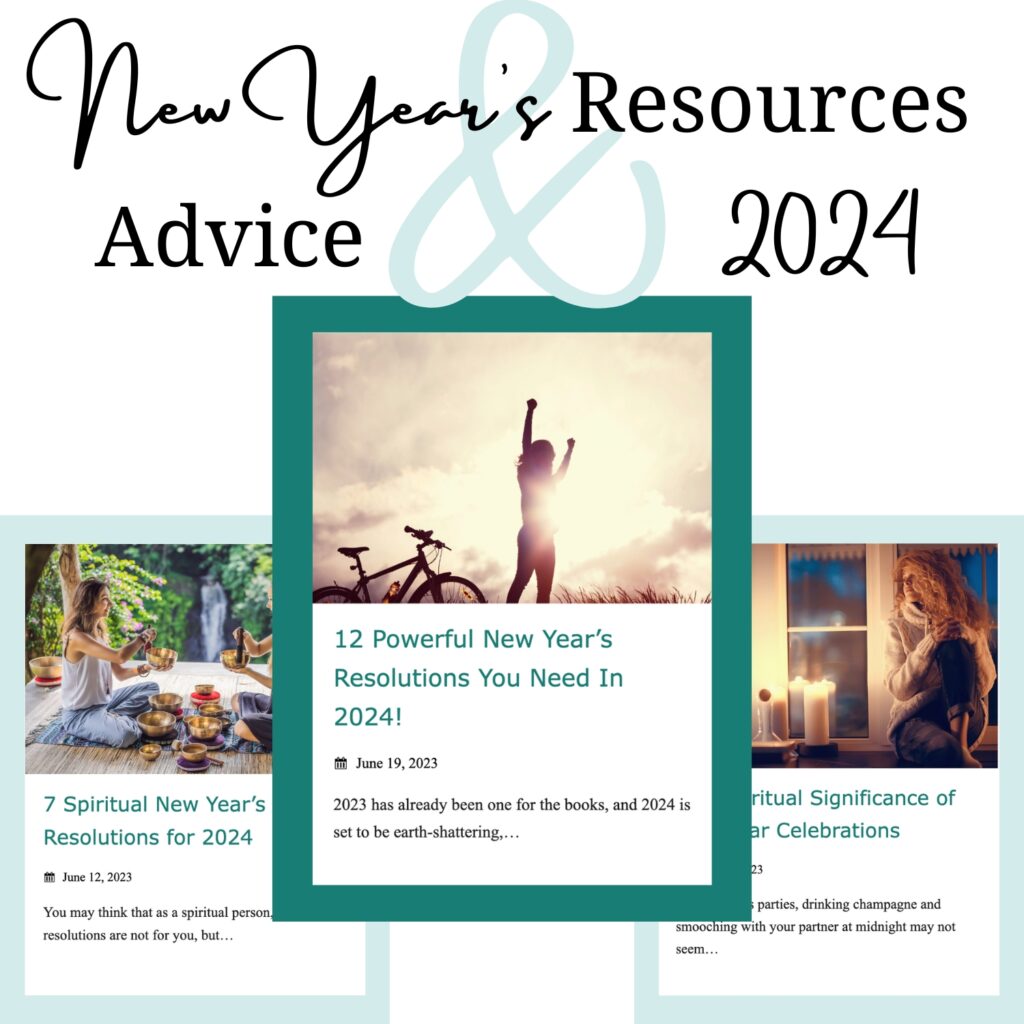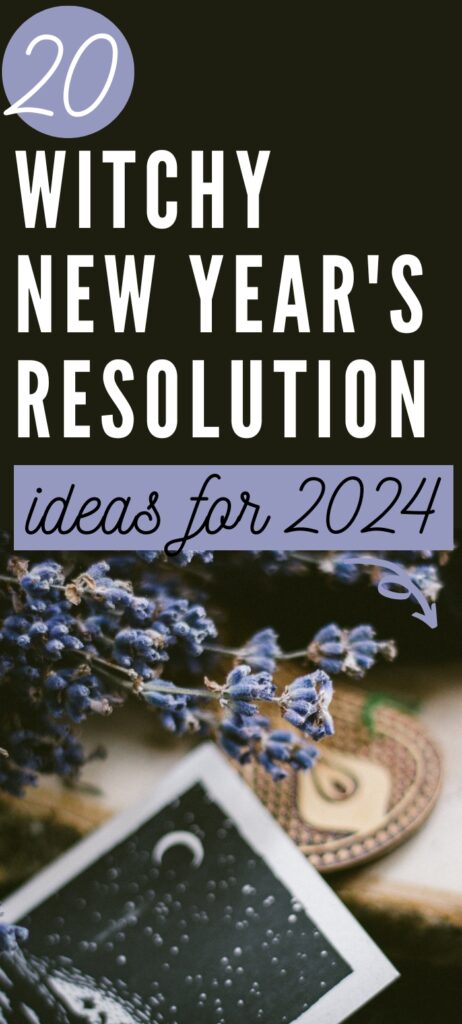 Powerful, Witchy New Year's Resolutions for 2024