It's time to affirm your power as you step into menopause! This is a powerful time in a woman's life and should be embraced with open arms. Menopause is often still considered taboo and can be a challenging process in a woman's life. But it is nothing to be ashamed of.
Menopause signals the time a woman steps beyond the Motherhood stage of life (whether you're a mother or not) and into the powerful Crone stage. In this blog post, we will explore 45 affirmations for menopause that can help you step into your power. So read on and let these affirmations guide you through this powerful time in your life!
Emotional and Mental Hurdles of Menopause
Menopause can be a period of significant change in a woman's life, not just the obvious physical symptoms but also emotionally and mentally. It's often described as PMS on steroids, with lots of ups and downs and extreme emotions.
Society tells us that this is a bad thing. I see many women on social media going through menopause who talk about how they've hesitated before posting something about menopause because they feel they might be shamed (or even shadow-banned by the social media platform!).
While most Western countries view menopause negatively, other countries like India have a much more positive outlook on this transformation.
Let us take the approach of those who embrace menopause! Menopause is natural, and all the ups and downs are part of the journey. This is just the gateway through which we step into our Crone power. As Mark Twain said,
RELATED POSTS:
When You're Afraid of Getting Older (And Looking Older)
40 Affirmations for Aging Gracefully
What is the Crone?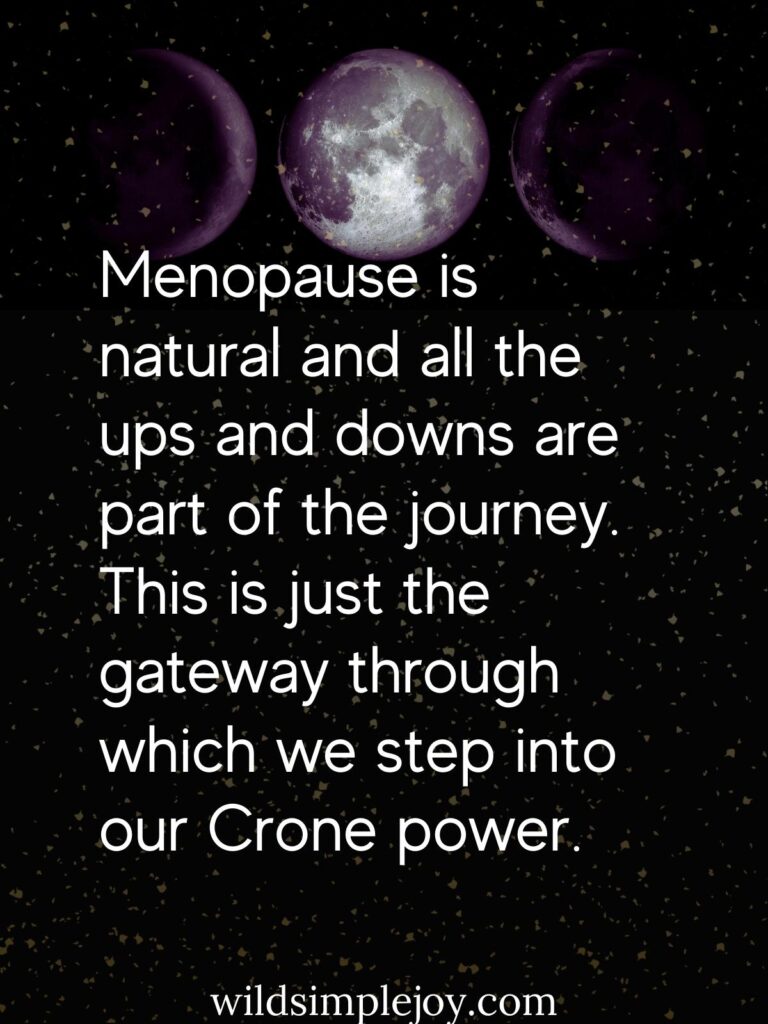 The Crone is a stage of life for women that is often associated with power, wisdom, and magic. It's a time when a woman can come into her own and express her true self.
The Crone is often associated with the third part of the triple goddess. Although she is associated with death, she is also the wisdom keeper. The Crone is the woman who sees through a person's bullshit and feels no hesitation in calling them out. She's the one who loves life and accepts death as merely a part of life.
The Crone is pure power.
MORE AFFIRMATIONS:
34 Wild Woman Affirmations
80 Affirmations for Self-Care
46 Female Empowerment Affirmations
45 Loving Affirmations for Menopause
So if you're feeling lost or scared during menopause, know this is normal. And there's no need to feel ashamed – you are stepping into your power as the Crone goddess!
Below are 45 affirmations to help you embrace menopause and step into your power. Print them out and read them daily to help focus your mind on what you want to achieve.
I embrace the changes of my body.
I love myself exactly as I am today!
I am powerful beyond measure.
I am at peace with the changes happening in my body.
I am grateful for all the wisdom and knowledge I have gained in my life.
I am open to new experiences and new learning opportunities.
I am happy and fulfilled in my current stage of life.
I am exactly where I am supposed to be right now.
I am confident and comfortable in my own skin.
I trust the process of life and know that everything happens for a reason.
I accept myself exactly as I am right now, flaws and all.
I honor my body and all that it does for me daily.
My body is healthy, strong, and resilient – perfect just the way it is!
Changes happening in my body are part of a natural process – nothing to fear!
I approach menopause with an open mind and an open heart.
Menopause is a time of transformation – I embrace it with joy!
I will handle all challenges with grace and ease.
I release all negative thoughts and feelings that no longer serve me!
I welcome change with open arms, knowing that it will bring growth and expansion into my life.
I take care of myself first.
I embrace the cycle of life.
I honor my intuition and follow its guidance without question.
I believe in myself wholeheartedly – there is nothing I cannot achieve!
The power of the Crone is within me!
I am wise, wild, and free!
I love and accept myself unconditionally.
I am kind and compassionate to myself – always.
My needs are just as important as anyone else's.
I listen to my body and give it what it needs.
I speak my truth without pause.
Life has given me infinite wisdom through my years.
I am grateful for my life experiences, both good and bad.
My intuition is always guiding me to my highest good.
I step into my power.
I am a Crone Goddess – wild and powerful!
My natural state is power.
I embrace my shadows and what they have taught me.
I do not hesitate to talk about menopause and the natural changes of my body.
Expressing my thoughts gives me power.
I will not fade silently! I am wisdom and power!
The Crone is always with me.
Within my body, I hold the power of my grandmothers and ancestors that came before me.
I treat my body with gentleness and compassion at this time.
I look upon the world, not with bitterness, but with wisdom and joy!
Menopause allows me to step into my power!
MORE AFFIRMATIONS:
44 Affirmations for Letting Go
40 Affirmations for Acceptance
Affirmations for Women's Health
Affirmations to Release Resentment
Affirmations to Heal Patriarchal Trauma