If you're a Scorpio, you know that you're known for being complex and fiery. Scorpios are great at a lot of things, like being passionate, observant, and good leaders. But like everyone, they have some things to work on in this lifetime. Scorpios can sometimes be manipulative, misunderstood, and prickly when they feel threatened.
If you're in need of affirmations for Scorpios, you're in the right place. These affirmations help you celebrate your powerful traits and help you navigate the traits you wish work on. Let's grow, Scorpios!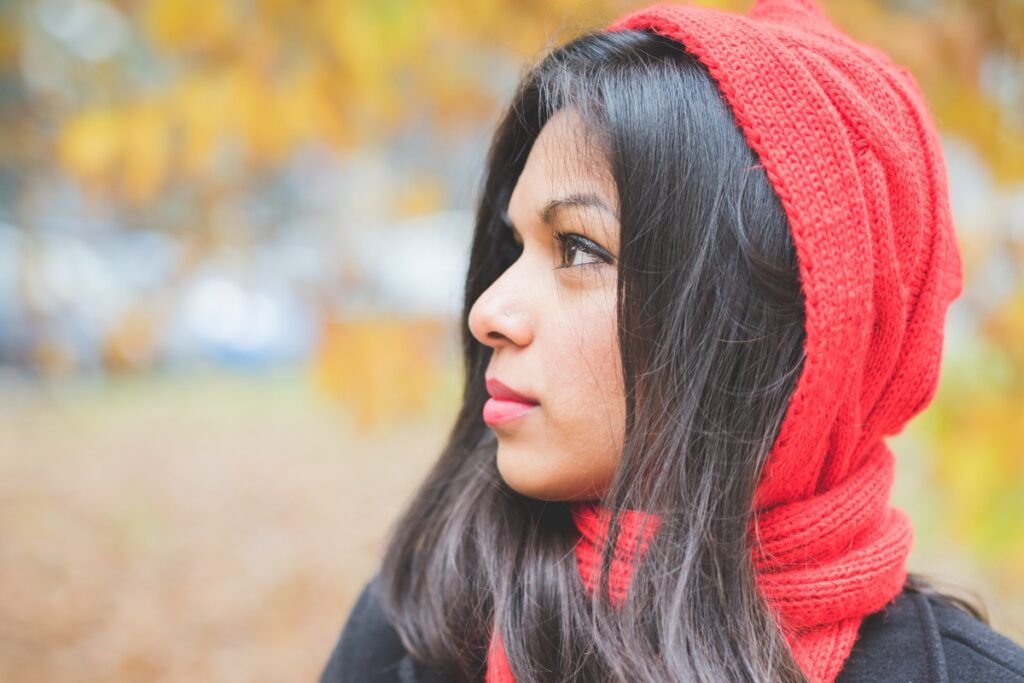 What is a Scorpio Sun Sign in the Zodiac?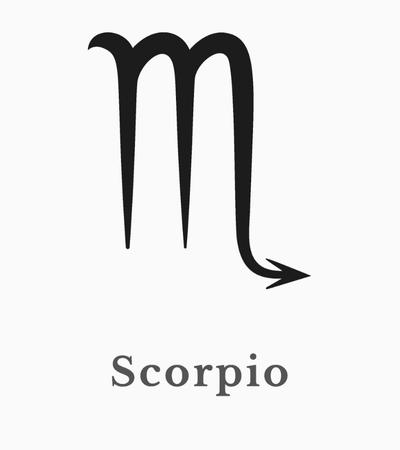 Here's a few basic facts about Scorpio sun signs:
Scorpios were born between October 23rd and November 21st.
Scorpio are connected with the Water element.
This sign is one of the four Fixed modality signs.
Scorpio is symbolized by a Scorpion.
Scorpios are chronically misunderstood. They're complex and complicated people who often come off one way with an entirely different inner world.
Although they aren't a fire sign, they're quite fiery. They are passionate, ambitious, and dynamic people. They are often found in leadership positions because they like to have the control (and they're good at it), but they're also flexible.
While Scorpios are intense and logical, they often house their emotions deep inside them. You may not know the inner workings of a Scorpio and find them to be a bit of an enigma. In fact, you may think they have a hidden agenda or that they are jealous or manipulative (not always the case.)
Because of this, it can be difficult for Scorpios to form truly deep relationships based on genuine connection.
I don't have many friends who are Scorpios, but those that I have, I can attest to these traits.
Scorpio Moon and Rising Signs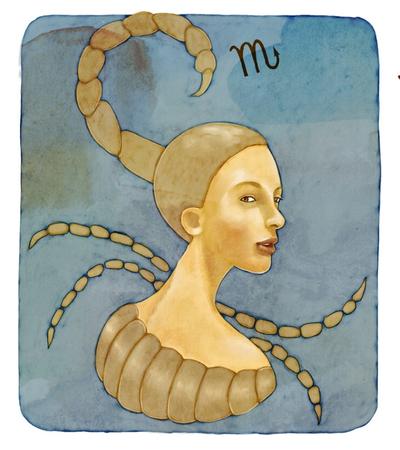 If you want to learn about your Moon and Rising signs, go to this site: Astrosofa. (Make sure you have your birth date, time, and place.) Then come back here and check out those affirmations for your Moon and Rising sign as well.
ZODIAC AFFIRMATIONS:
Aries (March 21-April 19)
Taurus (April 20-May 20)
Gemini (May 21-June 21)
Cancer (June 22-July 22)
Leo (July 22-August 22)
Virgo (August 23-September 22)
Libra (September 23-October 23)
Sagittarius (November 22-December 21)
Capricorn (December 22-January 19)
Aquarius (January 20-February 18)
Pisces (February 19-March 20)
More Scorpio Affirmations
Make sure you check out these additional affirmations which may be helpful for Scorpios who are working on personal growth:
Affirmations for Letting Go
Affirmations for Your Heart Chakra
Affirmations for Safety and Security
Determined to finally find your life partner? Try these 40 Affirmations to Use the Law of Attraction to Bring Love and Romance into your life!
Horoscope/Tarot Reading for Scorpio 2023
If you're into getting your horoscope, Chris Reck is incredible. He combines astrology with reading tarot, and his readings are spot on! Highly recommended!
30 Positive Affirmations for Scorpios: Strengths and Weaknesses
As a Scorpio, I love being driven toward success and achievements!
I am an incredible leader!
Others look up to me for guidance and as a role model.
I always let my passion and fire show.
It is safe for me to truly feel my emotions.
I feel safe to share my feelings and thoughts with those around me.
I let go of the need to cover up my feelings with achievements.
I am bold, confident, and badass!
My inner world is rich and full of wonder!
I feel comfortable being vulnerable with others.
I trust myself on every level.
I am independent, strong, and radiant!
It is okay to slow down sometimes.
Being present with those I love is important to me.
I am choosing to let go of feeling threatened.
I connect with others in a vulnerable and genuine manner.
I honor who I am, all the positive and negative coalescing into the essence of me!
Everyone loves to be around me!
I allow myself to share deep parts of myself with others.
I listen to and honor my intuition.
Getting to know others helps me know myself better.
I do not place a limit on how far I will go for achieving my dreams.
I am a powerful leader!
I feel comfortable clearing up miscommunications.
As a Scorpio, I am a powerful manifestor!
Others trust me deeply.
I share powerful connections with my friends and family.
It is safe for me to forgive others.
When I put my mind to something, I accomplish it!
I release my need to obsess over the things I want.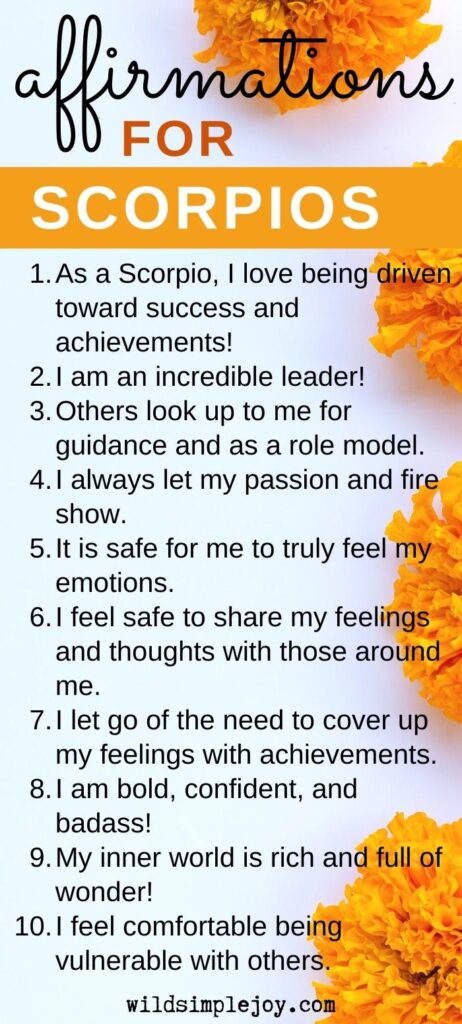 RELATED POST:
The 20 Best Affirmation Cards to Get Online for EVERYONE
30 Affirmations for Scorpios: Deep Vulnerable Relationships